Pictures from Cuba - Page 6 - Jose Marti Home Page - Table of Contents
---
Manolito poses in front of a monument to Jose Marti, behind that is La Acera del Louvre and the Hotel Inglaterra. Below is a close up of the monument and hotel.
Jose Marti was a Cuban poet and journalist who was the heart of the Cuban Insurrection. He had been imprisoned for his anti-Spanish writings, and traveled to Europe before eventually coming to live in the United States. In the U.S. he continued his work to remove the Spanish from Cuba. With the outbreak of the Cuban Insurrection, he returned to Cuba to become the spiritual leader of the Insurrection until being killed in action on May 20, 1895
See an almost identical statue placed in Ybor City of Tampa, FL
The largest Catholic Church building in Cuba is the Jesùs de Miramar Church on 5th Avenue.
Iglesia del Santo Angel Custodio where Jose Marti was baptized on Feb. 12, 1853.
This Church, Santo Angel Custodio, is famous not only for Josè Martì. In front there is a little square called "Plazuela del Santo Angel", where was located a scene of a famous romance: "Cecilia Valdes," written by Cirilo Villaverde.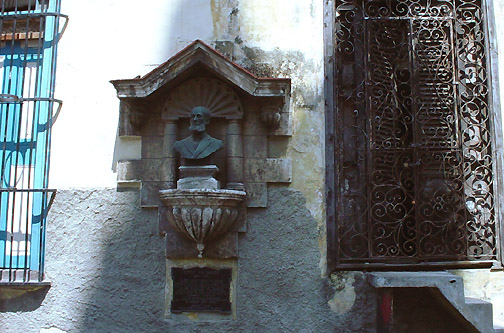 At the church entrance there is a bust of the Cuban writer Cirilo Villaverde created by Pedro Sant-Andreu. His novel Cecilia Valdés o La Loma del Ángel has in this temple, specially in its porch, one of the varied backgrounds where the story unfolds and this is exactly where the story ends. The bust was put there to commemorate the Habana Pictures release of the Cecilia Valdés movie (around 1950).

Some surrounding buildings in the plaza
An old street that originates at the plaza
Jose Marti's Birthplace, Calle Leonor Perez, No. 314, Havana, Cuba.
Close up of the plaque
---
Page 1 Page 2 Page 3 Page 4 Page 5 (Bejucal) Page 6 Page 7 Panorama of Havana p.9 Guanabacoa