Pictures from Havana, Cuba - May 2003 - Page 3 Home Page - Table of Contents
---
The Capitol in Havana was constructed around the 1930's
The parking area in front of the Capitol looks like an American Classic car show!
Below is a view of the Bacard́ building, one of the best conserved in Art Deco Style, and also a detail
A popular means of transportation, called "el camello" (the camel)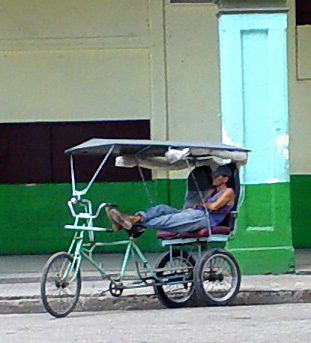 Shoe shine
A "Bicitaxi" driver "cogiendo un diez" (taking a 10 min. break!) The days are very hot now in Havana.
Siesta time in Parque Central
A scene on Obispo Street. Here you can see Floridita Restaurant (blue sign on white building on the right), classified as one of the famous in the world, where Hemingway used to like to drink his Daiquiris. Discovery Channel recently had an episode about famous streets in the world , and there is a chapter dedicated to Obispo.
To the left is a statue of Francisco de Albear, in Parque de Albear. (English translation of this page) Spanish engineer of a major aqueduct in Havana in 1893. See an old photo of this statue. Read more
The two green street signs indicate "Boulevar de Obispo" and "Plazuela de Albear."
Here on the right is La Moderna Poesia, a big and very good library.

Page 1 Page 2 Page 3 Page 4 Page 5 (Bejucal) Page 6 Page 7 Panorama of Havana Page 9 Guanabacoa