WHO WAS SHELDON STRINGER'S FATHER AND WHEN DID THE STRINGERS COME TO TAMPA?
Could Sheldon's father have been related to one of the Edgecombe Co., NC Stringers? Who was Mary Stringer, what was her maiden name? Where was Alexander Stringer before he appeared in Tampa on the 1880 census and was he really widowed? Read about the mysterious Samuel Stringer; was he Sheldon's brother and where did he go from Tampa after 1850? He left few clues, except at the very end.

BIRTH PLACE OF SHELDON'S AND ALEXANDER'S PARENTS

On the 1850 census of Tampa, Sheldon's mother, Mary, is listed as being from NC. The first U.S. Census to record the birth state of each person's parents was the 1880 census. By that time, Sheldon Stringer was living in Hernando County, Brooksville, was married and had two children. There was also a much older brother, Alexander, widowed, living in their home on this census. This census shows that Sheldon's and Alexander's parents were both born in North Carolina.

1880 Census, Hernando Co., Brooksville, Fla.

Sheldon and Alexander both born NC, with both parents born NC.
If Alexander really is his brother, there would be 19 years in between them and time enough for several more siblings.


Photo by Donna McPherson at Find-A-Grave

While Sheldon was living in Tampa, he bought a plot in Oaklawn Cemetery. His mother Mary is buried there and according to her tombstone, she was born "near Wilmington" NC on Aug. 24, 1796. She died on Aug. 22, 1874.

Alexander Stringer is buried in Lake Lindsey Cemetery in Brooksville, FL.

His tombstone shows he was born May 20, 1817 in Burgaw, Alabama. This date is in agreement with his age of 63 on the 1880 census. But Burgaw is not in Alabama, it is in North Carolina, 25 miles north of Wilmington in Pender County (which was formed from New Hanover Co. in 1876.) According to Alexander's birth date, Mary Stringer would have been around 21 when he was born. He probably would have been Mary and Mr. Stringer's first child.


Photo from Find-A-Grave by Betty Lykes Stringer Chapter 2407 UDC

Why did they think Burgaw was in Alabama? Perhaps Alexander came to Florida from Alabama and being born in Burgaw, they assumed it was in Alabama?


From "The History of Tampa's Oaklawn Cemetery" By THEODORE LESLEY

Sunland Tribune, A journal of the Tampa Historical Society, Volume XVII November, 1991 USF Digital Collections


At the outset, burial lots were sold by the county at 2 ½ cents per square foot, each lot being approximately 400 feet square. In January, 1853, the cemetery appeared for the first time on a Tampa map, when the city limits were extended to include the area. On December 7, 1855, the county commissioners appointed William S. Spencer sexton and superintendent of the "public grave yard." He was authorized to charge and collect $5 for each corpse buried by him. E. A. Clarke, county treasurer, was ordered to sell lots in the public grave yard. Said funds were to be kept separate from other funds and be known as the "grave yard funds." To this was to be added the amount received by the corporation of the town of Tampa (then a defunct organization) for lots heretofore sold, which funds were to be entirely used to fence and to keep in repair the grave yard. To this amount was added a bequest from J. W. Brookbank, M.D., who died in May 1854, and being without immediate family left $50 towards fencing the public burial ground.

Many pioneer Tampa families purchased burial lots at this time, notably James McKay, William T. Brown, Andrew H. Henderson, John T. Givens, Sheldon Stringer, M. C. Brown, John P Crichton, M.D., Franklin Branch, M.D., the Kennedys, Perkins, DeLaunays, Grillons, Ghiras and others in subsequent years.

POSSIBLE FATHER OF SHELDON STRINGER, SR. IN MADISON CO., FLA.

MADISON CO., FLORIDA HISTORY
The Hickasukis who first came to the area and the Seminoles who followed them later were in undisturbed possession of the area until after American rule in Florida began in 1821, for Andrew Jackson's invasion of 1818 did not touch the present Madison County unless in the extreme western part.

The 1842 map at left from the University of Florida digital map collection shows Madison county's eastern boundary was the Suwannee and Withlacoochee Rivers, it's western boundary the Ocilla River, northern boundary the Georgia state line, and southern boundary its coast along the Gulf of Mexico.

The treaty made at Camp Moultrie near St. Augustine, September 18, 1823, provided for the removal of all Florida Indians to the southern part of the Territory and John Hicks after whom Hickstown in Madison County was named, was the chief whom Governor Duval selected to superintend the removal of the Indians in the present Leon, Jefferson, Wakulla, and Madison Counties.

The removal of the Indians probably occurred in 1826, but it is practically certain that some were left. During the Florida War of 1835-1842, there were a number of skirmishes fought in Madison County and several families were massacred. (This will be alluded to later below in the life of Samuel Stringer "Jr.") Forts were built during this war near Sampala Lake and on the west side of the Aucilla River near the present Lamont, and from these companies of soldiers patrolled the surrounding country at regular intervals in order to catch any Indians who might be found. But the Florida War did not prevent Madison County from making a rapid increase in population. The increase between 1830 and 1840 was more than 400 percent and at the latter date the population was 2,644.

Excerpt above from History of Madison Co., Fla by Ruby Woodbery, 1936 at Genealogy Trails History Group, transcribed by Susan Geist.

SAMUEL STRINGER FAMILY - 1840 Census, Madison County, FL

On the 1840 census of Madison County, FL, there is a Samuel Stringer listed along with other families who became early Tampa settlers--Joseph Moore and Benjamin Drew. A few years later, in 1843, carpenter John T. Givens would settle in Madison Co. and come to Tampa in 1848.

Samuel Stringer was age 40 to under 50 so he would have been born from 1791 to 1800. He didn't own any slaves and was engaged in manufacture & trade. He was probably a carpenter, as were his neighbors. After the Sept. 1848 hurricane demolished Tampa, the need for carpenters must have been great, and this is probably the reason Joseph Moore and Ben Drew moved to Tampa. But did Samuel come too?

1850 Census, Hillsborough Co., Tampa, p.8
John Givens family in Tampa--neighbors of the Stringer family
See this page for more about John T. Givens.


Joseph Moore photo from Hillsborough Lodge No. 25 E &A.M.

Joseph Moore was a Fayetteville, North Carolina native born in 1799 who came to Florida by 1830 from Sampson County, NC, to Magnolia, Leon County, FL. The Moores moved to Madison County by 1840 and from Madison County, he and his family came to Tampa in 1842 settling on the west side of the Hillsborough River at what now is Hyde Park. He was a founding member of Hillsborough Lodge #25 in 1850 and was elected the first Worshipful Master of Hillsborough Lodge, serving for three consecutive years. His family emigrated to this country from Ireland.

He and his wife Elpenice Stanford Moore had 11 children in all. In 1840, there were 9 children left in their home, all under age 20. Joseph and Elpenice Moore's daughter Maria Jane Moore married Madison Post, who came to Tampa in 1849 and operated the Kilgore Hotel. Post soon married Maria and opened a general store and became Tampa's 5th mayor in 1858.

1850 Census, Hillsborough Co., Tampa, p.9
Joseph Moore family


ACCOUNTING FOR THE CHILDREN OF THE 1840 CENSUS MADISON COUNTY STRINGERS

Of particular interest is that the two males age 5 to under 10 could be the 1850 census' Sheldon (15) and Samuel "Jr." (19) in Tampa. In 1840, Sheldon would have been 5 and Samuel "Jr." would have been 9 and thus fit in this age group. Also, Sheldon's brother Alexander (of the 1880 Hernando Co. census) would have been around 23 and thus old enough to have moved out of his parents' household--no male age 20 to under 30 is in the 1840 Stringer home.

The female under 5 can be Laura, Sheldon's sister, who was born 1836-37 in GA and would be around 3 or 4 in 1840. And finally, Sheldon's mother Mary, who was born in 1796 (according to her tombstone), to 1799 (according to her 1850 Census), would be around 41 to 44 and can be the female age 40 to under 50. There are two more females yet unaccounted for in the 1840 Stringer home: one age 10 to under 15 (b. 1830 to 1834) and one age 15 to under 20 (b. 1825 to 1829). These will be identified below. By 1850, they would have been old enough to have married out. Nothing in this census would disqualify this Samuel Stringer family from being the family of Dr. Sheldon Stringer, Sr.

MARY ANN STRINGER

On Sept. 15, 1839, Benjamin F. Drew married Mary Ann Stringer in Madison County.

At right, the marriage record of Benjamin F. Drew and Mary Ann Stringer in Madison Co., 1839

Benjamin F. Drew is found in Tampa on the 1850 census (below) with his wife Mary Ann and 3 children; he was a carpenter. His son Octavius was 10 and the only male child in 1850. On the Drew 1840 census of Madison Co., Octavius would have been the lone male child under 5 (and probably under 1 year old). Ben also had two daughters in 1850 in Tampa: ages 8 and 6, thus they would not be on the 1840 census. Accordingly, no other persons were listed in the Drew 1840 household. Only Benjamin, Mary Ann, and their son Octavus.




1850 Census, Hillsborough County, Tampa (p.4)
Benjamin Franklin Drew


On the Mar. 15, 1934 death record of a son of Benjamin and Mary Ann Drew, Edgar Meredith Drew, Mary Ann is listed as Mary A. Stringer, born in Wilmington, NC. (The same area Sheldon Stringer Sr.'s mother was born according to her tombstone.) Mary Ann Stringer Drew's tombstone shows she was born Jan. 20, 1820. She should have been 30 on the 1850 census, not 28 at listed above.

Octavus C. 1840
Anna Caroline 1842 1842
William C. 1844 1845
Jane 1850

(There seems to be no connection between Benjamin F. Drew and John H. Drew who was a successful developer and contractor in Tampa in the late 1800s. John Higley Drew was born in Clark Co., AL in 1864 and came to Clearwater at age 8 with his parents around 1874. He moved to Tampa in Jan. 1893 after having developed much of Clearwater. In two short years he was a major force in the development of Tampa. Drew Air Field was named for him, as well as the Drew Park subdivision, which he developed.)

1840 CENSUS MADISON COUNTY

The Drews lived by the Stringers on the 1840 census and shows the only female in Ben's home is age 20 to under 30, which would have been his wife Mary Ann Stringer. No doubt Mary Ann was a daughter of Samuel Stringer their neighbor.

This would make 3 female Stringer children age 10 to under 30 in 1840, or born between 1810 to 1830, Mary Ann and the two unknowns.




If Mary Ann Stringer Drew was Sheldon's sister, she was probably named for her mother. If these conclusions are correct, Samuel Stringer and his wife should be found living somewhere around Wilmington in 1820 with at least one female under 1 year old (Mary Ann, who was born in Wilmington, Jan. 20, 1820).

JANE STRINGER

Another Stringer marriage took place in Madison County; this one on June 20, 1841 when William Hammley (or Hemly, Hamley, etc.) married Jane Stringer. It appears that William was not yet in Madison Co. by the time of the 1840 Census.

At right, the 1841 marriage record of William Hammley and Jane Stringer in Madison County.

The Hammley family was still in Madison County on the 1850 Census (below), where we see William was also a carpenter. Here, Jane Stringer Hemly was born in NC and was 30, so she would have been born around 1819-1820 and would have been around 21 to 22 when she married. Their youngest son was named Samuel.

1850 CENSUS OF MADISON COUNTY, FL



1860 CENSUS OF MADISON COUNTY, FL

The Hamlys were still in Madison County on the 1860 census, where we see William is a master carpenter, born in Virginia. Jane A. Hamly is only 38 which calculates this time to an 1821 to 1822 birth year. She should be 40 here. Now it shows she was born in Georgia instead of NC. They've also named two daughters Virginia and Georgia. The children's names and ages are extremely inconsistent between the 1850 and 1860 censuses so it is impossible to tell from just these two censuses which of the 1860 children might be the same as an 1850 child but listed by middle name instead of first name. For example, Helen who is 6 in 1850 should be 16 in 1860 but instead there is a 14 year old Ellen in 1860. Samuel who is 2 should be 12 in 1860 but is absent, and instead there is a 12 year old Virginia in 1850 who was 4 in 1850.

1840 CENSUS, MADISON COUNTY

Combining Jane's birth year window for her two censuses, we get a birth year range of 1819 to 1822 and an age window in 1840 of 18 to 21. Looking at the Samuel Stringer 1840 census of Madison Co., Jane fits in as the female age 15 to under 20 and the overlap would be 18 to under 20, or b. 1821 to 1822. Her birthday was probably some time in June.

MARTHA STRINGER

On July 1, 1849, James Cook married Martha Stringer in Hillsborough County. (No image available.)

1850 CENSUS, TAMPA
James and Martha Cook are found on the 1850 Census of Tampa, living by the Ferris family and close to the James McKay family and not far from Mary Stringer. There is also a 30 year old sailor from NY named Michael Wall living in their home. James was a stone cutter from Ireland, Martha was age 22, born in NC. She would have been born 1827-28 and age 21 when she married.

1860 Census, Hillsborough Co., Tampa
James and Martha are also in Tampa on the 1860 census. Martha's age is 28, b.1832-33 NC, so she only aged 6 years since 1850. They also have a 4 year old son named Thomas.


On the 1870 Census, the Cook family had moved to Brooksville, Hernando Co. James, a farmer, and Martha still have only one son; Thomas, age 12. Martha is consistent with her birth place of N. Carolina.

1840 Census, Madison Co.

Using Martha's combined age range of her 1850 and 1860 censuses, she would have been born 1827 to 1833 and be age 7 to 13 in 1840, thus fitting in the age 10 to under 15 group of the 1840 Stringer census in Madison Co. The overlap would be age 10 to 13 in 1840 (b. 1827 to 1830.) The fact that she married in Hillsborough County shows that the Stringer family was likely in Tampa by July 1, 1849

ALEXANDER STRINGER IN TEXAS - IS HE THE SAME ONE AS DR. STRINGER'S BROTHER IN BROOKSVILLE?

The best candidate to be Sheldon's brother Alexander before 1880 is one found in San Antonio, TX in 1850. This Alexander Stringer, age 30, is found on a page where just about all are men serving as "wagoner, qtr. master depot" for their occupation. Also, the men's birth places vary from all over the country and Europe. This goes on for quite a number of pages and is apparently a military installation from the Mexican-American war. Alexander is listed as born in South Carolina. Just after him is a Charles Stringer, age 19, born in North Carolina. They could be brothers. Could this Alexander be Dr. Sheldon Stringer's brother if we assume either his Florida census or his Texas census is a mistake regarding his birth place?

1850 Census, Bexar Co., San Antonio, TX

The Texas Alexander Stringer was born c1819-20 in SC according to this record. The one in Brooksville on the 1880 Census was born in North Carolina c1817. Listed after him is a 19-year-old Charles Stringer, born in N. Carolina c. 1831. They may be related.


The Alexander Stringer in Texas would marry Elizabeth (Jane) Wilson in 1861. Below, her 1860 census:

1860 Census, Nueces Co., Corpus Christi, TX

Elizabeth Wilson, age 25, born in Illinois c1835.
Also in the home is a 40-year-old James Morgan and a 10 or 11 year old Louisa Wilson, probably somehow related.


Nov. 10, 1861
Marriage of the Texas Alexander Stringer and
Elizabeth Jane Wilson



No census record found for Alexander Stringer in 1860.


Images from Internet Archive

An Alexander Stringer is mentioned in Vol. 5 of Series 3 in the above publication about the Civil War.


Alexander Stringer is found on the 1870 Census of Corpus Christi, TX with his wife Elizabeth. Of particular interest is that in 1870 he is a carpenter, whereas in the account of "The affair at Corpus Christi," Alexander is described as a (tax?) assessor and collector. His age on the 1870 census is 55 (calculated birth year circa 1814-15) and again shows SC as his birth place. Using Alexander's Florida age in 1880, he should have been 53 on the 1870 census. If he is the same Alexander Stringer from the 1850 census in San Antonio, he should have been 50 in 1870. It also shows he was born in SC like the 1850 Texas Alexander Stringer.

Of particular importance is that they had a son named Sheldon and this is a very good indicator that Alexander is Dr. Stringer's brother.

1870 Census, Nueces Co, Corpus Christi, TX - Enumerated June 17
NOTE: This is not Dr. Sheldon Stringer of Tampa/Brooksville


Alexander Stringer age 55, born c1814-15 SC
Elizabeth (Wilson) Stringer 37, born c1832-33, Illinois.
Sheldon M. Stringer born c1864-65 in Texas.
Listed out of chrono order is Sarah M. Wilson, age 19, born 1851 Illinois. Her being listed out of chrono order (if not a mistake) would indicate she is not a daughter of the head of house. She could be a daughter of Elizabeth Wilson from a prior marriage in Illinois. Elizabeth Wilson would have been 18 when Sarah M. Wilson was born.



1880 Census, St. Louis, MO, 814 N. 18th St., enumerated June 8 by E. L. Loucks
NOTE: This is not Dr. Sheldon Stringer of Tampa/Brooksville


In the same year Alexander is in Florida with his brother Sheldon, Elizabeth J. Stringer was enumerated as head of house in St. Louis, MO, age 48, born c1832-33, consistent with her 1870 census. The census only asked for the birth state, but St. Louis, MO was recorded. Clearly this is the wife of Alexander Stringer from the 1870 Corpus Christi census. Here she states she was widowed. Alexander in Florida on his 1880 census with Sheldon says he was widowed. Situations such as this are indicative of a divorce. (Unless we're looking at two different Alexander Stringers.)

The same Sarah M. (or L.) Wilson from the Stringers' 1870 Census in Corpus Christi is in the home, but her age is inconsistent with her 1870 Census. Her age here points to an 1855 birth year. Consistent with her 1870 Census, Sarah M. was born in Illinois, with father and mother born Illinois. This is consistent with Elizabeth having a prior marriage to a Mr. Wilson in Illinois and Sarah being a daughter from that marriage. From this info, Elizabeth would have been 23 when Sarah was born. If John Wilson, Jr. is her son, she might be the IL marriage record of an Eliza Jane McGowen who married John Wilson on Oct. 7, 1855 in Morgan Co., IL.

Sheldon M. Stringer's age is consistent with his 1870 Census in Corpus Christi. At 15, he has an occupation of "Painter." He is suffering with chills and fever. Born Texas, with father born SC, which is consistent with Alexander's 1850 and 1870 censuses.

1880 Census, St. Louis, MO, 814 N. 18th St., enumerated June 9 by Joseph Hargate.
NOTE: This is not Dr. Sheldon Stringer of Tampa/Brooksville


Apparently, two enumerators covered the same area of St. Louis on consecutive days, listing Elizabeth Stringer twice. This time Elizabeth is 2 years younger. Situations like this usually mean someone other than the head of house provided the info. Here is a 25-year old Louisa listed as her daughter. Born in Illinois, she appears to be the same person as Sarah Wilson in her previous day's census at the same address. If Sarah was Sarah L. Wilson instead of Sarah M. Wilson then Louise could be her middle name. She can be traced back through every one of Elizabeth's censuses under somewhat inconsistent ages and alternating between Louisa and Sarah.

As previously covered, Alexander Stringer shows up on the 1880 Census in Tampa, also indicating he was widowed.




1900 Census, St. Louis, MO.
Sheldon M. Stringer, wife Annie and children Leo, Harry and Eunice
NOTE: This is not Dr. Sheldon Stringer of Tampa/Brooksville

Sheldon went on to marry around 1887. On the 1900 census he was a musician, but the birthplace of his father would change with almost every census; . Here his father's birth place was listed as Missouri. In 1910 his father from Florida. In 1920, Sheldon was a music teacher shows he was from Missouri and both his parents are from "United States," In 1930, Sheldon was born in Texas, with father Texas and mother Illinois--a possible indicator that he never really knew where his father was from or Annie provided the information and did not know. In 1930 Sheldon was a cutter of art glass.

Conclusions from Alexander Stringer
The most important clue that the Texas Alexander Stringer is Dr. Stringer's brother is that the Texas Alexander had a son named Sheldon. The records indicating the Texas Alexander was born in SC and the 1880 Brooksville Alexander showing NC tend to indicate that one of these censuses inaccurate in that regard, OR, we're looking at two different men. Either way, the latest marriage year of Sheldon's parents are limited by Alexander's birth year if he is Sheldon's brother. Considering everything we know about Alexander of all the records, Sheldon's parents could have married any time from 1815 to 1817, and Sheldon's mother Mary Stringer would have been as young as 18 at the time.

SAMUEL STRINGER (the younger) - A CANDIDATE FOR THE "MOST INTERESTING MAN IN THE WORLD"

It would appear that Samuel Stringer who was in Tampa at age 19 on the 1850 census never married; he turns up on the 1885 state census of Iowa in Jackson, Adair County, with no occupation listed and in the home of Jacob Shrader, a railroader, along with a handful of other seemingly unrelated men. Samuel's age is consistent with his 1850 census in Tampa.

1885 State Census of Jackson, Adair Co., Iowa


1900 census in Buffalo Town, Johnson Co., Wyoming
Fifteen years later, Samuel was a mail carrier and had a servant.

No other records have been found for Samuel thus far, but there are numerous stories written about him. He was quite a well-known man in the Old West.

Samuel Stringer at Find-A-Grave:

THE SHERIDAN ENTERPRISE - September 23, 1905 Obit provided by Karylyn Petrie

Death brought to an end a notable life when Sam Stringer passed away at the state hospital Sunday afternoon at the age of 74 years. Mr. Stringer, before the war was a teamster in the employ of the government at a Texas fort. When the war broke out he followed the commanding officers and troops who joined the Confederacy. Before the war was over, he came north and again became a teamster at Fort Leavenworth, on the union side. He served in all the posts along the line from Leavenworth, including old Fort Kearney in Nebraska, Fort Laramie and Fort Bridger. In 1866 he was assigned to Gen. Carrington's command in the expedition that built Forts Reno, Phil Kearney, and C. F. Smith on the old Bozeman road. During the later part of that year he was located at Fort Phil Kearney. When the Indian fight that is known as the Fetterman massacre occurred on December 21, he was ordered to the battlefield with his teams to bring in the dead a few hours after the deed was done. The massacre occurred along about noon and about 8 o'clock in the evening he returned, bringing in the bodies of Capt. Fetterman and Capt. Brown in his own wagon. When he obeyed the order of his officers he said he never expected to get back alive as he thought the Indians would get the balance of the command.

After remaining in the service for several years, he resigned and ever since has been interested in mail and stage contracts in this section. He never tires of telling of the advantages of Northern Wyoming over every other place. He took part in all the Indian wars in Wyoming. He joined the Masons in the early days while located at Fort D. A. Russell at Cheyenne. The funeral was held under the auspices of the Masons in Sheridan and interment was made in Mount Hope Cemetery.

There was also an obit in the Sheridan Post, Sept. 19, 1905 page 1. Most of the info is the same with a few additional facts.

For many years he has been running state line, and at the time of his death, which resulted from chronic dysentery, he had a mail contract running south from Buffalo. The deceased came to the hospital at Sheridan nearly a month ago. Little or nothing is known of his family connections. Just before he died, he tried to tell the nurses something but he waited too long, until his whispers could not be heard or understood. It is said that he had a niece, somewhere in the east. Those who knew the deceased say he led a clean, honorable life.

Find A Grave, database and images (https://www.findagrave.com : accessed 02 October 2018), memorial page for Samuel Stringer (unknown–17 Sep 1905), Find A Grave Memorial no. 119599708, citing Sheridan Municipal Cemetery, Sheridan, Sheridan County, Wyoming, USA ; Maintained by Marsha Hanson Dillon (contributor 46953066).


Below from "Annals of Wyoming" by the Wyoming State Historical Society
at Internet Archive

Vol. 11 January, 1939 No. 1

EARLY EXPERIENCES OF A MAIL CARRIER
By A. L. Brock, of Buffalo, Wyoming

September, 1935.

It might be permissible to mention a few things in regard to Sam Stringer's past history, a part of which he told me over forty years ago.

When a young man he was a teamster in the Confederate Army and at the Wilson Creek battle near Springfield, Missouri, he lost his entire outfit.

He then came as a teamster with General Carrington in 1866 to where Fort Phillip Kearney was established in what is now Johnson County, Wyoming, in 1866. He told me he would have been with the wood train when it was attacked by the Indians had it not been that his wagon was at the Fort at the time for repairs. He was one of the men from the Fort who assisted in bringing in the bodies of the dead soldiers killed by the Indians at what is now known as "The Fetterman Massacre" at "Massacre Hill," where Fetterman with seventy-eight soldiers and two civilians were killed December 21st, 1866.

Mr. Stringer drew a small pension for fighting Seminole Indians in Florida as a volunteer.


[TampaPix note: There was a Capt. James G. Dell of the Florida volunteers as seen below.]


He was also with General George A. Custer, as a teamster, in 1868 when Custer left Camp Supply, December 7th, 1868, with about fifteen hundred soldiers to fight Indians. Custer located a large camp of Cheyennes with Medicine Arrow as principal Chief, on Sweetwater, a tributary of Red River, December 17th. Custer was trying to locate two white women who had been captured by the Cheyennes while raiding Salina, Soloman, and Republican Valleys in Kansas during the summer and fall of 1868. One of the women, 19 years old, was Mrs. James S. Morgan (formerly Miss Brewster) who was a bride of less than a month. The other was a Miss Sarah White, 18 years old. When Custer ascertained that these two women were in this camp and knowing what their fate might be if he attacked the camp, after meeting some of the Indians with a flag of truce, he used strategy to get possession of the women. After four or five days of dickering and holding some of the Chiefs as hostage for their safe delivery, he succeeded in having the women turned over to him. Daniel A. Brewster, a brother of Mrs. Morgan, was with Custer and the first one to meet his sister. Mr. Stringer was with Custer at this time and also the late W. G. Angus of Buffalo, Wyoming. Each of these men related to me some of the happenings of this particular event. I was informed that the bands played "Home, Sweet Home" while these two women were approaching the soldiers, and Mr. Angus said he thought it was the sweetest music he had ever listened to. Mr. Stringer gave me rather a vivid account of this entire affair. On their departure for their former home the soldiers took up a collection and presented to the two women, over seven hundred dollars.

I might say, also in conclusion, that Mr. Stringer at one time had several mule teams and did construction work in railroad building, and at one time was robbed of several thousand dollars.

Mr. Stringer worked for the Government as a civilian teamster for several years. He also carried the U. S. Mail for a number of years, over various routes, and at the time of his death he had the mail contract from Buffalo, Wyoming, to Sussex, Wyoming.

Vol. 11 January, 1939 No. 1

During the latter part of March 1892 Sam Stringer was carrying the U. S. Mail from Buffalo via Mayoworth across the Big Horn Mountains to Ten Sleep, Wyoming. The snow at that time was rather deep on the mountains between Mayoworth and Ten Sleep. While Mr. Stringer used only one team of mules from Buffalo to Mayoworth, he used four to carry the mail over the mountains when the snow was deep.

After leaving Mayoworth and reaching his cabin on the head of Pass Creek on the mountains, he left his mules tied to a light wagon and continued on snow shoes to Ten Sleep pulling a toboggan loaded with the mail. After an absence of seven days from Mayoworth, W. W. Morgareidge, J. R. Morgareidge, W. S. Jones and myself started out to ascertain why he had not returned. After going as far as was possible on the mountains with horses, the writer looked after the horses while the other three men went on snow shoes to the cabin on Pass Creek where they found the mules tied to the wagon still wearing the harness. The mules had succeeded in reaching the hay and grain on the wagon and had gnawed quite a bit of the wagon box including the hickory wagon bows.

The three men spent the night at the cabin, while I stayed over night with the horses, three miles back on the trail. During the night the wind blew my camp fire away and I put a saddle and blanket on one of the horses, which was accustomed to being in the stable, to keep him from getting so cold. I might add that I passed a very disagreeable night as caretaker of the horses.

The three men, after their night at the cabin, turned the mules loose and brought them to where they could get feed and then came to where I was with the saddle horses. We concluded that Mr. Stringer had perished and was under some snow drift. We then returned home, this being the ninth day since Mr. Stringer had left Mayoworth.

We learned later that Mr. Stringer, on the return trip from Ten Sleep broke one of his snow shoes, became very sick and was about three miles from the cabin on the night that the three men stayed there. He crawled on his hands and knees most of the way from there to his cabin as he was sick and had only one snow shoe. When he reached the cabin he didn't have any matches and in order to start a fire he picked his handkerchief to pieces and made a pile of lint and then covered this with fine shavings and shot into it with his six shooter.

After staying there several days while recovering from his illness and eating what provisions he had, including tallow candles, he started for Mayoworth with the mail sack. When he reached the point where he found the mules he took some cord from his snow shoes, tied the mail sack on one of the mules and tried to bring them with him. but the mule got away and he could not catch him again.

Mr. Stringer was so very weak that he started on for Mayoworth leaving the mail sack on the mule. Soon after leaving the mules a severe storm struck him. He went into the timber and while sleeping by the fire his clothing caught and he burned a large hole in the back of his coat. He ate pitch from the trees during the three days storm. At one time a gray wolf was following him and kept getting closer and closer. Stringer wanted the wolf for food. When it approached as near as he thought safe he drew down on it with his trusty six shooter, fired, but missed the wolf, and it ran away. Stringer stated that he felt so badly that he wept. He then continued his journey and finally reached what was at that time the Cochie Ranch, about four miles west of Mayoworth, in a very weak condition and his feet badly frozen. Cochie saturated his feet with coal oil which probably saved them from having to be amputated later.

Mr. Stringer told me that while he was sick and delirious he could hear people talking in Buffalo and recognize their voices.

George B. McClellan and Tom O'Day came across the mountains on snow shoes and seeing the mule with the mail sack on him, took the sack and brought it in with them. The mules were later brought in by Jerry Morgan. The rivets on the leather mail pouch had made sores on the mule, causing the hair to be white when healed.

After the harrowing experiences of Mr. Stringer, it was found that the mail sack contained but one lonely letter.

It is commendable as well as an example of the loyalty and trustworthiness in trying to keep the mail sack with him when he thought he was facing possible death from sickness and hunger and exposure.

After recovering from his serious adventure he again resumed his duties as mail carrier. He had carried U. S. Mail for many years and over various routes, and at the time of his death had the mail contract from Buffalo to Sussex, Wyoming.

He was a good citizen, loyal to his Government, true in his friendships, and during his last illness, he being a Mason, was cared for by the Masonic Fraternity.

A. L. Brock, Buffalo, Wyoming,
September, 1935.



The following narrative on Sam Stringer is a result of these sources,
with text in their respective colors:

"Sons of the West," Chap. 4, pp 68-78 at Internet Archive
COMBINED WITH
ANNALS OF WYOMING, THE HOLE IN THE WALL
by Thelma Gatchell Condit, April 1960, p.87-95.

The early day post offices bring to mind the stouthearted stage drivers who played no menial part in the drama of the Old West. Their long, lonely years of service and strenuous efforts to keep their communication lines going between these isolated spots for the most part remain untold. Surely they deserve appreciation in recounting early day history--they and the faithful teams they drove over the many lonely, weary miles, day in and day in and day out, in good weather and bad weather alike. Some of these drivers were like old soldiers in loyalty and conscientiousness in the line of duty.

They are a part of our fabulous heritage.

One of these drivers was Samuel Stringer, and according to Mr. T. J. Gatchell, of Buffalo, Wyoming, was among the pioneer stage drivers and mail carriers in the part of Wyoming that is now embraced in the counties of Johnson and Sheridan and part of the Big Horn Basin country.

It would be an impossibility to write a complete history of Old Sam, who participated so actively in the taming of the West. He was a strange individual; even though his life was crowded with all kinds of adventure he thought his experiences ordinary ones and not worth discussing. It was not an easy task to induce him to talk of the exciting years he had spent in the old west.

Samuel Stringer was born September 30, 1830, near South Washington, North Carolina and died at Sheridan, Wyoming, September 17, 1905. Of his early history the writer knows but little, however, he went to the state of Florida at an early age as, when but eleven years old he was in the Seminole Indian war in that state. The writer has always assumed that Mr. Stringer resided in Florida until the Civil War, but am not positive that such is the fact.

At the outbreak of the Civil War he was employed as a teamster with the Confederate Army; was captured by the Union forces at the battle of Wilson Creek--which event made a decided change in his affairs and was the beginning of a long term of service with the regular army.

[The Battle of Wilson's Creek, also known as the Battle of Oak Hills, was the first major battle of the Trans-Mississippi Theater of the American Civil War. Fought on August 10, 1861, about 10 miles southwest of Springfield, Missouri, between Federal forces and the Missouri State Guard, it is sometimes called the "Bull Run of the West."]

"Sam's story," Gatchell continues, "was brief, as were all the narratives he told concerning himself. Of his capture by Union troops he said: 'I was captured at the battle of Wilson Creek by the Yanks and they also got the team I was driving--a six-mule string--and they were good mules and I hated to lose them. I went before the Commanding Officer and put up a good talk; told him they were my mules; that I was only working for the Rebs and that team of mules was all I had in the world. I also told him that I had to have a job and if he wanted me to work for his army I would do so. My story stuck and I went to work for the Union Army.

During the Civil War he was employed as a teamster in the Union Army, so in 1866 when the 18th Infantry was ordered to go into what later became Wyoming Territory to establish a line of forts along the Bozeman Trail, Sam was with the expedition and met with some rough aspects of frontier life while Ft. Phil Kearny was constructed. He never was a soldier, just a teamster. and his wagon was the first one to be loaded with the Fetterman Massacre dead. Years later while driving mail between Sheridan and Buffalo, he said, "I'm not superstitious in any way, but when I drive past this battlefield day after day all I have td do is close my eyes and I can see those dead bodies laying there as plain as I could the day we found them nearly 31 years ago.

In an article on Sam Stringer that appeared in the Wyoming Stockman-Farmer a number of years ago, Mr. Gatchell wrote the following story, used here with his permission:

'Old Sam Stringer,' as we all knew him, was a familiar figure in Buffalo some thirty years ago. He was a strict adherent to the rules of the postal department and performed his duties as a 'star route' carrier to the letter and the weather was never too cold, or the roads too bad for him to get through with the mail, or at least to make a supreme effort to do so.

Mr. Gatchell tells of Stringer's being at Fort Leavenworth, Kansas, at the close of the war as teamster with the Eighteenth Infantry. When, in the spring of 1866, the Carrington Expedition came into Wyoming. Sam Stringer was with them.

Mr. Gatchell records:

"When they arrived at Fort Laramie, Wyoming, the Government Peace Commission was in session and, notwithstanding the promise made by this commission that the Indian hunting ground was not to be disturbed, the Carrington Expedition went on to carry out the order to establish Military posts in the country practically ceded to the tribes. This mistaken policy of the government cost hundreds of lives, untold suffering and many thousands of dollars as it resulted in two years of bloody warfare and, in the end-because of lack of men in the field and insufficient arms and ammunition-the country went back to the savages and remained under their domination until the so-called Sioux War of 1876.''

General Carrington (as he was later commissioned) wrote in his scrapbook, Wyoming Opened, that, seeing the condition caused by the result of the Peace Commission, he wrote in to Washington, explaining what the treaty was promising the Indians and asked that the Expedition be halted. He remained at Fort Laramie long enough to receive a curt answer, instructing him to move on to the Piney District. He stopped at old Fort Connor on the Powder, relieved the U. S. Volunteers stationed there, and changed the name to Fort Reno, under the order from War Department. From here they continued on to the forks of the Pineys, arriving on the 13th of July, 1866.

"From this point," Mr. Gatchell records, "Colonel Carrington, with a suitable escort made a reconnaissance of the country to the north, but finding no suitable spot for a post within reasonable distance decided to build the second fort at the Piney location. This post was to be headquarters for what was known as the mountain district and the actual work of construction was started on July 15. The post was commissioned Fort Philip Kearny as per order of the war department and was located about 16 miles north of the present city of Buffalo.

"Mr. Stringer said that with the selection of the site things began to assume a decidedly busy aspect. A logging camp was established in Big Piney Canyon about 6 miles west of the post; a sawmill put in operation; the wagon train put to hauling logs and every available man of the command busy with the work of construction. Mr. Stringer as a teamster, was with those engaged in hauling logs and said that the work was anything but enjoyable.

"The tribes under the wily Red Cloud had declared war and the savages did not overlook an opportunity to harass the working parties. Several men were killed at the logging camp and other details and quite a number wounded. Stock was run off; every train attacked and the garrison was kept constantly in fear of a general assault. . . . Then to add to their troubles, the fact of the establishment of the line of forts along the trail (opened by John M. Bozeman for the convenience of emigrants) had at least given tacit assurance that Military protection would be given the numerous emigrant trains that were traveling over the new road to the recently discovered gold fields in Montana. While it is true that many of these trains were amply equipped to take care of themselves, on the other hand the vast majority were not in any way capable of passing through a hostile country and the Military Authorities were hard pressed to offer any degree of assistance to these outfits.

The Fetterman Massacre

"The climax to the troubles of the over-burdened garrison, however, came on December 21, 1866, when what is known now as the Fetterman Massacre took place. The wood train had left that morning on what was to be the last trip of the winter and when about two miles west of the post, was attacked by savages." Here is where the two men, Murphy and Stringer, both at the post during those stirring days, disagree. of that memorable disaster Stringer said: "A relief party under Brevet Lieutenant Colonel Fetterman was dispatched to the assistance of the train, but with specific orders to relieve the train and not under any circumstances pursue the Indians beyond a stated point."

Mr. Gatchell tells of meeting Mr. Stringer in 1896, at which time he had the contract for carrying the mail on the Buffalo-Sheridan route. Gatchell's account continues: "From a number of sources I learned that he had been at Fort Philip Kearny from the establishment of the post in '66, until it was abandoned in August, 1868, and was desirous of getting his story of these historical times. I made several attempts to get him to talk about his experiences at the fort, but was not successful until in the summer of 1897, he surprised me one day by inviting me to visit the site of the Fetterman Massacre with him. He told me the story on the ground where, nearly thirty-one years before the grim tragedy had been enacted. He said: 'As you probably know, I was not a soldier, but employed as a teamster by the quartermaster. The morning that this terrible massacre took place I did not as usual accompany the wood train, as my wagon needed fixing and I remained at the post to have it attended to. When Colonel Fetterman and his men failed to return to the post another detail under Captain TenEyck was ordered to go to their assistance and I asked to be allowed to accompany them with my team, to haul the extra ammunition.

My reason for wanting to go was because of the fact Captain Brown, under whom I had worked, was with Fetterman and I was much concerned for his safety. Captain Brown had been a wonderful friend to me, was in fact the whitest man I had ever worked for and, while I was not a fighting man, I would have gone any length to assist him."

'Our party crossed Piney Creek about at the Bozeman Trail crossing but did not follow the trail, going instead to the high point north of the post from which place Captain TenEyck believed he could locate the Fetterman command. When we reached the point however, we could see nothing of Fetterman, but discovered that the country to the north was literally alive with Indians and an orderly was sent back to the fort with that information, also asking that a cannon be sent out to us. The cannon was not sent but an additional forty men under Captain Arnold was dispatched to augment our forces. "

'We then started down the ridge to the north the Indians abandoning the country as we approached and when we reached the point where the Bozeman Trail came down the Piney Divide, we found what we were looking for. There in a natural circle of rocks, apparently thrown there by the savages, we found the bodies of forty-nine of Fetterman's men. They had been stripped of all clothing and were mutilated in a most horrible manner. It was a sickening sight and will remain in my memory forever."

'I can never put in words the sorrow that I felt when I found the body of Captain Brown and realized that my friend was lost to me forever. As night was nearly on us and we realized that it would be impossible to locate the balance of the Fetterman command that day, the forty-nine bodies were loaded on my wagon and we made our way back to the fort. The following day a detail under the personal command of Colonel Carrington returned to the field and the bodies of the other thirty-two were recovered. I also accompanied this detail. It was plainly evident that Fetterman had allowed the decoy party to lead him down the ridge nearly two miles of the place where we found the first bodies.

"'The detail of the Second Cavalry, commanded by Lieutenant Grummond had evidently been covering the retreat of the main body and they were found at a point on the ridge about half way from the extreme north end and the place where the men with Fetterman and Brown had fallen. Another fact that is seldom mentioned is that just below the point where Grummond's men made their last stand we found the bodies of two men who had evidently been killed by the Indians some days before the Fetterman fight. They were unknown to any of us and were evidently miners or trappers. We brought the bodies back to the post with the other dead and buried them in the fort cemetery.

"Mr. Stringer was not in the Wagon Box fight of 1867, but was familiar with the location of this famous encounter and visited the place with the writer in the summer of 1900. He passed the site many times both before and after the fight and could not be mistaken as to the exact location."

There has been much controversy as to the exact location of this encounter, some placing it in Johnson County, and others, just over the line in Sheridan County. When the Civilian Conservation Corps erected a native stone monument to this event a few years ago, they placed it in Sheridan County.

Sam was with the wagon train in 1876 with which the notorious Calamity Jane was employed.

The Gatchell account continues: "In the fall of 1876, when General Crook made the last campaign of the Sioux, Mr. Stringer was with the supply train accompanying the troops. They established Cantonment Reno on the Powder River at a point some three and a half miles up the river from old Fort Reno. This cantonment was afterwards named McKinney in honor of Lieutenant McKinney, who was killed in the McKenzie fight on the Red Fork of the Powder, on November 25, 1866.

"In the winter of 1878-79, when Fort McKinney was established on Clear Creek, two miles west of the present Buffalo, Stringer was with the wagon train at the post employed there a teamster. The wagon-train headquarters was transferred from Fort McKinney in 1886 to Camp Carlin, near Cheyenne, and Mr. Stringer worked there and stayed with it until it was abandoned some time around 1898, when he returned to Johnson County. From then on he made his home in and around Buffalo, serving as mail carrier on practically all the early day routes until the time of his death.

Sam performed his duties as a mail carrier to the letter; the weather was never too cold or the roads too bad for him to get through with the mail, or, at least. make a supreme effort to do so." "As was before stated, Sam Stringer was a strange individual. He was always pleasant and agreeable, but not inclined to casual conversation. In addition, he had many peculiar habits, especially so in regard to diet. . . . He was overly fond of grease, not any particular kind of grease, just so it was grease. Absolutely nothing in the way of food that wasn't greasy was worth eating, according to Sam. He said he'd never eat an alligator because it had no grease. His travel rations always consisted of a can of grease and a loaf of bread. He would heat his grease and sop his bread in it, much like the dunkers of today He would pop it into his mouth and smack satisfyingly as if it were the best food in the world, and any of the hot grease that was left, he would drink. He often told me that he would rather have a cup of hot grease any time than a cup of coffee. He said the grease kept him warm on long, cold drives, and it probably did.

"Mr. Stringer was very partial to a mule and most of his staging was done behind a pair of those long-eared hardy animals. No one ever saw him use a whip on his mules, but he had a special contrivance of his own which he used when in his opinion they were loafing on the job. This affair was nothing more than a few links of log chain fastened on the end of a whip stock which he would get out and rattle over them. The invention always seemed to get the desired results, but my curiosity got the best of me one time and I asked Sam how it was, as he never struck the mules, that they always seemed to come alive when he rattled the chain. His reply was: 'Those mules know me and also know if they don't get a move on when I jingle those links over them that I will whale the everlasting daylights out of 'em.

Nellie Winingar Burger says she well remembers Sam's stage (on the Ono route) which, at the time, was a light wagon or buckboard covered with canvas. making an almost square top back of the driver's seat. The canvas sides rolled up and down as needed for warmth or ventilation. He had a couple of "bull's eye lanterns" fastened at the sides of the front seat to light the road at night should circumstances necessitate his traveling after dark. He usually drove four mules on the Ono route, stopping there for dinner and on to Mayoworth for the night and on over the mountains to Tensleep the following day. Sam had a little cabin up the slope to use in emergency in case it stormed or something.

Mrs. Madge Davis Murphy of Kingsburg, California. who sent the picture of Sam, writes, "How well I remember old Uncle Sam Stringer and this old team and by-those black dots in the background are cattle grazing. This picture was taken somewhere between Buffalo and our old ranch ("Spectacle" outfit owned by H. W. Davis) where the Sussex post office used to be. Sam then drove a little team of Indian ponies and wore high boots with heavy woolen stockings sticking out above. How well I remember him! We kids often rode on the stage with Uncle Sam and he was so kind to us."

In fact, Sam had gained such a reputation as an experienced, veteran mail carrier that the Post Office Department requested a sketch of his life.

In the April 21, 1892, issue of the Buffalo Bulletin is told the story of Sam's crossing the Big Horns in late winter, which trip with its terrible suffering and miraculous escape from death, unsurpassed even in wartime chronicles, made him a hero unmatched in courage and devotion to duty-which event of bravery caused his story to be placed in Post Office Department files.

All old-timers so well remember that the Big Horns in the winter of '92 were deep with snow. Trails led across the mountains in several places and were in reality only early game and Indian trails which had been slightly improved by the settlers. There was no set rule for following any particular road over the mountains. The mail carriers knew the country and how to get across and used their own judgment about the route, which decision was always determined by the weather and passengers at hand. But the old NH trail road was one most often used, starting up the slope near the L. R. A. Condit ranch and following up a small tributary of the Middle Fork of Powder River, then across the divide and down by Little Canyon Creek and Spring Creek to the old W. A. Richards' ranch and then on to No Wood. From that place it was easy to reach Tensleep and go on to Hyattsville and the upper Basin country.

Then there was the other road farther south going across from the old Barnum post office, which connected up the same on top of the divide.

On the 29th of March, 1892, Sam Stringer made a never to be forgotten effort to carry the mail from Mayoworth to Ten Sleep via the old N H trail. This was the first attempt that winter to get the mail across the mountain. because of the deepness of the snow and the severity of the weather. Sam started out with a light spring wagon and four mules. but he did not even make his little cabin the first night. So he unhitched the mules on a little bare knoll abut a quarter of a mile from the cabin, tied them to the side of the wagon, banked snow high against the wagon on the north side for a windbreak, opened a bale of hay and a sack of oats for the mules (that many oats were safe to leave, for a mule will never overeat). Taking the mail pouch, which was a hip one and heavy, he went to the cabin where he packed a small bag of food and an axe on a sled and. wearing snowshoes. took off over the mountain afoot.


Map from ANNALS OF WYOMING, THE HOLE IN THE WALL
by Thelma Gatchell Condit, April 1960, p.87-95.

Three P.M. found him on the western side at a spot called the "Pole Patch." Here one of Wyoming's dreaded three-day blizzards overtook Sam, the severity of which was alarming. Losing his wav, Sam finally found shelter in a small ravine. Having no bed, he kept a small fire going all night, and, when he could, the next day and the next day after that. On the third day, the storm having slackened somewhat. he followed the ravine down into Little Canyon Creek. Struggling frozenly through the deep snow and brush: he progressed very little distance that day, and night overtook him while still in the canyon. Here he could find no dry wood for a fire and spent a thoroughly disagreeable night. burying himself in the snow to keep from perishing.

Below, the above Jesse Wininger map superimposed at approximate position in current map.

The next day he reached the Frank Simmons ranch on Canyon Creek where he got a warm meal and a horse. Sam arrived at the Ten Sleep post office April 3rd, five days after leaving Ono. Most men deprived of sleep for four nights and suffering from intense physical exertion and exposure would have felt they had a rest coming, anyway a chance to relate their recent experience, but Old Sam was thinking of his hungry, shivering, shelterless mules on top of the mountain. who were needing attention as much as he was. They'd been out in that blizzard too and he wanted to find out, as soon as possible, how they'd made out. So he stopped just long enough to exchange mail sacks and rode the Simmons' horse as far back as he could in the deep snow. When the horse could no longer make it, he turned him loose, headed him homeward and buckling on his snowshoes, proceeded slowly. wearily but steadily, making the Pole Patch that same night.

The next morning he awoke stiff and sore in every joint and muscle. It seemed physically impossible for him to continue, which situation became doubly serious when one snowshoe broke, becoming completely unusable soon after he started out. No words can describe the next five days' agony, the final pitiful crawling on hands and knees, the tortured twelve miles to his cabin, his own numb suffering, urgently needing to reach his faithful old mules.

On the morning of April 7th, at 3 P.M. he stumbled into his cabin. Even at first he knew someone had been there, and, looking toward the wagon. he saw the mules were not there. Someone must have untied them or they'd broken loose. His hands, feet and legs were badly frostbitten from crawling through the snow. so he remained at the cabin for several days, resting and nursing his aching. weary feet and hands. Then, after rigging up another snowshoe, he again started out, having provisions left for only one meal. When that evening he paused to eat and rest, he looked up and saw his mules approaching. He took off his snowshoes and, making a halter out of the shoe straps, he caught the most gentle mule and started out leading this mule with the others following. Every time a bare spot of ground appeared on a little knoll Sam stopped to rest and let the poor critters crop the sparse grass.

At length, however, Sam became so weak he had to again crawl on hands and knees and at last, finding himself some slight shelter in some timber, was forced to stop to rest again. He could no longer be responsible for the mules. It was, indeed. fortunate that he was here in the trees for that night another three-day blizzard hit. How Sam ever survived, God only knows, huddled up against a tree with no food and no extra protection. When the storm had spent its fury he somehow went on to Clarkson's Canyon ranch on Powder River, where he was tenderly cared for and as soon as possible taken to Buffalo to have his frosted parts properly attended to by a doctor.

W. W. Morgareidge, A. L. Brock and a couple of other men had gone to Sam's cabin in search of him when he did not return with the mail. Finding the mules tied to his wagon, they'd turned them loose, and seeing no signs of Sam decided he'd perished in the storm. They'd gone to Buffalo to report his probable death and organize a search party to find the body., but an hour after their arrival in town news came of the Invasion into Johnson County of the armed cattlemen and in the high excitement and confusion following this announcement Sam Stringer and the storm on the Big Horns was completely forgotten.

Sam's harrowing experience in no way daunted his desire to continue his mail carrying and as soon as his poor, sore fee healed sufficiently he was back on the job as faithful and dutiful as ever. He knew, and said so many times, that his surviving was due entirely to his grease-eating habit.

Later this story is told about him when his stage was really mired down in mud, the vehicle was just plain stuck and the passengers and everybody had to remain out all night. Luckily it wasn't unduly cold for the time of year so no one actually suffered from exposure. hut their dispositions weren't of the best. Among the lot was a Jewish man who the story goes, had been especially rude to Sam, expostulating hatefully bout mail carriers who did not provide food for their passengers upon such occasions. etc. etc.. for as Uncle Sam had no more in the line of food than his can of grease and a small skillet for the heating of it. Soon after sunup Sam had managed to get together enough dry wood for a small fire over which he was preparing to warm up his grease when out of nowhere. it seemed, appeared a long, lanky, bareheaded cowboy all splattered and caked with mud. carrying his hat full of eggs. Grinning at everybody and looking at the pan of grease on the fire he said. "How about cookin' some o' these here eggs for me. Sam?" "Sure." said Sam, and so the cowboy squatted down on his heels and held his hat close while Sam broke several eggs. dropping them carefully in the hot grease. At the sight of food the passengers. particularly the Jew, crowded close hoping to get some of the food. too. Sam went on frying the eggs. lifting the pan and expertly tipping it this way and that to baste them on top. As soon as they were cooked to his taste he laid them in a row on a piece of old dirty canvas he had. When the last egg was frying he looked up at the cowboy and said. "lke. come to think of it. where'd you get these eggs, anyway? What kind are they? They don't look quite normal and don't smell quite normal to me." The cowboy replied. "Hell, Sam. you're what's not normal, them's rattlesnake eggs and ain't good as hen's egg. but right now I'm so hungry I could eat my bridle reins if they weren't so danged muddy." Needless to say Sam and Ike ate the eggs, grease, dirt and all, for the passengers had suddenly become very fastidious and not as hungry as they thought they were.

Speaking of finical passengers, another time Sam unavoidably had to stop at a ranch along the road instead of the usual stage stop. A Mexican was cooking there and the table and food weren't of the cleanest and the flies were so thick you could scarcely see what was on the table. A very gentlemanly passenger was very hungry and decided bread and syrup would probably be safe and the least apt to be contaminated or poison him. Very distastefully he began brushing the flies off the syrup pitcher when a man remarked good-naturedly, "Sir; don't worry none about them flies. They're educated, they won't fall in."

In summing up the life of this remarkable old pioneer, Mr. Gatchell writes: "Samuel Stringer saw a vast empire wrested from savage domination and become the home of a prosperous, contented people. He saw the Old West pass out and adapted himself to the changed conditions. He came back to the country where, years before he had endured the hardships incident to life in a frontier post and took his place in the new regime as one of our most respected citizens." These words written by H.P. Liddon come to mind:

NOBEL ACTION: The life of a man is made up of action and endurance; and life is fruitful in ratio in which it is laid out in noble action or in patient perseverance.

SEARCHING FOR SAMUEL STRINGER "SR." BEFORE 1840

1820 Census, Sampson Co., NC - Is this the same Stringer family from the 1840 census in Florida?
There is a Samuel Stringer in Sampson County, North Carolina on the 1820 NC census.

Sampson, Duplin, and New Hanover counties as they appeared in 1820.

In 1875 Pender County was formed from New Hanover County to include Burgaw (where Sheldon's brother Alexander was born.)

Place your cursor on the map to see the present layout.


1820 Census, Sampson County, NC comparison with the Fla. census of Samuel Stringer in 1840

The Samuel Stringer head of house on the 1840 Florida census was age 40 to under 50, so in 1820 he should be 20 to under 30. He would fit in the 26 to under 45 group and thus the overlap would be 26 to under 30 if this is the same Samuel Stringer. His birth year would be 1791 to 1794 so Samuel's data as the head of house is consistent between the two censuses.

The two males in 1840 who were age 5 to under 10 would not yet have been born in 1820 and are consistent with Sheldon b. 1834 and Samuel b.1831 of the Tampa 1850 census. The two males who are under 10 in 1820 would have been born from 1811 to 1820 so in 1840 they would be from age 21 to 29, old enough to be on their own. Alexander b. 1817 in Burgaw, NC would be one of these two, leaving one unknown male child. There are no males in the 20 to under 30 group in 1840 so this is consistent and thus, all the males are consistent and Samuel could have had 4 sons, 3 of them being Alexander b. 1817, Samuel b. 1831 and Sheldon b. 1834. The fourth son could have been born before Alexander or just after him.

The female in 1840 who was under age 5 would not have been born yet in 1820 and is consistent with Sheldon's sister Laura, found on the Stringer 1850 census of Tampa, b. 1836-37 in Georgia. The female in 1820 who is under 10 would be age 20 to under 30 in 1840 and although there is no female in the Stringer home in that age group in 1840, she would be old enough to be married and thus would qualify as Mary Ann Stringer Drew who is listed in that group in the neighboring Benjamin Drew household. So the female under 10 in 1820 can be Mary Ann Stringer Drew. The female on the 1840 census who was 15 to under 20 (b. 1821-1822) would not yet have been born in 1820 and would be Jane Stringer who married William Hammley in 1841. Finally, the female age 10 to under 15 (b.1826-1830) in 1840 would also not have been born yet in 1820 and would be Martha b 1827 to 1830 in NC.. So thus far the females are consistent and Samuel could have had 4 daughters who can be:

Mary Ann Stringer Drew b. Jan. 20, 1820 Wilmington, NC,
Jane Stringer Hamley b. 1819-1822 NC or GA,
Martha Stringer Cook b. 1827-1830 b. NC, and
Laura b. 1836-37 GA.

MARY (maiden name unknown) STRINGER, Sheldon's mother

Finally, the female in 1840 who is assumed to be Sheldon's mother, Mary Stringer, in 1840 is age 40 to under 50, so in 1820 she would be age 20 to under 30. She would be in the 26 to under 45 group in 1820. The overlap would be 26 to under 30 in 1820 and she fits in with both censuses. So the oldest females of both censuses are consistent.

However, Sheldon's mother, Mary Stringer, who has a birth year of 1796 on her tombstone and at age 51 on her 1850 census, would have a birth year of 1799, thus making her age 21 to 24 in 1820. There should have been a female in 1820 in the 16 to under 26 group. Instead, there is a female listed in the 26 to under 45 group.

In 1820, she already had 3 children all under the age of 10. If Sheldon's mother was 2 years older (b. 1794-95) she would be consistent with 1820 and 1840. (Her tombstone and 1850 census have a 3-year discrepancy.) Could she have tried to appear a couple of years older in 1820 and say she was 26? Could Samuel have thought she was 26? Mary Stringer's age is rather consistent with her tombstone birth date for her remaining censuses: 63 in 1860, 73 in 1870, all calculating to a 1796-97 birth year.

In a nutshell, the 1820 and the 1840 censuses for the female who would be Mary, Sheldon's mother, are consistent with each other. But Mary's tombstone birth date is 2 years off to fit in the 1820 census.

These Stringers should also be on the 1830 census with a female under 5 (Martha), a female 5 to under 10 (Jane), a female 10 to under 15 (Mary Ann), a female 30 to 40 (Mary Stringer), a male 10 to under 15 (Alexander), and a male 30 to under 40 (Samuel Stringer, Sr.) Their 1830 census should be in North Carolina, as Samuel (Jr.) and Sheldon were both born there 1831 and 1834. So far, this census has not been located.

All the above circumstances strongly point to Samuel Stringer as Dr. Sheldon Stringer Sr.'s father, and that the Stringers probably came to Tampa with the Moores, the Drews, or the Givenses, sometime around 1842 to 1849. But did Samuel Stringer make it to Tampa? The 1948 Tampa Tribune article has Sheldon Stringer, Jr. saying their house was built in 1842 by his grandfather.

Putting all the Stringer children together:

1. Alexander
b. 1817
b. Burgaw, NC
In the 1820 home
Moved out by 1840
2 son
b. 1817** to 1820
?
In the 1820 home
Moved out or dec'd by 1840
3. Mary Ann
b. 1820
b. Wilmington, NC
In the 1820 home
Married out in 1839 to B.Drew
4. Jane
b. 1821 to 1822
b. NC or GA
Not yet born in 1820
In the 1840 home, married out 1841
5. Martha
b. 1827 to 1830
b. NC
Not yet born in 1820
In the 1840 home, married out 1849 to J. Cook
6. Samuel
b. Sep. 30, 1830
b. near Washington, NC
Not yet born in 1820
In the 1840 & 1850 home
7. Sheldon
b. Nov. 13, 1834
b. NC
Not yet born in 1820
in the 1840 & 1850 home
8. Laura
b. 1837
b. GA
Not yet born in 1820
In the 1840 & 1850 home
**#2 son statistically could have been born from 1811-1820 but his mother's age and her probable marriage year at age 21 restricts him to 1817 at the soonest.

So far, Samuel "Sr." hasn't been found on the 1830 census. Assuming he is Sheldon's father, he would likely be in NC because Sheldon and Samuel were both born there.

SO WHAT COULD HAVE HAPPENED TO THE SENIOR SAMUEL STRINGER BETWEEN 1840 AND 1850?

Newspapers of this period would publish the names of persons who had unclaimed U.S. Mail at the local post office. On January 4 and 25, April 4 and 11, and May 2, 1832, the Wilmington NC newspaper "Cape Fear Recorder" named Sam or Samuel Stringer among others having mail.

The 1881 Sunland Tribune article states that Dr. Sheldon Stringer "was left fatherless when he was only eleven." Using his 1834 birth year which is consistent with his tombstone and 1850 census, his father would have died in 1845.

If Sheldon's father was the Samuel Stringer in the article at right, he returned to Wilmington for some reason and met with a most tragic end. There are no other records found so far for any Samuel Stringer in this area of NC in this time period. Samuel wasn't a common name among Stringers.

STRINGER LAND PATENTS IN FLORIDA

Sheldon Stringer had several land patents in Florida--Pasco and Hernando Counties. Assuming Alexander was his oldest brother, it would make sense that he had the earliest one. He may have intended to move to Florida while he was in Texas serving in the Army. His was the largest single purchase at 160 acres (one-quarter of a section.) A half of a quarter was 80 acres, and a quarter of a quarter was 40 acres. So Sheldon had three purchases for 40, 80 and 40 also totaling 160 acres (in two counties.) Could other Pasco and Hernando patents be relatives?

THE EDGECOMBE COUNTY, NORTH CAROLINA STRINGERS

A great many Stringer families were present in the early 1800s in the area of Edgecombe County, NC. These two newspaper articles from the Rocky Mount Telegram newspaper in 1955 and 1957 provide valuable information about the Stringers in the early 1800s.

GUILFORD STRINGER AND MARY PITT

Guilford Stringer and his family "sold out and moved south before 1840 and lost all connection with their relations back in Edgecombe County."

The articles from the 1950s are only portions of the larger articles which discuss other Stringers and other families.

In the article below, after Guilford Stringer closed the Mobley mortgage and sold his land to Joab Pitt on Feb. 25, 1833, they "moved south in the great migration of 1833 and lost all contact with their kinsmen in Edgecombe County."
Marriage of Guilford Stringer and Mary Pitt, April 11, 1827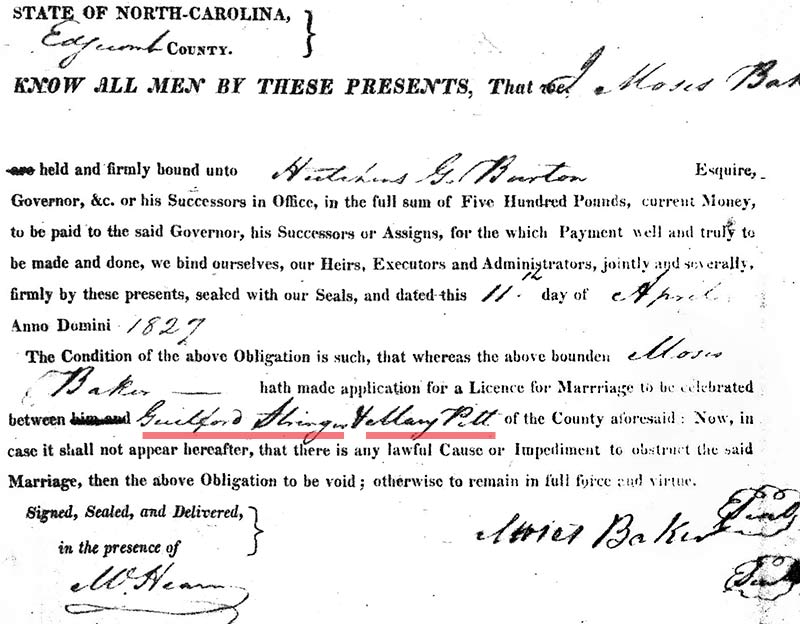 Although they could still be Sheldon and Laura's parents, they wouldn't be Alexander's, Mary Ann's or Jane's parents having married so late.
Perhaps Charles Stringer or Josiah Stringer, sons of John Stringer Sr, could be Sheldon Stringer Sr.'s grandfather.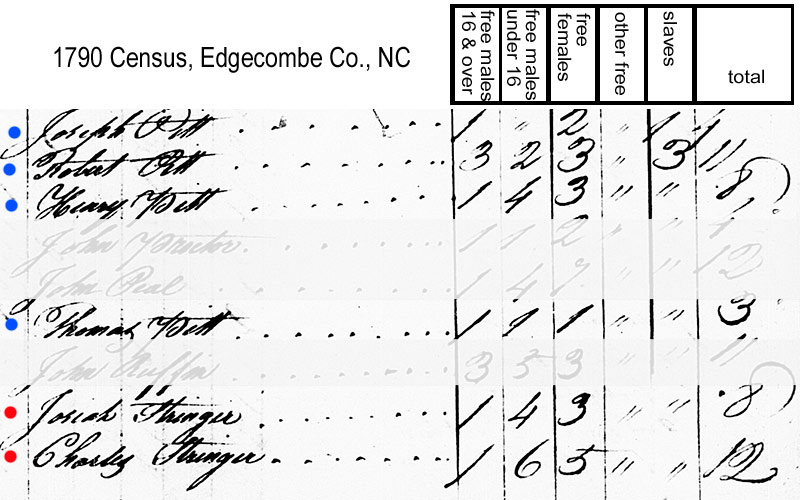 Four Pitt families living in close proximity to brothers Josiah & Charles Stringer.
Charles with 6 males under age 16 = born circa 1774 to 1790. Josiah with 4 males under 16. One could be Samuel Stringer.
https://www.familysearch.org/ark:/61903/2:2:3DHD-S77
Charles Stringer listed on the 1790 census, p. 56, had one white male over 16 (self), 6 w/m under 16, and 5 free white females.... Charles was awarded land in the 1805 Georgia land lottery in what became Laurens County, and was on the the first grand jury of the first court in that County. By 1818, he had sold all his land in Laurens County in preparation of his families move to Lawrence County, Mississippi. while other researchers believe that Charles died in Georgia before he could make the move to Mississippi, there is the Charles Stringer listed in Lawrence County, Mississippi in the 1818 tax rolls, (while he paid a tax of .67 he is not shown to own any land, but one slave) and again in 1823 Charles is mentioned. My source for much of the information on his family, Dorothy Stringer Roberts, believes that Charles made the move and died in Mississippi in his 70s; I agree with her conclusion.(taken from the Internet. I don't know who wrote it) Quoted text: http://trees.ancestry.com/pt/AMTCitationRedir.aspx?tid=9464606&pid=5686
Submitted 3/11/2017 by ANDRIA VINCENT
Consider the four sons of John Stringer Sr., with 13 male children combined on their 1790 census, any of whom could be Samuel Stringer's father.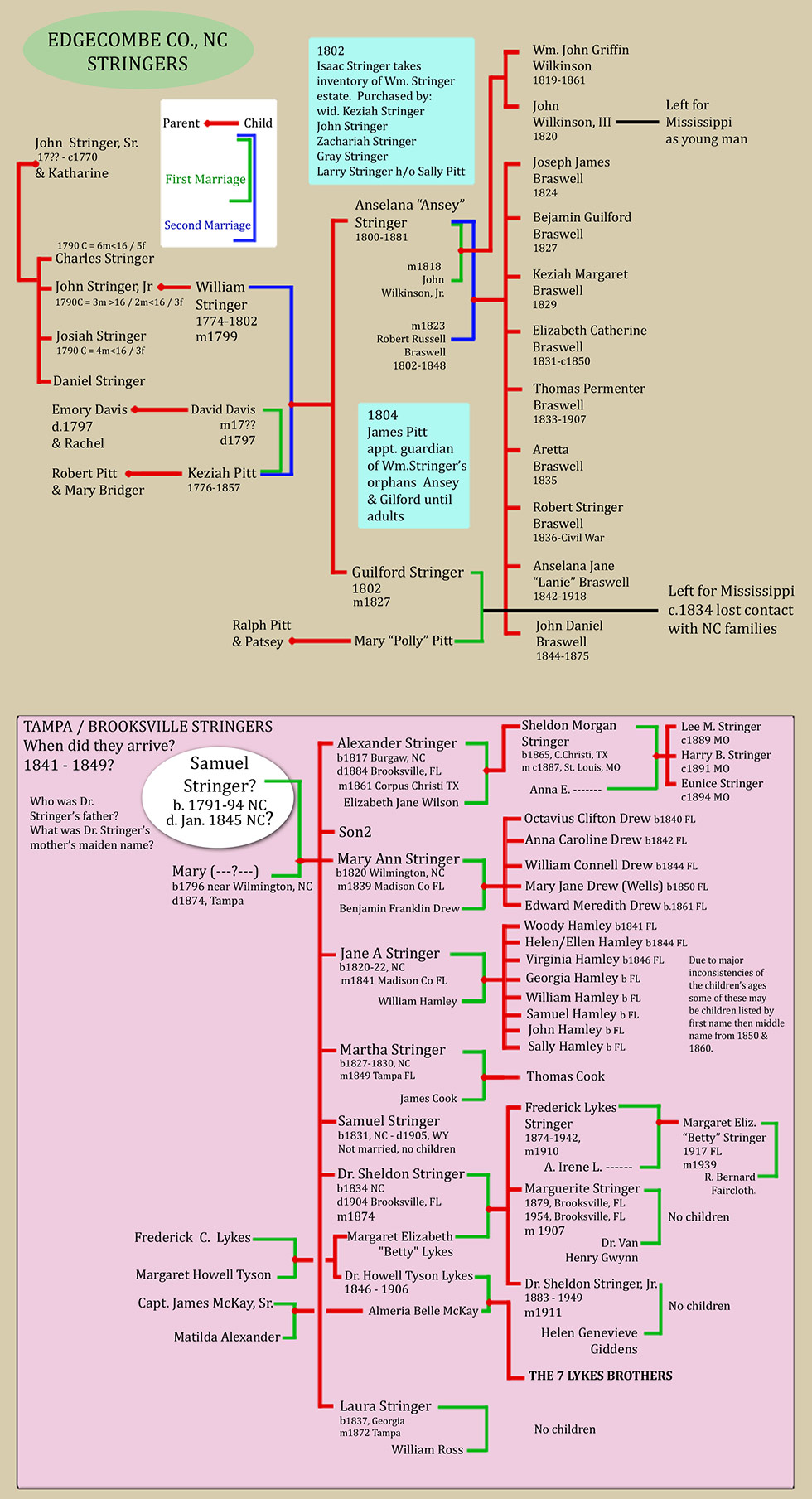 Dr. Howell T. Lykes (brother-in-law of Dr. Sheldon Stringer, Sr.) is included in this tree so that the relationship between the Stringers and the seven "Lykes Brothers" can be seen.
History of Edgecombe Co., NC
By Joseph Kelly Turner, John Luther Bridger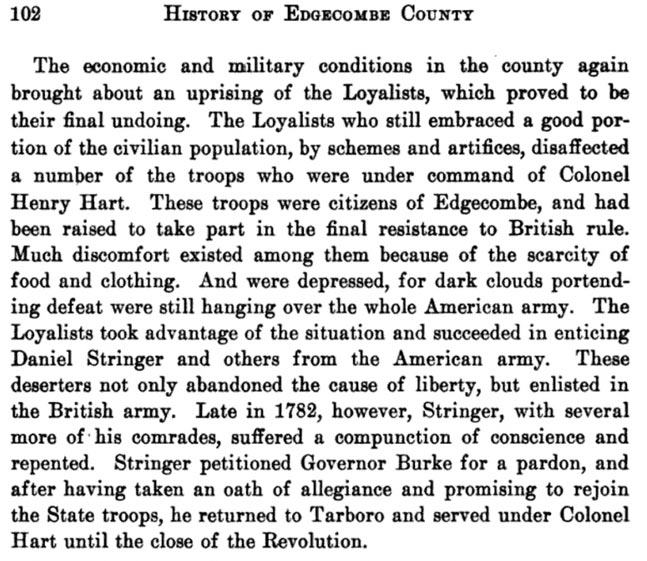 Doctor Samuel Stringer of the American Revolution:
DNA:PCC, item 153). The Continental Congress confirmed Schuyler's action on 17 Sept. by naming Stringer director of the hospital and chief physician and surgeon for the army in the northern department. Stringer was authorized to appoint up to four surgeon's mates to assist him, but they were to be employed only when the sick and wounded were "so numerous as to require the constant attendance of four [mates]" and were to be reduced in number as circumstances allowed (
JCC
, 2:249–50).
Three children: 1) David b. 1765, 2) Lydia m. Stephen Lush, 3) Gertrude m. Richard Treat.
---