When was the historic Stringer house built?
It depends on who you ask.

This building...was originally built for Dr. Sheldon Stringer, father of the present city physician who was named after his father. It was built in the fifties by contractor John T. Givens, who built a number of houses of this type and class about that time. THE TAMPA TIMES, "Mayor Has Sold Old House to Stalnaker Bros; Was Landmark." 1914-June 13

The building was sold yesterday by Mayor D. B. McKay to Stalnaker Brothers...The house was built in the fifties for Dr. Sheldon Stringer, father of the present city physician. "Frame Dwelling Constructed More Than Fifty Years Ago Sold To Stalnaker Brothers," THE TAMPA TRIBUNE. 1914, June 14

Some time ago Stalnaker Bros. bought the old Dr. Stringer residence, corner of Jackson Street and Florida Avenue...the old Tampa landmark of fifty years standing. "Historic Stringer House Moved" - THE WEEKLY TRIBUNE 1914, Aug. 27.

It was originally erected by the grandfather of Dr. Sheldon Stringer in 1842 on the site of the south section (police station) of the present City Hall. "The Oldest House in Tampa," THE TAMPA TRIBUNE. 1948, June 6

Born in North Carolina on November 13, 1834, Sheldon Stringer came to Tampa with his family in 1841. In 1842, his father built a house near the northwest corner of Jackson Street and Florida Avenue. THE CITY CLERKS OF TAMPA, a project of the City of Tampa; 2017, Sept.

It was originally built in 1842 on Jackson Street by physician Sheldon Stringer. "The Oldest House in Tampa Area Has Moved," by staff writer Paul Guzzo." THE TAMPA BAY TIMES - 2018, Feb. 15

Read the whole article at "The Oldest House in Tampa Area Has Moved," by Paul Guzzo. THE TAMPA BAY TIMES
UNTANGLING THE STRINGERS

When was Dr. Stringer born? There were two Sheldon Stringers in Tampa--a father and son; senior and junior, and both were medical doctors. There was a third one in St. Louis who was related, but not a doctor. While all sources agree the senior doctor was born on Nov. 13 in North Carolina, various sources give a range of three years for his birth, 1833 to 1836. His son, Dr. Stringer Jr., was born in Brooksville on June 23, 1883.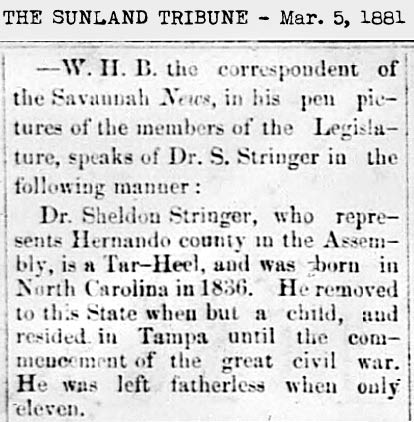 Dr. Sheldon Stringer...was born in N. Carolina in 1836. He removed to this state (Florida) when but a child...He was left fatherless when only 11.
THE SUNLAND TRIBUNE, 1881-Mar. 5.
Using Sheldon's age in this article, we can conclude his father died around 1847.
The newspaper article at right is cut short below to mainly show what relates to his birth year. This is the earliest article found that alludes to when the Stringers came to Florida and it's the only one found so far that gives a clue as to when his father died.
EARLY SOURCES FOR THE ELDER DR. STRINGER'S BIRTH YEAR

On a passport application of April, 1874, in Monroe County (Key West) Dr. Stringer states he was born "on or about" Nov. 13, 1833 in North Carolina. "On or about" is part of the form, so the date could be exact, or could be an estimate. Although the application doesn't state where he was planning to travel, it may have been to Cuba.

According to his tombstone, he was born on November 13, 1834.

SHELDON STRINGER ON THE 1850 CENSUS

The earliest record found so far of Sheldon Stringer in Tampa was on the 1850 census. According to this record, Sheldon Stringer was 15. The official census date was June 1, 1850; all ages recorded were to be the age the person was on June 1, regardless of when the enumerator visited. Sheldon's birthday was in November, so he would not yet have had his birthday that year by June 1. If he was 15 on June 1, he would turn 16 in November of 1850, putting his calculated birth date as Nov. 13, 1834. The date on Sheldon's tombstone is in agreement with his 1850 census age.

The 1850 census didn't list relationships. Here, Sheldon was living with his mother, Mary (age 50 or 51), his sister Laura (13) and Samuel Stringer (19). Samuel's listing out of chrono order might indicate that he wasn't a son of the head of house and he could be a cousin or any other relationship. Or, he might be a son and listed out of order in error. Later, he turns up in Iowa and ultimately in Wyoming. Evidence pointing to him being Sheldon's brother is presented on another page.
According to this record, Mary was born around 1799 in NC. Her tombstone in Oaklawn Cemetery shows Aug. 24, 1796 "near Wilmington." If she married when she turned 21, that would have been around 1817 to 1820. The fact that Mary was around 36 when Sheldon was born indicates it is highly likely that Mary had more children. Samuel was born around 1831 in NC, Sheldon was born 1834 in NC, Laura was born around 1837 in GEORGIA.
As the 1881 article stated, Sheldon's father died when Sheldon was 11, so Mr. Stringer died some time around 1844 to 1847. (1844 if we use Sheldon's passport application, 1845 if we use his tombstone and 1850 census, 1847 if we use the newspaper article.)
WHAT DOES THIS MEAN SO FAR FOR TAMPA'S OLDEST HOUSE?
At this point we can rule out #6. Tampa's oldest house would not have been built in 1842 for or by Sheldon Stringer because he would have been around 8 years old. But this doesn't rule out being built in 1842 for Sheldon's father, or that it wasn't built for Sheldon Stringer later when he was a young man. It just rules out that both couldn't be correct.
WHO WAS SHELDON'S FATHER AND WHEN DID THE STRINGERS COME TO TAMPA?
If we can find out about Sheldon's father, we may be able to find out when or if he came to Tampa. Did Mary Stringer come to Tampa already a widow, or did the whole family come to Tampa?

Photo by Donna McPherson at Find-A-Grave

While Sheldon was living in Tampa, he bought a plot in Oaklawn Cemetery. His mother is buried there and according to her tombstone, she was born "near Wilmington" NC on Aug. 24, 1796. She died on Aug. 22, 1874.




Read about the Stringers of Madison County, FL and North Carolina. There is an excellent candidate to be Sheldon's father living in Madison County, Fla. in 1840. Who was Mary Stringer, what was her maiden name?

What happened to the 19-year-old Samuel Stringer who lived in Tampa in 1850 with Sheldon, his sister and his mother? What about Alexander Stringer, Sheldon's brother who shows up on Sheldon's 1880 census in Brooksville?

How many children were in the family of Mr. Stringer and his wife Mary?

PAGE 5: THE STRINGERS OF FLORIDA, N. CAROLINA AND TEXAS
TAMPA'S EARLY DEVELOPMENT - THE FORT BROOKE YEARS to TAMPA'S REVIVAL

Could the Stringers have settled in Tampa as early as 1841? What kind of settlement was early Tampa in the years of Fort Brooke? Was it a place ready for civilian settlement and starting a homestead? How safe was it here during the period of the 2nd Seminole Indian War and why would a family settle here, especially if widowed with children?

George Mercer Brooke (1785-1851), U.S. Army, brevet major general. While a colonel, ordered in 1823, along with James Gadsden, to establish a military presence in the vicinity of Tampa Bay, in the newly acquired Florida Territory, to contain the Seminole Indians and curtail illegal activities along the Gulf Coast.

James Gadsden (1788 - 1858) was a protégé of Andrew Jackson. In 1824, six years after this portrait was done, he surveyed the bounds of Florida's Indian nation, exploring, in the process, much of the Peace River valley. Photo colorized from Canter Brown Jr's Florida's Peace River Frontier, 1991.

Augustus Steele, first county judge in Hillsborough Co. which he practically founded himself, elected to the Territorial legislature twice. First to lay out plats of what would be the city of Tampa. After the Dade Massacre, he delivered the message to the Governor in Tallahassee. Developed a resort in Atsena Otie, now called Cedar Key.

John Jackson - Irishman who came to the U.S with his brother in 1841, former asst. city engineer at New Orleans, hired to survey territorial Florida, hired to survey the village of Tampa and named its streets, early merchant, and short-term mayor just before the Civil War.

See for yourself here on this separate page: The Spanish land grants before Florida belonged to the United States, the Hackley grant, were Richard and Robert Hackley robbed? The establishment of Fort Brooke, Florida becomes a state, Hillsborough becomes a county, and Tampa becomes a village.

PAGE 2 - TAMPA BEFORE 1850 - WHO WAS HERE AND WHEN DID THEY ARRIVE?
COULD THE HISTORIC HOUSE HAVE SURVIVED THE SEPT. 1848 HURRICANE?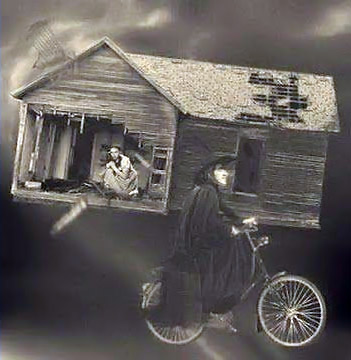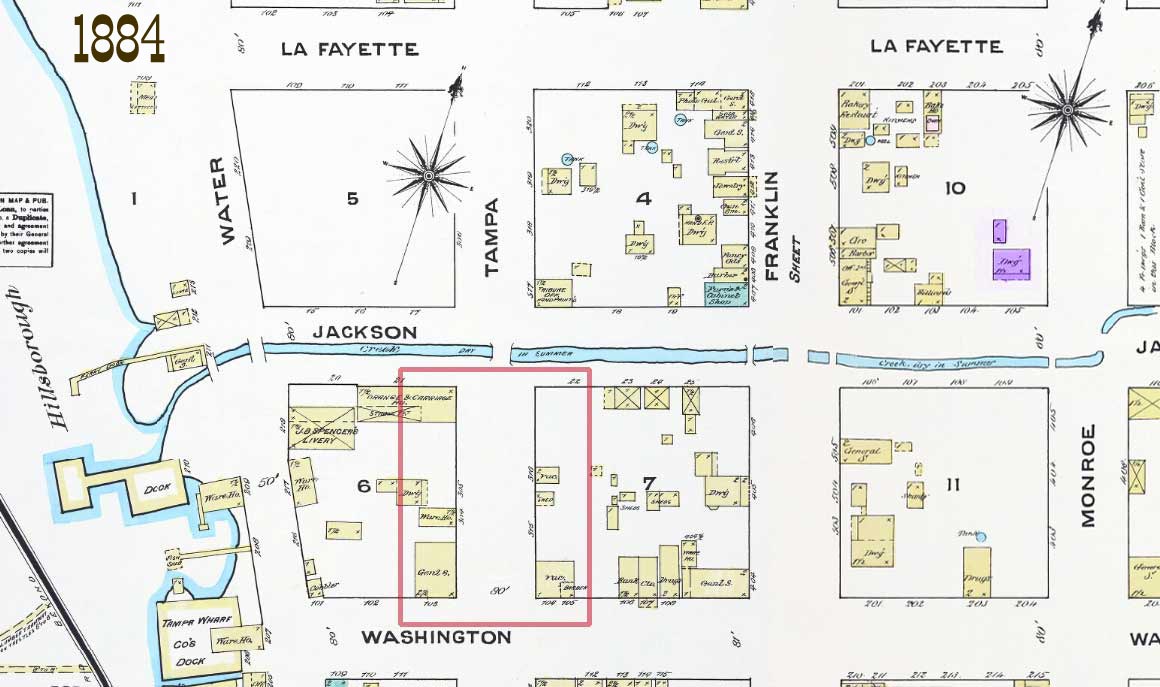 This 1884 Sanborn map shows the area on Tampa Street between Jackson and Washington where John Jackson's home was located in 1848. The dwelling in purple shows the Stringer house. This entire area was flooded and most all of the structures were destroyed or sustained heavy damage from tidal surge and high winds.

Could the Stringers have arrived before the hurricane and if they did, was their first home destroyed or damaged enough to where a 2nd home was built afterwards?
Read about the 1848 hurricane and the damage it caused, here on this separate page -- Decide for yourself!
PAGE 3 - THE HISTORIC STRINGER HOUSE: WAS IT BUILT BEFORE THE 1848 HURRICANE?

THE GIVENS FAMILY and
CARPENTER JOHN T. GIVENS
This building...was originally built for Dr. Sheldon Stringer, father of the present city physician* who was named after his father. It was built in the fifties by contractor John T. Givens, who built a number of houses of this type and class about that time.
THE TAMPA TIMES, "Mayor Has Sold Old House to Stalnaker Bros; Was Landmark." June 13, 1914.
*The city physician was Dr. Sheldon Stringer, Jr.
Crucial to determining the construction date of the Stringer house is to determine if John T. Givens built it and who it was built for. When did John Givens arrive in Tampa?
Read about the Givens family and when they came to Tampa, about their house, and the building of Tampa's courthouses: the McKay Courthouse and the Breaker Courthouse. Do you know which one this was below? Also read about Tampa's first building dedicated for use as City Hall and police/fire headquarters, and Tampa's first fire chief, Augustus Wuerpel.
All at this separate page: PAGE 4 - IT'S A GIVEN?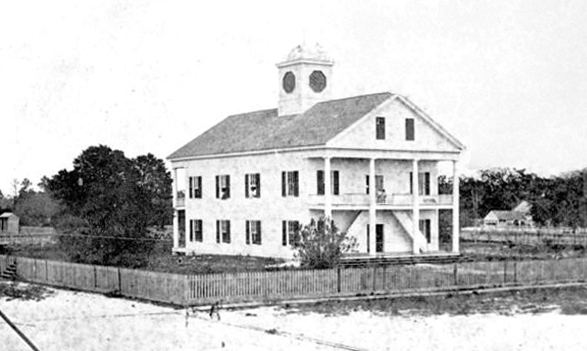 The McKay courthouse or the Breaker courthouse?

SHELDON STRINGER, SR. TIMELINE
Portions of which were obtained from
Dr. Sheldon Stringer, Sr. memorial at Find-a-Grave. and
Google Books: History of Florida, Past and Present by Harry Gardner Cutler. Vol. 2 pg. 44-45 (Excerpt from Dr. Stringer, Jr. describing his father.) The Lewis Publishing Co. 1923, and
"W.H.B - Correspondent of The Savannah News" in The Sunland Tribune Newspaper, Mar. 5, 1881

The first mention of Sheldon Stringer found so far (other than his 1850 census) is from Tampa's city council minute books, where it shows he was Tampa's 2nd City Clerk. His term as Tampa's second City Clerk lasted just over ten months*, and his signature is the first to appear as City Clerk in the very first City Council minute book, as William Ashley did not sign his name in the book until his second term in 1862.


| | | |
| --- | --- | --- |
| City Clerk | Term | Source |
| William Ashley | February 9, 1856 – February 9, 1857 | |
| Sheldon Stringer | February 9, 1857 – February 10, 1858 | Council Minute Book #1, page 4 |
| John R. Cox | February 10, 1858 – May 24, 1858 | Council Minute Book #1, page 11 |
| E.E. Barry | May 24, 1858 – February 12, 1859 | Council Minute Book #1, page 22 |
| John Darling | February 12, 1859 – February 2, 1861 | Council Minute Book #1, page 43) |
| Robert Brenham Thomas | February 3, 1861 – February 3, 1862 | |
| William Ashley | February 3, 1862 – February 22, 1862 | Council Minute Book #1, page 78 |
| Govt. Suspended by Military | February 22, 1862 – October 25, 1866 | |

City clerk info from City of Tampa, City Clerks of Tampa, 2017
*There is a discrepancy with the length of Dr. Stringer's term in office in the narrative ("a little over ten months")
and the length indicated in their chart (a year.)

An article in the June 6, 1857 "Florida Peninsular" says that on June 1, at a meeting of the young men of Tampa at the "Apothecary Hall," Sheldon Stringer, who was Tampa City Clerk at the time, was appointed Secretary of a committee formed to draft a resolution honoring their deceased friend, Emory Livingston Lesley. The article has been shortened for display here.

Below: July 30, 1859 THE PENINSULAR


Sheldon selected medicine as his profession and graduated in 1859 from the medical department of the University of Louisiana in New Orleans. The school would eventually become Tulane University School of Medicine.

With this 1859 ad below, Dr. Sheldon Stringer announced his medical practice to the people of Tampa and the surrounding countryside. The ad states his practice is at his residence at the corner of Monroe (which would become Florida Ave. in the 1880s) and Jackson. This was the original location of the historic Stringer house.

On Feb. 3, 1860, Stringer announced his partnership with Dr. Todd. "Especial attention given to Surgery." Office at the Tampa Book & Drug Store.
From "The Birth of an Infant Society: The Hillsborough County Medical Association, 1895-1899" by Cathy Bayless Slusser - Tampa Bay History magazine, Spring/Summer 1988, Vol. 10, No. 1.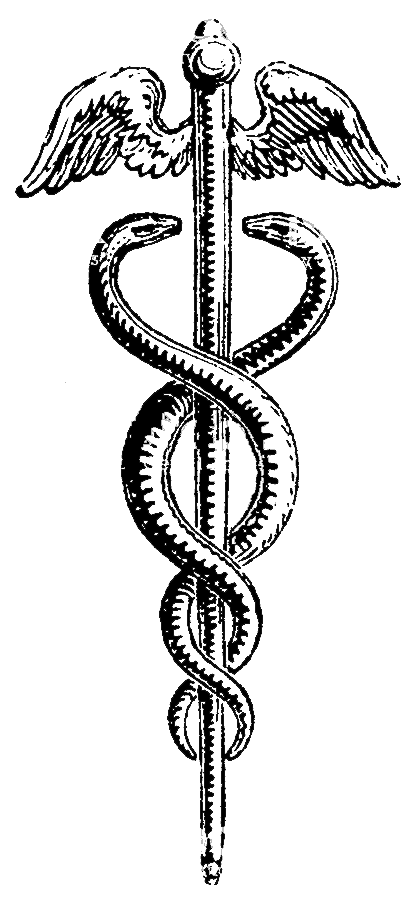 Physicians in Hillsborough County had long tried to organize in an effort to solve the public health problems of disease and poor sanitation brought on by primitive conditions and rapid growth. Individually or in small groups, they had led the fight for public health officers, a dependable water supply, indoor plumbing and paved streets. They also worked to establish a quarantine hospital for use in times of epidemic.

In addition, the physicians hoped to improve their own working conditions and standard of living. The Tampa physician's practice was a demanding one. On call twenty-four hours a day, he never knew when a knock on his door would take him from his bed to serve a patient. Doctors often worked around-the-clock during periods of epidemic which occurred regularly. Prevention and control of such diseases as malaria, yellow fever, measles, influenza and diphtheria occurred slowly and with a great deal of patience. During this period, although epidemics were a common event, they still caused panic among residents.

Accidents were also routine, and physicians never knew when their skills might be needed to treat injuries caused by runaway horses, overturned railroad cars or gunshot wounds. To reach their patients, they frequently had to travel several miles on horseback or in a horse-drawn carriage, which was often made more uncomfortable by driving rain or hot, muggy weather. Tampa physicians complained that they did not receive adequate compensation for their work. As in many agricultural areas, payment was often in goods or services.

As early as 1859, Tampa physicians attempted to organize in an effort to solve this financial problem. On June 16 of that year, five Tampa doctors, S.B. Todd, John P. Crichton, W.A. Lively, Sheldon Stringer and Franklin Branch, met at Branch's office to discuss establishing a minimum fee schedule. At that meeting, the doctors agreed to charge specific rates for their services. Only two excuses exempted physicians from asking for the set rate. They could reduce the bill if the patient could not pay or had been under their care for a long time. By restricting physicians to certain prices, the doctors hoped to reduce competition and raise their incomes.
In A History of the City of Tampa and the Tampa Bay Region, 1950, by Karl H. Grismer, Edited by D. B. McKay, Grismer wrote about Dr. Stringer:
He had just been graduated from medical school and was convinced that Tampa physicians were not receiving enough for their services. So he led a movement to standardize fees, as follows:
Ordinary prescriptions
$1.00
Giving opinion on a Negro offered for sale
$10
Extraordinary prescriptions
$2.00
Removing cataracts
$5 to $50
Visits in town to 9 p.m.
$1.50
Tonsillectomies
$5 to $10
Visits in town after 9 p.m.
$3.00
Amputating leg
$60
Visits in the country during daylight
$1.00 per mile
Amputating hip joint
$100
Visits in the country at night
$1.50 per mile
Simple obstetric cases, white or slave
$20
Visits in the country if raining
$2.00 per mile
Treatment of yellow fever
all charges doubled.
Calls after the doctor had retired for the night
$2.50 per mile
In "Pioneer Florida," D.B. McKay wrote:
It is of incidental interest that the birth of Florida's only set of quintuplets occurred on the Lykes property, the "Lykes Lemon Grove," just north of Bay Port in 1860. The mother, Mrs. Joe Goethe, described as "less than average size, and not very robust," was attended by Dr. Sheldon Stringer Sr. The quintuplets, all boys, were perfectly formed at birth, but all died in infancy."
During the year 1860 Dr. Stringer appeared for examination before the Army Medical Board in New York, and was informed that he would be commissioned as soon as his services were required.
THE STRINGER'S 1860 CENSUS IN TAMPA

In July of 1860, 25-year-old Sheldon was a doctor "M.D." Above him was listed his sister Laura and mother Mary. Mary worked at a boarding house.
It was around this time while still living in Tampa in 1860 that he purchased of 160 acres of property in Hernando County. Dr. Stringer resided in Tampa as a surgeon of the Regular Army, until the secession of the Southern states and the start of the Civil War, when he resigned and offered his services to President Davis.
When the war broke out he entered the State service as Surgeon in charge of the battalion at Tampa, serving successively on the staff of General Trapier. On February 13, 1862 Dr. Stringer was commissioned and appointed to the position of Surgeon on the Medical Staff of General Joseph Finnegan, who was commanding Confederate Troops in Florida. He also served in the same position under Generals Milton and Turner and was stationed at St. Augustine, Florida, with the rank of major, in the capacity of chief surgeon of the Florida Division and in charge of the Confederate Hospital at that location. Dr. Stringer took charge of the hospital in Fernandina [Jacksonville], then served as the Post Surgeon in the Lake City Hospital. In 1865 Dr. Stringer treated the wounded who had been brought from the Battlefield of Olustee.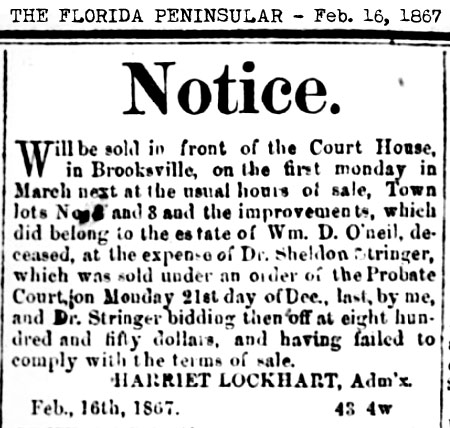 At the close of the war he settled at Brooksville, Hernando County, where his sister, Laura, owned a lot and home. There he practiced his profession and the culturing of oranges. For a number of years he acted as the Chairman of the Democratic Executive Committee of his county, and the heavy majorities there given attested his skill as an organizer.
In 1867 Dr. Stringer had taken over the medical practice of Dr. Howell T. Lykes of Hernando County. By means of one horse and a carriage that the doctor owned, he made house calls.
At right: Apparently, Dr. Stringer had bid for property from the estate of a William D. O'Neil, for $850, but then changed his mind. The Notice announces that on the first Monday in March, the lots would be sold from in front of the courthouse.
By 1869 Dr. Stringer had purchased an additional 80 acres adjoining to his previous 160 acres, in section 3, township 22, range 19; north of Brooksville.2 By 1872 Dr. Stringer had 1140 acres.
Dr. Stringer purchased a home in Pierceville.
(Pierceville was south of the center of Brooksville today. The exact location of Pierceville is the matter of some dispute. A possible location of the town was given as the intersection of Hale Ave and Martin Luther King Jr Blvd. Another location was offered was the Hope Hill area. The Hope Hill area is south of the 50 Bypass and is about 3 miles south of Fort Desoto. What started out as a small outpost grew and became the county seat for a short time. On August 4, 1854 James B. Hogans became postmaster of the Pierceville post office, which replaced the post office located in Melendez. Pierceville also became home to the Union Baptist Church opening its doors in 1852. A few years later, 1856 the merging of two towns, Melendez and Pierceville created the City of Brooksville. The Pierceville post office however did not become the Brooksville post office until January 1871.)
A Historic Journey- Pierceville and Melendez, The Hernando Sun
Pasco County was created in 1887 from the southern part of Hernando County. It was named for Samuel Pasco, who served in the Confederate Army, the state legislature and in the United States Senate from 1887 to 1899.
The Stringers moved to Brooksville and on the 1870 census, Sheldon was the head of house, age 35 and listed as a physician. His mother, Mary Stringer, was 73 and his sister, Laura, was listed as age 26. According to her 1850 and 1860 Censuses, she would have been 33.
1870 Census of Hernando County, Brooksville
Mary's age indicates a 1796-97 birth year.

On December 11, 1872, Dr. Stringer's sister Laura married William Ross in Hillsborough County.
Laura would have been 35 at the time.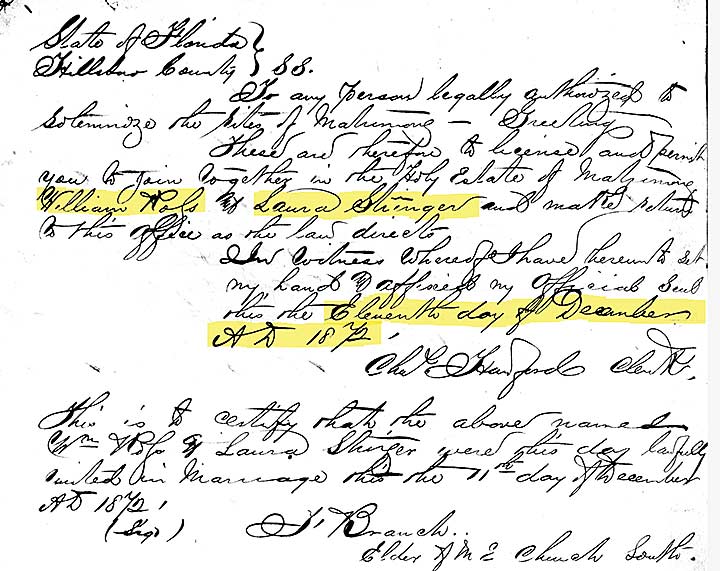 On February 19, 1874, Sheldon Stringer married Margaret Elizabeth "Betty" Lykes. Margaret was the sister of Dr. Howell Tyson Lykes; Howell and Elizabeth were the children of pioneer resident Frederick Eugene Lykes.

In 1875 Dr. Stringer and Betty had their first child, named after Betty's father-- Frederick Lykes Stringer. Fred Stringer went to law school in south Carolina and became a Brooksville attorney, legislator, and Hernando County Circuit judge. He would become prominent in Hernando political affairs in the early twentieth century.
https://www.findagrave.com/memorial/84964145/sheldon-stringer
In 1877 Dr. Stringer took the position of Superintendent of Public [County] Schools. He assumed the position of School Board secretary in 1880.
Laura Stringer Ross and her husband William were living in Manatee Co. in 1880, where William was listed as an engineer from Penn. Laura who is listed as "L. Ross" age 38 would have been 43 at the time. It shows her birth place as Georgia and her parents' birth places as NC which is consistent according to prior records.
1880 Census, Manatee Co., Pct. #6

On February 17, 1881 Stringer received full title to this coastal property, in section 28, township 24, range 16.
Dr. Stringer continued to live in Spring Hill.
"He is a clever, polished gentleman, as well as a skillful and successful physician, and the people of his county hold him in the highest esteem and respect."
1880 Census, Hernando Co., Brooksville, Fla.
By 1880, Dr. Sheldon Stringer, now 44, was married with a 5-year old son and newborn daughter.
In his home was Alexander Stringer, listed as his widowed brother.



Sheldon and Alexander both born NC, with both parents born NC.
If Alexander really is his brother, there would be 19 years in between them and time enough for several more siblings. His age would also be a clue as to how late their parents married. Candidates for their parents would need to have a marriage date around 1817 or sooner and birth years of 1796 or sooner (if they married at adult age of 21.)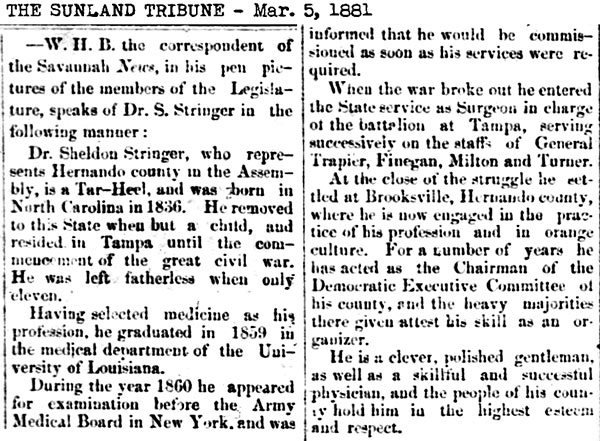 1883 Land patent He purchased property in section 9, township 24, range 20, located in an area that would become Pasco County.
In 1883 Dr. Stringer served as the trustee of Brooksville School.
The Stringers had a daughter, Marguerite, who married Dr. Gwynn.
In June 1883 Sheldon and "Betty" had their third child, Sheldon Stringer Jr.
In 1887 Dr. Stringer attended the International Medical Congress, 9th Session.
Dr. Stringer presented a a speech titled "A Rational Method of Relieving Asphyxia in the Newly Born Infant." Stringer makes reference to the uses of a "human incubator".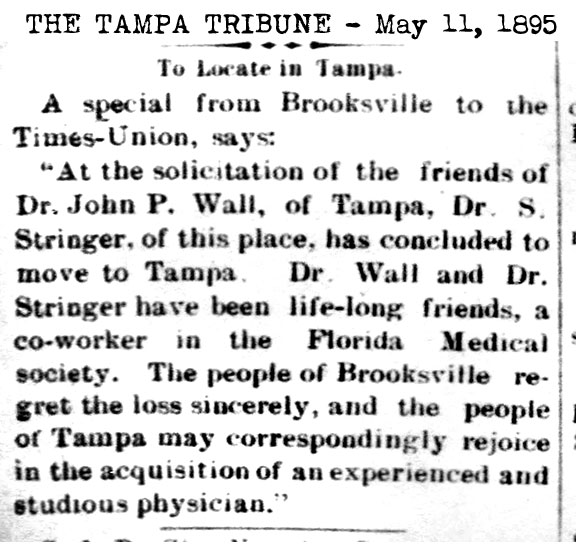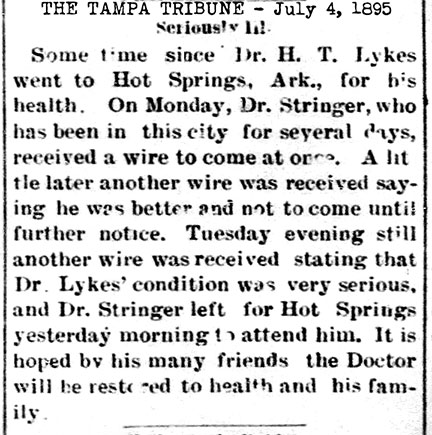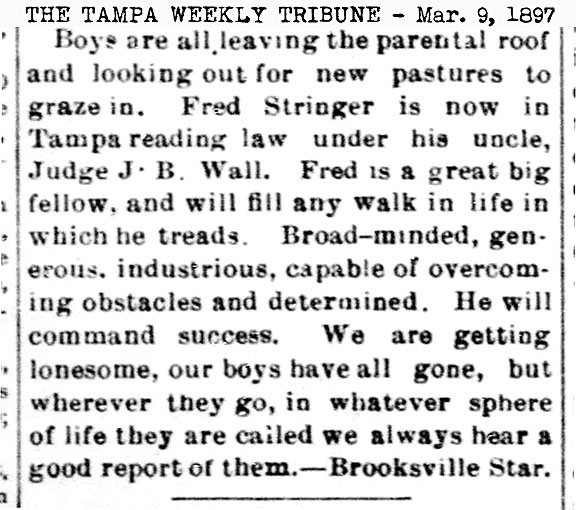 1900 Census, Brooksville, FL



Sheldon and Margaret were married for 26 years. Children Fred, Marguerite and Sheldon, Jr.
The Stringer house in the Rinaldi Guide Book of Tampa, 1920.
At far right can be seen the front facade of the 2nd floor of the 1890 Tampa City Hall.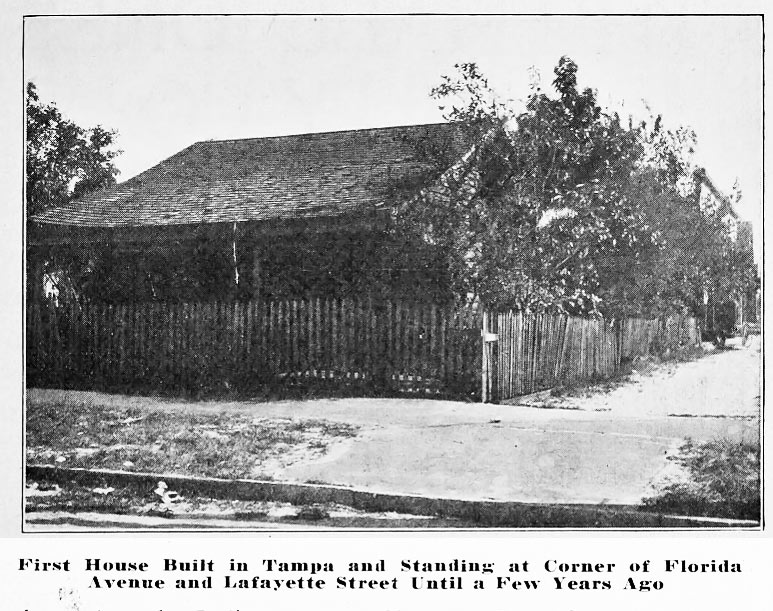 1920 Rinaldi Guide Book from Internet Archive
| | |
| --- | --- |
| | |
| | The photograph that was used for the mural |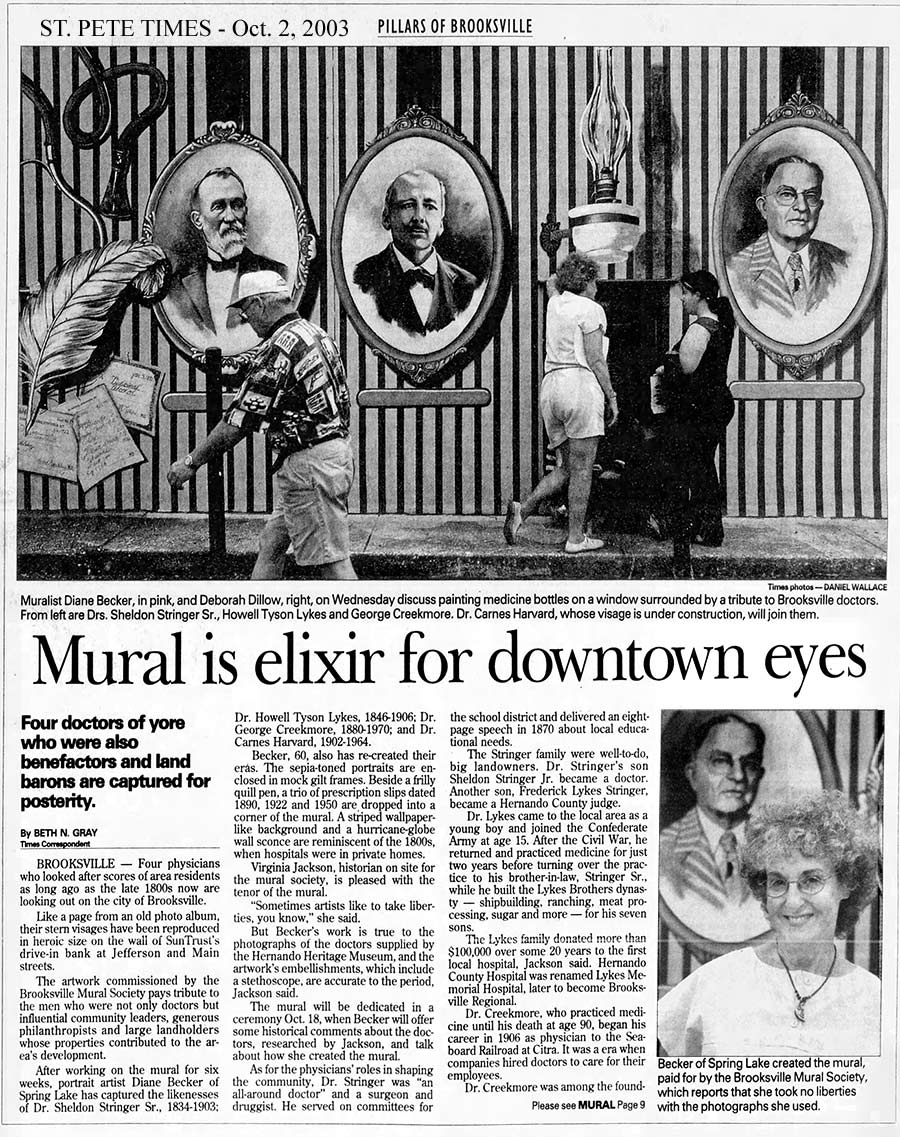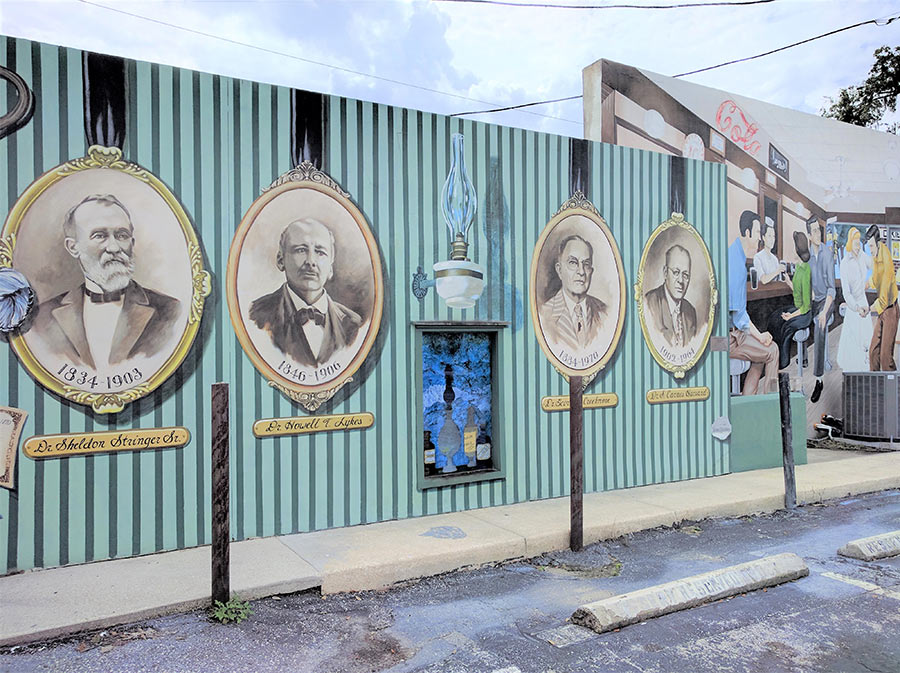 Photo from The Hernando Sun, "Historic Brooksville Mural Tour: Early Physicians of Brooksville."
The article has no date other than "1 year."
---
In 1890 Dr. Stringer served as President of the Florida Medical Association.
In the late 1880's and early 1890's Dr. Stringer owned and operated the City Drug Store in Brooksville.
By 1897 Dr. Stringer had become a member of the 15th International Congress of Hygiene.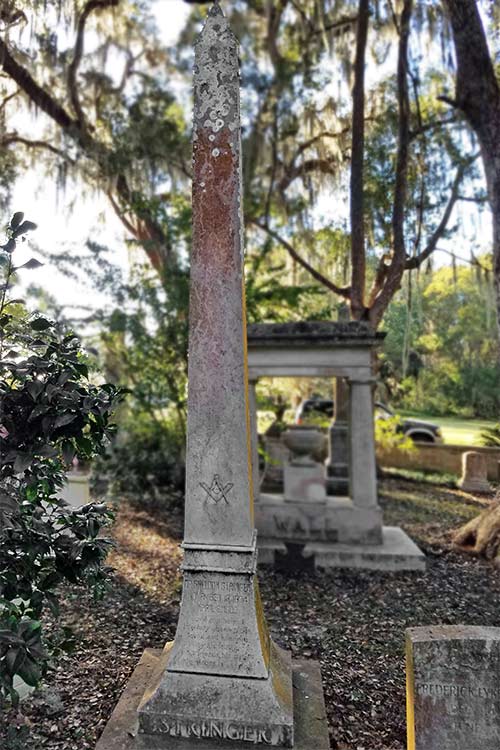 Dr. Sheldon Stringer died on April 6, 1903 and was interred in the Lykes Family Cemetery which his father-in-law had started. In Sheldon's memory the Stringer Family erected a very large headstone obelisk. His son Fred Lykes Stringer is next to him.
Photos provided by Jeff Tupper at Find-a-Grave.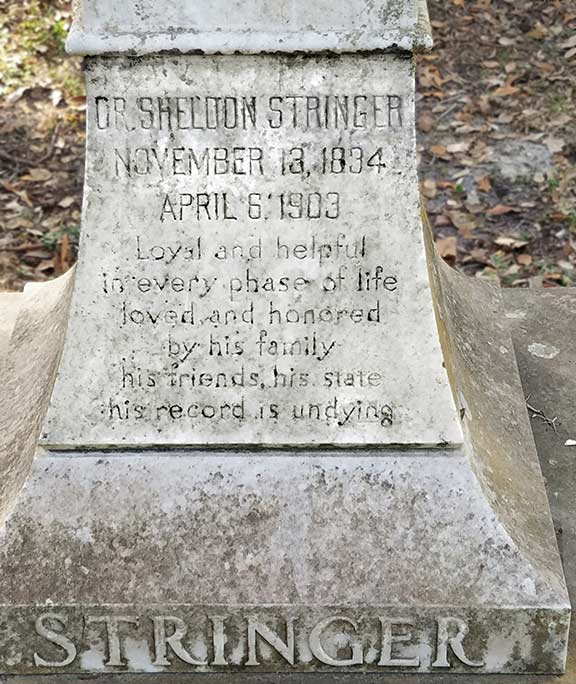 .
1910 Census, Hillsborough County, Tampa




Dr. Sheldon Stringer Jr. living in the Hyde Park section of Tampa, in the home of his uncle Joseph B. Wall, along with Sheldon Jr.'s sister Marguerite and her husband Dr. Van Henry Gwynn. Right around the corner on Magnolia Ave. was Helen Giddens, daughter of Isben S. and Ruby Giddens, whom Dr. Stringer, Jr. would marry in 1911.

Below, portrait of Marguerite Stringer Gwynn, Dr. Sheldon Stringer, Sr.'s daughter. Dr. Gwynn was appointed to head the State Asylum at Chattahoochee by Governor Jennings. (State Archives of Florida /Proctor)
---
It's not until 1948 that the Stringer house is attributed to the father of Sheldon Stringer, Sr. with an 1842 build date. This Tampa Tribune article references a conversation with Sheldon Stringer, Jr. for the source:
It was originally erected by the grandfather of Dr. Sheldon Stringer in 1842 on the site of the south section (police station) of the present City Hall. "The Oldest House in Tampa," THE TAMPA TRIBUNE. 1948, June 6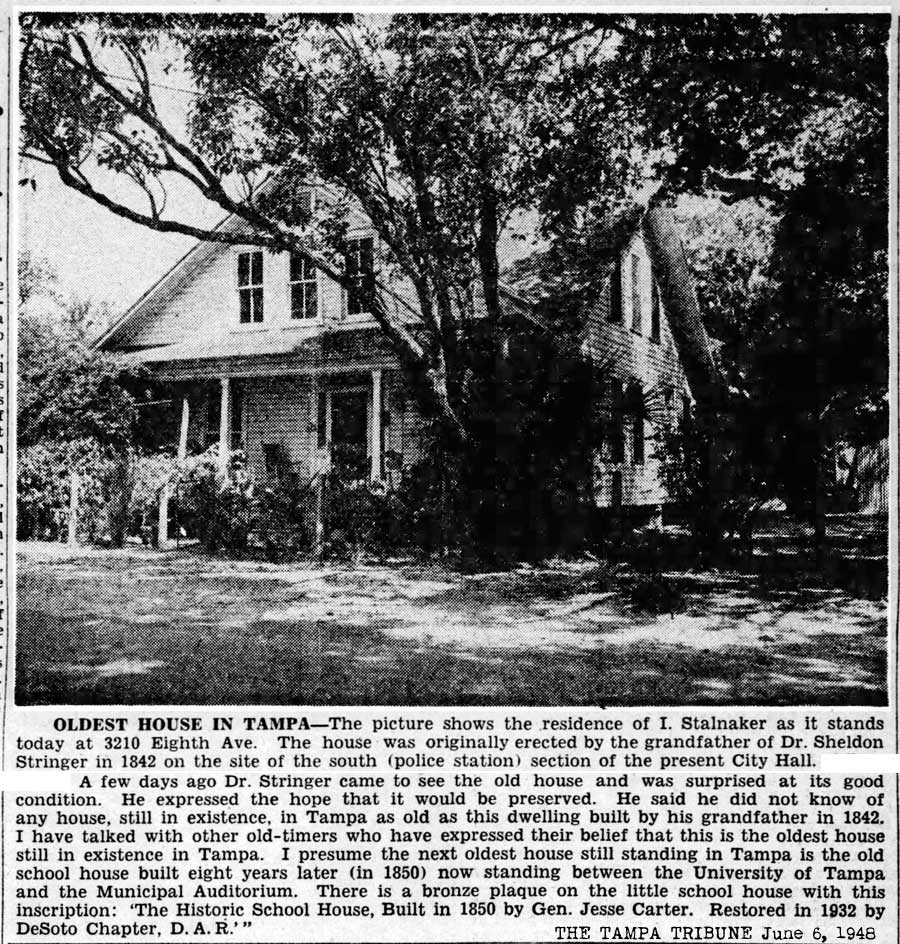 Could Dr. Stringer Sr.'s father have come to Tampa in 1842?
See THE STRINGERS OF FLORIDA, N. CAROLINA, TEXAS AND WYOMING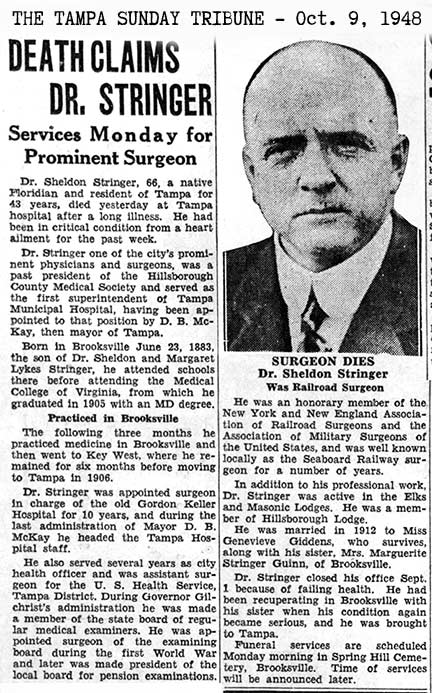 SHELDON STRINGER, JR., M. D.
A record of the professional career of Dr. SHELDON STRINGER, JR. of Tampa shows that he has been an honor to his calling and a valuable addition to the ranks of those who are laboring to bring about necessary changes in the management of civic affairs. A man of deep learning, profound in his ideas, practical in his suggestions, Doctor Stringer has naturally taken a notable place among his associates for many years, and has figured prominently in the medical profession of Hillsboro County and the City of Tampa. Throughout his entire career he has maintained a high standard of ethics and honorable practice. He is a worthy member of the different medical associations, and is looked upon as one of the ablest physicians and surgeons of Tampa. The spirit of progress which has been the dominant factor in the opening years of the twentieth century has been manifest in no connection more strongly than in the medical profession, where investigation and research have brought forth many scientific facts and principles, solving nature's secrets. Step by step Doctor Stringer has kept pace with the march of improvements, and has been chosen by a number of concerns to serve them in a professional capacity.
Doctor Stringer was born at Brooksville, Florida, June 23, 1883, a son of Doctor SHELDON and MARGARET ELIZABETH (LYKES) STRINGER, natives of North and South Carolina, respectively.
Reared in an intellectual atmosphere, Doctor Stringer attended the local schools of Brooksville and the Medical College of Virginia, and was graduated from the latter in 1905, with the degree of Doctor of Medicine. For the first three months thereafter he was in practice at Brooksville, and then spent six months at Key West, Florida, following which, in 1906, he located permanently at Tampa, which has continued to be the scene of his professional work.
In addition to his membership in the various societies of his profession he is an honorary member of the New York and New England Association of Railroad Surgeons, and of the Association of Military Surgeons of the United States. At one time he was president of the Hillsborough County Medical Society, and also served it as secretary and treasurer. Until the Tampa Northern Railroad was absorbed by the Seaboard Air Line he was its chief surgeon.
While living at Brooksville he was local surgeon for the Atlantic Coast Line Railroad, and was chief surgeon of the Brooksville & Hudson Railroad. During Governor Gilchrist's administration he was a member of the State Board of Regular Medical Examiners, and at one time was surgeon-in-charge of the Gordon Keller Memorial Hospital, which position he held for 10 years; under Mayor D. B. Mckey's administration he was city health officer for Tampa; and at present is acting assistant surgeon for the United States Public Health Service for the Tampa District.
During the period of the war he was surgeon of No.1 local examining board, and at present is president of the local board of surgeons for pension examinations. He presented himself for duty and examination at the Army Medical College at Washington, District of Columbia, and was ordered to report to Maj. R. C. BRYON at Richmond, Virginia, for examination. Doctor Stringer was accepted, but the commission was held up through some delay, so he did not receive his notification of acceptance until a few days following the signing of the armistice. The general order canceling all commissions prevented his receiving the one to which he was entitled.
Doctor Stringer is a Mason and belongs to Tampa Lodge No. 708, B. P. O. E. In 1912 Doctor Stringer married Miss GENEVIEVE GIDDENS, a daughter of I. S. and RUBY N. GIDDENS. Doctor Stringer finds pleasure and recreation through his membership with the Tampa Yacht Club, the Tampa Country Club and the Tampa Golf Club. A well-read man, Doctor Stringer enjoys his further studies in medicine and surgery. He holds to high ideals in his profession, and is constantly seeking to broaden his knowledge that his labors may be more effective, and with discriminating intelligence selects the best methods for the treatment of individual cases, the soundness of his judgment being manifest in the excellent results which follow his labors.
File contributed for use in USGenWeb Archives by: Nancy Rayburn Source: Vol. II pg.44-45 The Lewis Publishing Co. 1923 Author: History of Florida, Past and Present . http://files.usgwarchives.net/fl/hillsborough/bios/stringer116bs.txt
---
---

See a better and present-day photo of this house and another view of old City Hall at Tampa Changing and an excellent investigation into the current house's authenticity at Tampania Blog. See "Hortense the Beautiful" for more about our present City Hall, built in 1915.