Tampa Streetcar Fest 2004 - The Carbarn - Page 13
---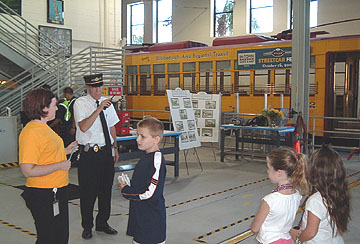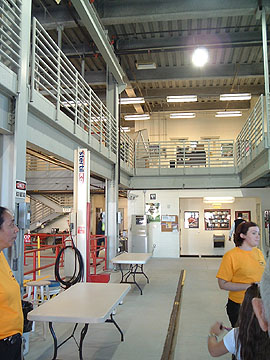 The term "carbarn" is a holdover from the even older days when trolleys were pulled by horses and so spent the night in the barn.
All nine cars can be stored in the carbarn if necessary. Here the cars are repaired, maintained and washed. This is also where the Birney restoration process took place for over 10 years.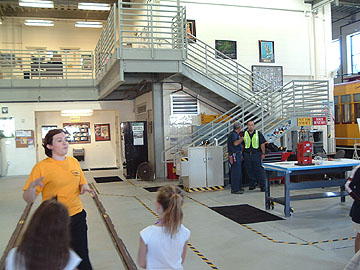 Sports fans owe the streetcar two of it's well known terms. "Double-header" was first used to describe streetcars which were driven from either end. The Brooklyn Dodgers were so named because there were so many trolley tracks around the stadium that the pedestrians had to constantly dodge the passing trolleys.
Photo below shows two "grease pits" where mechanics can work and inspect the underside of the cars.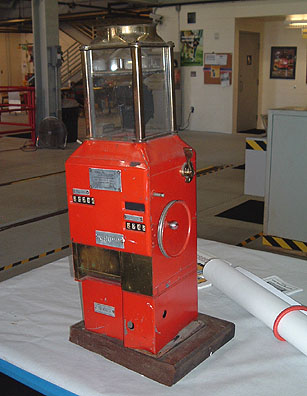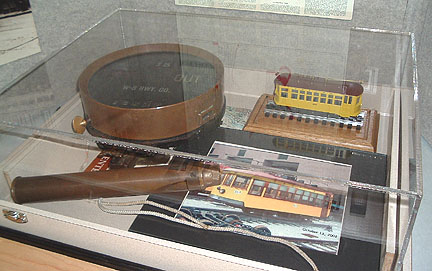 Items which one day will be displayed in a streetcar museum. The carbarn was designed so that in the future, an additional structure could be built attached to it, where the museum would make its home.
Click the photos on the display boards to view larger images.
Photos open in a new window, close to return here.
TAMPA'S EARLY ELECTRIC STREETCAR HISTORY

1893 TO 1920

IN 1893 THE TAMPA STREET RAILWAY AND POWER COMPANY CONVERTED ITS STEAM-POWERED STREETCARS TO ELECTRICITY, ALLOWING TAMPA TO BOAST AS THE FIRST CITY IN FLORIDA TO HAVE AN ELECTRIC STREETCAR SYSTEM. THIS EVENT INITIATED A GLORIOUS PERIOD IN "TAMPA'S TRANSPORTATION HERITAGE."

BY 1899 TAMPA'S STREETCAR SYSTEM CAME UNDER THE OWNERSHIP OF TAMPA ELECTRIC COMPANY AND 21.5 MILES OF TRACK CARRIED TAMPA RESIDENTS BETWEEN BALLAST POINT, DESOTO PARK, YBOR CITY, AND WEST TAMPA, ALL FOR A NICKEL. OVER THE NEXT 20 YEARS, SEVERAL COMPETING STREETCAR LINES SERVING ADDITIONAL ROUTES CAME AND WENT. THROUGH CONSOLIDATIONS, THE TAMPA STREETCAR SYSTEM GREW TO 53 MILES OF TRACK SERVING EVERY MAJOR NEIGHBORHOOD IN THE GREATER TAMPA AREA.

TAMPA'S HEYDAY FOR ELECTRIC STREETCAR SERVICE 1920 TO 1946

AFTER WORLD WAR I, TAMPA ELECTRIC'S FLEET OF EARLY "OPEN BENCH STYLE" STREETCARS WERE RAPIDLY REPLACED WITH "THE BIRNEY SAFETY CAR," A CLOSED-BODY, SINGLE OPERATOR, SAFE AND EASILY MAINTAINED VEHICLE THAT BECAME THE MAIN MODE OF TRANSPORTATION IN TAMPA. AT ITS PEAK OF SERVICE, A TOTAL OF 168 STREETCARS RAN ON THE TECO SYSTEM, INCLUDING 138 BIRNEY SAFETY CARS CONSISTING OF 28' LONG SINGLE-TRUCKED AND 48' LONG DOUBLE-TRUCKED VEHICLES. THE LAST FULL DAY OF TAMPA'S ELECTRIC STREETCAR OPERATION WAS AUGUST 3, 1946.
---
1 2 3 4 5 6 7 8 9 10 11 12 13 14 15