1865 - RECONSTRUCTION & MAGBEE AFTER THE CIVIL WAR
In 1862, Magbee's term in the Florida Senate was cut short. At Gov. Milton's request, Attorney General Galbraith had issued an opinion on the 1861 Florida Confederate constitution which was approved by that year's convention. According to Galbraith, all senators, even those elected like Magbee to four-year terms in 1860, would have their terms expire in October 1862 and would have to run for re-election. Soon after the word arrived in South Florida, James D. Green of Manatee County announced his candidacy. Samuel B. Todd of Tampa entered the contest along with Gen. Joseph M. Taylor of Hernando County.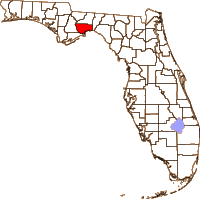 Magbee decided not to run, but to contest the election. Green, a Unionist who was "a particular friend and correspondent" of Magbee, soon withdrew, possibly at Magbee's urging.
On October 6, Todd out-polled Gen. Joseph Taylor in Hillsborough but Taylor prevailed in the rest of the district and went on to win the election.

Magbee was furious. He returned to Tampa, sold his belongings and moved with his newly wed bride, his 2nd wife, Julia A. Henderson, to Wakulla County (located on the south border of Leon County, on the Gulf of Mexico.) Magbee waited out the Civil War at this new home in the town of Newport, Wakulla Co., living the life of a planter with his wife and seven slaves.
1865 - June 13 - Magbee signs Oath of Allegiance to the U.S.
When the Civil War was over, Magbee signed an oath of allegiance to the United States on June 13, 1865. He was 43 years old.
I hereby solemnly swear that I will bear full faith and true allegiance to the United States of America. That I will support and maintain her against all her enemies. That I hereby renounce all allegiance to all other or foreign powers or governments. That I will support the Constitution of the United States so help me God.

Oct. 23, 1865 hurricane reported in the Nov. 17 Savannah National Republican - Great storm at Key West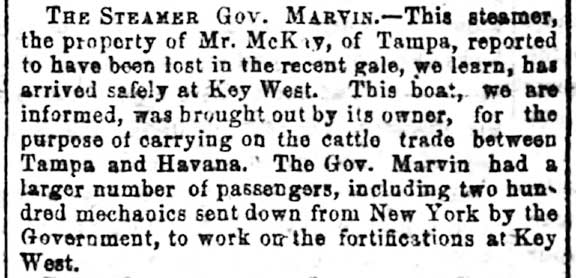 The steamer Gov. Marvin arrives in Key West - Savannah National Republican Nov. 28, 1865
1865 - The Florida Constitutional Convention
When the war ended in 1865, Magbee was elected by Wakulla County voters as their delegate to the Constitutional Convention at Tallahassee, where he was a framer of the new Florida Constitution. The convention convened October 25 and Magbee was joined by former secessionist James Gettis of Hillsborough, Unionist James D. Green of Manatee and former Confederate officers Francis A. Hendry of Polk and Samuel E. Hope of Hernando.
The convention "annulled" the Ordinance of Secession but Magbee and the majority rejected radical language that would have declared secession "null and void from the beginning."
On the subject of slavery, conservative language that the institution had been destroyed "by the Government of the United States" was approved 20 to 14, with Magbee and Gettis in the majority. Additional conservative language was supported by Magbee and Gettis but was defeated by a 30 to 7 vote.
The state remained under martial law, and Congress refused to seat legislators from the former Confederate states until more stringent requirements were met. Florida ultimately scrapped the Constitution of 1865 in favor of a new version created in 1868.
Interestingly, Magbee, attempted to have wording removed that limited testimony by blacks only to cases involving them, unless "made competent by future legislation."
1865 - Race for Secretary of State and Move to Tallahassee
On November 29, 1865, Magbee was defeated in the race for Secretary of State by B. E. Allen. Magbee received 583 votes against B. E Allen's 2,729. When the State Senate met in December, Magbee was appointed Engrossing Clerk, a position he also held in the 1866 session the next year. He was 46 years old.
He reentered the legal profession, relocated to Tallahassee and opened a law office there in February 1866.
1868 - Magbee Appointed Circuit Court Judge
Radical Reconstruction began in Florida in 1867 and by April 1868, Magbee was a committed Republican. He befriended Harrison Reed and when Reed became governor under the new 1868 constitution, Magbee was appointed to an eight year term as judge of the 6th Circuit. It covered the West Coast of Florida from Brooksville to Key West, comprised of the counties of Hernando, Hillsborough, Polk, Manatee and Monroe.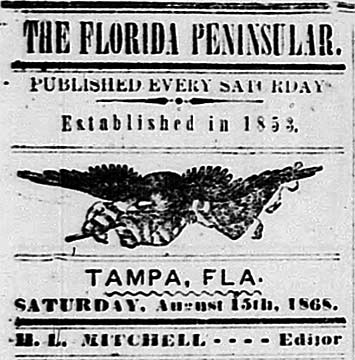 Claiborne R. Mobley of Tampa, an ally of James D. Green, also wanted the judgeship, but was forced to settle for the position of State Attorney for the 6th Circuit. After Senate confirmation, Magbee's appointment was announced in the August 15, 1868 edition of the Florida Peninsular. Editor Henry L. Mitchell stated:
I would have preferred many others to Magbee, yet under the circumstances we are satisfied and have sound cause to rejoice. The contest for the appointment had been between Magbee and Mobley, and of the two, we a thousand times prefer Magbee. ...Magbee is a lawyer of much experience and we doubt not, will make a fair judge.
1868 - Opposition to Judge Magbee in Tampa
When the newly appointed judge arrived in Tampa he faced opposition from two quarters. First, the local Republicans, who were led by Claiborne R. Mobley and Matthew P Lyons.
Lyons, a resident of Fort Green during the 1850s, had become an ally of Manatee County and farmer-politician, James D. Green. Lyons was noted for his whining letters to the Florida Peninsular during the Third Seminole War. Late in the Civil War, returning from a visit to Union-controlled Fort Myers, he was captured by Confederate troops and taken prisoner. Lyons was now Clerk of the Circuit Court, appointed by Gov. Reed.
Mobley and Lyons were suspicious of Magbee, and resented having to share power with him. On the other end of the political spectrum were the Democrats, or Conservatives as they were then often called. Former secessionists, Whigs, all those opposed to radical rule were now identified with the Democratic party.
Magbee's "honeymoon" lasted about two months.
1868 - Magbee designates an "official newspaper"
On October 10, 1868, Judge Magbee declared the newly established Republican newspaper, the True Southerner, "the official newspaper of the Sixth Judicial Circuit of Florida" and ordered that all legal advertisements and notices be published therein. The paper's editor was Edward O. Plumbe, soon to be County Judge and the publisher was listed as Charles L. Newhall**. Eventually, Magbee was identified as the paper's owner. **The publisher was W.J. Stallings.
1868 - Magbee speaks at a Republican meeting in Tampa

A "Republican Mass Meeting" was held in Tampa on October 21, 1868. Capt. James D. Green spoke in the afternoon session, which was followed that evening by a "torch-light procession" to the Courthouse. Speeches were offered by E. O. Plumbe, C. R. Mobley and Judge Magbee. Magbee "took the stand and delivered a most eloquent and patriotic speech, literally a feast of fat things, full of the soundest logic and argument," according to the "True Southerner" of October 29, 1868.
1868 - William B. Henderson's article on the Republican meeting draws contempt charge by Magbee

In an Oct. 24, 1868 article in the Florida Peninsular newspaper, correspondent William B. Henderson took a different view of the meeting.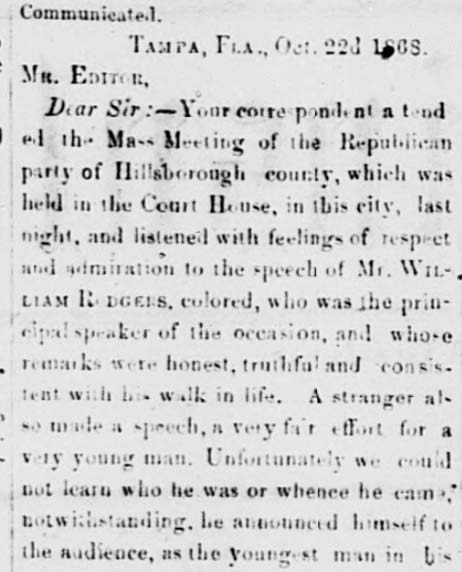 Henderson reminded his readers that Magbee was...
"holding his regular term of the Court in this county," and Henderson was "surprised that a high Judicial officer of the State... should enter the political arena as a stump speaker."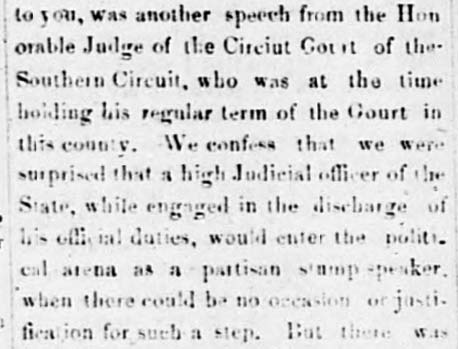 According to Henderson, Magbee held the Democrats "responsible" for the Civil War "and that their hands were dyed in the blood of more than half a million loyal men." This angered Henderson who remembered that Magbee had been the most active, ultra red-hot secessionist in the whole county. His efforts to hang James McKay in 1861 and his description of himself as an "undoubted secessionist" at that time were fully aired in Henderson's article.
Henderson signed the piece, "A Looker On in Venice."
See Henderson's entire article on this separate page.
See the original Oct. 24, 1869 Peninsular newspaper scan online.
Magbee was so angry that he threatened to "strike from the roll of attorneys [Henry L. Mitchell] the editor of the Peninsular; unless he gave up the author of the piece."
The judge then became very ill with fever and was unable to preside at Court. Sam C. Craft, an attorney in the Circuit and friend of Magbee's, met with him after his illness and attempted to calm him down.
Magbee believed...
"...that this was but the first development in a widespread and deeply laid plot to destroy [his] judicial influence, and thereby to defeat the ends of Justice and consequently was such a contempt of court that [he] could not permit it to pass; that if this act was permitted to go unpunished, it would soon be followed by others; and that [he] had to meet it, or else the country would have to go back under military rule."
Craft urged the judge to "loosen the reins" for awhile but Magbee replied that "he was not sent on the circuit to gain popularity but to execute the Laws, and the surest way to prevent fruit was to clip the bud."
Judge Magbee had Henderson brought before him on a contempt charge at the end of the term. Henderson was represented by counsel who argued that the article was a "legitimate exercise of the liberty of speech," and the remarks were not directed against the Court but against the judge politically, a "reply of a Democrat to a Republican."
Judge Magbee was unmoved and fined Henderson $100 for contempt of court.
This would later be one of the articles of Magbee's first impeachment.
1869 - On the circuit with Judge Magbee
As judge of a five-county-circuit which included most of west central and southwest Florida, Magbee did a great deal of traveling. He was required to hold spring and fall terms of Court in all five counties. Travel in the back country could be difficult and hazardous. In the spring of 1869, John B. Stickney, a young lawyer accompanying Magbee, remarked on the swollen streams and heavy rains and the discomfort of riding in an open buggy under unpredictable weather conditions. All in all, Stickney found the trip pleasant and enjoyed the company of the judge and the friendliness of the people on the route.
Hubbel's Legal Directory, 1881-82

See: The ghost of Judge John B. Stickney
Magbee's enemies, however, began to subject him to a series of practical jokes. On one occasion in mid-1869 at the Brandon residence east of Tampa, his buggy traces were cut.
From Jesse Hope, descendant of a great Indian fighter and Confederate soldier, Capt. Sam Hope, comes another Magbee story. Jess said circuit court was in session in Brooksville, and one morning the judge, the clerk and the sheriff walked into the courtroom at the time for convening and found an old grey jackass tied in the judge's chair, tied so tight that he was sitting upright on his rump. Gazing at the braying jack a moment, the witty old scalawag remarked, "That's Sam Hope's old ass. Leave him there. He's about the kind of judge to suit this situation."
1870 - The Magbees on the 1870 Census
The 1870 census reported fifty-year-old James T. Magbee as residing near present-day Brandon, where he described himself as a "Farmer and Lawyer." His age is consistent with an 1820 birth year. Julia was listed as 27 years old, making their age difference 23. He and his wife Julia had no children, but living in their household were his elderly mother Susan (born in Ga.), and two of his sisters, Penelope and Elizabeth, and a young female Dorrie. There were also 3 farm laborers and a 60-year-old servant, Rose, listed. The closest neighbor was James Brandon.
It wasn't until the 1880 census that relationships to head of house were listed, so these relationships are conclusions based on other sources, such as names, ages and places of birth. It is not known what relationship Dorrie had to any of the household members. She was a white female, attending school, so it's not likely that she was a servant.
1870 - Magbee the Scalawag Judge and impeachment
As a Republican official during Reconstruction, Magbee rose to prominence in the Tampa community. He had supported the Confederate army during the war, but after the fighting, he became for reasons unknown, a "scalawag," a Southern turncoat who joined the northern oppressors.
Magbee had very few friends in Tampa; he used his office while serving as judge to "get even" with those who opposed him. He delighted in forcing prominent white men to serve on the same juries with blacks, something that didn't sit well with many of Tampa's citizens of that period. He frequently had men brought before him in contempt proceedings for something they had said or written in criticism of his actions and imposed heavy fines on them---entirely without justification in law.
On February 18, 1870, James T. Magbee became the first Florida official to face impeachment by the Assembly of the State of Florida for misconduct--"high crimes, misdemeanors, malfeasance in office and incompetency." The vote was 29 to 4 in favor. A committee headed by James D. Green presented Articles of Impeachment which were approved 24 to 3. The Senate was duly notified and responded that trial would be held at "its next regular session." The following is a Summary of the Articles:
Article I
He caused one citizen, William B. Henderson, to come before his court and fined him $100 for contempt for writing and publishing an article criticizing a speech delivered by Magbee. Magbee unlawfully detained and imprisoned Henderson until the fine was paid when in fact, Henderson's article was published when Magbee's court was not in session and Henderson was not in contempt.

Article II
He unlawfully removed two grand jurors from the panel regularly drawn and caused the names of two petit jurors drawn on the regular panel of petit jurors to be placed on the panel of grand jurors in their stead, thereby committing a misdemeanor.

Article III
Prior to the drawing of grand and petit jurors for the fall term of 1869, he unlawfully attempted to induce and influence the Clerk of the Circuit Court to commit fraud in drawing the grand and petit jurors for the fall term in that he asked the clerk not to place the names of certain jurors, if drawn, upon the jury list and, instead, to place the names of certain other persons on the list, whether drawn or not, thereby committing a misdemeanor.

Article IV
He purchased pipes, tobacco, envelopes, stamps, and other articles for his own private use and unlawfully caused these articles to be charged as "stationery" against the State.

Article V
He persuaded Irene Jenkins, charged with adultery, that a plea of guilty would induce a mitigation of the penalty, whereupon she entered a plea of guilty. Magbee, disregarding his promise, imposed cruel and unusual punishment, to wit, twenty-one months' imprisonment at hard labor, while at the same time, Louis M. Jenkins, charged with the same offense, plead guilty and was fined only $75. By such acts he manifested a cruel and wicked disposition of heart and an incompetency for the position of judge.
The legislature adjourned February 19, 1870. As an impeached official, Magbee was now under suspension, pending the Senate trial. Gov. Reed called the Legislature into extra session on May 23. Magbee entered a plea of not guilty and demanded a speedy trial during the special session. He submitted an impressive collection of letters and affidavits attesting to his innocence.
The Assembly managers requested a continuance and trial was postponed to the next regular session in January 1871. Magbee traveled the state soliciting support from friends and legislators. He played an active role in the 1870 Republican state convention as a member of the Reed faction and joined in the unsuccessful efforts to re-nominate Congressman Hamilton. Later, in Gainesville, he was involved in a drunken brawl, beaten up and fined by the mayor. [See "Magbee on the Rampage" after this section on Judge Perry Green Wall.]
1870 - June 1 - The Peninsular reports on the May 26th meeting at the courthouse
James D. Green and C. R. Mobley lambasted Magbee at a Republican meeting on May 26, 1870.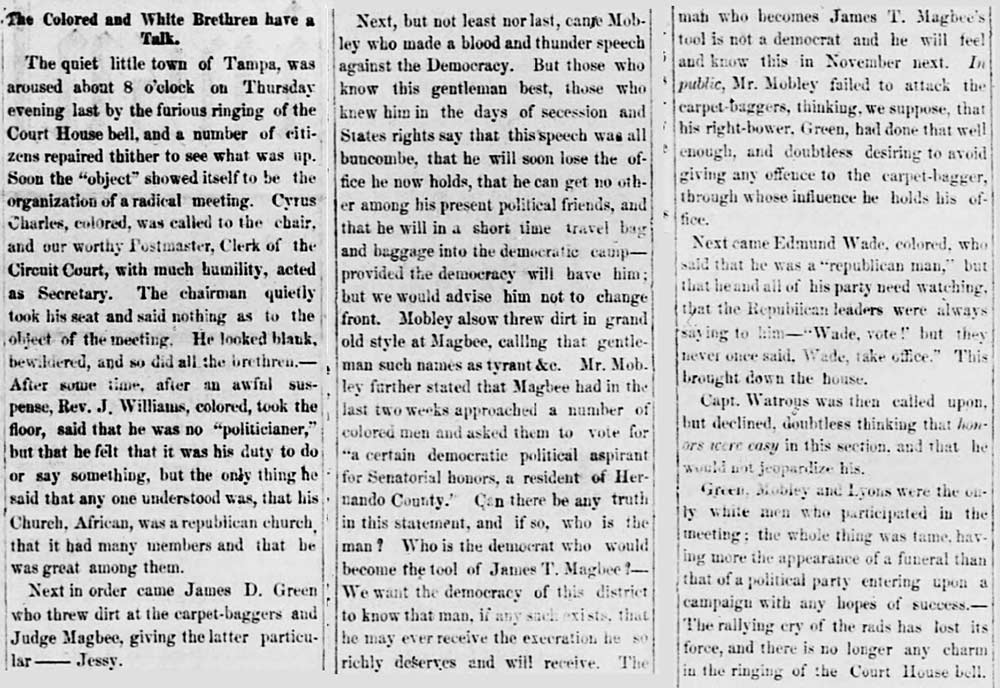 1870 - Nov. 9 - Magbee on the rampage in Gainesville
"...and his Honor, after being soundly pummeled, with his countenance disfigured, one eye in mourning, his garments rent, and his flowing locks plentifully powdered with the dust and sand of the street, was conveyed to the back room of a bar and there laid out 'in state' on the bare floor. His fame had preceded him, and when it was announced that Judge Magbee's carcass was on exhibition, many persons...passed in procession through the aforesaid bar room, pausing for a moment, some to pity and regret, some to criticize and deride, but most of the simply to 'see the monkey.' There he lay, a mournful spectacle--dead to all surroundings, dead to the jeer, the scoff and the smile of scorn, dead alike to pity and to mockery, and--dead drunk."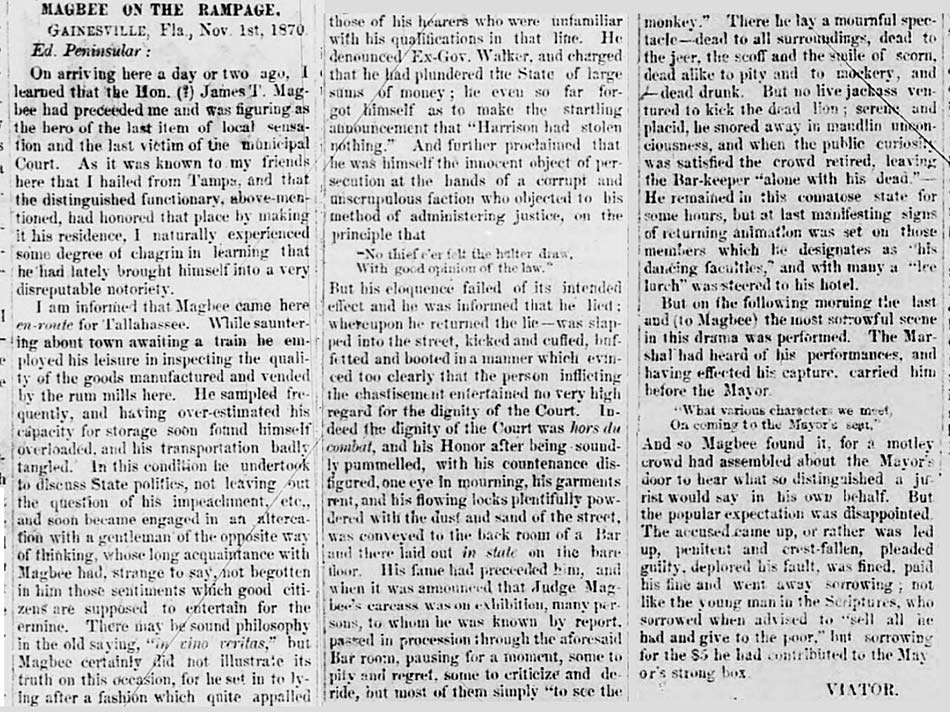 1871 - Jan. 3 - Charges against Magbee dismissed

When the Legislature reconvened on January 3, 1871, the previous enthusiasm for Magbee's impeachment had vanished. Assembly managers appeared before the Senate and recommended that the case be dismissed, which was accomplished by a vote of 19 to 0. Magbee's counsel asked the "court" to declare the Judge "honorably discharged." There was no objection and Chief Justice Randall obliged, after which he adjourned the "high court of Impeachment." The charges against Magbee have been described as "flimsy" and "superficial" and indeed they were.
Magbee's impeachment, the first in Florida politics, contributed little to the body of American impeachment precedents. It is unusual only in that it was tinder consideration, in one form or another, in three separate and distinct sessions of the legislature. However, the time factor was not great, far less than twelve months intervened between original investigation and abandonment of the charges. In essence, the whole episode was no more than an attempt to embarrass Governor Reed. [VanLandingham cites #150: Ewing "Florida Reconstruction Impeachments," 316-318; Shofner, Nor Is It Over Yet, 212; Allen Morris, compiler, The Florida Handbook, 1959-1960 (Tallahassee, 1960), 128.)]
Jan. 25, 1871 Florida Peninsular
Editor Henry L. Mitchell's commentary on the withdrawal of Magbee's charges.


1871 - Magbee's drunken downfall at Franklin and Washington Street
If the casual Tampa history fan knows anything about James T. Magbee, it would most assuredly be of this event. It seems to have become THE signature event in Magbee's life, mainly due to the two or three most vivid images it evokes in our "mind's eye." That is, passing out on the sandy streets of Tampa, being covered with molasses and corn by his enemies, and having his clothes ripped off by the roaming hogs that feasted on the sweet mixture.
BUT DID THAT REALLY HAPPEN?
The coating of "sweet mixture" and the "rooting hogs" tearing off his clothes are presented as "additional indignities" in many historical accounts. But just who or what was the original source of these additional indignities?

According to VanLandingham:
One of the most embarrassing incidents in James T. Magbee's life occurred in the fall of 1871. On Oct. 16, having returned from court at Brooksville, "he fell dead drunk in the sandy street at Franklin and Washington." The Peninsular reported that he "lay wallowing in the grime, the slime, the odor of -- nature. By chance!!! additional indignities were added."

A group of his enemies "poured molasses and corn over him. The delectable mixture was soon discovered by roaming hogs. They rooted him around until they ripped off nearly all his clothes." He snored and hours later, the judge sobered enough to get up and go home.
We assume the "added indignities" were the "delectable mixture" and the rooting hogs ripping off his clothes. VanLandingham cites Grismer as the source of these additional indignities, see ** below. But the Peninsular did not mention either one.
VanLandingham obtained the next day's events from the Peninsular:
On the next day, the 17th, drunkenly reminded of his own (suffered) indignities, and in a terrible plight, revolver in hand, Magbee wanted satisfaction. He encountered several, he demanded satisfaction and he succumbed. He drank anew, and drank again anew. He imbibed to inhibition, and he, lay despoiled of his arms, such an object whereas Tampa never saw before. Half clothed without countenance, witless of self, fortune and fame, he lay prone in as clean a place as a stable.
**The Oct. 21 article in the Peninsular (see image of it below) makes no reference to anyone pouring molasses and corn on Magbee as "added indignities" or otherwise, nor does it mention roaming hogs at all. The Peninsular was the only newspaper to cover this event at the time it occurred. If this actually happened, why wouldn't the Peninsular have reported it? Surely the Peninsular would have relished in publishing this indignity.
So what was the original source of the account of the delectable mixture and roaming hogs? VanLandingham cites Grismer p.156 for it.
Grismer on the delectable mixture and the hogs:
Quite naturally, Magbee had few friends among the Democrats. And when he fell dead drunk in the sandy street at Franklin and Washington on November [sic] 16, 1871, a group of townsmen poured molasses and corn over him. The delectable mixture was soon discovered by roaming hogs. They rooted him around until they ripped off nearly all his clothes. Hours later, the judge sobered enough to get up and stagger home. He suspected James E. Lipscomb of having planned the outrage and charged him with contempt.
Grismer's account erred on the date, stating it occurred on Nov. 16, 1871. Grismer has misread the Oct. 21st, 1871 article in the Peninsular, which opens by alluding to their November 11, 1870 article "Magbee on the Rampage," because the Oct. 21, 1871 article in the Peninsular states:
"But Oh! Tampa! the sixteenth day of the present month of the good year 1871..."
and goes on to describe the incident at Franklin and Washington Streets, but not the sweet mixture and not the rooting hogs. Grismer thought that the "present month" was November instead of the present month of this article--October.
Grismer's account makes it appear that the contempt charge on Lipscomb came right after Magbee "staggered home." The contempt charge did not come until the following year in March. The Peninsular did not mention Lipscomb, nor anyone else being suspected. The only mention of this is that on the next day, "...he encountered several, he demanded satisfaction..."
Grismer doesn't cite his work with footnotes, but rather, lists a bibliography at the end of his book. The editor was D.B. McKay. Among his many sources are several newspapers, one of which may have been the source of the "added indignities" of the mixture and the hogs, but all were written quite a long time afterwards. Perhaps one of these papers may have interviewed a witness some years later, if indeed a newspaper story was Grismer's source of the sweet mixture.

So which of the above newspapers could have written about the event and known what the "added indignities" were?
The Tampa Herald is listed at the Library of Congress as being published from 189? to 19??, based on: Vol. 1, no. 254 being Dec. 8, 1897. Latest issue consulted: Vol. 4, no. 222 (Nov. 3, 1900). If this was a weekly paper then this would cover a period of about 5 years, putting its start around 1892 -- about 21 years after the event.
The Tampa Guardian didn't exist yet; it was established in 1875 by Magbee. Nor did the Sunland Tribune exist yet; it was established March 2, 1876. The name of The Sunland Tribune was changed to The Tampa Tribune, March 1, 1883. Daily publication of the Tribune started in 1895 when Wallace Stovall upgraded printing from once a week. The Library of Congress reports the Tampa Journal as starting in 1890, but sources used for this Magbee feature cite Tampa Journals of 1877 (election of George Sparkman as Tampa Mayor.) So the Tampa Journal would not have been around to report in 1871. The Tampa Times also came later. The True Southerner published from 1868 to 1869 at the latest, according to the Library of Congress. Also, it was a Republican newspaper, reportedly owned by Magbee, with Edward O. Plumbe, editor. We know the Peninsular didn't report it, and it ceased in 1874.
One of the above newspapers which were started after the incident, may have written a story in retrospect, and included the "added indignities" as being the pouring on of molasses and corn, and being "rooted by hogs" as subsequent knowledge. Any citizen of Tampa alive at the time of the incident during the early years of these publications might have added to the original story.
One final observation: The Peninsular did make reference to Magbee being "half clothed," but that was on the next day.
See Roadsidethoughts.com "Newspapers published in Tampa lists 74 Tampa newspapers and their years.

The original article as it appeared in the Peninsular, Oct. 21, 1871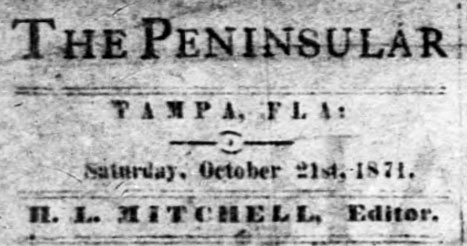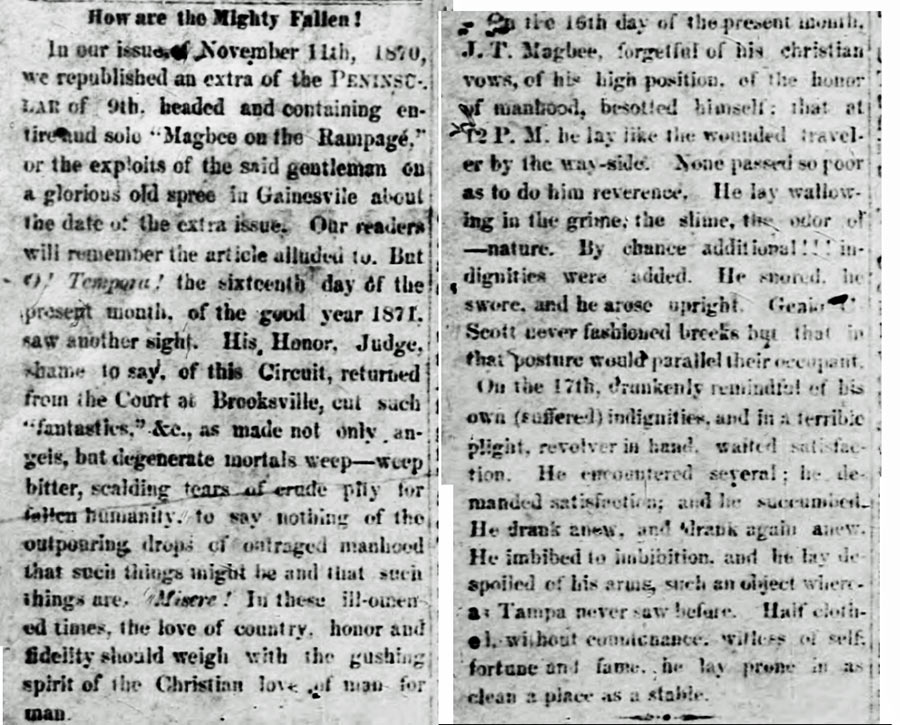 "...Magbee besotted himself, that at 12 p.m. [noon] he lay like the wounded traveler by the wayside. None passed so poor as to do him reverence. He lay wallowing in the grime, the slime, the odor of--nature. By chance additional!!! indignities were added. He snored, he swore, and he rose upright. G[illegible] Scott never fashioned breeks but that in that posture would parallel their occupant. On the 17th, drunkenly reminded of his own (suffered) indignities, and in a terrible plight, revolver in hand, wanted satisfaction and he succumbed. He drank anew, and drank again anew. He imbibed to imbibition, and he lay despoiled of his arms...half clothed, without [illegible]--chance, witless of self, fortune and fame, he lay prone in as clean a place as a stable."

No mention of a sweet mixture, molasses or corn, or roaming hogs.
How could the Peninsular not have reported this if it occurred?
Public opinion of Magbee varies greatly
Magbee was criticized by local Democrats for "compelling white men to serve on juries with Negroes. He was repeatedly charged with showing rank favoritism while hearing cases." Yet, the Manatee County Grand Jury, in its Fall 1871 presentment "took great pleasure in tendering to the Hon. James T. Magbee our regards and good wishes for his able and impartial manner in expounding and enforcing the law, and for the good order, quiet and decency which characterize his courts."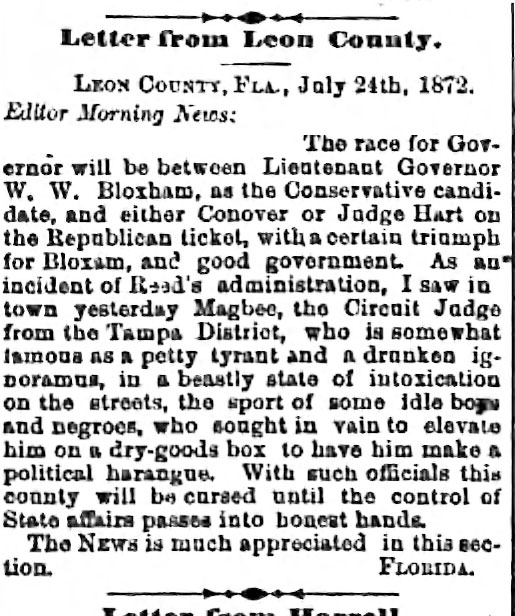 Savannah Morning News, Jul. 26, 1872 -- page 1
Magbee witnessed on the streets of Tallahassee on July 23rd,
"...who is somewhat famous as a petty tyrant
and a drunken ignoramus, in a beastly
state of intoxication"
1873 - Dec. 31 - Jan 1, 1874 - Magbee jailed for drunk & disorderly conduct & his Habeas Corpus stunt
This section reflects the writings of four Florida authors and historians--Kyle VanLandingham, Karl Grismer, D. B. McKay, and Jefferson Beale Browne. Where their writings record essentially the same information, the details have been combined. But where their versions of the events differ, they have been presented here separately.
---
On New Year's Eve, 1873, in Tampa, Magbee over-imbibed again and "became involved in a street row [fight], was arrested by Marshal O. H. Dishong, and hauled before now mayor James E. Lipscomb." Magbee was fined for drunk and disorderly conduct by Mayor Lipscomb but Magbee refused to pay. He was ordered locked up in the town jail until morning.
Recovering from his alcoholic stupor, Magbee called his wife to the jail, and had her bring the necessary papers, then issued a Writ of Habeas Corpus "commanding the mayor to bring the body of James T. Magbee before His Honor James T. Magbee to show by what authority the mayor was depriving him of his liberty."
According to historian Karl Grismer, the marshal obeyed the order:
"The marshal could do nothing but obey and of course the judge released himself as soon as he was taken to the courthouse. He thought so well of his strategy that he later wrote up the case for law journals."
Jefferson B. Browne, in his Key West: The Old and the New, 1912, said the mayor disregarded the writ, as it deserved to be:
While Magbee was in the city jail for public drunkenness, the most remarkable proceedings ever witnessed in a court of justice occurred. While in jail, Magbee issued a writ of habeas corpus, commanding Mayor Lipscomb to bring the body of JAMES MAGBEE before His Honor, James Magbee, to show by what authority he was depriving him of his liberty. Magbee had the writ served on Mayor Lipscomb, who treated it with merited contempt.
Kyle VanLandingham says:
"The writ 'utterly failed' and the officials 'paid no attention' to it. Magbee reportedly 'paid his fine and apologized.'"

VanLandingham cites this with footnoted sources: Savannah Morning News, April 9, 1874; Bartow Courier-Informant, August 1, 1912; J. Beale Browne, Key West, 68-69. He also notes: McKay reported that the writ was successful and Magbee was released. McKay, Pioneer Florida, II, 377; Tampa Tribune, November 23, 1952. Also, see Grismer, Tampa, 156.
But Magbee did not forget the incident and Mayor Lipscomb and Marshal Dishong were summoned to appear before the spring term of the March (23) 1874 court on a charge of contempt. The culprits were fined $100 each and ordered jailed for ten days. Henry L. Mitchell and John A. Henderson, representing the defendants, asked the court to stay the ruling but Magbee refused.
J. B. Browne's account also says the writ of habeas corpus was disobeyed:
When the judge was released from jail, he issued a rule for the mayor to show cause why he should not be punished for contempt of court in refusing to obey the writ, and made public his intention to send the mayor to jail. People from all parts of the county came to town to protect the mayor from the threatened outrage, and the courthouse was filled with armed and determined men.
1874 - March 23, Spring term, hearing day - The Lipscomb courtroom shotgun incident
Whose shotgun and was a shot fired?
According to Jefferson B. Browne:
At the hearing, the judge overruled the defendant's plea and sentenced him to jail. In an instant, Mayor Lipscomb snatched a double-barreled shotgun from one of the bystanders and leveled it at the judge, but before he could shoot, he was surrounded by his friends and escorted out of the court in defiance of the judge. No attempt was made afterwards to enforce the order. This incident was one of the minor outrages of that era.
VanLandingham says, "Lipscomb reportedly 'snatched a shotgun' from a man standing nearby and threatened to shoot the judge. He was disarmed and walked out, but before leaving the courtroom issued a vicious diatribe against Magbee. Reportedly, Magbee attempted to form a posse to carry out the court's sentence but no one responded."
Grismer says, "On the hearing day, Lipscomb went into court armed with a shotgun. He pointed it at the judge and pulled the trigger. But just then E. A. Clarke struck the barrel and the load of buckshot went into the ceiling. Although he escaped, Magbee was so frightened that he dismissed the case."
D. B. McKay, who relied on Grismer, writes in his three-volume Pioneer Florida, Volume 2, Chapter 10, A Self-Made Scalawag:
On the day set for the hearing Lipscomb left his store carrying a shotgun. E. A. Clarke, whose store was opposite that of Lipscomb on Washington street, saw him and knowing his hot temper followed him. Lipscomb went into the court room with his gun and sat down on the front bench directly in front of the judge's rostrum. Mr. Clarke sat beside him. When Magbee ordered Lipscomb to plead to the charge, the latter stood and aimed the gun at the judge, but as he fired Mr. Clarke struck the barrel of the gun and the load of buckshot was deflected into the ceiling of the court room. And that ended the case.
Of particular importance is VanLandingham's sources footnote on the courtroom shooting incident:
Savannah Morning News, April 9, 1874 (See image below); Bartow Courier-Informant, August 1, 1912; Tampa Tribune, November 23, 1952. Grismer confused the Lipscomb courtroom shooting incident, placing it in 1871. Grismer Tampa, p156. The mistake was repeated by D.B. McKay, Pioneer Florida, II, pp378-379.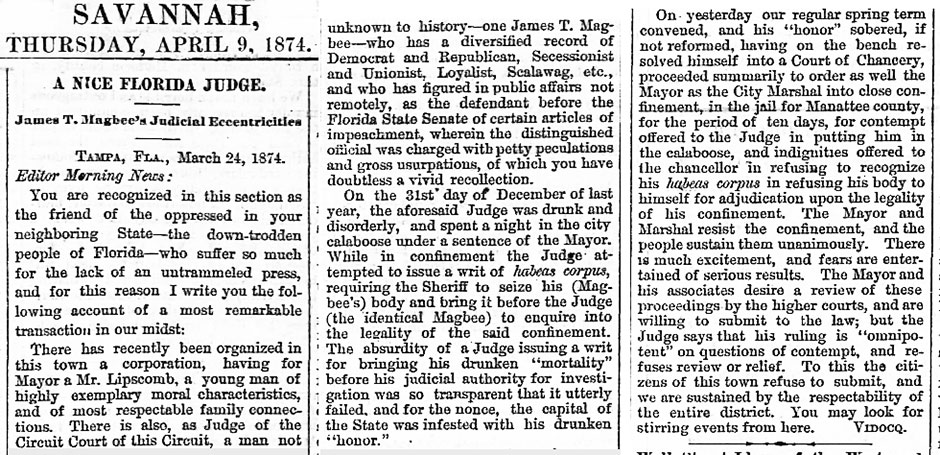 The writ "utterly failed," no mention of a shotgun or shots fired at the March 23rd hearing.
Savannah Morning News, Apr. 9, 1874 -- page 1

The Ocala Banner carried the whole story-- March 17, 1905 (31 years later).
Its author is anonymous and signs only as "South Floridian."
"Written especially for the Ocala Banner."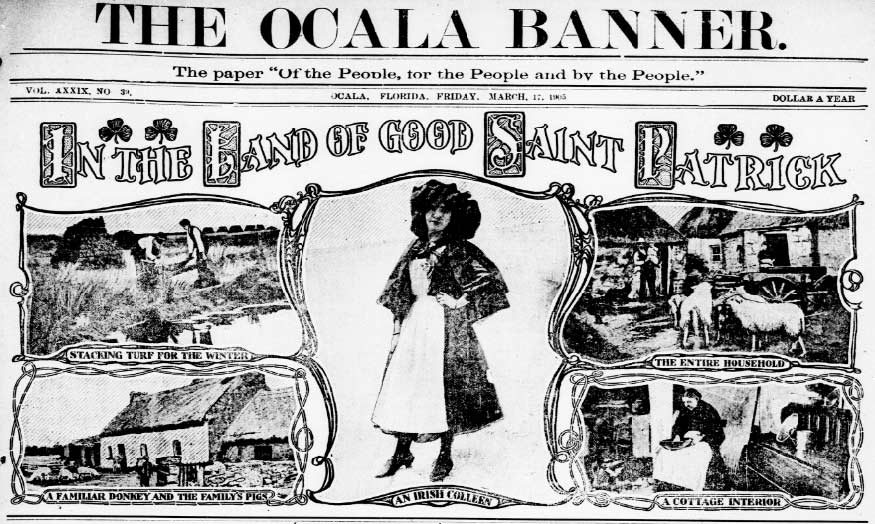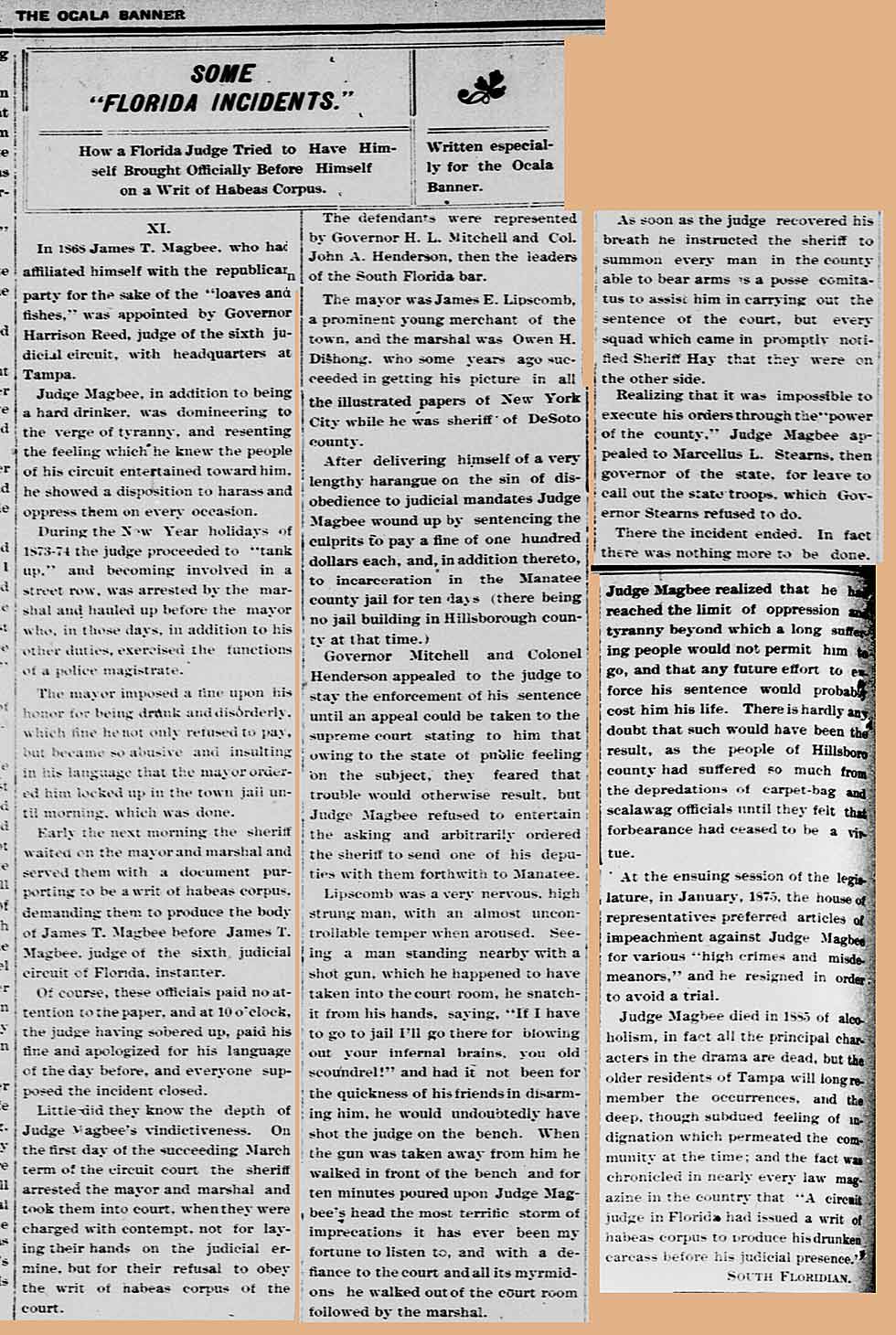 Summary of the Habeas Corpus event:
Magbee is drunk during the New Years holidays of 1873-74. He gets involved in a street fight and is arrested by the marshal and is brought before the mayor's court. The mayor fines Magbee, but Magbee refuses to pay and becomes abusive. He is locked up in jail until morning.
Magbee has the mayor and marshal served with a writ of habeas corpus and it is ignored. The next day, Magbee sobers up and apologizes.
In the March term of the circuit court, 1874, the mayor and marshal are arrested and taken to court before Judge Magbee where they are charged with contempt for refusing to obey the habeas corpus writ. Mayor Lipscomb and Marshal Dishong are the defendants, future governor H.L. Mitchell (editor of the Peninsular) and John Henderson are their attorneys. Reference is made to Dishong later having his picture in illustrated papers of New York City while he was sheriff of DeSoto County.
After lecturing the defendants on the "sin of disobedience to judicial mandates" Magbee fines them $100 each and jail for 10 days (in Manatee County, there apparently being no jail in Tampa. Or possibly, no room in the jail?). Mitchell and Henderson appeal to Magbee to stay the sentence until an appeal could be taken to the supreme court, citing that public opinion would otherwise cause much trouble, but Magbee refuses and orders the sheriff to send a deputy to escort them to Manatee Co.
Lipscomb, a proven temperamental man, snatches a shotgun from a bystander and threatens if he goes to jail it would be for "blowing out your infernal brains, you old scoundrel!" Friends disarm Lipscomb, no shots are fired, and Lipscomb proceeds to "pour upon Magbee's head the most terrific storm of imprecations" that the writer had ever heard. Then in defiance to the court, Lipscomb and the marshal walk out of the courtroom.
After Magbee composed himself, he ordered the sheriff to round up a posse, but none would enjoin due to their siding with Lipscomb and the marshal. Magbee then appealed to Gov. Stearns to call out state troops, but he refused, and there the incident ended.
The writer, apparently an eyewitness to the event. To wit, "...the most terrific storm of imprecations it has ever been my fortune to listen to." He goes on to say:
"Judge Magbee realized that he had reached the limit of oppression and tyranny beyond which a long suffering people would not permit him to go, and that any future effort to enforce his sentence would probably cost him his life. There is hardly any doubt that such would have been the result, as the people of Hillsboro [sic] county had suffered so much from the depredations of carpet-bag and scalawag officials until they felt that forbearance had ceased to be a virtue."
1874 - Sept. 1 - Savannah Morning News carries a story from Magbee's Aug. 22nd Tampa Guardian


Savannah Morning News, Sep. 1, 1874 -- page 1
1874 - 1875 Pranks on Magbee & more reports of public drunkenness
From D. B. McKay's Pioneer Florida, Volume 2, Chapter 10, "A Self-Made Scalawag", 1959:
On another spree someone shaved the hair off one side of Magbee's head and covered the bare scalp with red paint.
Magbee drove a pair of ponies hitched to a buggy to make his court appointments. In Brooksville after a session of court he indulged his appetite for liquor freely, got into his buggy to drive back to Tampa but had moved only a few yards when all four wheels fell off--someone had removed the nuts.
Possibly the same event, as with many incidents in Judge Magbee's escapades, is presented differently in this 2007 St. Pete Times article about the old Hernando County courthouse. It is a somewhat different version as told by Jesse Hope in McKay's Pioneer Florida:
One memorable prank involved Circuit Judge James T. Magbee, who had lost his effectiveness with the people of Hernando County. According to F.B. Coogler: "One night just before court was scheduled ... there was a little jackass strapped sitting up in the judge's chair with his feet on the desk. The judge came in (the next morning), looked at the jackass and walked out- called for the clerk to get his horse and buggy. "The clerk said, 'Judge how am I going to get your horse and buggy - where is it?' 'It's down there in that stable.' The clerk replied: 'No sir, come here I'll show you.' He took him around behind the courthouse. There was the buggy hung up in an oak tree, and the horse was gone. The judge said: 'Mr. Clerk, get my horse and buggy or I will leave this town and I will hold no court.' " Magbee left town and never returned.
Magbee was reported publicly drunk in Jacksonville on May 15, 1874 and in Bartow on June 1. en route to Tallahassee, and stopping at Cedar Key on January 3, 1875, he was arrested for "drunkenness and... riotous and disorderly conduct" and was confined in the town "calaboose." In Tallahassee, he appeared drunk at the Assembly Hall of the State Capitol "in the presence of both Houses of the Legislature...and in the presence of the Governor," cabinet and other high officials on the occasion the Governor's annual address.
1875 - Another call for Magbee's impeachment
This was the last straw. Dade County Assemblyman William Watson Hicks demanded an investigation which resulted in new Articles of Impeachment against Magbee. Six specifications were presented, all involving his drunken behavior during the past year.

On February 16, the Assembly voted 29 to 19 in favor of impeachment, less than the two-thirds required. Then a resolution was offered by a Magbee supporter calling for an investigation into Assembly members who had been "Intoxicated" during the present session and declaring those seats vacant. The maneuver backfired when Hicks offered a substitute calling for an investigation of drunkenness by members. Another vote was taken on the impeachment articles and this time they were approved, 34 to 11.

1875 - February 17 - Magbee resigns
But there was to be no trial. Fearing conviction by the Senate, Magbee tendered his resignation to Gov. Stearns the following day, February 17, 1875.
Savannah Morning News, Mar. 2, 1875 -- page 1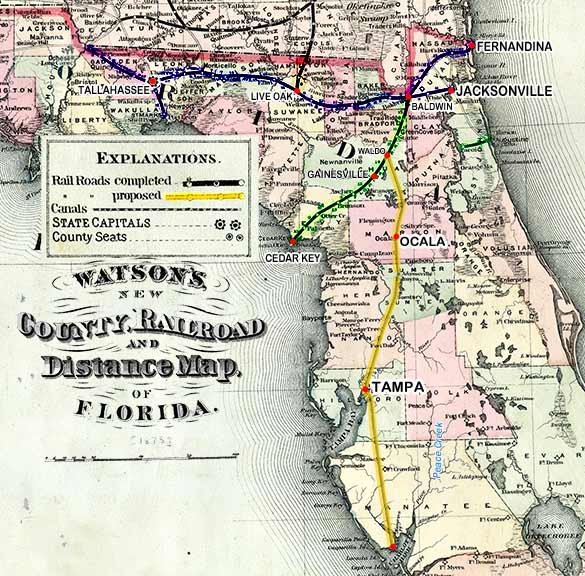 Florida Railroads in 1875
Proposed


1875 - Magbee resumes law practice in Tampa, becomes newspaper editor, and adopts a son
Magbee came back to Tampa, resumed his law practice and started the Tampa Guardian newspaper. As editor of a newspaper, Magbee now had a forum to expound his views to the public. The masthead proclaimed it would be "Independent in Everything, Neutral in Nothing." The "Guarding Building" was located on the northwest corner of Polk and Franklin streets. His residence was adjacent to the office, on Franklin Street, and Magbee owned the entire block.
His wife Julia became assistant editor and the childless couple adopted a son, Archie Donnelly, who also learned the printing trade.
(More about Archie at the end of this feature.)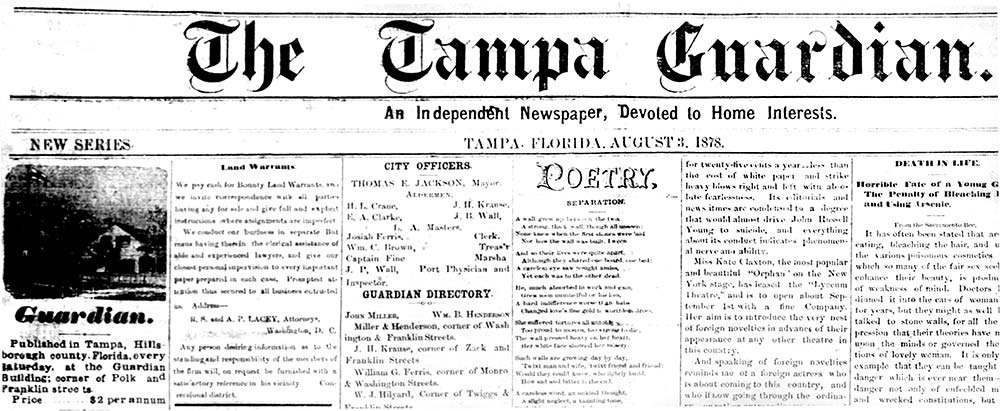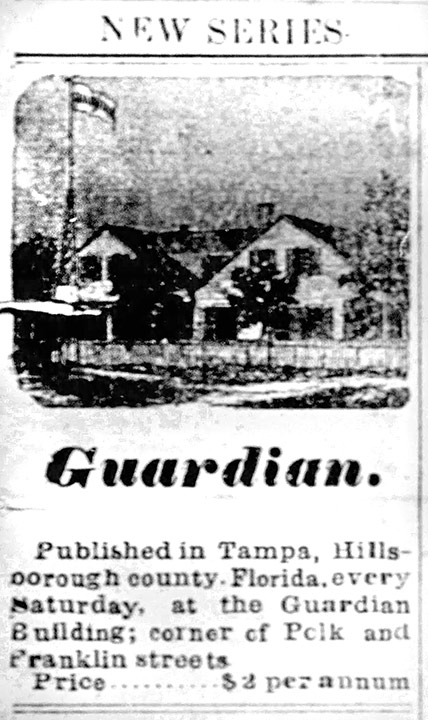 The only known image of the Guardian building where Magbee lived and printed his newspaper appears on the front pages of some issues from 1878 where subscription pricing is shown.
1880 Census of James, Julia, and Archie Magbee

The U.S. Census of 1880 in the town of Tampa shows Magbee was doing quite well, having 2 servants. Here, James' age is misreported as 50, the same age indicated on the 1870 census. James would have been 60 on this census. Julia is listed as 35, only 8 years older than her 1870 census age. Differences in birth date and census date can vary ages by + or - one year, so here their age difference could be around 24 years, somewhat consistent with their 23-year age difference in 1870.
From D. B. McKay's Pioneer Florida, Volume 2, Chapter 10, "A Self-Made Scalawag", 1959:
Magbee owned the entire block bordered by Franklin, Cass, Tampa and Polk streets. His fine home was on the site now occupied by the J. C. Penney store, and adjoining the residence on the west was a large building (for those times) in which he had a modern printing plant. From this plant he issued a weekly newspaper, the Tampa Guardian.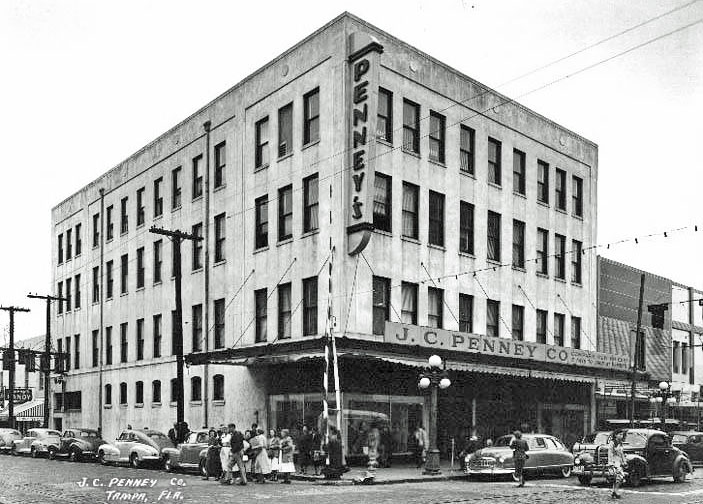 As an apprentice in the printing business, I worked in the Guardian office several months, and to me the old fellow was always kindly and generous. I was working in his printing office the day the first train on the South Florida railroad (now the Atlantic boast Line) arrived--January 25, 1884. The late Capt. H. H. Scarlett was conductor on that train.
D. B. McKay on the kinder side of Judge Magbee:
I have taken up a lot of space telling the story of James T. Magbee, but I hope it has been sufficiently interesting to justify me. However, I want to relate one more incident--I have written so much to his discredit that it is pleasing to present another phase of his character.

A pioneer family had lost their home and its contents by fire and a group of citizens were raising a fund to provide a new home for them. It was during the time that I was working in the Guardian office. Judge Magbee called me into his private office, opened his safe and took out a metal box which had in it what appeared to be about a peck of gold coins. He scooped up a handful of the gold, gave it to me and said, "Take this to those d--- rascals and tell them if more is needed there is plenty more where that came from."

1885 - Magbee's third marriage

On Sept. 16, 1885, eight months after Julia's death, Magbee married Carrie Burr Fisher, "an old woman of very unattractive appearance" (according to D.B. McKay). The night of this marriage, a crowd of men and boys gave them a charivari which for loud and unearthly noises has never been rivaled here. There was no interference by the police, as there was general approval by the public.

VanLandingham refers to Carrie as a young woman:

On September 17, 1885, he married a young woman named Carrie Burr Fisher, of Philadelphia.** A pre-nuptial agreement was signed providing that the survivor would receive nothing upon the death of the other party.

On the night of their wedding, the couple was subjected to the old Southern tradition of charivari or chivaree:

"The crowd of several hundred-nearly every white man in town-assembled shortly after dark and pandemonium reigned until near daylight. Among the noisiest of the musical instruments was a huge bull fiddle. It was made of a large dry goods box with one side open. Across the opening was tautly stretched a broad strip of rawhide. The bow was also made of rawhide and it was operated by two men, one at each end. The sounds it gave forth were hideous and unearthly beyond description. The party was described as the "wildest [and] noisiest of all the chivaree parties in Tampa's history".


Less than two months later, Magbee was dead. He passed away in Tampa, "suddenly" on December 12, 1885. There were rumors that he had been poisoned. But even in death, he remained controversial. He left an estate valued at from $50,000 to $75,000. The widow claimed she was pregnant and demanded monthly support payments. She continued to live for a while in the Franklin Street residence and was reported ill there the following June. There is no evidence that she ever had a baby.

**Footnote by VanLandingham: The Tampa Journal of July 27, 1888 referred to Carrie Burr Fisher as Magbee's fourth wife. If that is the case, then he was married prior to Susan Tatum. [TampaPix: Perhaps the Journal was making reference to this being Carrie's fourth marriage? See below on Carrie Burr Warner Fisher.]


Magbee had executed a will before Julia's death, leaving his estate to her, his mother, sister and Archie, the adopted son. Magbee later wrote "cancelled" over the "portion of the will referring to Archie D. Magbee,... but did not destroy the document which was found among his papers after his death. An administrator was appointed and the case dragged on until 1888. In spite of the ante-nuptial agreement the widow declared that she was "sole heir." An order was finally entered which gave Carrie Magbee a one-third share of the estate with the remaining two-thirds going to a sister, Penelope A. Magbee and a brother, Samuel B. Magbee.


Who was Carrie Burr Fisher and was she young or old?

TampaPix has been unable to locate Carrie Burr, Carrie Warren, Carrie Fisher, Caroline or Carroll or any similarly named person in Florida's 1885 State Census. The city area of Tampa was enumerated on the first 12 pages, and she does not appear there. In these pages can be found the same neighbors of Magbee from the 1880 census. The 1885 census date was June 1, 1885, they married in September, so they would not appear as husband and wife on this census. It is possible that Carrie had not yet arrived in Tampa or settled in by June, 1885.


There is a New York City marriage record (shown below) of a Louis Fisher who married in 1877 to a Carrie Burr Warner age 30. Her birth surname is Burr, and she was at the time the widow of Mr. Warner, and was born in Harrisburg, PA. It is possible that if Mr. Fisher also died (or they divorced), she would be Carrie Burr Warner Fisher and if she then became Magbee's wife, she may have chosen to not use "Warner" anymore when she came to Tampa and married Magbee. Her pre-nup with Magbee worked two ways, he would get nothing of hers if she died first, and vice-versa.

Marriage record of a "Carrie Burr Warner" to a Louis Fisher




This Carrie Burr Fisher of the marriage record above would have been around 38 in 1885, Magbee would have been 65. Would Carrie's claim of being pregnant with Magbee's child in 1885 or later been credible is she really was was an "old woman" as McKay wrote? On the other hand, McKay was a boy when Magbee's marriage to Carrie took place. He would have seen her personally, so was he writing from a young boy's point of view?

Also, no record has been found of her parents, James T. Burr and Rachel (White) Burr.

New York, New York City Marriage Records, 1829-1940," database, FamilySearch (March 2015), Louis Fisher and Carrie Burr
Warner, 29 May 1877; citing Marriage, Manhattan, New York, New York, United States, New York City Municipal Archives, New York; FHL microfilm 1,562,182.

The 1890 Federal Census

The U.S. Census records for 1890 were destroyed in a fire while in storage in Washington D.C. before they could be microfilmed. (Most of the damage was due to the water used to put out the fire, and not the fire itself.) In 1993, Julius J. Gordon created an 1890 Census index from information gathered from other sources. He wrote in his forward:
"This work is a feeble attempt to reconstruct the 1890 census records for Hillsborough County through the use of other existing government records in the Hillsborough County Courthouse: Tax Records, Marriage Records, Death and Burial Permits, Deed Registers, Voter Registration Lists, Poll Tax Lists, Delinquent Tax Records, Church Records, and Tampa's daily newspapers. Through these records some 10,000 names were reproduced of persons having contact with their local governments, and through social events as recorded in the daily newspapers."
Hillsborough County, Fla. Directory - Julius J. Gordon, 1993
From all these census records, it would appear that James's sisters and brother never married nor had children. Only James's adopted son Archie had children. The whereabouts of James's brother William, b. ca. 1838 in Georgia is yet to be found.