---
Jan. 12, 1861 Peninsular
Letter from Simon Turman, editor of the Peninsular, in Tallahassee, Jan 4.
The convention on secession getting organized.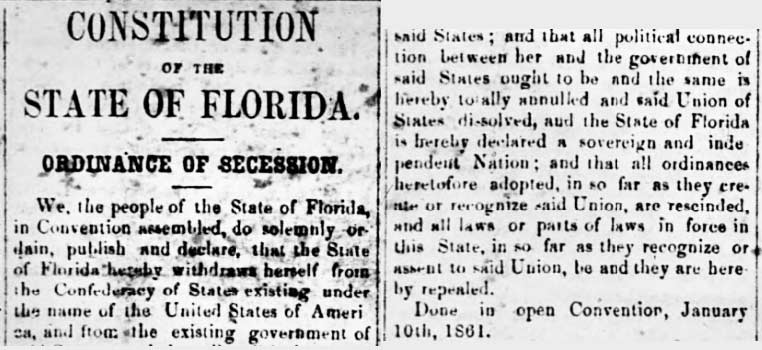 Jan. 10, 1861 Florida Ordinance of Secession from the May 26 Florida Peninsular.
Several articles of the ordinance have been omitted here, see them all at the above link.
1861 - Aug 10 - Sen. Magbee is prosecutor in controversial James McKay trial
On August 10, 1861, Magbee once again entered the political arena, this time in the highly controversial McKay treason case. Court was not in session at the time, so McKay's trial was held before two justices of the peace at the Hillsborough County courthouse on August 10. McKay was represented by James Gettis and Ossian B. Hart. The volunteer prosecutor was none other than Senator James T. Magbee.
McKay believed that "the whole matter originated through malice of two or three dishonest Govt. officials, who, a few years before, I was instrumental in having removed from office for their bad acts" [referring to Magbee.] Cattlemen associates of McKay's offered, in his words, "to come in mass and break up the justice court," but the defendant declined their efforts.
McKay's defense was ably conducted by Tampa lawyer and future Republican Governor Ossian Bingley Hart, a Tampa Unionist,** and James Gettis, McKay's personal lawyer and a northern-born secessionist. Also, McKay's friend, militia Brigadier General Joseph M. Taylor, as a local man put it, "sat himself on the trial."
**In the United States, Southern Unionists were white citizens living in the Confederate States of America, opposed to secession, and against the Civil War. These people are also referred to as Southern Loyalists, Union Loyalists and Lincoln Loyalists.
James McKay's trial is continued after the Gettis profile below.
1861 - Death of Susan Tatum Magbee
In November 1861, Sen. Magbee returned to Tallahassee for the upcoming legislative session. There, he came close to being elected to the Senate of the Confederate States of America. Magbee's wife, Susan A. Tatum Magbee, died at age 33 on Nov. 18, 1861. There is not a record of her burial in the Magbee plots at Oaklawn or Woodlawn cemeteries.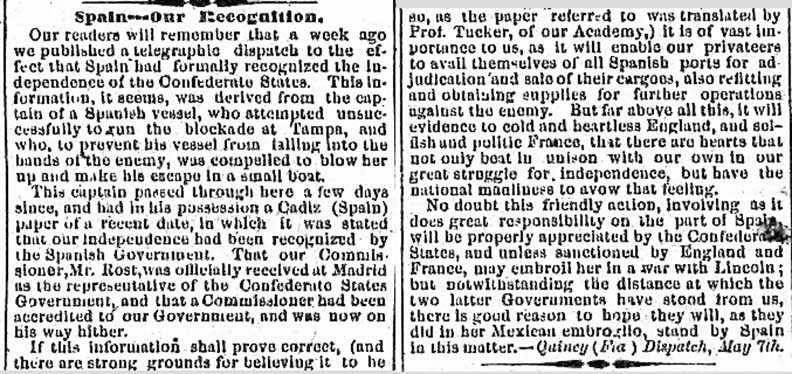 May 10, 1862 - Savannah Daily Morning news - From the May 7 Quincy Dispatch - Spain recognizes Confederacy
1862 - Magbee's 4-year Senate term cut short
Magbee suffered a personal and political blow during the summer of 1862. At Gov. Milton's request, Attorney General Galbraith issued an opinion construing the 1861 Florida Confederate constitution approved by that year's convention. According to Galbraith, all senators, even those elected like Magbee to four-year terms in 1860, would have their terms expire in October 1862. Soon after the word arrived in South Florida, James D. Green of Manatee County announced his candidacy. Samuel B. Todd of Tampa entered the contest along with Gen. Joseph M. Taylor of Hernando County.
Magbee decided not to run, but to contest the results of the election. Green, who was "a particular friend and correspondent" of Magbee, soon withdrew, possibly at Magbee's urging. On October 6, Todd out-polled Gen. Joseph Taylor in Hillsborough but Taylor prevailed in the rest of the district and won the election.
1862 - McKay exonerated
When the Grand jury met at Tampa during the fall of 1862, James McKay was exonerated from his treason charge prosecuted by Magbee the previous year. The presentment stated that "the prosecution was instigated by private malice or some not more laudable motive." McKay's ally, Gen. Joseph Taylor, was acting solicitor during the proceedings and Madison Post was foreman of the grand jury.
1862 - Magbee unseated in the Senate
Magbee was on very shaky ground when he answered the roll call at Tallahassee on the first day of the Senate session. The following day Gen. Joseph Taylor was sworn in. Magbee, along with Sen. P. B. Brokaw, whose situation was identical, protested, contending that their terms did not expire until two years later. A Select Committee endorsed the Attorney General's July opinion and Taylor was seated.
In October 1862, McKay was elected to the Hillsborough County commission.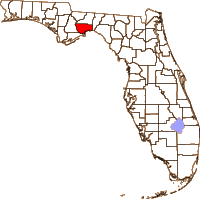 1862 - Magbee leaves Tampa enraged and marries again

Magbee was furious. He returned to Tampa, sold his belongings and moved to Wakulla County (located on the south border of Leon County, on the Gulf of Mexico.) In the eyes of some, he had retired in "disgrace."
It had been about 11 months after his first wife Susan died when he married on September 7, 1862, in Leon County to Julia A. Henderson, a very attractive and cultured woman and a member of a fine old Leon County family.** Julia was around 23 years younger than Magbee. Her 1860 census in Wakulla County shows she was the daughter of H. L. and Nancy P. Henderson, a farming family.
**Julia's description is according to D. B. McKay.
Magbee waited out the Civil War at this new home in the town of Newport, Wakulla Co., living the life of a planter with his seven slaves.


The Henderson family on the 1860 Census of Wakulla Co., Fla. Julia's father was a farmer and had real estate valued
at $500, with personal property valued at $100. D.B. McKay's claim of Julia's family being "...a fine old Leon County family." appears to be unsubstantiated.


Nov. 13, 1862 Savannah Republican - Oct. 28 letter from Pearson re Rascally Attack
Ossian Hart and Claiborne Mobley
During the Civil war, 2nd Cavalry Union troops from Cedar Key, led by Gen. Alexander Asboth, found many closely linked unionist families in the Tampa area who had been subjected to "social proscription" and mistreatment by Confederates. Lawyer Ossian B. Hart protected these unionists from pillage by Union soldiers and acted as a leader of the unionists when Magbee departed Tampa for Wakulla County.
Hart was well-known in Florida, his father was Jacksonville's first storeowner and had planned the streets of Jacksonville in the 1820s, naming several of them for his children. Hart took a firm stand against secession in 1861.
Hart's new friend, pharmacist Claiborne R. Mobley, a recent resident of Tampa, was forced to join a local Confederate company. Mobley, a former Kansas "border ruffian," had arrived in Tampa during the early part of Civil War and professed allegiance to the Confederacy. He was captured by Union troops in October 1863 during the Spanishtown Creek-Scottish Chief incident and imprisoned at Key West. After the war, Mobley returned to Tampa where he operated a drug store and practiced law. By then a Unionist, he received the appointment of Freedman's Bureau agent at Tampa and was counted among the scalawags. Hart avoided the draft by obtaining a physician's certificate of disability. All three men, Hart, Magbee and Mobley, would someday serve as Republican state Judges, and in 1873 Hart would become Florida's governor.

The Scalawags: Southern Dissenters in the Civil War &Reconstruction, by James Alex Baggett
Learn more about the controversial Claiborne R. Mobley at this Word document download.