THIS FEATURE IS BEING UPDATED


Fantasia Golf was two 18-hole putting courses with giant, wild-imagination figures of animals
characters or buildings located on the east side of North Blvd. next to Lowry Park.
Lot's of Tampa natives remember it, but did you know there were TWO in Tampa?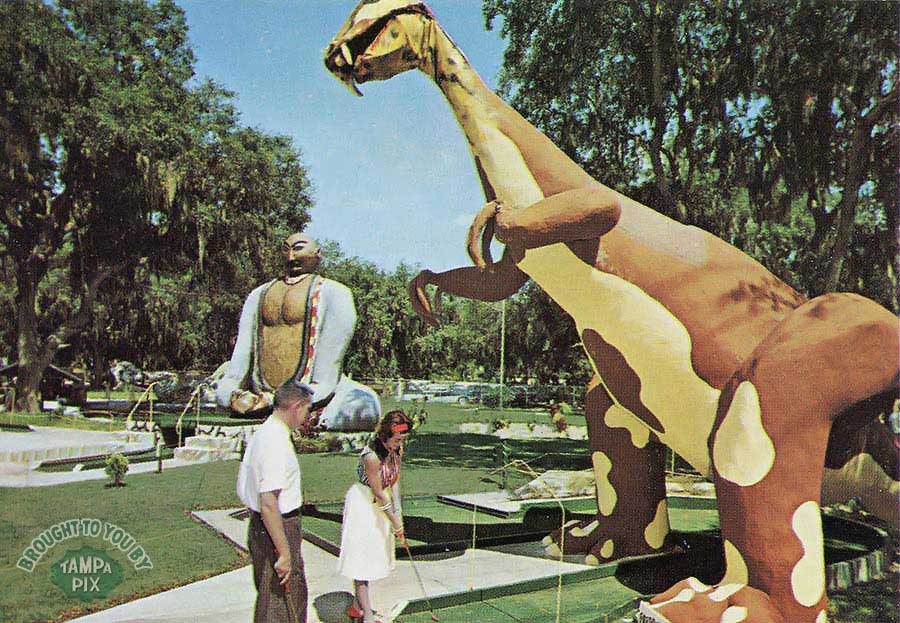 Image from circa early 1966 Fairyland & Safety Village brochure
The big Frowning Buddha at Dr. Bragg's Fantasia Golf at Lowry Park
From the 1961 Chamberlain High School yearbook "Totem."

Photo from early 1960s Lowry Park brochure
Dr. Bragg's Fantasia Golf at Lowry Park

, King Kong with club, from the Jefferson High School yearbook, Monticello 1962

Dr. Bragg's Fantasia Golf at Lowry Park, King Kong with club, From postcard on eBay.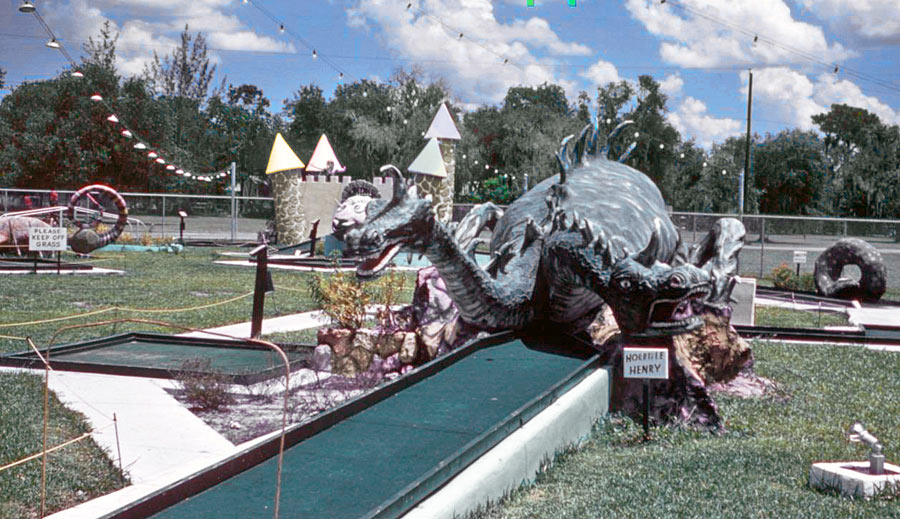 The Horrible Henry hole at Fantasia Golf, Lowry Park, circa 1970s
Color slide image from eBay
The last hole of each course featured an especially difficult challenge. At one of them, from the tee it was straight up a steep ramp about 8 feet long, then an elevated flat green about 3 feet high, about 8 ft x 8ft. On the far side of the platform was a huge turtle facing the tee. His head swayed side to side with his mouth wide open. If you made your shot into his mouth, it went down a pipe into a special bin on the floor in the office, so you would win a ticket for a free round. But if you missed the turtle's mouth, it rolled under his shell and off the back via a different pipe and no free game.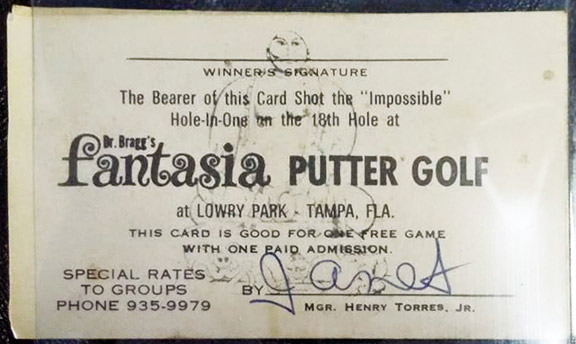 Free game card for Fantasia Putter Golf, circa 1976-79.
Image provided by Christopher Mygrant
---
Safety Village / Children's Museum / Kids City
Dr. Bragg's Fantasia Golf