Tampa's First Fire Chief - Augustus C. Wuerpel
This page is in the process of being updated.
August C. (Charles/Karl) Wuerpel was born July 11, 1849 in Cologne, (Leichlingen, Rheinland, Preußen) Germany. He was 11 years old when he and his three sisters immigrated to America with their parents in 1860.
Father: Morris (Moritz) Wuerpel b. 1801 Amsterdam, Noord-Holland d. 1865 St. Louis, Mo.
Mother: Adelheide Trolle Wuerpel b.1805 Haute-Normandie, France, d. 1888 St. Louis, Mo.
The Wuerpels came to America on the steamer Bavaria which departed from the port of Hamburg, GER, stopped in Southampton, ENG and arrived at the Port of NY on Sept. 3, 1860
The Wuerpels settled in St. Louis, Missouri where Moritz had relatives. Moritz and Adelheid Wuerpel are both buried in Bellefontaine Cemetery St. Louis City, Missouri.

Moritz (60), Adelhied (Adelaide, 55), Louise (19), Emilie (17), August (7), Anna (5).
August would have been 11 here, not 7. Moritz's occupation was listed as "Master."
On Dec. 15, 1869, August married Josephine Amelia Almindinger at Lafayette Presbyterian or Fulton St Church in New Orleans. Josie was born in New Orleans in 1847, one of at least 6 children of German born carpenter Michael J. Almindinger and his New York-born wife Susan (according to their 1850 Census in New Orleans, and Susan's 1870 Census in New Orleans.)
Their marriage license was obtained on Dec. 3, 1869. It is very rare for a New Orleans marriage record to represent both the bride and the groom only by their first initials and surnames.

John B. Almindinger was Josephine's brother.

1870 Census of August & Josephine Wuerpel
11th Ward of New Orleans

August was working as a carpenter. His father, Moritz (Morris) Wuerpel was a carpenter and builder in St. Louis.


Gus was Secretary of the Patent Tile Roofing Co. in New Orleans

Gus and Josie's first child, Addie, was probably named for Gus' mother Adelaide (Troulle) Wuerpel


Since their oldest son Morris was born in 1872, Addie was probably born in 1871 and would have been around 7 years old when she died.
Announcement of baby girl born to Mrs. A.C. Wuerpel on Mar. 9, 1880. This was Susie; she appears on their 1900 census as "1/4" year old, with her birth month "Mch" recorded in the next column.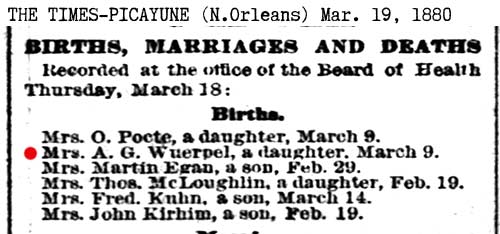 The Wuerpels' 1880 census in New Orleans shows Gus was a bookkeeper. Wife Josephine with children Morris, Gustave (August. Jr.) Susie, and Josephine's mother Susan Almindinger (widowed) was living with them. They also had a servant and a cook.
It is not known why Gus Wuerpel's birth place was given as Mississippi. Perhaps the information was given by someone in the household other than Gus. The mistake is propagated to their children's father's birthplace. Josephine's parents' census of 1850 in New Orleans shows Josephine had 3 siblings born in Mississippi. Another inconsistency is Josephine's mother's birthplace shown as South Carolina. Michael and Susan Almindinger's 1850 Census shows Susan was born in New York. Susan shows up on the 1870 Census in New Orleans living only with H. Almindinger, who was probably her son Horace. Again, Susan Almindinger was listed as born in NY.
1880 Census, New Orleans, La.



The Wuerpels were living at 235 Chesnut St. in New Orleans.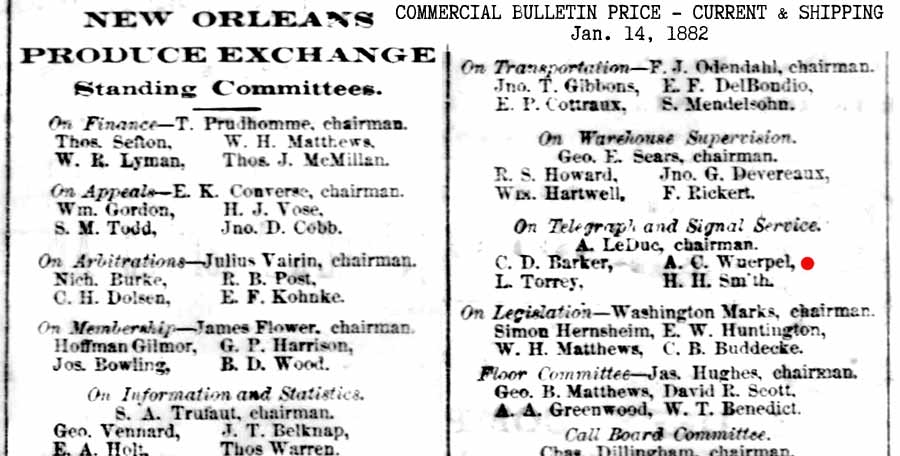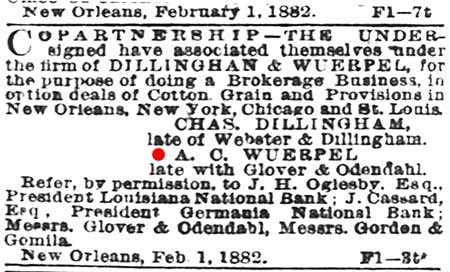 The notices above place A.C Wuerpel still in New Orleans through Jan. of 1882. Wuerpel, formerly with Gover & Odendahl, has formed his own brokerage firm in partnership with Chas. Dillingham, formerly of Webster & Dillingham.
Evidence that the Wuerpels were still in New Orleans in Aug. 1882: The Times-Picayune of New Orleans announced the birth of a baby girl on Aug. 20, 1882, to Mrs. A.C. Wuerpel. This can only be their daughter Josephine Amelia Wuerpel.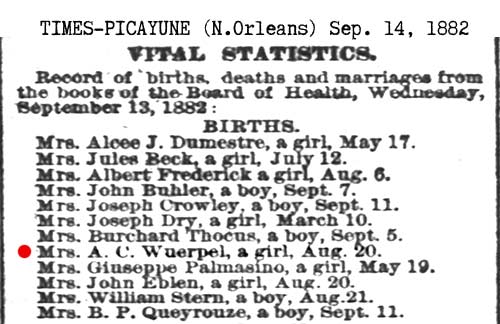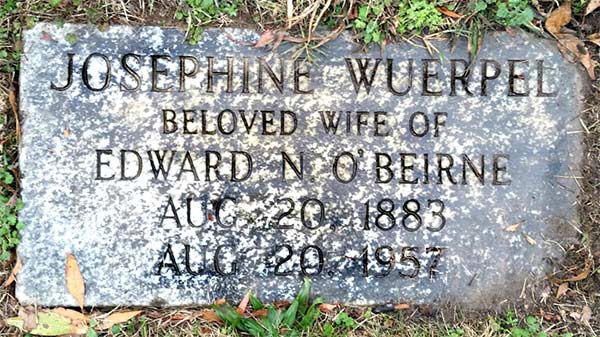 It appears that her 1900 Census and her tombstone have incorrectly represented her birth year as 1883.
Tombstone photo courtesy of Phil at Find-a-Grave
| | |
| --- | --- |
| The cotton and produce broker firm of Dillingham & Wuerpel went "belly-up" in April 1883. | Below is the last article published in New Orleans newspapers containing "Wuerpel" for newspapers online at Newspapers.com. There are no mentions in 1884. |
| | |
It appears that the Wuerpels came to Tampa in late Dec. 1883 to early 1884.
THE WUERPEL FAMILY IN TAMPA
The first official record of the Wuerpels in Tampa found thus far is the 1885 Florida State Census where August was working as a bookkeeper. A. C. Wuerpel and his family were listed 5 dwellings away and on the same page as Tampa merchant John Jackson and John's son Thomas. This would have been in the vicinity of Tampa Street, Jackson St. and Washington St. Using their daughter Josie's age and birthplace, it would appear they came to Tampa no sooner than 1883.
1885 Florida State Census, Hillsborough County, Tampa



August (36), wife Josephine (34), children all born in La. : Morris (13), August (9), Susie (5) and Josie (3). Further proof that Josephine (Almindinger) Weurpel's mother was from NY can be seen on line 34, in the last column for "mother's birth place."
---
TAMPA'S WATER SUPPLY and FIRST FIRE DEPARTMENT
The formation of a dedicated fire department in Tampa was closely tied to Tampa's quest for a reliable water system.
The information presented here about Tampa's fire department early history comes mostly from these sources: June 10, 1890 article in the Tampa Journal, "A Letter From Mr. Wuerpel" to the members of the Tampa Fire Dept. Tampa Bay History magazine at USF Scholar Commons,With Pride and Valor: The Tampa Fire Fighters Union. 1943-1979 by Mark Wilkins, South Tampa Magazine, Hometown Heroes. Grismer, Karl - A History of Tampa, and a Tampa Tribune column of Aug. 23, 1959 Pioneer Florida Chief soaked in Jackson St. ditch water by D.B. McKay. (Click the link to see entire article, then click the article to see full size.)
In 1885 it became apparent to Tampa businessman August C. Wuerpel, along with other Tampa citizens, that Tampa needed an organized fire department. During the winter of 1884-85, a series of disastrous fires convinced everyone that a dependable water supply was essential and on July 28, 1885, the City Council awarded a franchise to the Holly Manufacturing Company, of Lockport, N.Y. The company agreed to provide enough water for a town of 10,000 and install fifty fire hydrants without charge. Water rates were fixed at $8 a year for homes and from $15 to $50 a year for business places.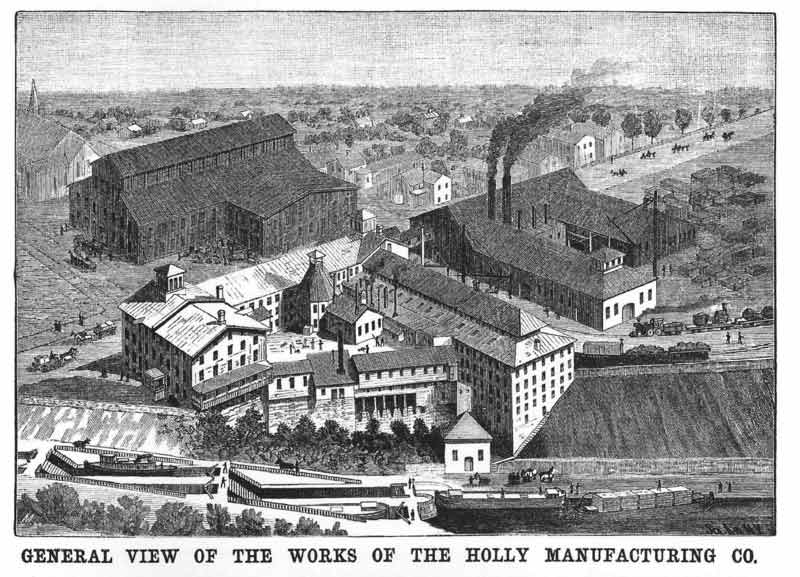 Postcard image from VintageMachinery.org
After getting the contract, the Holly officials lost their enthusiasm. Making a house-to-house check to learn how many families would take the "city water," they learned they could not expect to get a gross revenue of more than $1,000 a year. That was not enough to pay operating expenses, to say nothing of giving a return on the initial investment, so they understandably proceeded to abandon the franchise.
See a more detailed history of Tampa's Waterworks here at TampaPix.
On June 2, 1884, sixteen local citizens formed Hook & Ladder Company No.1, a volunteer department with W. B. Henderson as foreman, Fred Herman, assistant foreman, and C. P. Wandell, treasurer. Other members were P. F. Smith, Dr. Duff Post, Ed Morris, J. C. Cole, E. L. Lesley, Phil Collins, S. P. Hayden, Frank Ghira, H. L. Knight, A. J. Knight, C. L . Ayres, S. B. Crosby and A. P . Brockway. In 1885, A.C. Wuerpel was appointed to be the department Chief.
[Grismer, A History of Tampa, 1959]
Meanwhile, repeated attempts were made to interest other water companies to build Tampa's water works, but all failed because Tampa, then a non-incorporated town, could not obligate itself to pay for water hydrants.
[Grismer, A History of Tampa, 1959]
Due to a relative lack of fires, lack of interest of the members and their desire for public recognition, the fire-fighting organization became defunct. Disastrous fires of 1885 and May 1886 caused interest to revive the fire department* and Wuerpel was chosen as its chief with seven "bucket brigades" organized to serve the city.
[Grismer, A History of Tampa, 1959, *A. C. Wuerpel resignation letter of Jun. 10, 1890]

The only equipment these firemen had consisted of twenty buckets, two scaling ladders and some axes. In these early days, dependence for water to fight fires in the heart of the business district was on public wells located at various intersections, and the Jackson Street ditch. Bucket brigades carried the water to the site of the fires.
[Grismer, A History of Tampa, 1959]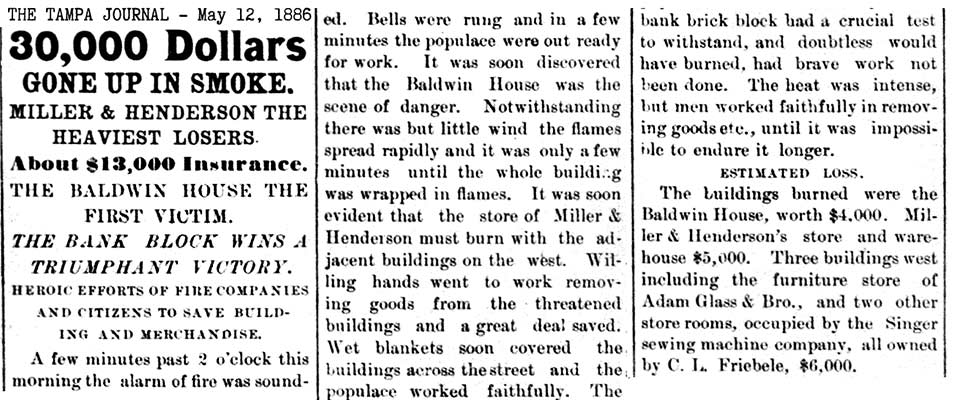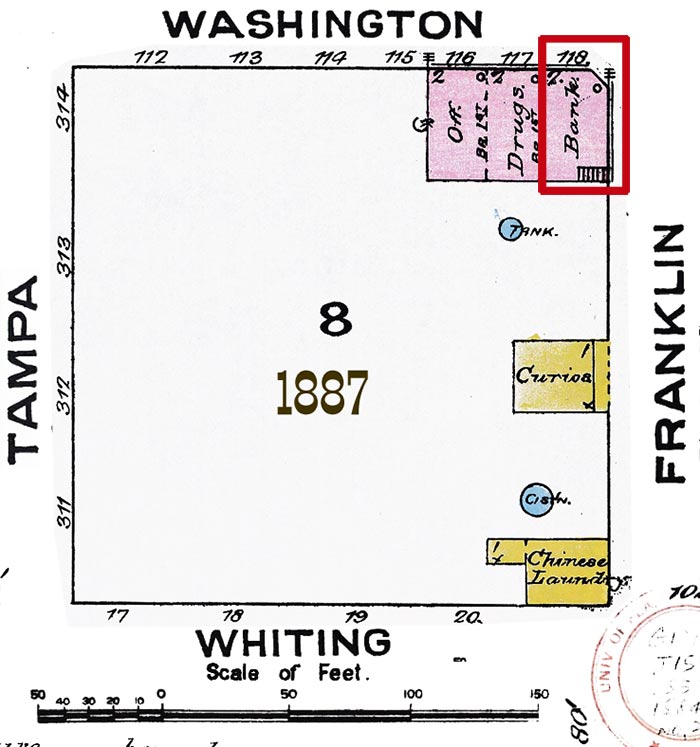 1887 - After the May 12, 1886 Baldwin house fire. Pink indicates brick structures, yellow are wood frame structures.
Needless to say, more than a little difficulty was encountered in batting serious conflagrations. This was clearly shown May 8, 1886, when all the buildings except the First National Bank were wiped out in the block bounded by Franklin, Whiting, Tampa and Washington. Included among the structures destroyed were two buildings owned by W.P Henderson, a new store of Friebele & Boaz, the Baldwin House, the furniture store of A. Glass & Bros., and the warehouse of Miller & Henderson. The loss was estimated at $30,000.
PLACE YOUR CURSOR ON THE MAP TO SEE THIS BLOCK IN 1884, before the fire.
The First National Bank first started as the Bank of Tampa, seen below in 1886, it's second building. It became First National when it moved to their new 4-story building at 416 Franklin St. on the southwest corner of Madison St. around 1900.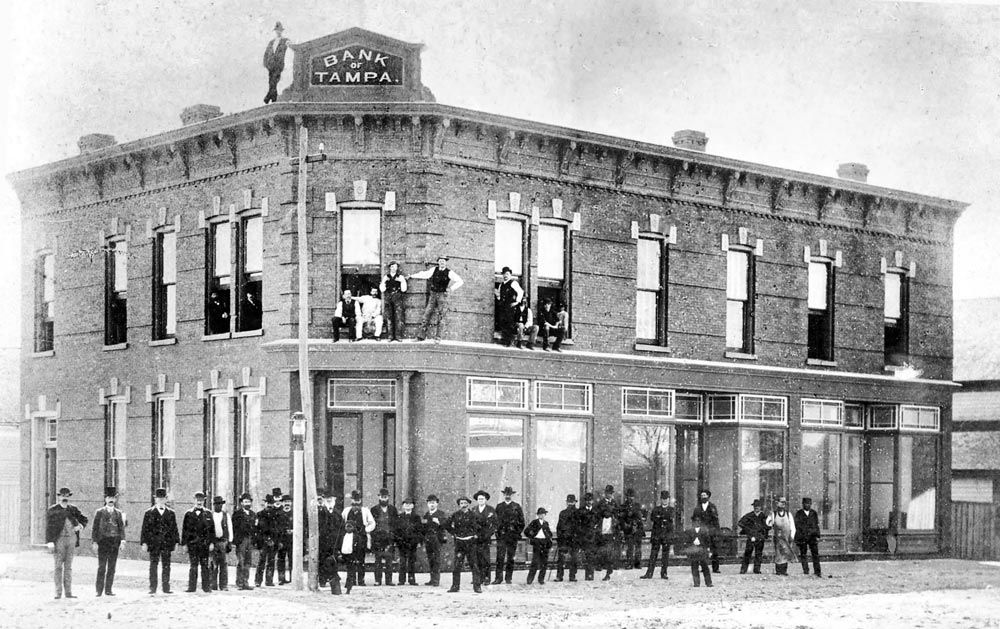 Burgert Brothers photo courtesy of the USF Library Digital Photo Collections
See the image there uncropped; there is an extremely large U.S. flag on an approx. 25 ft. tall flag pole
which can faintly be seen atop the building.
The Mugge Pumper
Immediately after this fire Wuerpel and Tampa's leading citizens convinced the town council that it would be wise to invest in a fire engine so a $600 "hand pumper" was ordered. Paid for by successful liquor dealer Robert Mugge, it became known as the "Mugge Pumper." It arrived July 30, 1886 along with 350 feet of two-inch hose and a hose reel. Almost everyone in town turned out the next day to see the engine tested. The hose was run down to the river and six of the strongest firemen began laboring on the pumps. The results were a splendid-a stream of water which was thrown clear over the top of John T. Lesley's two story building at Franklin and Washington.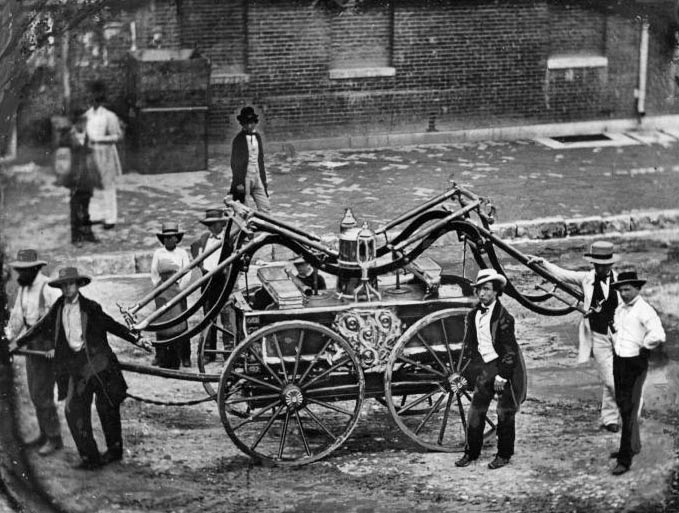 Example of a hand-drawn pumper truck which could be powered by six firemen.
Image from "Hand Pumped Fire Engines" by Flags Up at Pinterest
TAMPA FIRE COMPANY ORGANIZED, Aug. 30, 1886
To make effective use of the new equipment, the Tampa Fire Company was on organized August 30, 1886, with A. C. Wuerpel as president, Robert Mugge as secretary, and Herman Glogowski as treasurer. Other members were G. B. Sparkman (later the City of Tampa's first mayor and judge of the circuit court}, Odet Grillon, H. Hearquist, C . O. Pinkert, John R. Jones, Leon Dartize, Charles G. Lundgren, J. O. Nelson, Vicente de Leo, and Ernest Gerstenberger.
These men, and the members of the Hook & Ladder Company, served without pay. The new hand engine and supply of hose did some good in the fire of Sept. 1887.** But that fire showed the necessity of a reliable water supply and again the council was receptive to equipping the department as it stood at this time.
**Allusion to this fire comes from A.C. Wuerpel's resignation letter of June 1890. "The council, then in charge of the city's affairs, appreciated the necessity of fire protection and at my solicitation a hand engine and supply of hose was provided, which did good service in checking the conflagration of September, 1887" No other mention of this fire has been found in any other available resources. Although the images of the four Tampa Weekly Journals for September 1887 and the first one in October are extremely faded and almost completely illegible, enough can be discerned to conclude that the only fire mentioned was one in Sanford, Fla. on Sept. 22nd.
During the next two years the fire men did the best they could with the hand pump engine. It served fairly well when the fire was near the river but was useless, of course, if no adequate water supply was close at hand. Many buildings burned to the ground which could have been saved if water had been available. Everyone rejoiced, therefore, when the waterworks company announced that water soon would be turned into the mains.
The first mention of A.C. Wuerpel in Tampa newspapers is this Sep.1, 1887 ad with Pres. Wm B. Henderson and A.C. Wuerpel as manager of Tampa Commercial Company Wholesale Grocers, one of the businesses which demanded his time as he alluded to in his resignation letter. Ads for this company with him as manager appeared almost daily in the Journal and this was likely his main source of income. The last ad to name him in this position was published in the Tampa Journal on June 25, 1891.
A. C. Wuerpel was also the manager of this steamship company which was probably another Wm. B. Henderson business venture.
THE CITY OF TAMPA ESTABLISHED - JUNE 2, 1887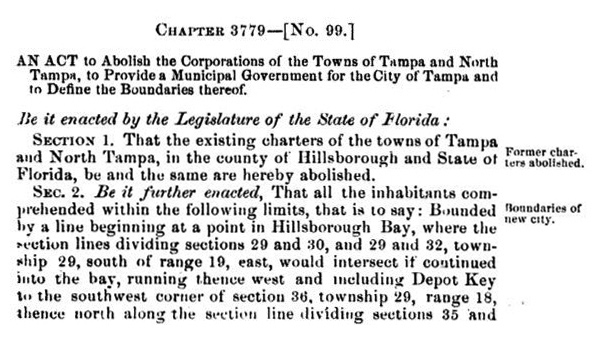 The City of Tampa was established on Jun 2, 1887 when under special act of the state legislature, the Governor approved a bill that granted the city of Tampa a new charter, abolishing the town governments of Tampa and North Tampa. Section 5 of the charter provided for a city-wide election for mayor, eleven councilmen and other city officials, to be held on the 2nd Tuesday in July. The new charter also greatly expanded the corporate limits of the city. Tampa now took in North Tampa, Ybor City and some land on the west side of the Hillsborough River.
The first city election under the new charter was held July 12, 1887, and the new mayor, Georg Bascom Sparkman, took office on July 15, 1887, the date considered to be when Tampa was organized.
It was a bitterly fought and controversial election, accompanied by deplorable behavior on the part of many Tampa citizens.
City Clerk Lamont Bailey's notes of the July 15, 1887 City Council meeting.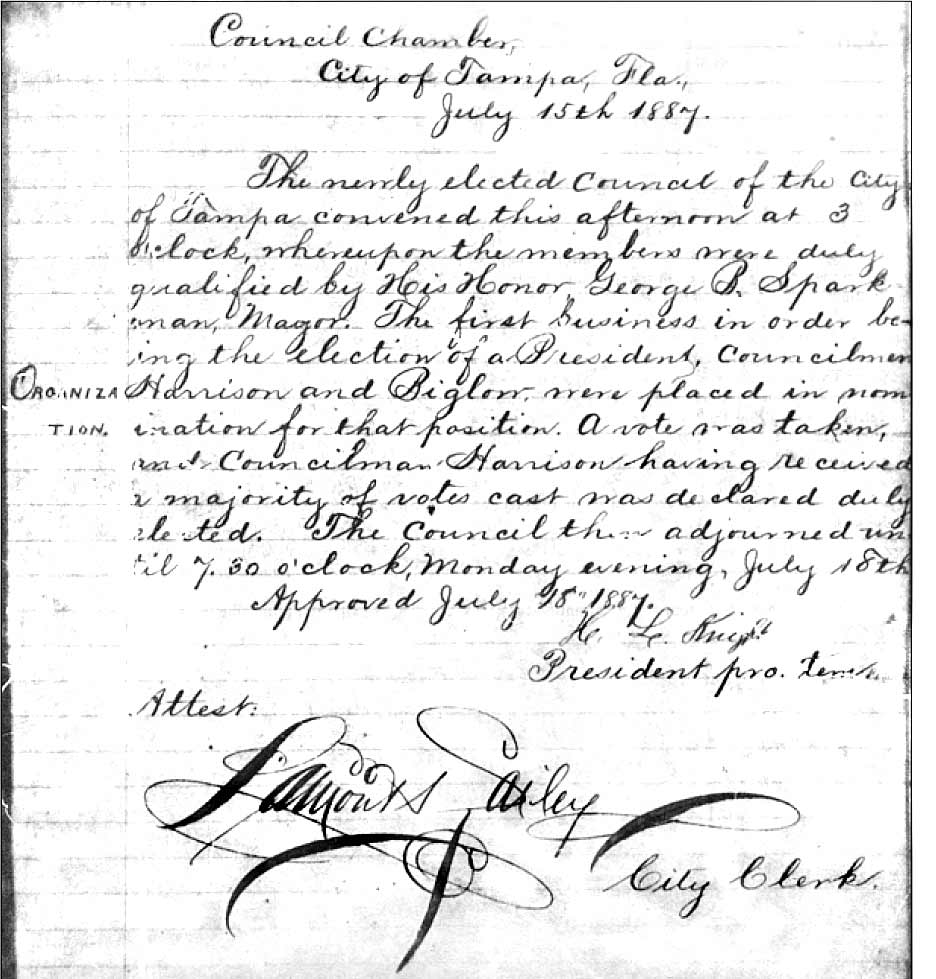 Image from THE SUNLAND TRIBUNE, Journal of the TAMPA HISTORICAL SOCIETY,
Volume VIII Number 1 November, 1982 - WHAT HAPPENED IN TAMPA ON JULY 15, 1887 OR THEREABOUTS by Joseph Hipp
Read more about this election and what else was happening in Tampa at this time here at TampaPix

This article is transcribed here in its entirety due to the poor quality of the scanned image.

THE FIRE AT "ROTTEN ROW" on Aug. 4, 1887
About two o'clock this morning a fire broke out near the center of what is known as "Rotten Row," composed entirely of one and two story wooden buildings, and occupied mostly by small tradesmen such as fruit stalls, retail groceries, barber shops, etc. on one side of the street, and principally by saloons on the the other. The fire seems to have originated either in Cole's restaurant or Thomas' barber shop, the flames spreading rapidly each way from the starting point and soon enveloping the entire block in flames. It was some time before any kind of effort could be made to control the fire, and for a time it looked as though the whole business part of the city must surely go, and the absence of any wind was probably what saved the best portion of it. The fire department, however, soon got down to business, and by the almost superhuman efforts of the firemen the flames were prevented from being communicated to the buildings across Lafayette street, extending north, thus saving the Opera house, Gunn & Seckinger's large grocery store and other valuable business blocks. It was the prevailing opinion that nothing could be done to save the buildings on either side of Franklin street between Lafayette and the ditch, and all the efforts of the firemen were directed to preventing the spread of the flames to the adjoining blocks, and that they were successful in this measure was certainly not due to the completeness of our water works system, but to the untiring efforts of the people.
The old hand engine did good service as long as water could be had, when bucket brigades were formed and the sides of the buildings kept thoroughly drenched. By 4:30 o'clock the two blocks above mentioned were burned to the ground, very little of the contents being saved, although the utmost good will prevailed, and everybody did what they could to assist their more unfortunate neighbors.

THE FIRE
The Journal deeply sympathizes with all who lost their property in last night's conflagration. But aside from the hardship entailed upon those who directly suffered loss, the effect upon the city can not fail to be otherwise than beneficial. Two of the finest business blocks in the city are now open for substantial and valuable improvement. The real value of these blocks this morning is greater than it was yesterday; and we believe that within one year from this date, instead of the former shanties that stood yesterday as an eyesore to the citizens of Tampa, will tower magnificent brick blocks.

Read more about this fire at TampaPix's feature, The 2nd Lafayette St. Bridge.


Place your cursor on the map to see it in 1889
LAFAYETTE ST.

JACKSON ST


Articles from the Digital Library of Georgia - Historic Newspapers

BELOW: The Tampa Savings Bank at Tibbetts Corner in 1888-89, looking southwest from the intersection of Franklin St. (on left) and Lafayette (on right). Notice the barber pole on the street, left of center of photo. The Tibbetts confectionery is where the awning is just left of the pole.

On the 1889 map above, this was the west side (left side) of Franklin St. at Lafayette with Tibbetts and the barber shop outlined in yellow.

Burgert Bros. photo below courtesy of the USF Library digital collection.






THE NEW CITY OF TAMPA IS DIVIDED INTO FOUR WARDS
One of the first acts of the new Tampa city government was the passage of an ordinance on September 6, 1887 dividing the city into four wards. The old town of Tampa became the First Ward, North Tampa the Second Ward, West Tampa the Third Ward, and Ybor City the Fourth Ward. Ybor City agreed to enter the city on the strength of promises that Tampa soon would get a water system, an organized fire department, electric lights and paved streets.
Preparations for drilling artesian wells were starting late in the summer 1887. On September 13, the new city council awarded a water works franchise to the Jeter-Boardman Waterworks Company and agreed to pay $4,500 a year for 110 hydrants. But action on these improvements and many others was delayed by one of the worst calamities which ever befell the city.

YELLOW FEVER EPIDEMIC IN TAMPA
Below is from the University of South Florida Library 500 Years of Discovering Florida, 1887 Epidemic in Tampa, and "A SNEAKY, COWARDLY ENEMY" TAMPA'S YELLOW FEVER EPIDEMIC OF 1887-88 by Eirlys Barker, and various newspaper articles from the period.
Tampa was relatively free of Yellow Fever from 1871 to 1886, so Tampans were lulled into the notion that another large outbreak would not happen in their city. However, Charlie Turk of Ybor City had the dubious distinction of being the first person in Tampa to die of "yellow jack" in 1887. An alleged fruit smuggler, he managed a barber shop. His family contended that he had contracted the disease by using a blanket belonging to an Italian fruit dealer named Pepe. Pepe, it was said, had fallen ill with strange symptoms, but had recovered and mysteriously disappeared. While Turk was still lying ill in Ybor City, the first case within Tampa proper occurred on September 16, when a second Italian fruit dealer, Louis Moses, took sick. Other Italian traders soon followed. Possibly six Italians contracted yellow fever, as did a few of their American customers.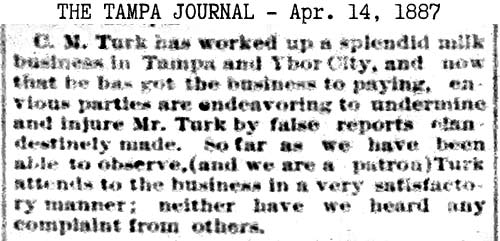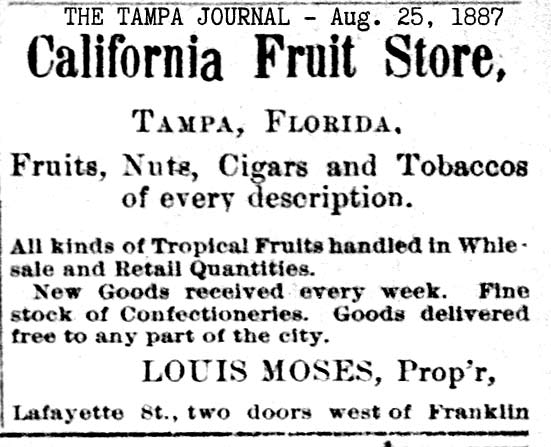 These fruit dealers traded with citizens from Cuba. The cargoes of fruit from Cuba most likely were the carriers of the infected Aedes Aegypti mosquitoes. When the Cubans traded with the Italians, the infected mosquito was able to bite the Tampan man, which led to the subsequent epidemic. Turk died in late September; however physicians were hesitant to call it Yellow Fever.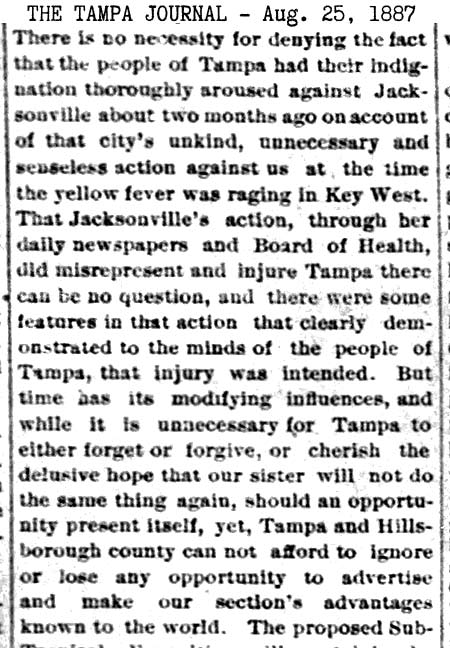 Leading citizens considered it an over-reaction to the situation when Jacksonville inflicted a quarantine on all people from Tampa. This action was protested by the editor of the Tampa Weekly Journal, Harvey Cooper, who claimed that it hurt the "Hotel Interest." Cooper seemed especially concerned about Henry Plant's plans for building a magnificent hotel at Tampa to attract thousands of tourists--and millions of dollars--every winter. In defense of this vision, Cooper sarcastically reported that the city was no longer in a state of panic, and "the people are laughing at their own foolishness...Only one death in Tampa since--the Lord only knows when, and that occurred last Sunday. It was a mule. It would be dangerous for Jacksonville to lift their quarantine against Tampa yet awhile."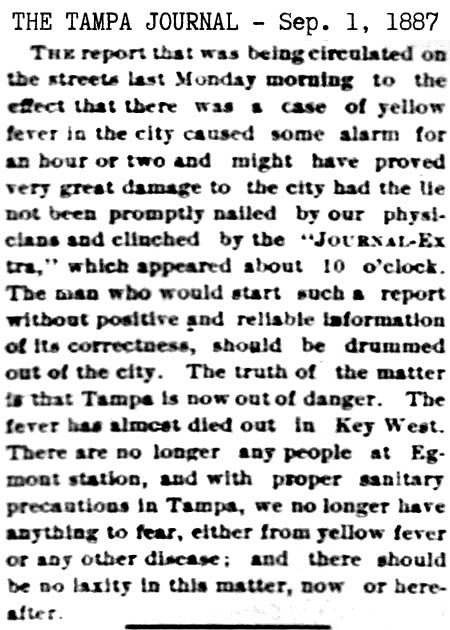 Dr. Wall was out of town when Turk and Moses had become sick. When the physician returned on the twenty-fifth, the town was seething with rumors of the scourge's presence. Wall immediately suspected the worst.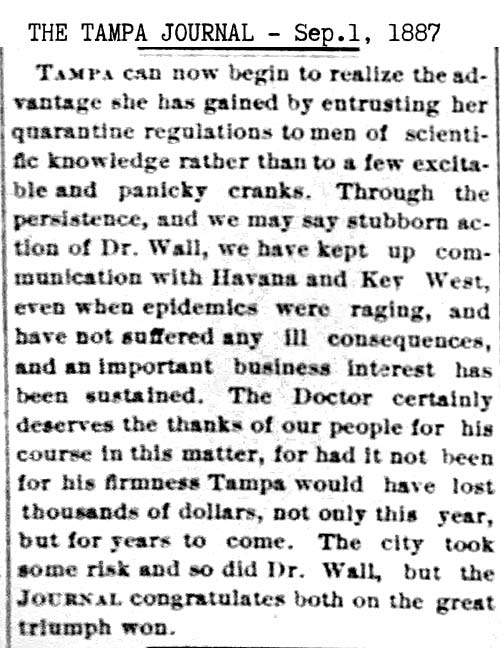 By September 29, Wall had seen five suspicious cases, including two that other physicians had diagnosed as bilious remittent fever. However, he deemed it "prudent to await further developments," for "it is a very serious thing to announce the presence of yellow fever." Of the suspicious cases in September, only Turk's had been fatal which suggested that dengue--a non-fatal disease with symptoms similar to yellow fever--might have been the cause. Therefore, Wall continued to observe possible cases, and he did not make the fateful declaration until all his doubts had disappeared.
Dr. John P. Wall, Tampa's 16th mayor
1878 to 1880
That point was reached on Oct. 4, by which time Dr. Wall had seen a total of seven cases. Two patients had died, and albumin was in the urine of two other cases. Summoning the board of health, Wall announced his diagnosis. He noted that this was received "with many objections, on the part of the other members, on the ground that the city was very healthy, hardly anybody was sick, and that very few deaths had occurred, certainly not as many as might be expected in so large a population." Wall conceded that there was no epidemic yet, but he hoped to avoid one by depopulating the city and by urging all non-immunes to flee. He wanted this implemented before the news leaked out by wire, so that those leaving would not be denied refuge everywhere they went.
The Yellow Fever epidemic is continued after the electric lighting of Tampa below.
TAMPA INTRODUCED TO ELECTRIC LIGHTING - The Tampa Journal - Jan. 5, 1887 - The lengthy article begins in all caps:

UPWARD AND ONWARD WE MOVE! ELECTRIC LIGHTS TO BE PUT IN THE CITY AT ONCE. THE WATER-WORKS AND HOTEL SOON TO FOLLOW, AND OUR CITY BY THE SEA TO TAKE HER PLACE AMONG THE FIRST OF THE STATE.

Steps have been taken to install an Electric Machine in Tampa with enough power to meet all of Tampa's present needs for more and better light. F. B. Pickering had come to Tampa from Jacksonville, representing several prominent electric light companies in the country. He was displaying incandescent lighting and various sources of power in order to induce citizens to form a joint stock company to put an electric plant in Tampa.

His main obstacle was finding a suitable engine to run the little dynamo he carried with him. His first attempt was to light the store of Herman Glogowski, but lack of steam power on his first try was not satisfactory to him, but it did convince witnesses that there was merit in the machine he was showing.

Pickering then made arrangement to use an engine in a local machine shop, so moved his display there. When all was ready, he invited prominent citizens and members of the City Council to see the light made with increased power. The witnesses were "exceedingly pleased and pronounced it very fine indeed, but unfortunately, only a few persons saw it." So Pickering found it difficult to organize a stockholding company.

He then became discouraged and went to Ybor City to try to convince Mr. Ybor and others to install an electric plant there. Introduced to Mr. Manrara by the author of the article, he explained the workings, cost, etc, of the system. Not having been at the Tampa demonstration, the author was convinced of the process and invited Pickering to meet with Capt John T Lesley, Robert Jackson, and the Tampa Journal editor, W. N. Conoley, the next morning. After hearing his presentation, the men said that if he could make a satisfactory display of the light to them, they would be prepared to close a contract with him for a plant in Tampa. This one done and at once an agreement was made between Lesley, Jackson and Conoley, and Pickering to put in a FIVE HUNDRED INCANDESCENT LIGHT MACHINE OF THE WESTINGHOUSE PATENT & MANUFACTURER, AND A THIRTY-FIVE ARC LIGHT MACHINE of the American Company's manufacture, (Fuller-Wood patent).

[Read about "The War of the Currents," the battle between Thomas Edison, proponent of Direct Current, and George Westinghouse, proponent of Alternating Current, and the role that inventor Nikola Tesla played for both men, at Smithsonian.com. From the article: Both men knew there was room for but one American electricity system, and Edison set out to ruin Westinghouse in "a great political, legal and marketing game" that saw the famous inventor stage publicity events where dogs, horses and even an elephant were killed using Westinghouse's alternating current. The two men would play out their battle on the front pages of newspapers and in the Supreme Court, in the country's first attempt to execute a human being with electricity. ]

Mr. Pickering then left for Pittsburgh to buy all the machinery necessary. A partial canvass of the city indicated that all the lights would be spoken for soon after the plant was in operation and expectations were that within the next 40 days everything would be set up and in operation. They hoped that the City Council would make a contract for lighting as up until this point, no effort had been made. "It will not only lessen the cost of insurance for all those who use it, but will give us the best lighted place south of Jacksonville, and puts Tampa at once among the progressive places of our now rapidly-progressing state.

After the lighting of Tampa, efforts would turn to "the Grand Hotel". "With any determined and united effort, we can build a house second to none in Florida. Why not do it and do it at once?" The lights and hotel would bring the necessity of a water works, and with these three factors in the make up of a live and progressive city, we will have reached a tone and dignity that will make some of our sister cities wince. Let every one be up and at work for to-day is Tampa's opportunity. Let no man say "We can't." See the entire article here, click the image again to see it full size.

In the midst of the Yellow Fever epidemic, the City of Tampa began converting from kerosene street lamps to electric. Below from "Tampa Early Lighting and Transportation, by Arsenio M. Sanchez, THE SUNLAND TRIBUNE Volume XVII November, 1991 Journal of the TAMPA HISTORICAL SOCIETY.

An early Tampa Electric Company (not the present Co.) was organized in Tampa on January 29, 1887. About three months later the company brought the first Electric lights to the city of Tampa. A small Westinghouse generator was brought in and two arc lights were erected, one at the corner of Franklin and Washington Streets; and one in front of the brand new "Dry Goods Palace." Tampa's first "light show" took place Monday, April 28, 1887.** Word got around and people came from all parts of town to witness the event. The Tampa Journal recorded the occasion by saying, "The amazed throng could hardly believe that the stygian darkness could be dispelled so miraculously by current coming through a wire. Dazzling bright though these arc lights were, they were at best a qualified success, sputtering, crackling and hissing, they went out with dismaying frequency.

**The date given by Mr. Sanchez was actually the date of the Tampa Journal article, which below can be seen that the date of the lighting, "last Monday night" would have been April 25th.

The above reference to "the big hotel" was H. B. Plant's Tampa Bay Hotel.

FIRST LIGHTING CONTRACT
At a special City Council meeting on Aug. 31, 1887, W. N. Conoley of Tampa Electric Light & Power presented his proposal to those present. The proposal was for arc or incandescent lighting at the same price they would offer to private citizens. He proposed 12 to 14 lights at a rate of 60 cents per night under the stipulation that the city would enter into a 10-year contract with him.

Judging from what they saw, the City fathers on Sept. 13, 1887 met with the City Council and awarded the fledgling company a ten-year contract to provide street lighting. Twelve arc lights at 60 cents a night to be provided.


The city council accepted the offer by Tampa Electric Light Co. to furnish the city with electric street lamps.

On Sep. 22, 1887, the City Council passed an ordinance allowing Tampa Electric Light & Power to contract with the City of Tampa.

Sep. 29, 1887 - The Street Committee announced the locations of eight new street lights.
In the end, Wall prevailed. On October 5, he began spreading the news to local citizens, while the board of health went beyond his suggestions and declared that epidemic proportions had already been reached. A few of Tampa's citizens had fled even before this date. On October 4, a Jacksonville paper reported that a refugee from Tampa died at Palatka and around one hundred of Palatka's citizens had, in turn, fled from that City. Fear, it seems, was as contagious as yellow fever.
This news incited panic in people which caused many to flee Tampa. Since a person who is infected with the illness does not immediately know they are sick, it was very easy for the illness to spread to other cities in Florida. While some people did flee the city, many others decided that it would be better to stay put. From the remaining Tampans, many of them kept diary entries of their experiences with Yellow Fever. In the diary of E.E. and E.B. Johnson, one can read about a man who loses his father to the disease coupled with the writer himself contracting the dreaded disease.
On October 6, 1887, the Tampa Journal admitted that panic gripped the city. "There is no use disguising the fact that the people of Tampa are panic stricken," the Journal observed. "Whether our fears are well-founded remains to be determined." The newspaper mentioned the "general and exciting exodus" and reported that scores of people had left on the northbound train the previous evening. However, the Journal tried to minimize the threat by stating "the fact that we are having an epidemic of Dengue fever." Conceding that "three cases of an aggravated type. . . have proved fatal," the paper declared that "many people have jumped to the conclusion that we have Yellow fever."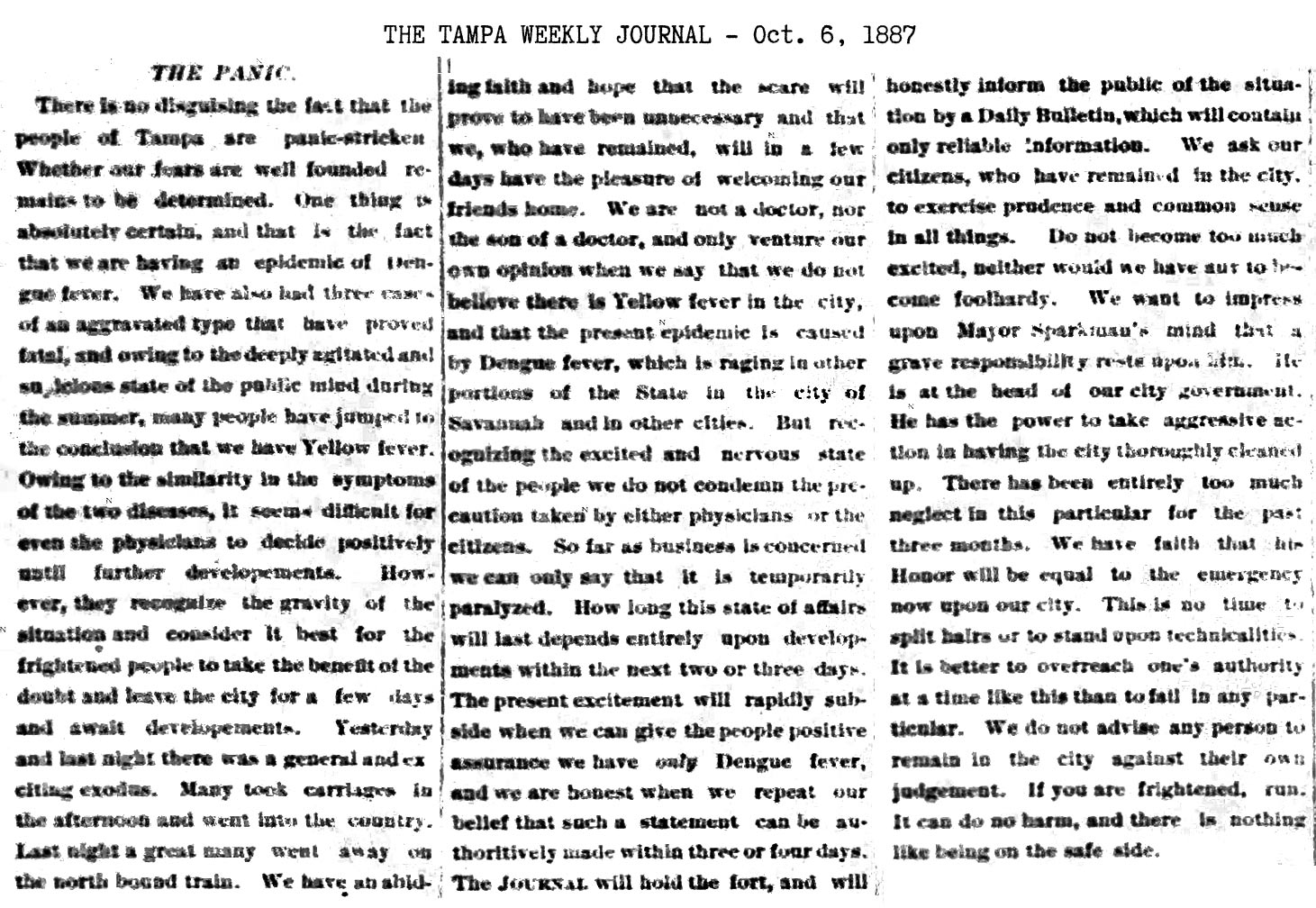 The Journal emphasized that dengue was raging throughout Florida and in Savannah, implying yet again that Tampa's epidemic was due to the milder, less feared disease. "Do not become too much excited," the editor advised residents who had not fled, but he added: "If you are frightened, run. It can do no harm, and there is nothing like being on the safe side."
On October 8, Tampa's epidemic made the front page of the New York Times. Noting the "wild excitement" in the city, the Times did not doubt that the disease was yellow fever. "The fever seems to have supplanted reason, no one seemingly knowing what treatment to adopt, and everyone, even physicians, seeking safety in flight," the Times reported. "The city is now virtually deserted. . .The panic was so great, that, in many instances, thousands of dollars worth of property was left unprotected."

The Oct. 20, 1887 article below says Tampa was visited by a Key West doctor who confirms a Yellow Fever epidemic in Tampa. The city has been quarantined thus causing a great loss of business and employment. They solicit material support from the people and businesses of New Orleans, to be sent to A.C. Wuerpel in Tampa.

The Nov. 26, 1887 article at above right tells of Red Cross nurses that were sent to Tampa are leaving by way of Jacksonville. It also tells of the quarantine surrounding Tampa being enforced by men with shotguns. Also included is a letter received from Hugh Macfarlane. See the whole article with more info and details.. When the image opens, click it again to see it full size.
Altogether, in the year 1887 it is estimated by Dr. John P. Wall that there were about 1000 cases of Yellow Fever in Tampa with about 100 deaths, however it is now thought that this number could be grossly underestimated. Dr. Wall's intensive study of the disease had led him to conclude in 1873 that the cause was the tree-top mosquito. His findings were ignored and ridiculed by proponents of filth being the cause. Dr. Wall apparently did not pursue the mosquito-borne explanation diligently and so publically, he appears to have gone with the general consensus. In 1900, Dr. Walter Reed came to the same mosquito-borne conclusion, and historically gets most of the credit for finding the cause of Yellow Fever.
Read more details about the Yellow Fever epidemic in Tampa, 1887, at "A SNEAKY, COWARDLY ENEMY": TAMPA'S YELLOW FEVER EPIDEMIC OF 1887-88 by Eirlys Barker.

Read about Dr. John P. Wall, the first to identify the mosquito as the carrier of Yellow Fever, in Florida's Past: People and Events That Shaped the State, Volume 1 By Gene M. Burnett
TAMPA'S NEW WATER SUPPLY
When Jacksonville was hit by yellow fever, northern capitalists began to shun Florida investments. The Jeter-Boardman company had trouble getting money and months passed before it could proceed with Tampa's water works. Finally, two 1300-foot artesian wells were drilled at Sixth Street and Jefferson Avenue, a 110,000-gallon stand pipe was constructed, and a pumping station was completed. 'Water was turned on April 20, 1889. Now, for the first time, Tampa people got water merely by turning on a faucet.
In 1888, the Jeter-Boardman Waterworks built Tampa's first pumping station at 6th Ave (a.k.a. Henderson St.) and Jefferson St, caddy-corner from the 2nd home of Hillsborough County High School which was established there in 1886. Completion of the water system made possible an effective fire fighting organization. Prior to that time Tampa's firemen had been seriously handicapped by lack of an adequate water supply.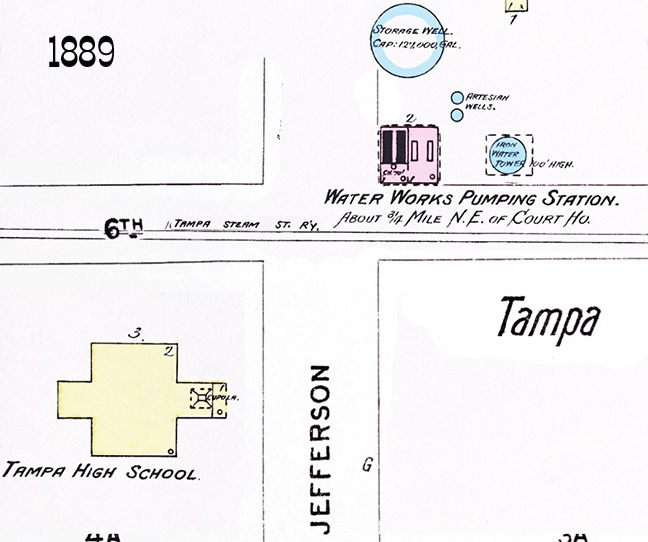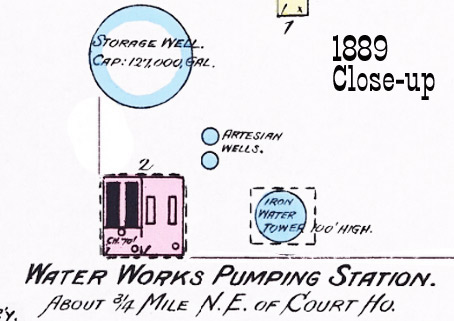 The 1889 maps above (with 1899 streets added) show Tampa's first pumping station. It consisted of a deep storage well and an iron storage tank on a 100 ft. high tower. A detailed description of the equipment is provided below. The high school seen in the above left map was the 2nd home of Hillsborough (County) High School.
Description of the new water plant supply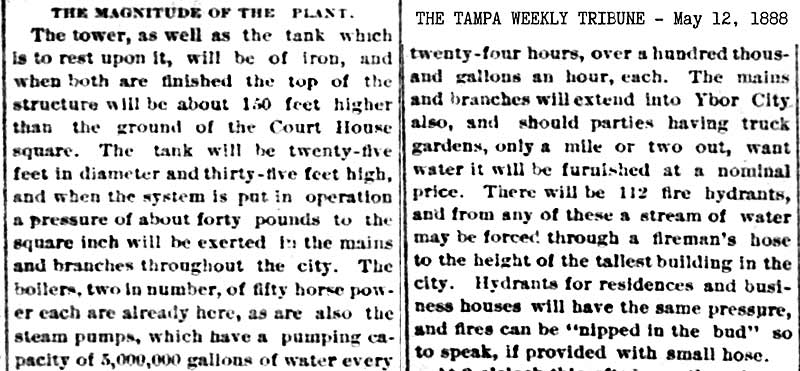 See a more detailed history of Tampa's Waterworks here at TampaPix.

THE VOLUNTEER FIRE DEPARTMENT IS ESTABLISHED BY CITY ORDINANCE NO. 40, April 22, 1889
While plans were being made to build a new city hall/fire department headquarters at Lafayette St. and Florida Ave, the city council passed ordinance No. 40 on April 22, 1889 authorizing the establishment of a volunteer fire department.
Section 6 as to the election of a Chief: The City Council would select the Chief until four fire companies have been organized and accepted by the Council, at which point the fire companies would nominate a candidate for the Council to confirm and serve for two years. ("nominate a candidate" in those days meant to actually select the office-holder.)
Section 7 provided for the selection of as many Assistant Chiefs deemed necessary by the Council.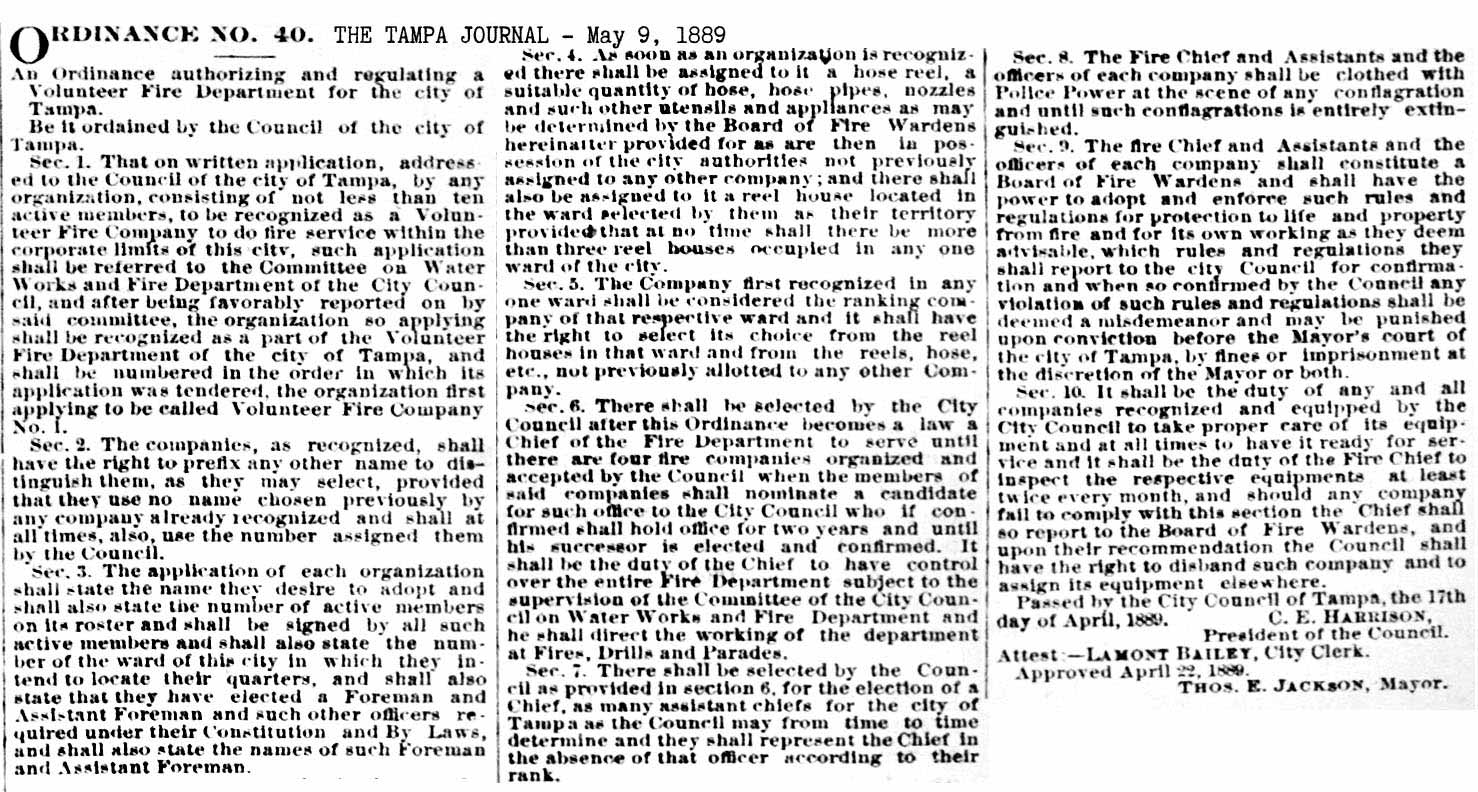 Click the article to see it larger.
As permitted under Section 2, fire companies were formed with names as Alert Hose Co.No.1, Resolute Hose Co. No.2, Active Hose Co. No. 3, Protection Hose Co. No. 4, Phoenix Hose Co. No.5, and Mirta Hook and Ladder Co. No. 1, which was named for the youngest daughter of Vicente Martinez-Ybor.

D.B. McKay in his Pioneer Florida column of Aug 23, 1959, claims seven companies were formed in the volunteer dept.--Alert, Resolute, Phoenix, and Mirta, which are named in the May 29, 1889 fire chief election article below, but McKay & Grismer add three not mentioned: Vigilant, Relief, and Humanity, and does not mention Active and Protection hose companies. The discrepancy can be attributed to not specifying when these companies were started. TAMPA'S BRAVEST website uses McKay's/Grismer's list as well. McKay also attributes the "Mirta" name (erroneously) to Ybor's wife instead of his youngest daughter.

At right: Francisco Puglisi, the first fire captain in Ybor City history. The honor was given to him when the Cubans of the first volunteer fire unit selected him to head the Mirta Hook & Ladder volunteer company in 1888. The unit honored Mr. Ybor's youngest daughter. In 1886, the four small steam engines that ran on narrow-gauge rails between Tampa and Ybor City which pulled the streetcars were named for Ybor's daughters Jennie, Mirta and Eloise, along with Mrs. Ignacio Haya--"Fannie."


Photo courtesy of The Sunland Tribune, Journal of the Tampa Historical Society, Vol. 3, No. 1 - Nov. 1977, Hampton Dunn, editor, "The Italian Heritage in Tampa" by Tony Pizzo.
It would appear that the historic marker is a bit premature in its claim.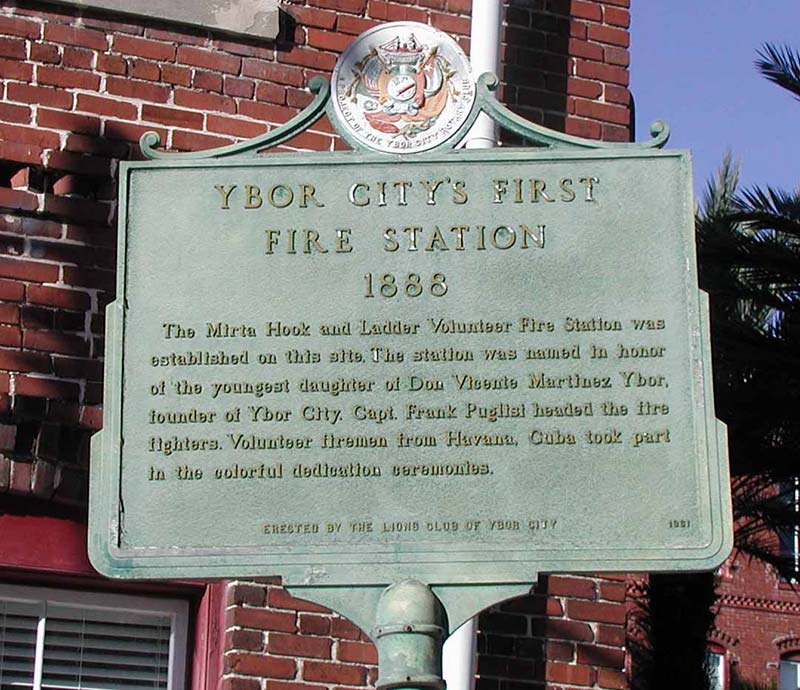 Below is a satellite view of the location of the historic marker. At this time, the Mirta company was V. Martinez-Ybor's private fire fighting company which protected this area including his factory.
Place your cursor on the map to see this area from the April 1889 Sanborn fire insurance map.
There apparently was no fire station here in April 1889 or before then, where the volunteer firemen worked their shifts. There was a small wooden structure that housed the chemical engine which can be seen on the right.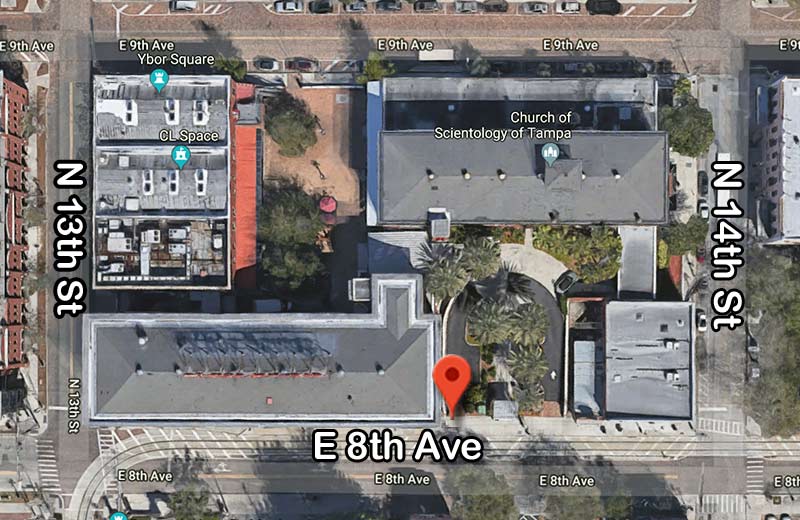 A close up of the April 1889 map reveals the size and equipment for the Mirta Company at this time.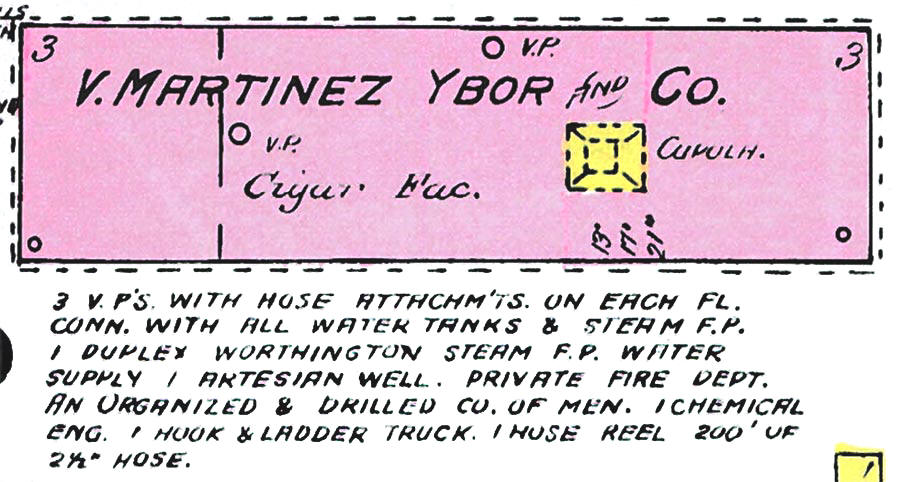 The index on page 1 of the map also provides a description of the Tampa volunteer fire department, then the department's equipment in Ybor City (2 hose carts, 1 hook & ladder truck, 1,000 ft. of hose)to be used with Ybor's private fire company ("An organized & drilled private co. of men, 1 chemical engine, 1 hook & ladder truck, 200 ft. of 2.5-inch hose.)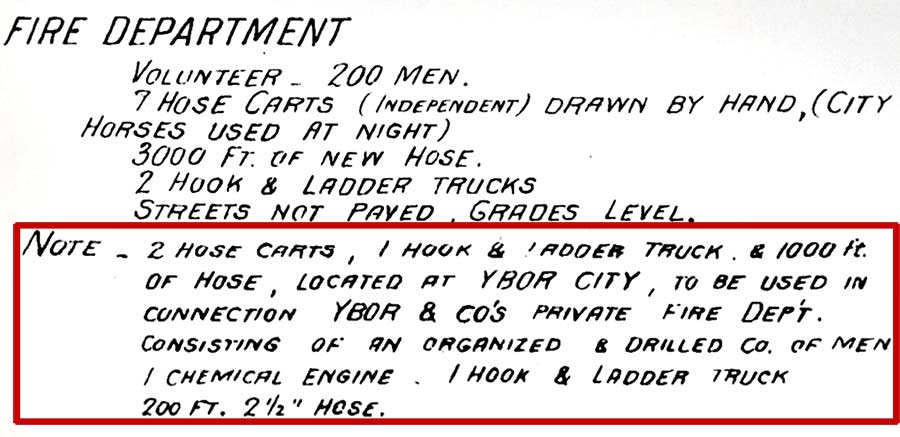 The Mirta Company fire station was completed and dedicated on Aug. 11, 1890, two months after Chief Wuerpel had resigned and A. J. Harris had become the Acting Chief of the volunteer dept. See the feature about A. J. Harris for the article about the dedication of the Mirta fire house.
The historic marker should read:
YBOR CITY'S FIRST FIRE STATION, 1890
"The Mirta hook & ladder fire DEPARTMENT was established on this site as V.M. Ybor's private fire fighting company. On Aug. 11, 1890, their first fire station was dedicated for the use of the Mirta Hook & Ladder Co. and the Vigilant Hose Co.



In 1889 there were six wells in the heart of the business district.
1889 Sanborn fire insurance map from the UF digital maps collection
TAMPA PLANS ITS FIRST CITY HALL

On April 23, 1889 a bond election was held for the issuance of $100,000 of 7% bonds for internal improvements which included the construction of a city hall, fire station and street paving work. The result of the election was that 489 votes were cast in favor of the bonds, 7 against, and 6 marked "no bonds." The election was ratified on April 26 by the city council and the bonds sold to W. N. Coler & Co. of New York on May 15, 1889, and delivered through T. C. Taliaferro on June 17th.

See more about the planning and construction of Tampa's first dedicated City Hall & Fire Headquarters here at TampaPix.

WUERPEL APPOINTED CHIEF WITH HARRIS 1ST ASSISTANT AND RODRIGUEZ 2ND ASSISTANT

On May 5, 1889, Augustus "Gus" C. Wuerpel was chosen by the City Council as Fire Chief with A. J. Harris and Manuel Rodriguez serving as first and second assistants, respectively.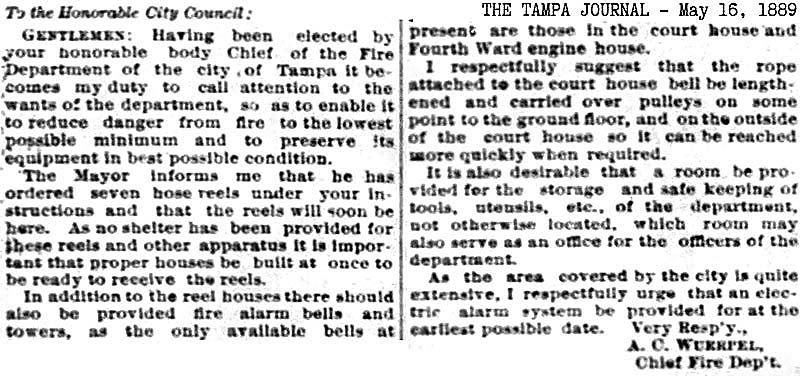 In addition to the reel houses, Wuerpel asked for provision of fire alarm bells and towers, as the only ones at the time were in the courthouse and the Fourth Ward engine house. He suggested that the rope attached to the courthouse bell be lengthened and carried over pulleys so they would extend to the ground floor, and on the outside of the building so they could be reached more quickly. Also needed was a "desirable room" be provided for the storage and safe keeping of tools, utensils, etc. not already located in one, with a room to serve as an office for the officers of the department. Because of the large area the city covered, he urged the council to provide an electric alarm system as soon as possible.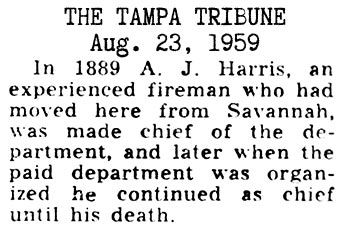 At this point, in Karl Grismer's History of Tampa, Grismer makes an erroneous statement, as does D.B. McKay in Pioneer Florida:

On May 18, 1889, A. J. Harris was appointed chief and competitive fire drills were held regularly. An electrical fire alarm system was installed December 9..."

In the Aug. 23, 1959 Tampa Tribune, D. B. McKay recounts his memories of the volunteer fire department in a Pioneer Florida column "Chief Soaked in Jackson Street Ditch Water." About halfway through the column, McKay made the same erroneous statement as you see at right. No surprise since D.B. McKay was Grismer's editor. McKay's memories at that point were 70 years old.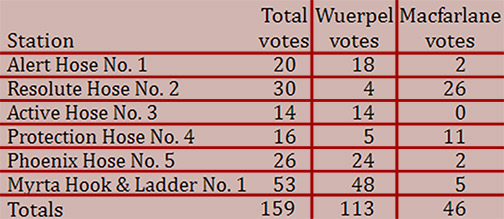 On May 29, 1889, as set forth in Ordinance No. 40, elections were held by the six fire companies around the city to select their chief. Wuerpel was chosen over G. R. Macfarlane by a margin of 67 votes. A. J. Harris and Manuel Rodriguez were elected as first and second assistants, respectively, with no opposition.
Also on May 29, 1889, the City Council amended the water works ordinance to provide 27 additional hydrants. Councilman Fred Salomonson (who would later serve 3 non-consecutive terms as Mayor beginning in March, 1893) offered a resolution that the Tampa Journal republish the article which was recently in the paper about the Board of Public Works and the permanent chairman pro-tem which was adopted.