TAMPA'S FIRST PAID FIRE DEPARTMENT AND ITS FIRST CHIEF
This page is in the process of being updated.
Photo of A. J. Harris courtesy of TFD Capt. Bill Towsend's "Tampa's Bravest" website. The source of the photo is from a 1995 Tampa Fire Dept. Yearbook.

A. J. HARRIS - TAMPA'S FIRST CHIEF ELECTED TO TAMPA'S FIRST PAID FIRE DEPT.

Andrew J. Harris's lifetime events presented here come from various Tampa newspaper articles, including two published at the time of his death, and one a year later. One of the two published at the time of his death was an article in the Savannah Daily Morning News which was reprinted in the Tampa Tribune. Merged into the story is info from newspaper articles in the Savannah Daily Morning News while he lived in Savannah and some after he came to Tampa. Also included is info gathered from articles in Tampa newspapers, along with various other records such as censuses, vital statistics death certificates and web pages which present history of the Tampa Fire Dept, such as the Tampa Firefighters Museum and "Tampa's Bravest."

FOR HISTORY BEFORE CHIEF HARRIS SEE PREVIOUS PAGE, A. C. WUERPEL


This Tribune article includes the article about Harris's death which appeared in the Savannah Morning News. When information from this Tribune article is cited in this feature, it will be cited as from the Savannah Morning News of June 22, 1910, with an asterisk (*)



The letter from "A Friend, F.E.M." claims Harris's middle name was James.
A. J. HARRIS - TAMPA'S FIRST CHIEF ELECTED TO TAMPA'S FIRST PAID FIRE DEPARTMENT
Andrew Jackson Harris was born in Liverpool England1 on Aug. 28, 18382 and came to the States with his stepfather when he was a boy of 16.3 It's not yet known if his mother traveled with them or joined them later.4


1The 1938 death certificate of A. J.'s son, Andrew Martin Harris, provides A. J.'s middle name, Jackson, and birth place as Liverpool. Information for the death certificate of Andrew M. Harris was given by his sister, A. J. Harris's daughter, Miss Marguerite L. Harris.

2Calculated from his reported age at death in the June 21, 1910 Tampa Tribune article published the day after his death. The month and year are in agreement with his 1900 Census in Tampa.

3Tampa Tribune, June 23, 1910 Savannah Mourns Death of Harris, a reprint of an article in the Savannah daily Morning News of June 22, 1910. His 1900 census shows he immigrated in 1850 and had lived in the U.S. for 50 years. If correct, he would have been 11 or 12 at the time he immigrated.

4Tribune reprint of the article in the Savannah daily Morning News of June 22, 1910 says that he came to Savannah with his stepfather and mother "at an early age." The article incorrectly identifies them as "Mr. & Mrs. Morrison" instead of Morris.

The Tampa Tribune article published the day after his death says he was born in Gibraltar, which was and still is a territory owned by England. His ages as described here calculate to a birth date of Aug. 1838.
The Tribune article published a year after his death which uses an anonymous friend's letter to Andrew's widow and daughter and gives his middle name as James.

Harris enlisted with the Confederacy after he moved from Philadelphia to Georgia.

The "Friend, F.E.M." letter also claims he was born a year later, Aug. 28, 1839, in Liverpool, Eng.

Why would this source claim he was born in Gibraltar? The answer is found in his half-brother's, George Marshall Morris', background.

Andrew J. Harris in Philadelphia

Harris arrived (in 1850 according to his 1900 census) at Philadelphia and while a young man there, he first acquired his passionate love for service as a fireman, and never relinquished it for a moment his entire life. He served as a volunteer substitute in the Philadelphia fire department along with George T. Chamberlain. From there he worked his way up to the head of a department.
[Grismer, A History of Tampa, 1959]


Chamberlain was a successful businessman and real estate developer of Tampa. He served in Tampa city government as councilman and on various committees including the fire department.

By the time of his death, there was no consensus among his former friends in Savannah as to where Harris was born.

No records have yet been found for Harris in Philadelphia. Assuming he was born in 1838, he would have only been 11 years old if he arrived in 1850. Considering that by 1862 (article below) he was in Georgia, he would have been at most 23 years old while still in Philadelphia and old enough to have served as a volunteer substitute in their fire department for five years. (Assuming 18 was the minimum age.)
A. J. HARRIS IN SAVANNAH, GEORGIA

From Philadelphia, Harris came to Savannah, Georgia (with his step father and mother, according to the Savannah Morning News, Jun. 22, 1910) and enlisted in the Confederate army during the Civil War. By Jan. 1, 1862 he was stationed at Camp Iverson with Co. A, 5th Georgia Regiment.

Camp Iverson was originally located in Chatham County Georgia five miles below Cherokee Hill, near the railroad. On December 1, 1861 it was moved to Cherokee Hill, eight miles above Savannah. A letter references the location as being on the Charleston & Savannah RR and about midway between the Savannah River and the central RR. (Georgia in the Civil War Message Board)


Muster Roll of the United Rebels, Co. A, 5th Georgia Regiment
State troops stationed at Camp Iverson, Jan. 1, 1862


Harris was a furniture upholsterer by trade, and soon became a leading member of a highly accomplished, skillful volunteer fire company in Savannah which competed with other such companies all over the country, easily defeating companies in such cities as Boston and Philadelphia. He was described as a "quick man and par one" in studying fire conditions. He applied himself to this work and was an assistant engineer (Assistant Chief) later in the Savannah Department.5

5There was no mention of Harris achieving the position of Assistant Chief by those who knew him in Savannah according to the Savannah Morning News article of June 22, 1910. See more info later at the 1882 Fire Dept. elections of Savannah.

While in Savannah, his half-brother, George Morris (of Tampa) was born, and it was in Georgia that Harris married Miss Mary Elizabeth McGreal of Savannah.

1870 Census, Savannah, Ga.
It is the opinion here that the below is the 1870 census of A. J. Harris's wife-to-be, Mary McGreal.

Mary Greal on line 18 is living with four older Greals listed above her, but none old enough to be one of her parents. Mary and those above her indicate born in Georgia (Mary's 1880 Census in Savannah with husband Andrew Harris shows she was born in Ga.)

On line 19 below Mary is Ellen Greal, born in Ireland, who is almost certain to be the mother of all others in the home due to her age (53), and she was born in Ireland. Ellen was probably widowed and living with her children here. Most importantly, columns 11 and 12 for Mary and those listed above her indicate both their parents were of foreign birth. (Mary Harris's 1900 census in Tampa shows her parents from Scotland. Her 1910 census in Tampa shows her parents from Ireland.)

The entry for this family was made on June 15, 1870

Harris has not yet been found on the 1870 census. He was probably living nearby and may have been listed with surname Morris instead of Harris.

1850 Census, Chatham Co., Ga.
Census of Andrew & Ellen McGriel
This record is excellent evidence that the 1870 Mary Greal in Savannah is Mary Elizabeth McGreal who married Andrew J. Harris. Here is the same Ellen, mother of Mary Eliz., at age 35 with Andrew McGriel at age 40 above her who most surely was her husband. Both indicate they were born in Ireland ("Do." is "Ditto.) On line 7 is Andrew, Mary's brother, here at age 9, here listed as born in Ireland. On line 8, "Honora" (female) age 5, born in Ga., who probably married by 1870 and is not in their 1870 household. On line 9 is Michael, age 1, born in Ga., same one on the 1870 Census in Savannah. Finally, out of chronological order is Mary Jane McGriel, at age 16. She is listed out of order indicating she isn't a child of the head of house. Mary Eliz. McGreal who married Andrew Harris was not yet born in 1850. She was born in 1855-56.

1850 Census, Chatham Co., Ga




Harris was an upholsterer and worked at his trade during the time he lived in Savannah. An Apr. 2, 1884 article in the SMN presented further down shows he served as Secretary of the Wavers Company.


The paper refers to him as "Chief" because of his position in Tampa. No mention of an Assistant Chief position in Savannah.


Andrew J. Harris was elected Second Pioneer
of the Russell Hose Company on Aug. 28, 1874. His membership in the Wavers Co. came later.
Andrew J. Harris and Mary Elizabeth McGreal were married in Chatham, Ga. on Sep. 15, 1874, according to Georgia, County Marriages.


In Feb. of 1875, the topic of jury exemptions was apparently a hot issue, and so the Savannah Daily Morning News undertook to investigate the fire department to see if they were exceeding the maximum number of state-allowed exceptions of 480.

They found that only 364 exemptions were being claimed by the department.

The article at left has been edited and rearranged so that only the Russell Hose Company appears, along with the recap of all the companies at the end.

If you wish to see the entire article showing the names of the exemptions for all 10 companies, click here to see the full article larger, then click it again to see it full size.

On March 20, 1876, Harris was one of the character witnesses in the State of Georgia vs. Dukes Brown, a murder trial. Harris testified as to the character of the victim, whom he had known for "a long time."

You can see the whole article here at the Georgia Historic Newspapers website. It is a free site.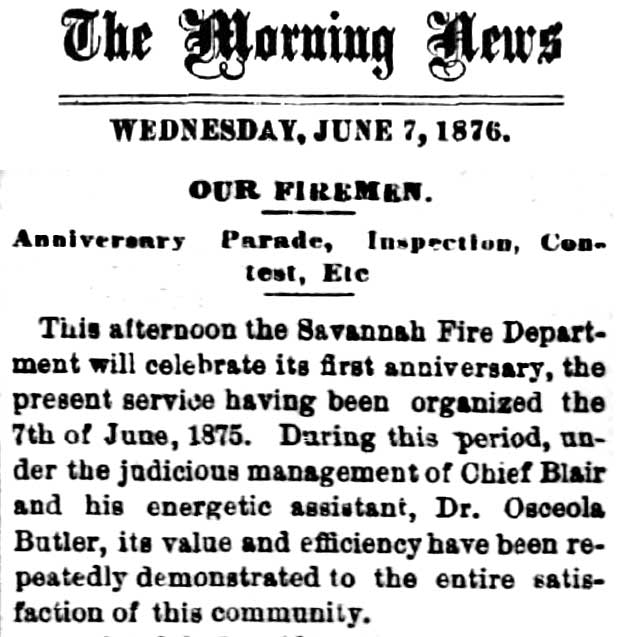 THE SAVANNAH DAILY MORNING NEWS
June 7, 1876
(See the entire page of this article at the Digital Library of Georgia.)

Transcript of entire article:

OUR FIREMEN
Anniversary Parade, Inspection, Contest, Etc
This afternoon the Savannah Fire Department will celebrate its first anniversary, the present service having been organized the 7th of Jane, 1875. During this period, under the judicious management of Chief Blair and his energetic assistant, Dr. Osceola Butler, its value and efficiency have been repeatedly demonstrated to the entire satisfaction of this community. That this fact is appreciated finds evidence in the presentation by Mr. Adam Moffat, general agent of the Liverpool and Loudon and Globe Insurance Company, to Assistant Chief Butler, of a basket of champagne for the reunion to day, the gift being accompanied by a very complimentary letter upon the efficiency of the department, whereby insurance companies have been saved on several occasions considerable amounts. We understand that like tenders have been received from other citizens. This is not only exceedingly creditable to the department but most be' gratifying to Chief Blair and Assistant Chief Butler, who have certainly proven their eminent fitness, judgment and discretion for the responsible positions they occupy.

The celebration to-day will be quite interesting, the introduction of the contest between the steamers being a new feature and one that will be exciting, and show the department to advantage.

The following programme has been decided upon, and will be carried out in detail:
The line will form on South Broad street at Fireman's Hall at 3 o'clock, the right resting on Abercorn street, facing east in the following order :
Werner Hook and Ladder Company.
Music.
Washington Steam Fire Engine and Hose Reel No. 1.
German Steam Fire Engine and Hose Reel No. 2.
Bartow Steam Fire Engine and Hose Reel No. 3.
Cleburne (auxiliary) Hose Company and Mutual Protection (auxiliary) Hose Company.

The procession will move precisely at 3½ o'clock as follows: South Broad to East Broad, East Broad to Bay, Bay to West Broad, West Broad to South Broad, South Broad to Drayton, Drayton to Bay, to Ex change, where the inspection will take place by the Mayor and Board of Aldermen.

After the inspection the contest between the different companies will be conducted as follows: German Fire Company engine No. 2 and reel will start on the striking of box 17, take plug and play water on Fireman's Hall. The Hook and Ladder will also respond, throw ladder up against Fireman's Hall, a man will ascend to the top and immediately descend in ten minutes from the time of the first tap of box 17. One tap will be given, and repeated in five seconds, calling engine No. 1 and reel (Washington), which will respond and take plug and play water on Fireman's Hall in ten minutes from the first tap calling engine No. 1. Three taps will be struck, and in five seconds repeated, calling engine No. 3 and reel (Bartow), which will respond, take ping and play water on Fireman's Hall. No engine will be allowed to steam up until the alarm is sounded that is to call her. After the contest the apparatus will be drawn up in front of Fireman's Hall, on South Broad street, and the different companies repair to the hall, where a collation will be spread, winding up the programme of the day.
SAVANNAH DAILY MORNING NEWS - June 7, 1877
The Savannah fire department celebrated its two-year anniversary.
Excerpt of article to show participating companies:

See the results of the contests which took place at this 2nd anniversary celebration.
1880 Census, Savannah, Ga., Zubby Street
Andrew & Mary E. Harris


Andrew J. Harris and wife Mary E. Harris lived in the same dwelling as Charles Clark, a painter from Maine. A. J. was a cabinet maker. Both his parents were from England, his wife Mary E. was born in Georgia, circa 1853-54. This census indicates both her parents were from Georgia, but later censuses show they were born in Ireland and Scotland, and her 1870 census with her mother Ellen shows Ellen born in Ireland. A.J.'s age here is quite a bit underreported, he would have been 41 or 42 in 1880. It is probable that Charles Clark provided the info for this record, and gave his best guess. This would also explain why Mary's parent's birth places were listed as Georgia.

Read about the 6th anniversary celebration of the Savannah fire department in the Savannah Morning News on June 8, 1881.
January 18, 1882 - The city council of Savannah passed a resolution to instruct the clerk of the council to start advertising in the official newspaper that the city would be electing a Chief and an Assistant Chief for the fire department.

Feb. 2, 1882 - The newly elected officials were announced:

Chief: Osceola Butler, a long-time Assistant Chief of the old department, a former member of the Metropolitans fire company.

Asst. Chief: George Mouro, former Secretary of the old department for many years, Secretary of the current department, and former Foreman of the Washington Fire Co. (of Savannah.)

Other candidate in the election for Chief: Adolph Fernandez, former member of the old department, Assistant Chief of the present dept. for a number of years, and since the resignation of Chief Blair, had been acting Chief.

No mention of Andrew Harris.

Read about the 7th anniversary celebration of the Savannah fire department in the Savannah Morning News on June 8, 1882.

Savannah Morning News, Aug. 18, 1882 - List of Registered voters in Chatham County.

Apr. 2, 1884 - Harris was elected as Secretary of the Wavers Steam Fire Engine and Hose Company to replace John McGuire who resigned to become a paid member of the department.


Oct. 22, 1884 - This article has been edited to show only the bills related to the fire department.





AT LEFT: Harris explains his actions at a fire of the previous day, May 30, 1886, concerning a verbal confrontation he had with the Chief. Harris, whose engine was first at the scene of a fire, came up short of hose after laying it out. He asked the driver reel No. 3 to lengthen his line and the driver told him he would after he laid out his own line of hose. Since Harris had his laid out already, he told the Chief about it. Harris claims the Chief told him that "if I did not shut up he would have me arrested." Harris goes on to describe the situation as he assessed it.

On June 15, 1886, Harris was involved in an altercation between a Savannah police officer and a suspect being arrested for being drunk on the street and trying to break into a house. Now, Harris is the "former foreman of the No. 2 Engine Co., just two weeks after his incident with the Chief.

The arresting officer, Hall, had the suspect in custody and was leading him down the street when a crowd began to gather. Officer McDermott, who from his office saw Hall having difficulty restraining the suspect, went out and across the street and offered to restrain the suspect while Hall went to the station for a wagon to take the suspect to the barracks. Then, someone in the crowd remarked, "Here comes another officer" and shortly, someone in civilian clothes (Officer Rogers) arrived in "hot haste," grabbing the suspect by the collar with one hand and struck him on the side of the head with the other.

McDermott remonstrated with Rogers at which point Rogers struck McDermott in the face with his fist. McDermott later said to The Daily News, that after being struck, he turned the suspect over to officer Hall who had just returned, and "immediately returned the blow with interest."

By this time a large crowd had formed and "pressed close around the policemen." Rogers told The Daily News that McDermott caught hold of him to pull him away, and then tried using his club, but someone knocked him (Rogers) down. While Rogers was down, he was kicked in the back and about his body by someone in the crowd. As Rogers sprang up, he drew his pistol and kicked at the nearest man to him, who happened to be A. J. Harris, former foreman of the No. 2 Engine Co. Harris told The Daily News the next day that he was not a willing participant in the disturbance, he was just passing along on the street with his wife on their way home when he was struck by someone in the crowd, whom he afterwards recognized as Officer Rogers.

Rogers finally pointed his revolver at the crowd which quickly gave the men plenty of room. All the while the scuffle was going on, Officer Hall was struggling with the suspect (Edward Paine) so Hall was unable to assist Rogers, who was hit in the face and sustained a slight cut under his chin. After order was restored, Rogers helped Hall take the prisoner to the barracks. The crowd followed but gave no more trouble.

Harris went to the Magistrate and had a warrant issued for the arrest of Officer Rogers. Later, Rogers, who had good reputation on the force, and was known as a "plucky" officer, stated that Harris was one of the crowd who had attacked him. McDermott told the Savannah newspaper that the only mobbing Rogers received was administered by him (McDermott.)

The article below describes Harris as "formerly foreman of the No. 2 Engine Company."
Ultimately, several names were placed on the docket for this case, and "a lively time" was expected Friday morning before the Mayor. On the 17th, the Morning News published an article (below) with McDermott's and Harris's version of the event but nothing concerning the court session was printed through Monday, June 21 in the Savannah Daily Morning News. On June 23 the SDMN reported "the docket cases against Constable Frank McDermott were dismissed yesterday morning by the Mayor."
Below is the last mention of Harris in the local papers online, before he came to Tampa.
There was another Andrew Harris in another county who was in the papers for run-ins with the law.
Between 1875 and 1890 Savannah Fire Rescue phased out its volunteer companies and replaced them with full-time professional firefighters.
The SMN article below says that when the paid fire department began, Harris "severed his connection with the department." This seems to be more of an effort to describe when he left and not why he left.


The above places his move to Tampa at 1886, and which time he quickly became affiliated with a volunteer department that was already set up.

THE A. J. HARRIS FAMILY COMES TO TAMPA
A. J. Harris came to Tampa with his wife in the fall of 1886, continuing his career in furniture as a dealer in mattresses and furniture, also doing work as a general upholsterer.

At right: Even though the Savannah Morning News article stated that he "went to Tampa 24 years ago" (placing his departure in 1886), in the next paragraph it claims he came in the fall of 1885. His June 1886 altercation with policeman Rogers indicates he was still in Savannah in the summer of 1886.




Harris's mattress and upholstering business was doing quite well in Sept. 1887. He would also install awnings and repair furniture.

The Wall building was the location of the late Billy Washington Wall's mercantile business, which became Clarke & Knight's hardware when Billy Wall died suddenly. Billy Wall's son, Perry G. Wall (future mayor of Tampa) was a minor when his father passed away, so his uncle, E. A. Clarke (another future Tampa mayor) controlled Perry's interest in the business until Perry turned 21. At which point, Clarke & Knight became Knight & Wall Hardware. Read about Knight & Wall and these events here at this TampaPix feature.

This 1887 Sanborn map from the UF Digital Library Maps Collection shows a block of Washington St. between Monroe (later named Florida Ave.) and Marion St. with the only furniture-related business next to a hardware store in a 2-story structure.

WHOSE IDEA WAS IT TO START THE FIRST FIRE DEPARTMENT IN TAMPA?

At right: The Savannah newspaper article published at the time of Harris's death in 1910 claims Tampa had no fire department when Harris arrived. Such was not the case, it had a volunteer fire dept. It also credits him for suggesting a fire department upon his arrival in Tampa, as do others published in Tampa at that time, however, the process of creating a fire department in Tampa had begun before Harris arrived here.
The following sections in this color contain events repeated from the feature about A. C. Wuerpel in order to provide a better context for A. J. Harris events-- TAMPA'S FIRST FIRE DEPARTMENTS (These events are covered in more detail in the A. C. Weurpel feature.)
Hook & Ladder Co. #1 was organized on Jun. 2, 1884; a volunteer department with W. B. Henderson as foreman, Fred Herman, assistant foreman, and C. P. Wandell, treasurer. Other members were P. F. Smith, Dr. Duff Post, Ed Morris, J. C. Cole, E. L. Lesley, Phil Collins, S. P. Hayden, Frank Ghira, H. L. Knight, A. J. Knight, C. L . Ayres, S. B. Crosby and A. P . Brockway. In 1885, A.C. Wuerpel was appointed to be the department Chief, a year before Harris's arrival in Tampa.

However, due to a relative lack of fires and lack of interest of the members along with their desire for public recognition, the fire-fighting organization formed in June of 1884 became defunct. [A. C. Wuerpel's resignation letter of 1890.]

Disastrous fires of 1885 and May 1886 caused interest to revive the fire department and Wuerpel again was chosen as its chief with seven "bucket brigades" organized to serve the city.
The Mugge Pumper
Immediately after the Baldwin house/Miller & Henderson fire of May 12, 1886, Wuerpel and Tampa's leading citizens convinced the town council that it would be wise to invest in a fire engine so a $600 "hand pumper" was ordered. Paid for by successful liquor dealer Robert Mugge, it became known as the "Mugge Pumper." It arrived July 30, 1886 along with 350 feet of two-inch hose and a hose reel. Almost everyone in town turned out the next day to see the engine tested. The hose was run down to the river and six of the strongest firemen began laboring on the pumps. The results were a splendid-a stream of water which was thrown clear over the top of John T. Lesley's two story building at Franklin and Washington.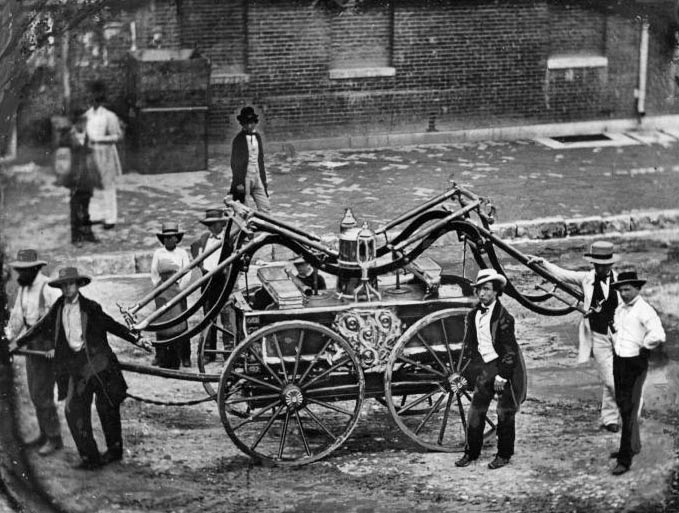 Example of a hand-drawn pumper truck which could be powered by six firemen.
Image from "Hand Pumped Fire Engines" by Flags Up at Pinterest
TAMPA VOLUNTEER FIRE COMPANY ORGANIZED, Aug. 30, 1886
[Grismer, A History of Tampa, etc., 1959]

To make effective use of the new equipment, the Tampa Fire Company was organized on August 30, 1886, with A. C. Wuerpel as president, Robert Mugge as secretary, and Herman Glogowski as treasurer. Other members were G. B. Sparkman (later the City of Tampa's first mayor and judge of the circuit court}, Odet Grillon, H. Hearquist, C . O. Pinkert, John R. Jones, Leon Dartize, Charles G. Lundgren, J. O. Nelson, Vicente de Leo, and Ernest Gerstenberger.

[A. J. Harris would likely have been a member of this fire company had he been in Tampa by this time.]

These men, and the members of the Hook & Ladder Company, served without pay. The new hand engine and supply of hose did some good in the fire of Sept. 1887*. But that fire showed the necessity of a reliable water supply and again the council was receptive to equipping the department as it stood at this time.

**Allusion to this fire comes from A.C. Wuerpel's resignation letter of June 1890. "The council, then in charge of the city's affairs, appreciated the necessity of fire protection and at my solicitation a hand engine and supply of hose was provided, which did good service in checking the conflagration of September, 1887." Wuerpel may have been recalling the fire at "Rotten Row" in August 1887.

During the next two years the firemen did the best they could with the hand pump engine. It served fairly well when the fire was near the river but was useless, of course, if no adequate water supply was close at hand. Many buildings burned to the ground which could have been saved if water had been available. Everyone rejoiced, therefore, when the waterworks company announced that water soon would be turned into the mains.

A. J. Harris arrived in Tampa in the fall of 1886 and most likely joined the volunteer fire department in the two-year period referred to above.

THE CITY OF TAMPA ESTABLISHED - JUNE 2, 1887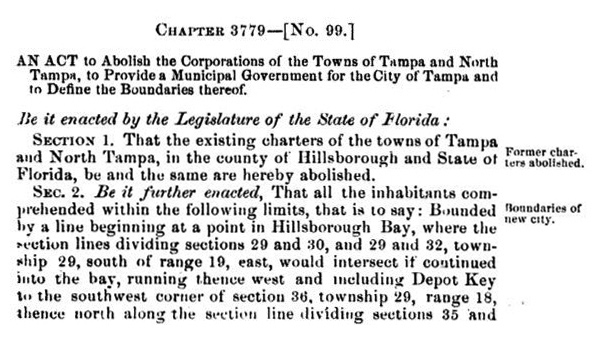 The City of Tampa was established on Jun 2, 1887 when under special act of the state legislature, the Governor approved a bill that granted the city of Tampa a new charter, abolishing the town governments of Tampa and North Tampa. Section 5 of the charter provided for a city-wide election for mayor, eleven councilmen and other city officials, to be held on the 2nd Tuesday in July. The new charter also greatly expanded the corporate limits of the city. Tampa now took in North Tampa, Ybor City and some land on the west side of the Hillsborough River.
The first city election under the new charter was held July 12, 1887, and the new mayor, George Bascom Sparkman, took office on July 15, 1887, the date considered to be when Tampa was organized.
It was a bitterly fought and controversial election, accompanied by deplorable behavior on the part of many Tampa citizens.
Read more about this period in Tampa's history at the TampaPix feature about James T. Magbee.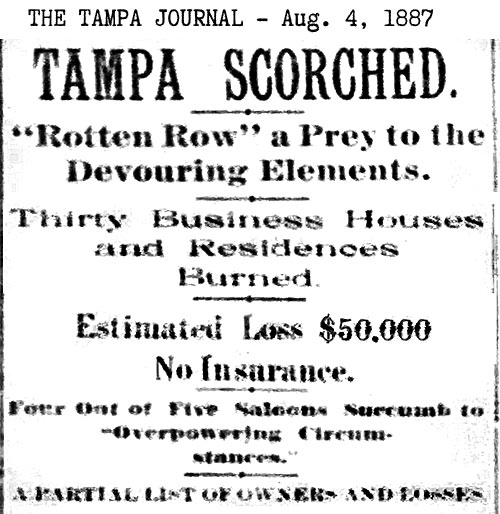 THE FIRE AT "ROTTEN ROW" on Aug. 4, 1887
About two o'clock this morning a fire broke out near the center of what is known as "Rotten Row," composed entirely of one and two story wooden buildings, and occupied mostly by small tradesmen such as fruit stalls, retail groceries, barber shops, etc. on one side of the street, and principally by saloons on the the other.
The fire seems to have originated either in Cole's restaurant or Thomas' barber shop, the flames spreading rapidly each way from the starting point and soon enveloping the entire block in flames. It was some time before any kind of effort could be made to control the fire, and for a time it looked as though the whole business part of the city must surely go, and the absence of any wind was probably what saved the best portion of it. The fire department, however, soon got down to business, and by the almost superhuman efforts of the firemen the flames were prevented from being communicated to the buildings across Lafayette street, extending north, thus saving the Opera house, Gunn & Seckinger's large grocery store and other valuable business blocks. It was the prevailing opinion that nothing could be done to save the buildings on either side of Franklin street between Lafayette and the ditch, and all the efforts of the firemen were directed to preventing the spread of the flames to the adjoining blocks, and that they were successful in this measure was certainly not due to the completeness of our water works system, but to the untiring efforts of the people.
Read more detail about this section including the entire Rotten Row fire article of the Tampa Journal (transcribed) as well as an article about this fire in the Savannah Morning News at the A. C. Wuerpel feature.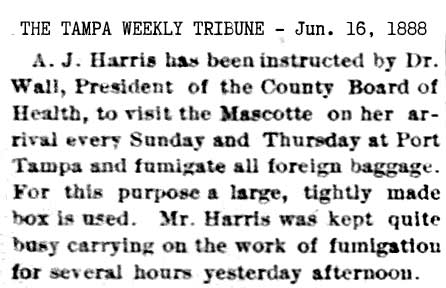 HARRIS CALLED ON TO DISINFECT BAGGAGE
June 16, 1888 - A.J. Harris was called on by Dr. Wall to fumigate all foreign baggage arriving on the Mascotte at Port Tampa.
Fumigation was a method used in the 19th century to disinfect clothing and cargo. It was usually used for immigrants and passengers arriving from foreign countries. Clothing was placed in an apparatus that produced a partial vacuum, then superheated steam was introduced, fully disinfecting the clothing. Afterward, a partial vacuum was recreated to quickly dry the clothes.
The fumigation process was often destructive, damaging clothing and goods. Some steamship lines fumigated passengers' baggage with sulfur fumes for no less than 6 hours.
A rise in population in Tampa from 750 in 1880 to 5,000 in 1887 was caused by two breakthroughs -- the arrival of Henry B. Plant's railroad in 1884, providing a cross-state link to the North, and the coming of the cigar industry in 1886, that initiated a tremendous economic development which totally transformed Tampa from a sleeping fishing village to a thriving industrial port city. The Plant Steamship Company's steamers Mascotte and Olivette began docking at Port Tampa in June, 1888. Prior to that time they had to anchor in Hillsborough Bay, cargoes and passengers being carried to and from the ship on smaller steamers.

The Olivette was a 250-foot ship built in Philadelphia under the supervision of Capt. James McKay, Jr., and launched February 16, 1887. Captain McKay brought the vessel in April 29, 1887 [to Tampa] and thereafter served as her master. The Olivette and Mascotte were named by Plant after two of his favorite operas.*

The Mascotte once was a ship of some importance plying between Port Tampa and Havana. Tampa as a port was of no importance at that time, but the citizens of the community had dreams of the day when Tampa would have a port, and especially of the day when the Mascotte would steam up the channel to dock in Tampa. That time never came. Time passed, and with the succeeding years Tampa became a port, but the Mascotte became old and worm-eaten, roach-ridden and green with age. She gave way in the early 1930s to more pretentious ships.

*Sanchez, Arsenio M. (1994) "The Olivette and Mascotte of the Plant Steamship Line," Sunland Tribune: Vol. 20 , Article 7. Available at: http://scholarcommons.usf.edu/sunlandtribune/vol20/iss1/7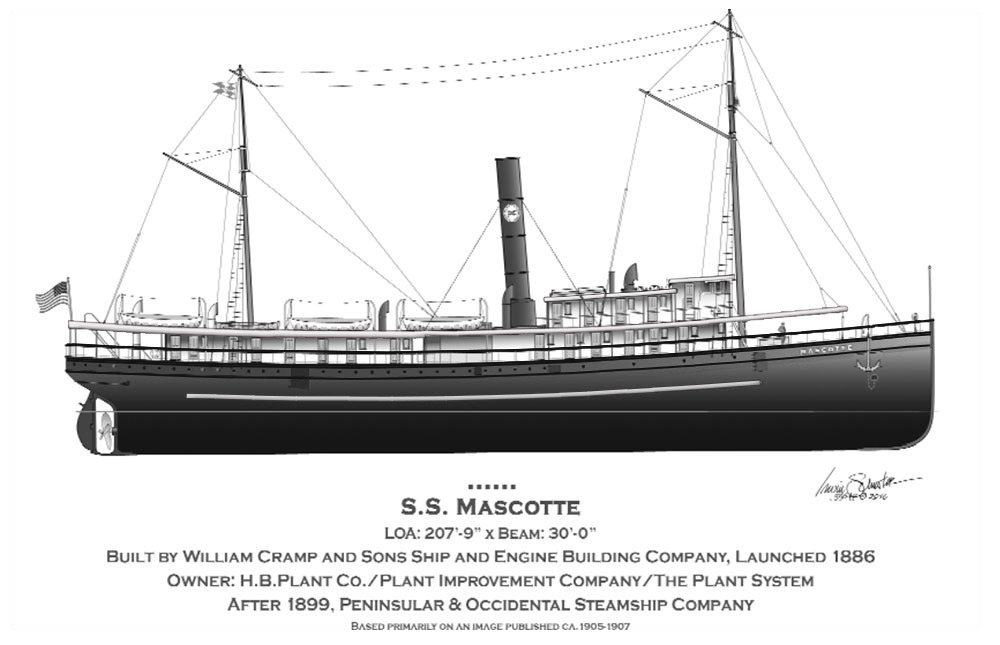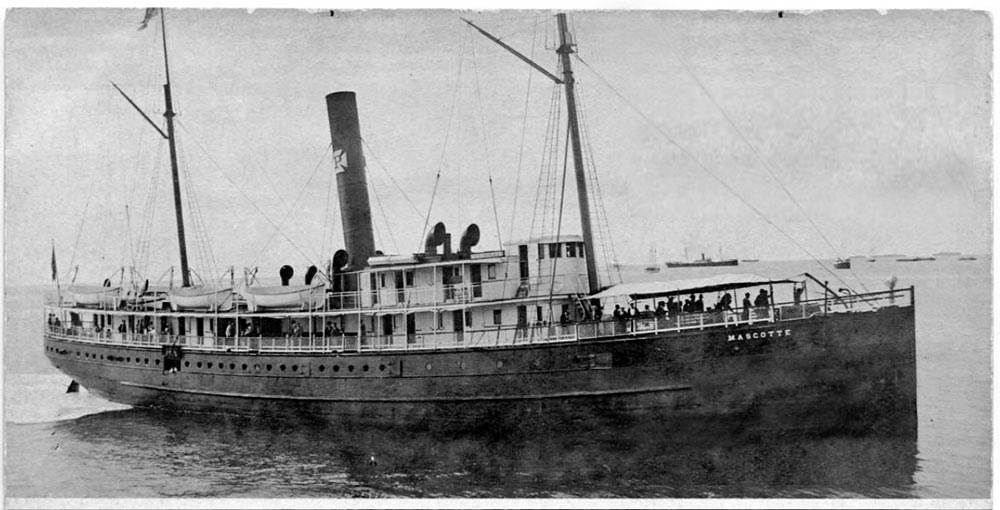 Mascotte images courtesy of SS Mascotte of the Plant Line, 1885-1931 by Irwin Schuster, where an interesting history of the Mascotte is presented and how it came to be misrepresented on the City of Tampa seal.
A historically inaccurate representation of the Mascotte appears on the City of Tampa's seal, as well as the on the City of Mascotte, Florida's seal. See SS Mascotte of the Plant Line, 1885-1931 by Irwin Schuster where these images of the city seals and the SS Mascotte appear.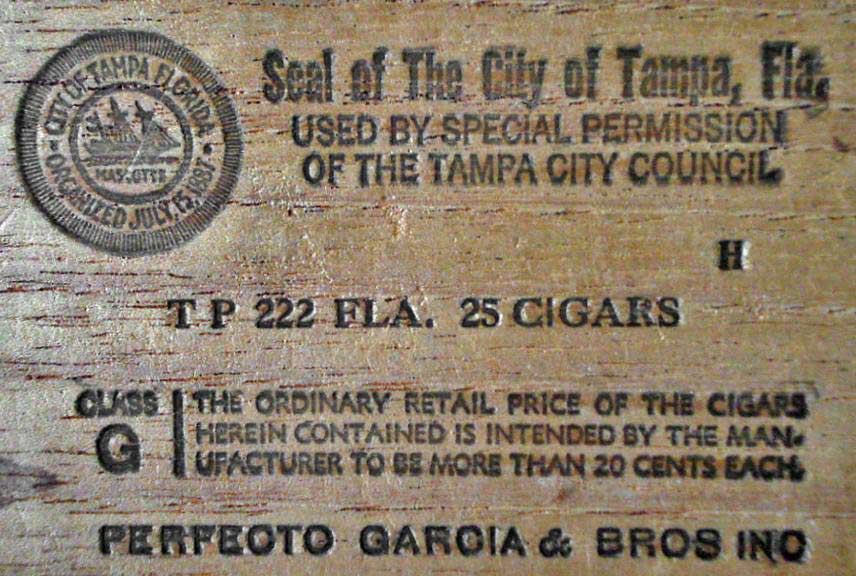 THE VOLUNTEER FIRE DEPARTMENT IS ESTABLISHED BY CITY ORDINANCE NO. 40, April 22, 1889
While plans were being made to build a new city hall/fire department headquarters at Lafayette St. and Florida Ave, the city council passed ordinance No. 40 on April 22, 1889 authorizing the establishment of a volunteer fire department. See this ordinance in its entirety in the feature about A. C. Wuerpel.
HARRIS APPOINTED FIRST ASSISTANT TO CHIEF WUERPEL

On May 5, 1889, A. J. Harris was appointed by City Council as First Assistant to Chief Augustus "Gus" C. Wuerpel of the volunteer department, with Manuel Rodriguez as second assistant.
HARRIS RESIGNS FROM ALERT HOSE FOREMAN POSITION
A.J. Harris resigned as the foreman of the Alert Hose Co. so he could take the position as First Assistant Fire Chief. Jeff Pierce was elected to fill Harris's position as foreman.
Karl Grismer in his History of Tampa, 1959, makes an erroneous statement concerning the appointment of Harris as chief of the fire department, as does D.B. McKay in Pioneer Florida:

On May 18, 1889, A. J. Harris was appointed chief and competitive fire drills were held regularly. An electrical fire alarm system was installed December 9..."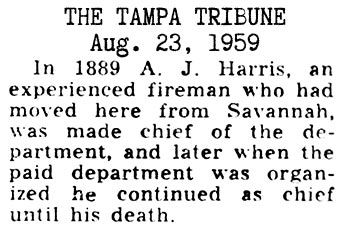 In the Aug. 23, 1959 Tampa Tribune, D. B. McKay recounted his memories of the volunteer fire department in a Pioneer Florida column "Chief Soaked in Jackson Street Ditch Water." About halfway through the column, McKay made the same erroneous statement as you see at right. No surprise since D.B. McKay was Grismer's editor. McKay's memories at that point were 70 years old.

It wasn't until after Wuerpel's resignation in June of 1890 that the city appointed Harris as Acting Chief to lead the department and improve training.
NO.
FIRE CHIEF AND ASSISTANTS OFFICIALLY ELECTED BY FIREMEN

On May 29, 1889, as set forth in Ordinance No. 40, elections were held by the six fire companies around the city to select their chief. A. C. Wuerpel was chosen over G. R. Macfarlane by a margin of 67 votes. A. J. Harris and Manuel Rodriguez were elected as first and second assistants, respectively, with no opposition.

See the individual vote counts and more detail about this period at the feature on A. C. Wuerpel
VOLUNTEER FIRE DEPT. SHOWS ITS SKILL AT A FIRE DRILL DEMONSTRATION

On July 4, 1889, Tampa held a demonstration of its volunteer fire department's proficiency by presenting a competitive fire drill to the people of Tampa.

The department was comprised of these 6 companies for a total of 196 men, with A. C. Wuerpel as Chief, Andrew Harris as First Assistant Chief, and Manuel Rodriguez as Second Assistant Chief.

Read about this event in detail and see the entire July 11, 1889 Tampa Journal article at the feature about A. C. Wuerpel.
On July 11, 1889, the Tampa Journal reported that Jeter & Boardman had contracted for 17 additional fire hydrants, seven hose reels were ordered, City Council advertised for lots around the city on which to build brick hose and reel houses, and Chief Wuerpel was instructed to determine the cost of an electric fire alarm system.
On July 17, 1889, Chief Wuerpel asked for another hose reel, and a report by the Council Special Committee recommended recommended the purchase of the old Stringer house property on which to build a new city hall.
On August 1, 1889, the Tampa Journal reported that a communication was received from the Chief of the Fire Dept. in regard to the cost of an electric fire alarm system. It was referred to the committee on Water Works and Fire Dept. for immediate action.
Around this time, Chief Wuerpel decided to devote more time and attention to his businesses as its increasing demands required it, so he tendered his resignation to the council. But due to the Council's "earnest solicitation" he not resign. Wuerpel consented to remain and continued to finish the work at hand.
[A. C. Wuerpel resignation letter of Jun. 10, 1890]
In mid-August, 1889, Chief Wuerpel visited Savannah to take a look at their Gamewell electric fire alarm system which he planned to recommend for use in Tampa. Wuerpel received cost propositions from Gamewell, but the lowest one was still $700 over what had been appropriated for it. He planned to leave for New York the next day to see if he could get a better deal.
Sept. 13, 1889 - While Chief Wuerpel was away in talks with the Gamewell Company in New York, Asst. Chief Harris filled in as Acting Chief in a meeting of the Board of Fire Wardens.
After considerable delay, the alarm system arrived but there was another delay to installing it until the present council authorized Chief Wuerpel to build it as he deemed best. The city having limited funds for that purpose, he spent as little as possible on terms that payment not be made in full to the seller until the system was installed and working properly, which meant that any delay in its installation was no expense to the city.

Below is a Burgert Brothers re-photograph of one that appeared in the mid-winter special edition of the Jan. 21, 1900 Tampa Tribune. The tower is often referred to as a "cupola" and it initially was to house the fire alarm bell for this district. To the left of City Hall can be seen a portion of of the gable of the Stringer house. The horses and wagons on Florida Avenue appear to be the Tampa fire department or this may be a funeral procession.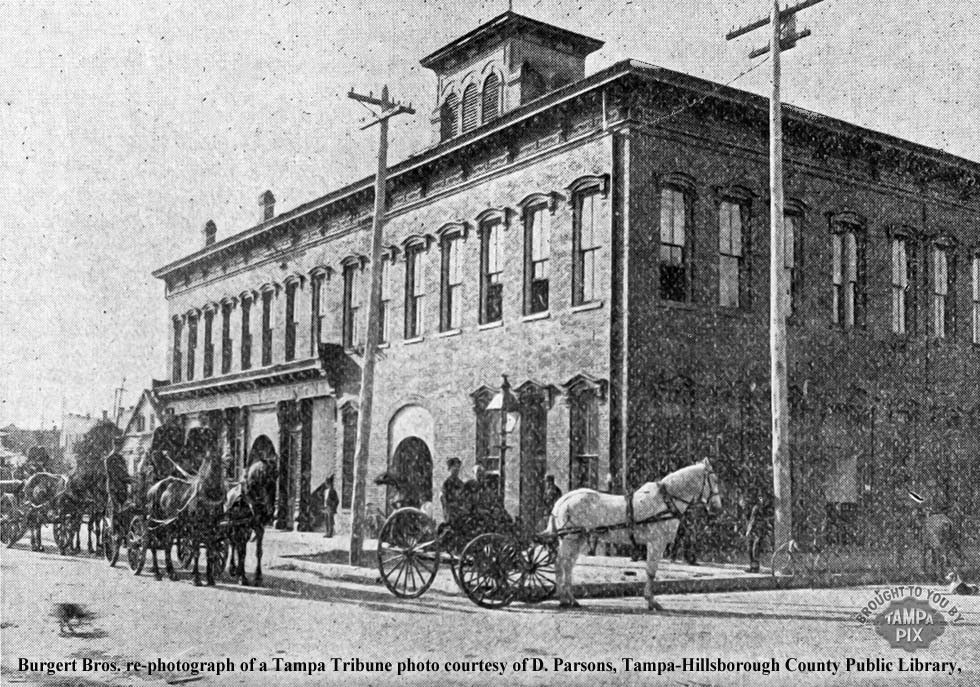 The disastrous fire of Oct. 28, 1889
Firemen blame insufficient water pressure for the spread of a disastrous fire at a Tampa Heights cigar box factory, lumber mill, and the round house of the street railway.
Jan. 29th, 1890 - Annual Parade of the Fire Department
The fire companies participating at this time were: Mirta Hook & Ladder No. 1, Alert Hose Co. No. 1, Resolute Hose Co. No. 2, Active Hose Co. No. 3, Phoenix Hose Co. No. 5, Vigilant Hose Co. No. 6, Relief Hose Co. No. 7, Union Hose Co. No. 8, and Humanity Hose Co., No. 9.
The question of placing the tower in the 1st Ward caused further delay. The Chief wanted a separate tower next to the new city hall currently under construction, but the Board of Public Works wanted and ordered the bell hung on top of the city hall, and so he was forced to wait until completion of that part of the building.
April 3, 1890 - Fire Chief Wuerpel wanted to have a tower built for the fire alarm bell on the city hall construction site instead of placing it in a cupola on top of the building.
April 30, 1890 - The fire alarm system was connected to the battery and was being tested by Chief Wuerpel and his assistants.
Just when the new city hall was being completed and Wuerpel was told all was ready for installation, disagreements arose between Wuerpel and the Board of Public Works over the weakness and lightweight construction of the building's cupola, and where to locate the fire alarm bell because of it, but the Board of Public Works disagreed and said it was of sufficient strength. (Poor construction of the cupola would come back to bite the Board in nine years.)
The bell apparatus was installed and by then, other portions of the system had been completed, except for the cable across the river which had not yet arrived.
Wuerpel tested the system and it worked perfectly, but due to the "natural stiffness of the new machinery and owing to the weakness of the timbers in the City Hall cupola, a part of the striking machine broke and caused further delay until it could be fixed."
Read a detailed description of the Gamewell electric fire alarm system at the Wuerpel page.
The Board of Public Works did not agree with Wuerpel's assessment to install a separate bell tower adjacent to the City Hall building. City Council clarified that this was not their decision, but that of the Board of Public Works: "The Board refused to allow the city hall to be mutilated by attaching a tower for the alarm bell, and providing a place in the cupola for it is all that the Board had to do with it."
Read about the history of the Gamewell electric telegraph alarm systems.
Now by this time, a new city council had taken office due to a recent election (March 1889), to which the Chief requested the passing of an ordinance to protect the new system so as to prevent "idle and malicious interference with it, and authorizing the employment of a competent electrician" to maintain the new system, which by then needed prompt attention.
Wuerpel recommended George E. Will, the former first assistant chief of the Jacksonville fire department who installed the Jacksonville system under Wuerpel's instructions, being fully competent. He recommended a yearly salary of $720 which would save the city money considering the cost of fixing a deteriorating system left to neglect or improper care.
Chief Wuerpel's request was referred to the Committee on Water Works, etc, who returned it with a recommendation that a reliable man be appointed to superintend the system. The decision was laid over and Councilman George E. Harris recommended Robert Mugge's electrician, C. C. Radabaugh, who would "put the alarm in perfect working order for $25 and keep it in good working order for $20 a month." Robert Mugge, successful Tampa businessman liquor dealer, was the first in Tampa to electrically light city streets when he had built and electric power plant and had electric lamps built around his home.
Finally, at the most recent meeting of the city council (early June, 1890), the council received and accepted a bid from C. C. Radabaugh who up until that time had no connection to the fire department, to take charge of the alarm system without any reference to Chief Wuerpel having any more control of it.
FIRE CHIEF A. C. WUERPEL RESIGNS - June 10, 1890

Much information about the early history of the volunteer fire department previously described comes from this letter. See it in its entirety at the feature on A. C. Wuerpel.

In his resignation letter of June 10, the Chief expressed his opinion of keeping the fire alarm system under the supervision and authority of the Fire Department, and because he previously consented to stay on board to complete the installation of the alarm system, a work now that was now taken out of his hands, "I saw plainly that the present council was not in harmony with me in my efforts to foster and uphold the Tampa fire department and in consequence, and being rendered useless to the department, I resigned."
[End of repeated events from A. C. Wuerpel feature.]

Upon Wuerpel's resignation, A. J. Harris was appointed Acting Chief.
STATE FIRE DEPARTMENT CONTEST, JUNE 17, 1890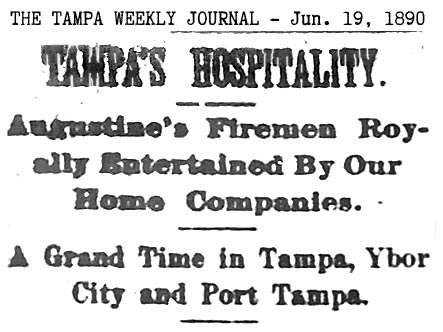 On June 17, 1890, the various companies of the Tampa volunteer department competed against the Ponce de Leon company of St. Augustine. This Tampa Journal article published Thursday, June 19, 1890 describes the St. Augustine's firemen's arrival in Tampa on Monday, June 16 and the TFD festivities held in Tampa on Tuesday, June 17, 1890. It is filled with details of the numerous contests between the volunteer fire companies and the celebratory atmosphere that prevailed in Tampa.
Read the entire article, click it after it opens to see it full size.
Excerpts from the article:

The St. Augustine Fire Company arrived on Monday night by mail train. They were met at the depot by various hose companies of the city and escorted to the Booz House where they were staying. The parlor and halls of the hotel soon thronged with jolly fire laddies. Supper was announced and all filed into the long dining room making a notable showing of good looks and muscle. The evening's entertainment closed with an address of welcome by City Clerk Lamont Bailey. Response of appropriate words followed by the Chief of the St. Augustine Fire Dept. John H. Dowd.

(Contest article continues after Booz House detail below.)
THE BOOZ HOUSE (Not from the article)
The old Palmetto Hotel on Franklin St. went up for sale on Jan. 3, 1889 and took nearly a year-and-a-half to sell. In the meantime, J. W. Booz became manager of the hotel in early 1890 and would continue as the manager after its sale to Capt. R. F. Webb for $10,000 was announced May 1, 1890. (In 1912, Tampa City Council wanted to purchase the property to build Tampa's new City Hall. The sale price was $145,000.)
STATE FIRE DEPARTMENT CONTEST continued
Tuesday's contest: By 7 a.m., various Tampa fire companies were assembling at their reel houses. Everywhere in the streets, groups of people were forming to watch the events. By 9 a.m. the streets were crowded along Lafayette between Franklin and Ashley. It was a sunny day. Shortly after 9 a.m. the judges and timekeepers took their places.
The Alert hose company was the first to run. On their first run a kink in their hose kept them from attaching the nozzle correctly and they failed to hit the flag with their first try. They made a 2nd attempt and their total time was 45 seconds. The Resolute hose company was next. They hit the flag without mishap at 35 seconds. The Ponce de Leon company of St. Augustine was next, comprised of 17 men. Their time was 47 seconds. The Humanity company was next. It was comprised of "our Cuban citizens from the Fourth Ward." "Our nimble-footed Castilian citizens made an astonishing run." Their time was 41 seconds. The Invincibles was next. They were comprised of the juvenile company of Tampa; boys from age 10 to 13 residing in the First Ward. They were given a half-distance starting point "amid laughter and cheer of the crowd." They passed the hydrant at 30 seconds and the timekeeper "lost the record" and the exact time wasn't kept. Spectators marked their time at 40 seconds but the exact time wasn't kept. The "kids" were highly elated at their record.
Round after round of cheers was given by all for the victorious Resolutes. The crowds dispersed at 11 a.m. and all boarded the train for a trip to Ybor City.
On arrival in Ybor City, they formed in a line in this order. Chief of Police, Squad of Police, Secretary Lamont Bailey and Second Assistant Chief Barbentine [Balbontine], the Ancient City Coronet Band, the Chief of the St. Augustine fire department and foreman of the Ponce de Leon Company, the Ponce de Leon Fire Company, the Tampa Companies: Resolute Hose Co., Humanity Hose Co., Phoenix Hose Co., Alert Hose Co., and Mirta Hook and Ladder Co.
Marching to the music of the band, they paraded to Station No. 2 of the Tampa Fire Dept. where refreshments were served and a speech made by Acting Chief A.J. Harris. Secretary of the Fire Department Lamont Bailey introduced George T. Chamberlain, Chairman of the Committee on Water Works and Fire Dept. of the former Council and "as the man to whom the City is largely indebted for its present ample and efficient protection against fire." Some "laddies indulged in private contests on the ladders" and a good time was had by all.
At noon the march resumed to the reel house of the Relief Hose Co. for the inspection of the apparatus. Then they boarded the 12:30 train and returned to Tampa for dinner. [We call it lunch now.]
Picnic at Port Tampa - Firemen and their guests, along with the Ancient City band, took the Tuesday 2:30 train to Picnic Island where refreshments were served: coffee, sandwiches, ice cream, cake and lemonade. Sea bathing, swinging and informal dancing was "indulged in by the care-free throng. Hammocks provided by the managers of the island were in constant use, and the shady grounds proved a pleasant retreat."
The Firemen's Ball - It took four coaches on the 7:30 p.m. train to take the firemen and their lady friends to the grand ball in the pavilion at Picnic Island. Programs for the ball had been made in advance by the Ponce de Leon Fire Co. of Jacksonville. Well-arranged and carried out to the letter, the band furnished excellent dance music. The refreshment saloon adjoining the dance hall was liberally patronized throughout the evening.
At 10:30 the crowd was startled by the sudden illumination of the grounds with colored lights which created a magical and weirdly beautiful effect arranged by the managers of the island. The lights then faded leaving the area in relative darkness.
The next morning, Wednesday at 7:30 a.m., the Ponce de Leon's were escorted by officers and members of the Tampa companies to the train and bid them farewell. The St. Augustine fire chief called his men into line and thanked them, then was followed by three cheers and a tiger three times over in honor of the Fire Chief and officers, then for our bonny fire laddies and lastly for the Mayor and citizens in general from whom they had received many courtesies. Words of praise were given for the generous entertainment provided.
ACTING CHIEF HARRIS ANNOUNCES BID FOR FIRE CHIEF
On June 26, 1890, the Tampa Journal announced "Mr. A. J. Harris who has tendered his resignation as assistant chief of the fire department explains that it is not to take effect until his successor is appointed and qualified. Mr. Harris further states that he has resigned the position so that he may be unencumbered in the race for chief which he proposes to enter."

On July 28, 1890, the Savannah Daily Morning News reported that up until June 30th of that year, the Tampa fire department has cost $14,174.14.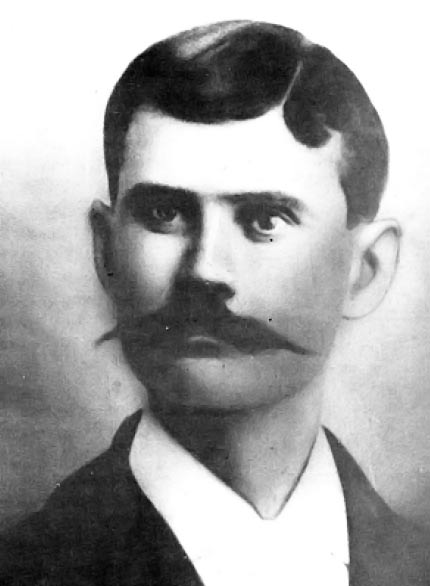 On August 11, 1890, the new main fire station of the Fourth Ward (Ybor) was dedicated. It was for use by the Mirta Hook & Ladder Co. No. 1 and the Vigilant Hose Co. No. 6. Present at the dedication was President of the City Council, R. H. Webb; presiding, Acting Chief A. J. Harris, City Clerk Lamont Bailey, Foreman of the Mirtas-- Francisco Puglisi, and Acting First Assistant B. M. Balbontine. The Humanities Hose Co. was also offered quarters in the main station, but they declined because they would have been at the rear of the building making it "impossible for them to get out to a fire as quickly as the Mirtas or Vigilants."
Francisco Puglisi photo courtesy of The Sunland Tribune, Journal of the
Tampa Historical Society, Vol. 3, No. 1 - Nov. 1977, Hampton Dunn, editor,
"The Italian Heritage in Tampa" by Tony Pizzo.
A. J. Harris - Acting Chief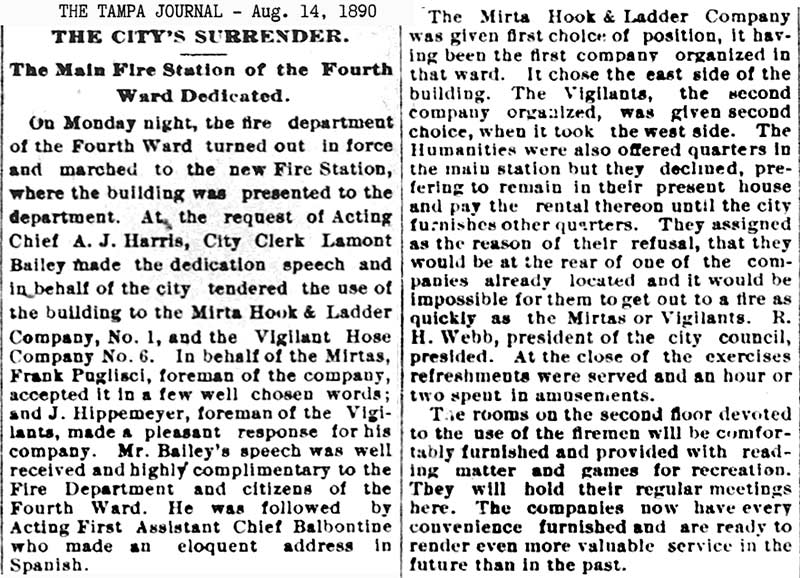 Thomas C. Taliaferro, 2nd elected chief of the Tampa volunteer fire department
In a special election held on Aug. 29, 1890, T. C. Taliaferro was chosen as Fire Chief over C. E. Harrison, and B. M. Balbontine was chosen as First Assistant Chief over A. J. Harris. It isn't known why Harris ran for Asst. Chief instead of Chief, but judging from the vote tallies, it appears that the voting was restricted to fire department personnel. Other matters handled at this session of the City Council meeting have been edited out.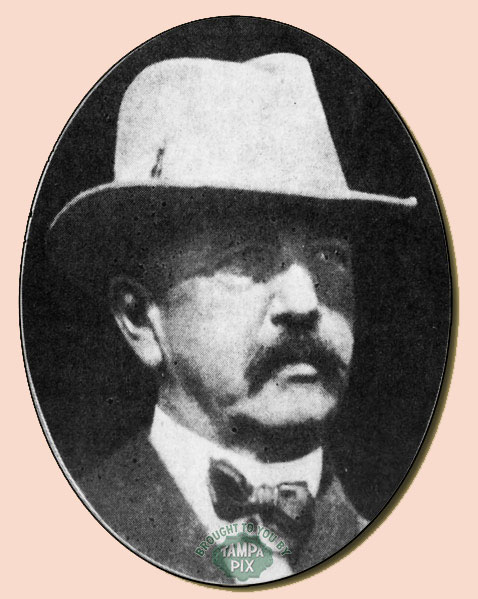 Thomas Carson Taliaferro
From a Jan. 3, 1993 ad about the merger of First Florida Bank with Barnett Bank, in Florida Today (Cocoa Beach)

THOMAS CARSON TALIAFERRO
2nd elected Chief of the Tampa volunteer fire department
(From Karl Grismer's History of Tampa - Biographies pp, 337-338)
Thomas Carson Taliaferro was born July 19, 1859 at Orange Courthouse. Va. When a young man he went to Jacksonville, engaged in the lumber business, and then joined the banking firm of Ambler, Marvin & Stockton, the oldest bank in East Florida. In the fall of 1885 members of the banking firm founded the Bank of Tampa and Mr. Taliaferro came here to become cashier of the institution, the first bank Tampa ever had.
On May 6, 1886, the bank received a national charter and its name was changed to the First National Bank. Mr. Taliaferro served as president of the bank from 1903 to January, 1927 when he was made chairman of the board. He was directing head of the bank for 47 years.
In his younger years he was active in sports and often umpired baseball games in Tampa. He also served as chief of the volunteer fire department. In later life he devoted his full time to banking and succeeded in making the First National one of the leading banks of Florida.

T.C. married in Tampa to Stella Morrison, daughter of William A. Morrison and Elizabeth Hinton, whose homestead was known as the Morrison Grove.
T. C. Taliaferro died April 11, 1928 in Baltimore, Md. He was survived by his widow and five children: Edmund Pendleton, William M., Thomas C. Jr., Mrs. M. B. (Stella) Withers, and Mrs. Andres Iglesias. He was also survived by two brothers, the former U.S. senator James Pendleton Taliaferro of Jacksonville, and W. R. Taliaferro of Charlotte, N.C, and a sister, Lucy Taliaferro, of Orange Courthouse, Va.

The photo below can be found numerous times on the web with white lettering on the front facade sign board, "First National Bank of Tampa." In Tampa Bay History Magazine, journalist Hampton Dunn states that the structure was located on Washington St. near Franklin St. and that an early-time photographer painted the "First National Bank of Tampa" lettering on the negative (white lettering on the print indicates black lettering on the negative.) This was the first home of The Bank of Tampa, but the photo was taken LONG after they vacated it. In fact, the Bank of Tampa did not become the First National Bank until they moved into their third location, a 4-story bldg. at Franklin and Madison St. around 1900--evidence that the photo was taken after 1900.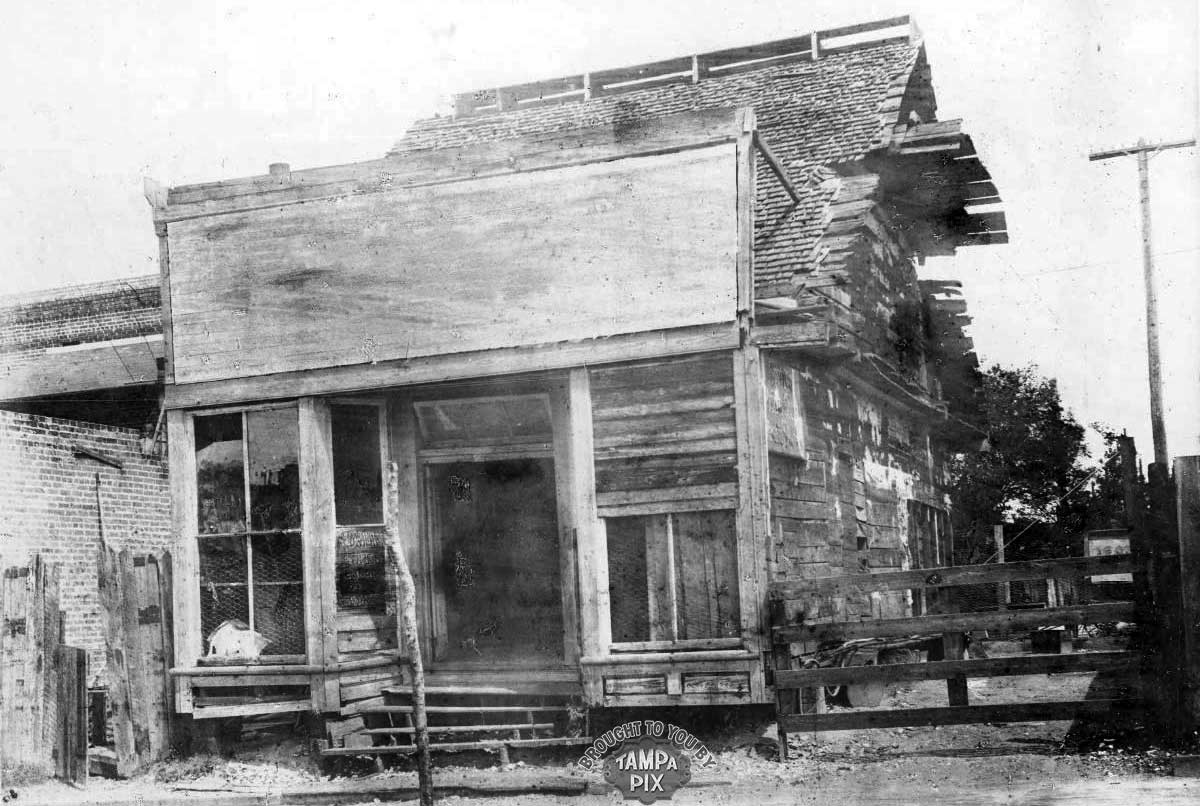 See the bank's 2nd location, the first brick building in Tampa, at the feature about Fire Chief A. C. Wuerpel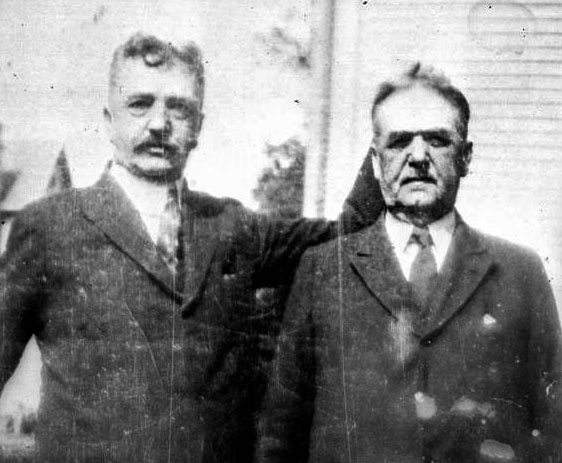 Thomas Carson Taliaferro, Sr. and his brother, U.S. Sen. James Pendleton Taliaferro. Circa 1920s.
Photo courtesy of State Archives of Florida, Florida Memory project.
In 1883, Henry B. Plant began building his South Florida Railroad and Tampa started booming as it had never boomed before. And because of the boom, Tampa got its first bank, an affiliate of Ambler. Marvin & Stockton, of Jacksonville, the oldest bank in East Florida. The senior member of the banking firm, David Griffith Ambler, had close connections with Plant and knew that the South Florida would be completed. So did Ambler's business associate, James P. Taliaferro, and his bank partners, John L. Marvin and John N. C. Stockton. The four men agreed that, with the railroad in sight, Tampa was a city with a future, and they joined forces to establish Tampa's first bank which they named the Bank of Tampa. It was opened Nov. 3, 1883, in a small building on Washington Street, with Thomas Carson Taliaferro, younger brother of James Taliaferro, as cashier. The first day's deposits totaled $5,636. (From Karl Grismer's History of Tampa, p. 306)

When Vicente Martinez Ybor purchased the first 40 acres in what became Ybor City, Ignacio Haya allowed Ybor to take the first step in real estate. Once he was convinced of its success, he purchased land, forming the Sanchez and Haya Real Estate Company. Haya then constructed a two story wooden factory at the corner of Seventh Avenue and 15th Street. During construction, he visited a local Tampa banker, Thomas Taliaferro, to inform him that he and Sr. Ybor need an institution of credit to facilitate the transactions involving purchases, sales, collections, and wages for their employees. At the time, the business of the bank was so slim, the young cashier in charge, T.C. Taliaferro, came within a hair of leaving town. In fact, he'd already packed the fixtures and was ready to return to Jacksonville when the good news came. At first, Taliaferro was unsure about the success of the cigar business in Tampa, but when Haya assured him that initial salaries would amount to more than $10,000 a month, Taliaferro now decided his future was in Tampa. Thanks to the influence of Sr. Haya, he became a successful Tampa banker, and founder of today's First National Bank. (From The Sunland Tribune, Volume 6, No.1 November, 1980 Journal of the TAMPA HISTORICAL SOCIETY Tampa, Florida.)
Tampa City Council - August 13, 1885 – August 13, 1886
William T. Haskins, President, Harry L. Branch, William Benton Henderson [two year term], Thomas Edward Jackson [two year term], Silas A. Jones, Henry Laurens Knight, George Bascom Sparkman, Thomas Carson Taliaferro [two year term], Dr. John Perry Wall [two year term]
Note: The four new members cast lots at the new council's organizational meeting on 8/13/1885 and determined that William T. Haskins and Thomas Carson Taliaferro would serve two year terms.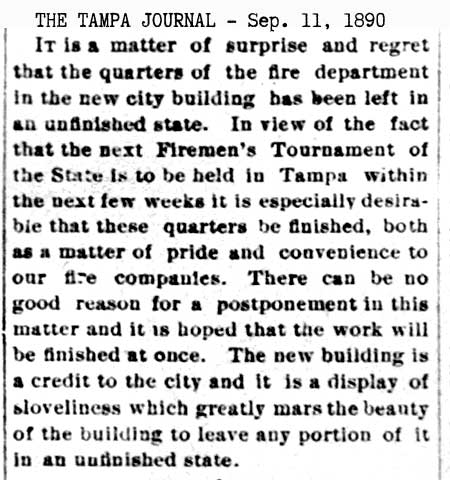 Sept. 11, 1890 - THE TAMPA JOURNAL: "Chief Taliaferro is taking an interest in the fire companies and is getting the organization on a business basis, which demonstrates the fact he is the right man for the position."

At right: The quarters for the fire department in the new City Hall building in the First Ward were yet to be completed.

See issues with the contractor in the A.C. Wuerpel feature.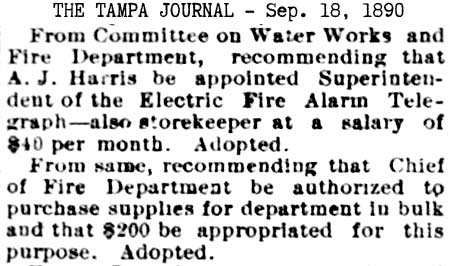 Sept. 18, 1890 - THE TAMPA JOURNAL
A. J. Harris was appointed Superintendent of the Electric Fire Alarm Telegraph--also storekeeper at a salary of $40 per month.
Oct. 16, 1890 THE TAMPA JOURNAL
The plasterers are at work in the firemen's headquarters in the city hall. The intention is to have the room completed before the meeting of the State Firemen's Association.
STATE FIRE ASSOCIATION CHAMPIONSHIP CONTEST
The State Fire Association held a championship contest in Tampa on Oct. 28, 1890. Teams represented were from Tampa, Key West, and Orlando (who arrived with two teams.)
The rules were to be:
The board course as prepared to be adopted as the course for the coming contest.

Each team could use any regular fire apparatus they wanted and each team consisted of one man for every 75 lbs in weight of reel, hose-cart and hose.

Hose teams run 200 yards from start to hydrant and shall connect the hose, make 2nd and 3rd couplings, unreel 400 feet of hose from hydrant and put on pipe to throw water. The time was taken when water first flowed from the pipe.

All couplings were to be made spanner tight.
The first, third and fourth rules were adopted, but the second rule was change to read "Each team shall consist of 9 men and carry the same weight of reel and hose."
At least 4,000 spectators were on hand the following morning for the contest. The article states "..because they [Orlando] could not run the convention and make the rules to suit themselves, they withdrew." So only teams from Key West and Tampa participated.
Click article to see larger, then click it again to see full size.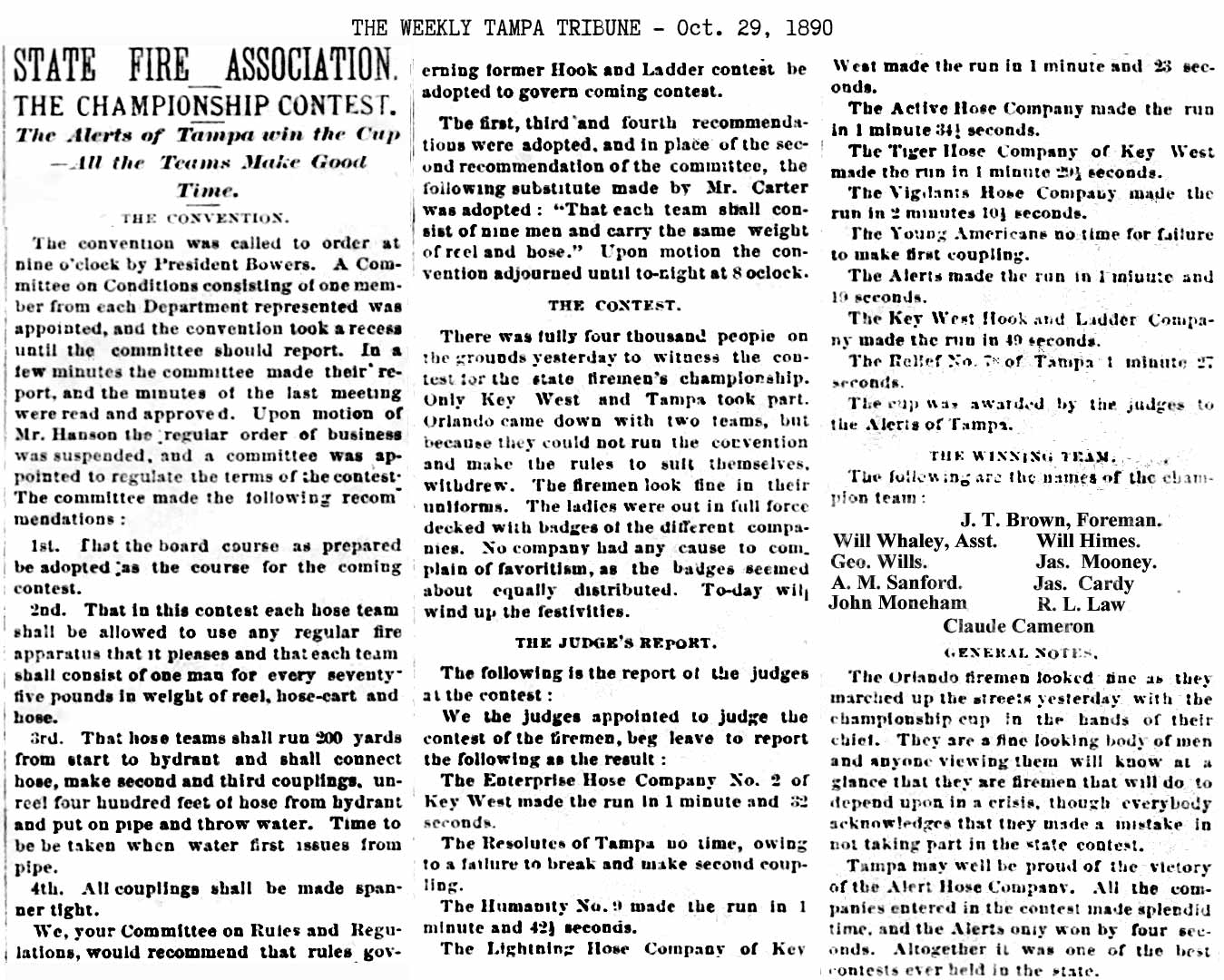 Contest Results
| | | |
| --- | --- | --- |
| Team | City | Time (MIN:SEC) |
| Enterprise Hose #2 | Key West | 1:32 |
| Resolute Hose | Tampa | None due to failure to break and make 2nd coupling |
| Humanity Hose #9 | Tampa | 1:42.5 |
| Lightning Hose | Key West | 1:23 |
| Active Hose | Tampa | 1:34.5 |
| Tiger Hose | Key West | 1:29.5 |
| Vigilant Hose | Tampa | 2:10.5 |
| Young Americans Hose | Tampa? | None due to failure to make 1st coupling |
| Alerts Hose | Tampa | 1:19 |
| Key West Hook & Ladder | Key West | :49* |
| Relief Hose #7 | Tampa | 1:27 |
*Probably a typo in the article due to them not winning the cup.

The cup was awarded to the Alerts of Tampa: J. T. Brown, Foreman, Will Whaley, Asst.
George Wills, A.M. Sanford, John Moneham, Will Himes, James Mooney, James Cardy, R.L. Law.
About the Orlando teams, the article says,
The Orlando firemen looked fine as they marched up the streets yesterday with the championship cup in the hands of their chief. They are a fine looking body of men and anyone viewing them will know at a glance that they are firemen that will do to depend upon in a crisis, though everybody acknowledged that they made a mistake in not taking part in the state contest.

Taliaferro's obiturary makes no mention of his years as fire chief.
Read his entire obit, it's all about his banking achievements.
Dec. 5, 1890 - The Savannah Daily Morning News reported that Capt. Dixon presented the Tampa fire department on Thanksgiving day with a check for $200 and a receipted bill for lumber amounting to $51 in recognition of their services in saving his mill during the late fire in Tampa.

MAY 22, 1891 - TAMPA'S WATER WORKS & FIRE DEPT. PUT TO THE TEST

A representative (Fred C. Calkins) of the Tariff Association in Atlanta was in Tampa since May 22, 1891, conducting inspections of the new Jeter & Boardman water works as to water pressure and effectiveness for fire fighting. The Association sets the cost of fire insurance premiums for cities according to their waterworks systems. This inspection wouldn't affect Tamapa's rates because they had already been lowered to the lowest possible rate two years prior.
A test of the waterworks and volunteer fire dept. was made on Monday, May 25th, on Franklin St. around the Almeria Hotel. Participating were the Alerts No. 1, Resolutes No. 2, Phoenix No. 5, Humanity No. 9, and Relief No. 7. And the sound of the fire alarm, the hoses were switched on and the streams were over 60 feet high. The test lasted around 10 minutes. Calkins paid the firemen a high compliment saying he never saw a dept. take more interest in their work and he was more than pleased. The test was done entirely with gravity pressure. Of the 6 streams, 4 were full and strong and two not as good because they came from the dead ends of the mains. The water was thrown on the top of the Almeria hotel, a 3-story building and the highest in the city.
At issue was the fact that the superintendent of the waterworks, Mr. Cambpell, said the system would not put direct pressure into the mains at any time. Mr. Calkins was surprised at this because every Jeter-Boardman water system he tested could do so. The reporter called attention to the fact that Jeter-Boardman claimed direct pressure was one of the advantages of Tampa's system. The Journal intended to call the attention to this matter to the public.
The stand pipe pressure is ample and perfectly safe for our protection in all ordinary fires, but the time may come when direct pressure will be needed. Superintendent Cambell claimed that the contract with the city did not call for it and therefore has refused to provide it although he has given it serveral times in the past without injury to the mains. It is necessary that the contract should be investigated by the Council and some definite understanding with the waterworks company be arrived at in this matter. The city should have arrangements for direct pressure if necessity should demand it.
May 25, 1891 - The city clerk published this notice to inform the members of the various fire companies that they will meet on May 27 to choose a chief and two assistants.

On May 26, 1891, Chief Taliaferro requested that the election include a third assistant chief. His request was granted.




ELECTIONS FOR FIRE CHIEF - RECAP

In late April of 1889, Ordinance No. 40 established a volunteer fire department. As provided in the ordinance, the City Council appointed A. C. Wuerpel as Chief in early May. The ordinance also provided for the election of a Chief by the firemen when at least four fire companies had been organized. By the end of May, there were six companies, so an election was held on May 29, 1889. A. C. Wuerpel was elected over George R. Macfarlane, 113 to 46. Harris and Rodriguez were elected as 1st and 2nd assistants, having run unopposed for the positions. These were 2-year terms so their terms would end May 28th, 1891.

However, Chief Wuerpel resigned in early June of 1890, at which time A. J. Harris was appointed as Acting Chief and still served as 1st Assistant.

Harris served in those positions until a special election was held on Aug. 29, 1890 to fill the position of Chief through May 28th, 1891 (when Wuerpel's term would have ended, as well as the assistants' terms, Harris & Rodriguez.)

Although Harris had previously announced he was resigning as 1st Assistant Chief while serving as Acting Chief, to run for the position of Chief, it appears that he instead ran for First Assistant again. In that Aug. 29, 1890 special election, T. C. Taliaferro was chosen as Fire Chief over C. E. Harrison, 130 votes to 61 votes, and B. M. Balbontine was chosen as First Assistant Chief over A. J. Harris, 113 to 77.

So now, on May 27, 1891, it was time for the firemen to choose another Chief and Assistant Chiefs for a 2-year term.


On May 28, 1891, Chief Taliaferro's term ended due to having been chosen in the special election to fill the remainder of Chief Wuerpel's term. The results of the regular election were published, indicating T. C. Taliaferro was again elected as Chief for a 2-year term in an overwhelming vote over Otto Kammerer, 493 to 10.

1st Asst. - Emilio Pons over S. J. Bowers, 316 to 184.

2nd Asst. - C. W. Ayres over J. H. Hippenmeier, 334 to 168.

3rd Asst. - L. Garcia, apparently unopposed, with 501 votes.

On June 8, 1891, A. J. Harris was elected Vice President of the Alert Hose Co. .


So Chief Taliaferro would serve a 2-year term which should end on May 28, 1893.

Praise for Tampa's Water Works and Fire Dept., Criticism of its Electric Utilities

On Aug. 25, 1891, an expert inspector J. S. Altreds of the Liverpool & London and the Globe Insurance Co. gave report to the Tampa Tribune of his conclusions concerning Tampa's water works, fire department, and electrical systems. The water works and fire department received accolades, but the city's electric lighting system and power lines were poorly designed and in very bad condition.

The electric fire alarm system telegraph should have been built in at least 3 circuits. Instead, it was all on one circuit, so if any part of the system failed, the whole system failed. One such failure took place while conducting his investigation. A storm caused a power line to fall and cross the alarm telegraph lines, apparently not short-circuiting it, but to prevent damage to the the system, Chief Taliaferro had to disconnect all the alarm boxes and bells.

Of the city's electric light system, he stated:

"Your electric light construction, if it can be called such, is open to the severest criticism. Inferior material has been used, particularly for outside construction. Wires have been run in all directions and are attached to buildings, sheds and roofs, at the most convenient points and transformers are also promiscuously located on buildings, sheds, roofs and poles. That you have not had serious accidents to both life and property is wonderful. The time is not distant when the insulation, already so defective, will become so defective. will become so entirely worthless that accidents will be certain to occur. Your city is also festooned with dead wires belonging to the plant discontinued some time ago. No time should be lost in removing them as they are a constant menace to life and property.

He goes on to describe the dangerous condition of inside wiring all over the city, citing as an example the Western Union telegraph fuse box. In closing, he says he was impressed with how advanced Tampa's water works and fire protection system was compared to other cities, and had confidence that Tampa would repair the electric lighting system to satisfaction.


Click the article to see it larger
DISASTROUS FIRE IN YBOR CITY

On Nov. 12, 1891, the Sanchez & Haya cigar factory in Ybor City caught fire. Firefighters were hampered by alarm and telephone wires in poor condition, and low water pressure. Eight fire companies were on scene but the wooden buildings burned like match boxes. It only took half an hour for a small hotel to burn to ashes.
[Grismer, A History of Tampa, 1959]

Nov. 12, 1891 - A fire breaks out in the Aurelio Campos restaurant on 7th Avenue, between 14th and 15th Streets. At the end destroys two and a half city blocks
[Cigars of Tampa]

The fire consumed 2 hotels, a boarding house, 4 warehouses, 3 barber shops, a drug store, 4 restaurants, 6 grocery stores, 6 dry goods stores, a jewelry store, a boot and shoe store, and the market house. The article claims that all the buildings in the Fourth Ward were gone, with losses estimated at $350,000 and only about $125,000 insured.
[Pensacola News, Nov. 13, 1891]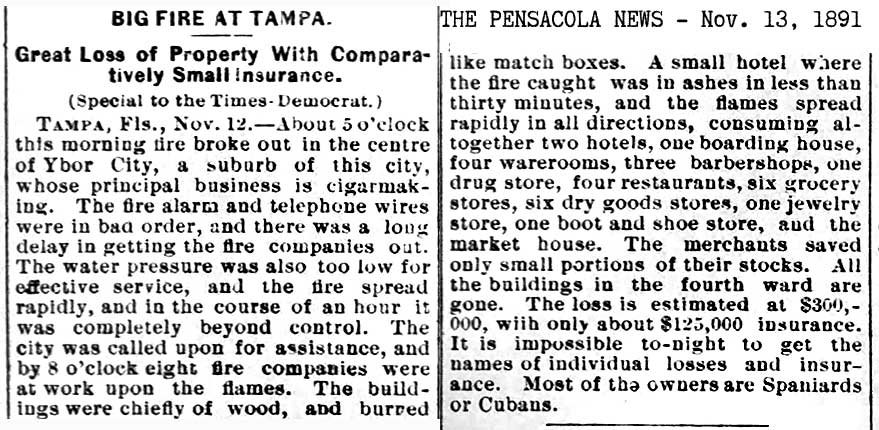 During the fabulous pioneer days of Ybor City the famed Hotel De La Havana was located on the corner of 15th St. and 7th Ave.. The three story frame structure was the first hotel erected in the Latin Quarter. Its proprietors were Jose Rubin and Jacinto Olavarria. The hotel was headquarters for newly arrived tobacco workers and Cuban political exiles. The building was destroyed during Ybor City´s first great fire in November 1891.
[Historic Markers Across Florida]

One of the restaurants supposedly* destroyed was Las Novedades which was located in the middle of the block where the red circle indicates.

*TampaPix has researched the beginnings of Las Novedades and believes that as a restaurant, it did not exist until 1899 at the earliest, and that it first was a bakery only.
Before the Fire
B=Barber shop, C=Cigar factory, D=Dwelling, H=Hotel, M=Meat market (circle marks where Las Novedades cafe was said to have been located in 1891), R=Restaurant, Rx=Drug store, S=Saloon,
?="El Bazar" possibly a hotel.
Sanborn Fire Insurance Map from University of Florida digital map collection

---
TRI-WEEKLY TAMPA TRIBUNES FOR 1892 ARE MISSING
1891 Tribunes are correctly dated up to and including Oct. 30, 1891.
Then the months become incorrect:

Oct. 1891 indexed as Nov. 1891, repeating the same publications for Oct. 1891 but presented as Nov. 1891:


Oct. 2, 1891 indexed as 1891-11-02
Oct. 5, 1891 indexed as 1891-11-05
Oct . 7, 1891 indexed as 1891-11-07
Oct. 9, 1891 indexed as 1891-11-09
Oct. 12, 1891 indexed as 1891-11-12
Oct. 14, 1891 indexed as 1891-11-14
Oct. 16, 1891 indexed as 1891-11-16
Oct. 21, 1891 indexed as 1891-11-21
Oct. 23, 1891 indexed as 1891-11-23
Oct. 26, 1891 indexed as 1891-11-26
Oct. 28, 1891 indexed as 1891-11-28
Oct. 21, 1891 indexed as 1891-11-21
Oct. 30, 1891 indexed as 1891-11-30
Index then jumps to 1892-04-04 (Years become incorrect)


Apr. 4, 1893 indexed as 1892-04-04
Apr. 11, 1893 indexed as 1892-04-11
Apr. 18, 1893 indexed as 1892-04-18
Apr. 25, 1893 indexed as 1892-04-25
May. 2, 1893 indexed as 1892-05-02
May. 16, 1893 indexed as 1892-05-16
May. 23, 1893 indexed as 1892-05-23
May. 30, 1893 indexed as 1892-05-30
Jun, 6, 1893 indexed as 1892-06-06
Jun, 15, 1893 indexed as 1892-06-15
Jun, 22, 1893 indexed as 1892-06-22
Jun, 29, 1893 indexed as 1892-06-29
Jul 6, 1893 indexed as 1892-07-06
Jul 13, 1893 indexed as 1892-07-06
Jul 20, 1893 indexed as 1892-07-06
Jul 27, 1893 indexed as 1892-07-06
Aug 3, 1893 indexed as 1892-08-03
Aug 10, 1893 indexed as 1892-08-10
Aug 17, 1893 indexed as 1892-08-017
Aug 24, 1893 indexed as 1892-08-24
Aug 31, 1893 indexed as 1892-08-31 (only 1st two pages scanned)
Dates then become correct:
Aug 31, 1893 indexed as 1893-08-31 (all 8 pages scanned)
Sep. 7, 1893 indexed as 1893-09-07
Sep. 14, 1893 indexed as 1893-09-14
Sep. 21, 1893 indexed as 1893-09-21
Sep. 28 , 1893 indexed as 1893-09-28
So missing are the Tribunes from
Nov. 1891 through Dec. 1891
All of 1892
Jan. 1893 through Mar. 1893.
---
An analysis of Sanborn fire insurance maps for this period of years shows that the fire alarm bell was never reinstalled in the City Hall cupola after the replacement parts arrived. Instead, a wooden structure was built at the southwest corner of the building to house the alarm bell, just as Chief Wuerpel had wanted from the time he voiced his opinion on the weakness of the cupola. (See 1901 photo later below.)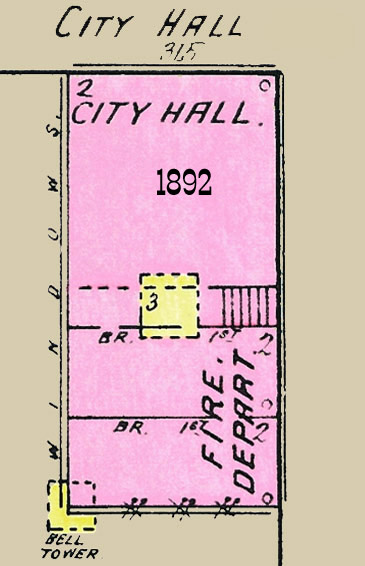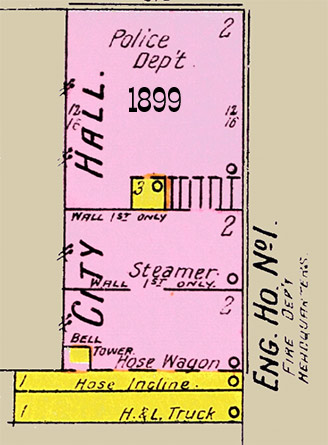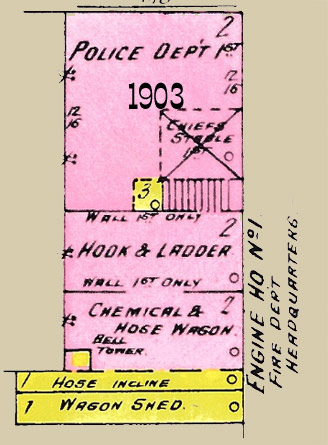 Apr. 18, 1893 - Jefferson Sanders of the Eagle Hose Co. #10 was eulogized for his heroism at the Sanchez & Haya fire of 1891. No mention is made of how or why he died, and no other info could be located.



April 25, 1893 - Mayor Salomonson brought up the subject of Tampa needing a paid fire department and
referred the reporter to superintendent of the fire alarm system, Harris.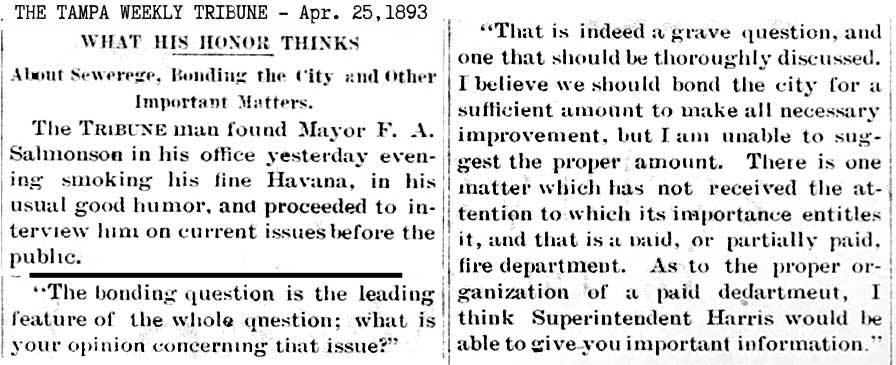 FIRE CHIEF GEORGE RAE MACFARLANE
On May 1, 1893, the annual firemen's competition was held in Tampa.

Read the whole article here, click the image when it opens to see it full size.

Companies competing and their times:

| | | |
| --- | --- | --- |
| Company | Captain/Foreman | Time |
| Humanidad No. 9 | Casimiro de la Rosa | 0:32.5 |
| Eagle Hose No. 10 | John Baker | 0:30 |
| Commercio No. 6 | Juan Barose | 0:31.5 |
| Relief No. 7 | Wm. E. Campbell | 0:29 |
| Gulf City No. 13 | Fred Lenfesty | 0:30 |
| Resolute No. 2 | J. H. Miller | - |
| Invincibles No. 11 | Alge Lee | 0:31 |

Judges: L. Ransdale, W.J. Dombrowsky, B. M. Balbontin, M. L. Sanchez, J. C. McNeill, and R. R. De Armas. Herman Glogowski was the starter for the first run then J. C. McNeill took over as starter for the rest of the contest.

Of interest in this article is that George A. Macfarlane who was present at the contest was referred to as Chief. This was actually George R. (Rae) Macfarlane, a cousin of Hugh Macfarlane. (On May 29, 1889, A. C. Wuerpel was chosen for volunteer dept. Chief over G. R. Macfarlane by a margin of 67 votes.)

Also present was A. J. Harris who was referred to as Superintendent, which would be his position in charge of the fire alarm system.

Assuming Chief Taliaferro served the allotted 2-year term as Ordinance 40 had provided for, his regular election on May 27, 1891 would have ended May 27, 1893. So why does this May 2, 1893 article refer to George Macfarlane as Chief?

If Chief Taliaferro was out of town at the time, then his First Assistant Emilio Pons would have stood in for the Chief. Macfarlane was neither 1st, 2nd or 3rd assistant.

If during Taliaferro's 2-year term the City Council changed the fire chief term to 1 year, Taliaferro should still have served out his 2-year term.

The missing Tampa Tribunes from Nov. 1891 through Mar. 1893 would likely answer this question.

George Rae Macfarlane was a first cousin to Hugh. George R. Macfarlane was the only son of Andrew Macfarlane and Margaret Rae. Andrew was son of Thomas, who was also grandfather of Hugh. George emigrated to America in 1887, and was in the real estate business at Tampa. He first married Susan B. Gaunt. His censuses in Tampa indicate that he was born in Scotland in 1862; thus was about 11 years younger than Hugh. According to his great-granddaughter, he came to Tampa because he had family here already. George was also a collector at the US Customs. He was married to Nellie Harden and had a daughter named Mary Rae Macfarlane, born circa 1898.

ELECTION FOR FIRE CHIEF - MAY 24, 1893

This election should have been to elect a new Chief at the time Chief Taliaferro's full 2-year term should have expired.

This May 16, 1893 article claims W. J. Dombrowsky was elected to Chief of the fire department. The article should have read "In the selection of Mr. W. J Dombrowsky" and not "election." For the reason that on May 24th, the firemen were going to meet at their respective hose houses to select delegates who were to meet at City Hall on the 31st to ELECT a fire chief. Perhaps some of the fire companies had chosen Dombrowsky as a candidate in this election.


SECOND MAYORAL TERM OF FRED A. SALOMONSON - A. J. HARRIS ELECTED TO FIRE CHIEF, May 31, 1893

A. J. Harris defeated W. J. Dombrowski overwhelmingly for the position of Fire Chief. Newspaper articles are joyful reporting "Honored again. An Efficient Officer Enthusiastically RE-ELECTED by a flattering vote." A. J. Harris' prior election was Asst. Chief in 1889. His previous time as Chief was as Acting Chief, which was an appointment at the time Wuerpel resigned.

C. E. Amsworth, N. Madrougha and D. B. Givens were elected as first, second and third assistant chiefs.


CHIEF HARRIS INHERITS A RICKETY DISORGANIZED VOLUNTEER FIRE DEPT.

The Tribune had a short talk with new Fire Chief Harris and questioned whether or not it was legal for him to also be superintendent of the alarm system as well. It was Harris's understanding the the city was going to consolidate the two offices under one management, and that would give Harris an increase in pay. It was rumored that four of the fire companies were disbanding: the Invincibles, Resolutes, Tampas, and Truck No. 2, but Harris said if that happened, as soon as his election was confirmed, he would organize new companies in their places. The Tribune ends with "Something is necessary to place our fire dept. on a sound practical basis."

Jun. 24, 1893 - Tampa Fire Chief A. J. Harris traveled to Savannah, Ga. The article says he had served as Foreman of the Waver Steam Engine Co. No. 2 in Savannah and had left there for Tampa "a little less than 8 years ago" putting his departure at early as 1886. Articles presented here earlier concerning his altercation with police officers confirm he was there in June 1886.

Nov. 3, 1893 - Member of the committee to investigate the condition of the fire dept. equipment, George T. Chamberlain, reported that all the hoses were tested at highest possible pressure and were able to throw a stream of water high enough to reach the top of any building in Tampa.


Below: Nov. 3, 1893 - The first paragraph of a longer article:

Chief Harris and superintendent of the water works, W. A. Campbell, reported that water company customers weren't turning off their lawn sprinklers when fire alarms were being sounded (thus causing low pressure to fight fires.) They asked for an ordinance to assess a fine for patrons violating the ordinance.

Below: Dec. 29, 1893 - Chief Harris was training two recently purchased horses for fire department use. The horses were named Peter O. in honor of councilman Peter O. Knight, and George T., in honor chairman of the finance committee and former fire committee member George T. Chamberlain.

The rest of the article above:
In another communication received by the city council, Chief Harris called attention to the neglect of the various electric light and street railway companies in conforming with the rules of the Southern Tariff Association (fire insurance rates.)


Trolley systems were supposed to use guard wires over their trolleys but were neglecting to do so. He cited an instance on Oct. 14th when a telephone wire at 8th Ave. and 13th St. contacted a trolley wire, setting off a fire to the telephone switchboard in the central office, and since the telephone lines are connected to many buildings in the city, "it was a miracle that we did not have a fire at a dozen places at the same time." He goes on to say that Tampa was enjoying the lowest rates of insurance of any city or town in Florida, and if they wanted to keep those rates, they needed to remedy this problem.

In another communication received by the city council, due to the committee investigation into the wants and needs of the fire department, it was determined that the hose reels were damaging the hoses more than their use at the fires so they needed to be fixed to prevent them from further cutting into the hoses. Chief Harris was authorized to get bids for: 2 one-horse fire wagons, fully equipped, 3,000 feet of fabric hose 2.5 in. in diameter, four dozen blown-glass lanterns with T.F.D stamped on the frame, 2 dozen fire axes, and 1 dozen crowbars with T. F. D. stamped on all, buy a water gauge not to cost over $35, 3 dozen hose couplings and 72 rings, 3 dozen hose straps, 12 hose pipes and 5 dozen hose spanners. Also to install a fire alarm box at the corner of Florida Ave. and 8th Ave, move the bell tower from the corner of Fla. Ave. and Constant St. to a point on Fla. Ave. to be named later, and at once employ 2 men to keep the reel houses and fire equipment of the city in order and to attend all fires at a salary of $45 per month for each man.

Chief Harris also notified the City Council of the bids received for 3,000 feet of hose, along with samples, which were read and were authorized for Harris to get the hose he considered best. Hose at 80 cents per foot was selected.

See the entire article here. Click the image again to see it full size.
---
THE GREAT FIRE AT SPENCER LIVERY BARN, DATE NOT SPECIFIED
From an article by D. B. McKay, Aug. 23, 1959, Tampa Tribune, "Pioneer Florida"
The most spectacular fire in Tampa within my memory--before we had a paid fire department--occurred at John B. Spencer's livery barn. The big two-story structure extended from Water Street to Tampa Street on the south side of Jackson Street. Stables for the stock were on the ground and the loft was filled with hay, grain and vehicles.

When discovered, the fire had a good start, but the volunteers responded promptly to the alarm and checked the flames before they had reached the most flammable material. The horses, mules and valuable Spanish jack were released and ran wild in the streets.

The department's equipment consisted of a hand pump operated by four men, and the water supply was the Jackson Street ditch, which was the full width of the street from Morgan Street to the river, with an average depth of 25 feet. During the rainy season the ditch was filled to street level. Robert Mugge presented the pump to the department and other citizens gave hose carts and hose.
At this point, McKay goes on to describe another great fire, but comes back to the story of the Spencer stable fire near the end of his column. He wrote,
I was standing near T. C. Taliaferro watching the valiant fight of the volunteers. A portion of the roof had been cut off to give better access to the flames. We could see Chief Harris battling desperately to prevent the fire from reaching the large hay storage loft. Mr. Taliaferro realized that Harris was in great danger and he ordered the hose man who was near him, "Turn turn that stream on the chief and soak him thoroughly. His clothes are smoking!" The order was obeyed so efficiently that the chief was knocked down and out of danger.
When did this great fire take place? McKay doesn't say, but he does give some clues that can help determine when this fire took place. The question is, how accurate are his memories at least FIFTY to SIXTY years later? Following is an analysis of these events for the purpose of determining when this fire occurred so that McKay's references to the department still being on a volunteer basis, and A.J. Harris was the chief at the time.
When did the Spencer livery stable extend from Water St. to Tampa St?
Below is seen the J.B. Spencer livery stable across an eight year span. Stables on the Sanborn maps were indicated by diagonals on the structure. As McKay stated, stated, the fire department was a volunteer department. Spencer's livery was located on the south side of Jackson St. and at the time of the fire, it stretched from Water St. to Tampa St. McKay also stated that the Mugge pumper was in use; it arrived July 30, 1886, and A. C. Wuerpel was Chief.
1887 - Mugge pumper in use, department was volunteer, but here the Spencer livery doesn't extend to Tampa St. The other building behind it is an orange and carriage house (with a smaller stable on the ground floor.) Both structures are 1½ stories--a ground floor and a loft. A.C. Wuerpel was still chief.
1889 - not much structural change to the area, but now Spencer has become Spencer Henderson & Co. Livery and has taken up both structures along Jackson St. On April 17, 1889, the unorganized volunteer fire dept became organized with the passage of city ordinance no. 40. A.C. Wuerpel was still chief.

As covered earlier on this page:

An election was held on May 29, 1889. A. C. Wuerpel was elected over George R. Macfarlane. Harris and Rodriguez were elected as 1st and 2nd assistants, having run unopposed for the positions. These were 2-year terms so their terms would end May 28th, 1891. However, Chief Wuerpel resigned in early June of 1890, at which time A. J. Harris was appointed as Acting Chief and still served as 1st Assistant. Harris served in those positions until a special election was held on Aug. 29, 1890 to fill the position of Chief through May 28th, 1891 (when Wuerpel's term would have ended, as well as the assistants' terms, Harris & Rodriguez.) In that Aug. 29, 1890 special election, T. C. Taliaferro was chosen as Fire Chief over C. E. Harrison, 130 votes to 61 votes, and B. M. Balbontine was chosen as First Assistant Chief over A. J. Harris, 113 to 77. On May 27, 1891, it was time for the firemen to choose another Chief and Assistant Chiefs for a 2-year term.

So T. C. Taliaferro was the elected Chief in Sep. 1890. Harris ran for first assistant but was defeated, so he was still with the Alert Hose Co., in Sept. 1890. On June 8, 1891, A. J. Harris was elected Vice President of the Alert Hose Co. .

1892 - The dept. was still volunteer,

now Spencer Henderson's livery extends the entire block from Water to Tampa St.

This construction could have taken place any time after the 1889 map was created.

The Jackson St. ditch no longer exists. Either T.C. Taliaferro or George Macfarlane was Fire Chief, with Macfarlane still serving until end of May, 1893 when Harris was elected.

By early May 1893, George R. Macfarlane was Fire Chief. On May 31, 1893, A. J. Harris was elected Fire Chief. The fire department was still volunteer. By 1894 L. G. Cone owned the livery barn. (From a newspaper ad.)

PUTTING THE CLUES TOGETHER

McKay says the Mugge Pumper was in use and the water was drawn from the Jackson St. ditch. But in 1892 the ditch no longer existed. Harris was Acting Chief until Aug. 29, 1890. He became Chief at the end of May 1893, so there is no overlap where these two conditions existing at the same time. McKay's memory must be incorrect about some conditions, they are some 50 years after the event, and he does say "that he could remember."

If the fire occurred in 1893 while Harris was Chief, why would he be out there fighting the fire instead of supervising his men and directing the situation? Why would Taliaferro even be at the fire in 1893 or afterwards since he was no longer Chief? How could he be in a position to direct the firemen?

The more plausible situation is that McKay's memory of who was Chief at the time is incorrect. Even in the time of Chief Harris' death, he is alluded to as being the Chief for longer than he actually was. The logical conclusion and simplest explanation is that Taliaferro WAS in fact the Chief during this fire, and Harris was with the Alert Hose Co when his time as Acting Chief ended. So the fire would have taken place in 1890 or 1891 when the Jackson St. ditch could still have existed, the Spencer Henderson barn could have stretched from Water St. to Tampa St., Harris was with the Alert Hose Co, and Taliaferro was Chief.

But McKay is also mistaken about which livery barn was destroyed in the fire. The S&H livery barn that stretched from Water St. to Tampa St. was not involved in the fire, but it WAS an S&H livery barn that was destroyed. It was the one on the waterfront, not the one between Water St. & Tampa St. Evidence is shown below the article.

The article below, the devastating fire at the Fuller warehouse and the Spencer Henderson livery stable/carriage house on the waterfront on Dec. 21, 1890, fits the above scenario except for mention of the hoses being turned on Harris. It's doubtful the newspaper would have missed this, so McKay may be confused with some other fire, or the passage of time created an imagined reality.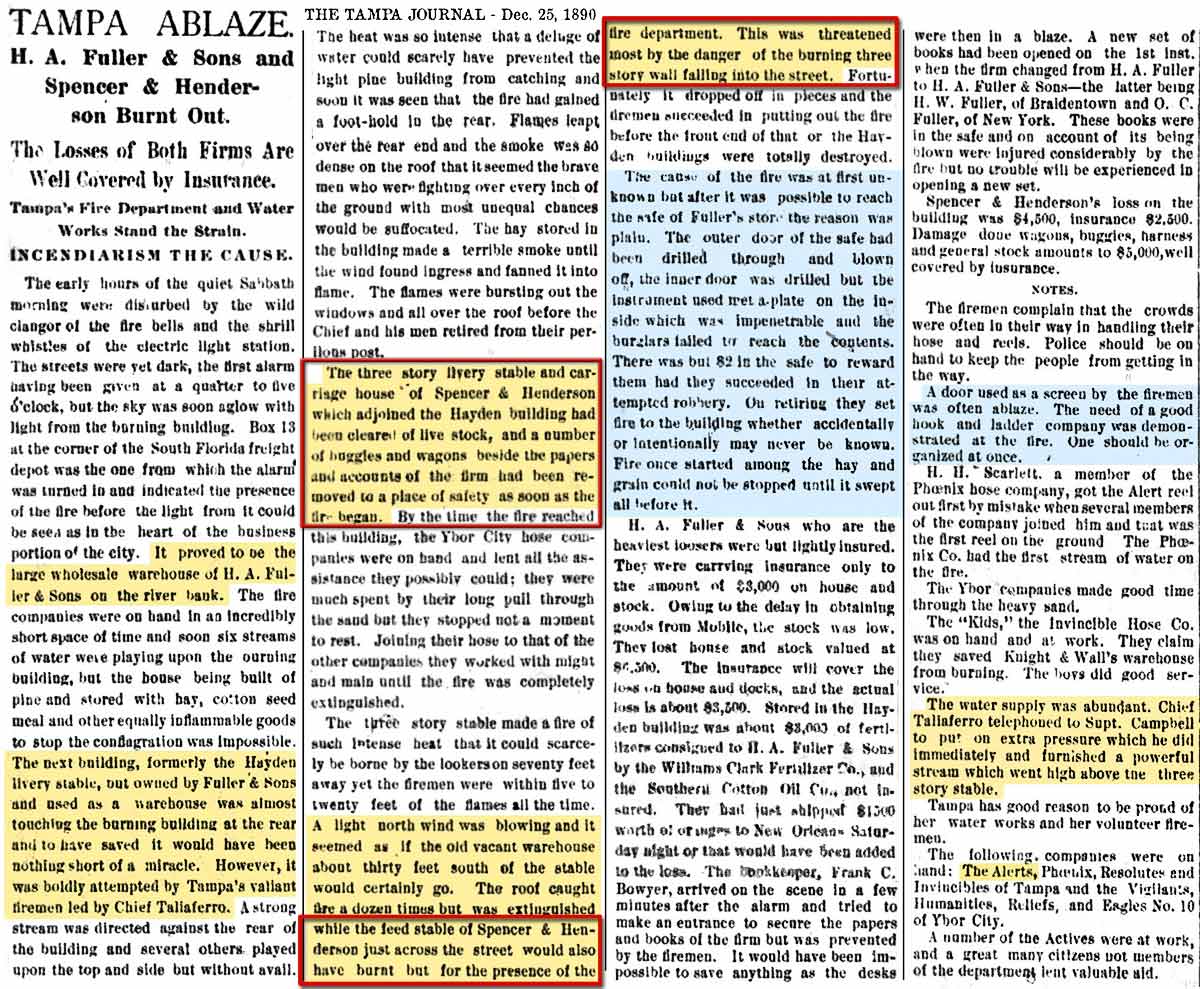 The fire started on the waterfront at the warehouse of H. A. Fuller & Sons (1). There was an adjacent building almost touching the warehouse, which was formerly the Hayden livery stable, but then owned by Fuller and also used as a warehouse (2). Both these buildings were destroyed. A THIRD building, which the fire reached, is described consistently as a THREE-STORY livery stable and carriage house of Spencer & Henderson, which had been CLEARED OF LIVESTOCK and some buggies and wagons. McKay says that horses were let loose to run wild in the streets. It is the ONLY 3-story building in the area on the maps. (3) A fourth building is described as an old vacant warehouse about thirty feet south of the stable, whose roof caught fire several times but was extinguished (4). In the same sentence, a FIFTH building is described as the feed stable of SPENCER & HENDERSON JUST ACROSS THE STREET (5) would have been burnt if not for the firemen, but was threatened by the THREE-STORY WALL falling onto the street. So a street is in between these two buildings. (Water St.) CHIEF TALIAFERRO was present, as was the ALERT HOSE CO.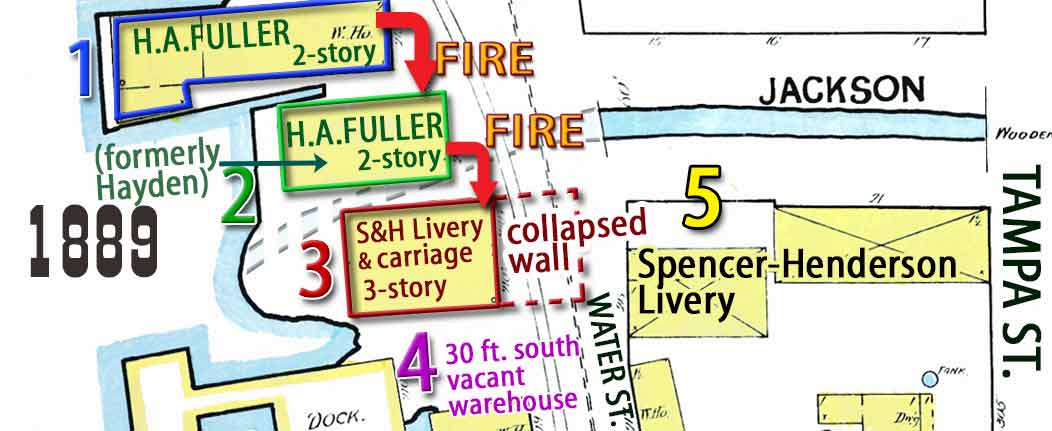 Above shows that the Jackson St. ditch used to flow at ground level all the way to the river where Hayden's ferry service was located.
By 1889, the ditch drained underground to the river between the river bank and Water St., and Hayden's ferry was gone due to the completion of the first Lafayette St. Bridge.

The 1892 map below shows by this time the first building was replaced by a larger one,
the 2nd building by a smaller one, and the 3rd building was not replaced.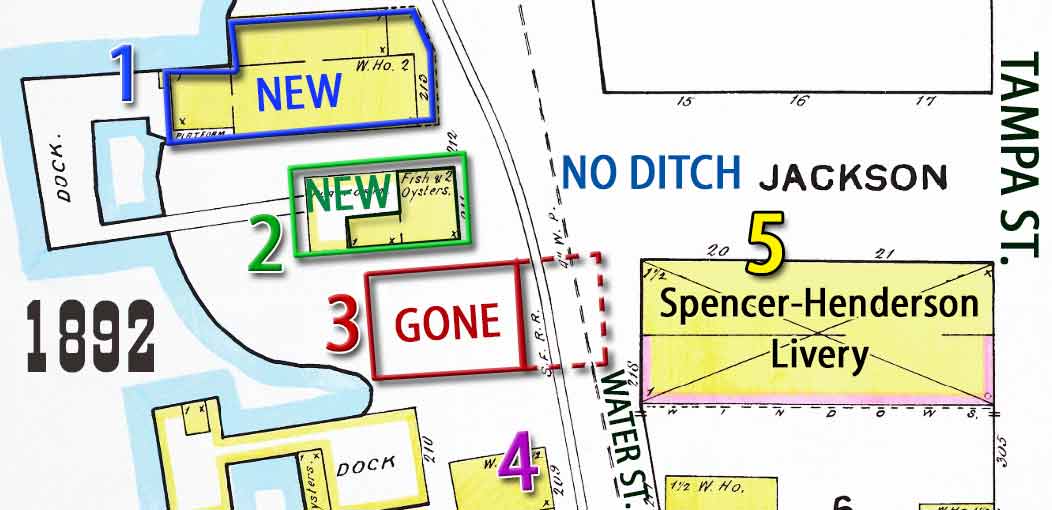 The photo below shows Hayden's ferry crossing the Hillsborough River sometime before 1887. The photo was taken from the west bank of the river from the Hyde Park side, looking east to the (downtown) Tampa side. The 3-story Spencer-Henderson warehouse is the only 3-story building in the area. by 1889, the shack at the left edge, which was Hayden's ferry landing on the east bank, was replaced by a livery stable and then became a warehouse for H. A. Fuller.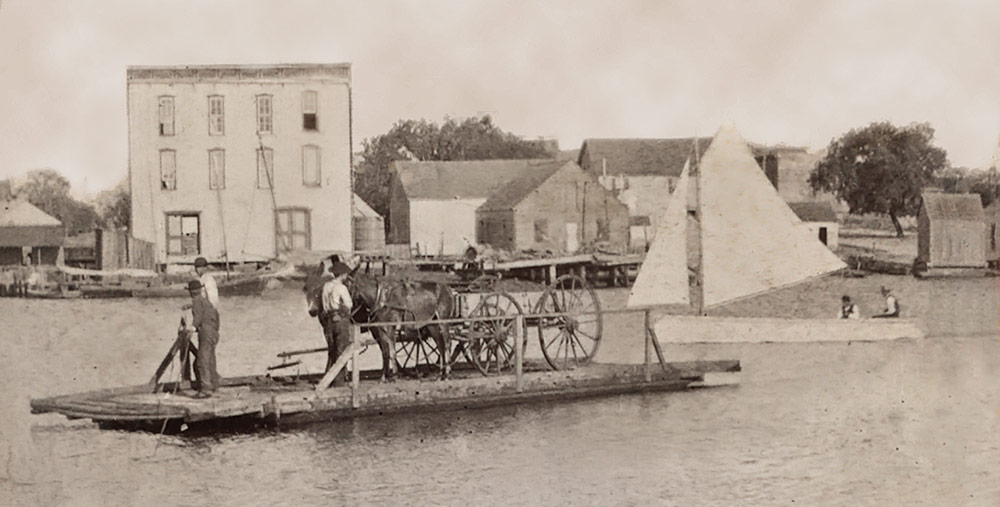 From the ROBERT N. DENNIS COLLECTION OF STEREOSCOPIC VIEWS (filtered for Tampa) at The NY Public Library Digital Collections.
Below is a wider angle view taken a year to a few years later, almost from the same vantage point. In the foreground is the ramp for Hayden's ferry landing on the west bank (Hyde Park side.) This photo matches up well with what is seen in on the 1887 map, though it could be from as late as early Dec. 1890 before the fire. At the left edge can be seen the east bank approach to the first Lafayette St. Bridge.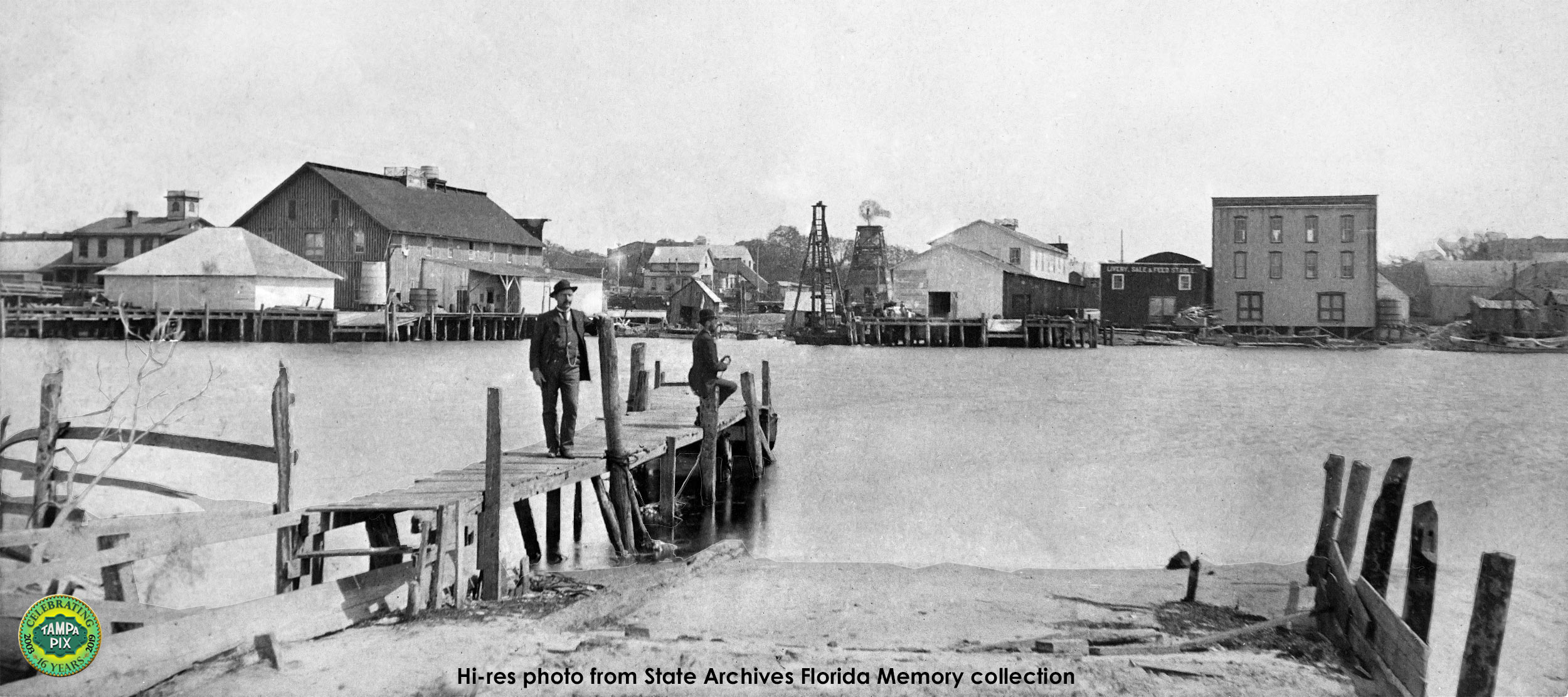 Photo courtesy of the State Archives Florida Memory collection.
Below is a close up of the above photo which shows the three buildings which would be involved in the Dec. 21, 1890 waterfront fire.

Today, the site of the three buildings above are the location of the swimming pool and patio of the Sheraton Tampa Riverwalk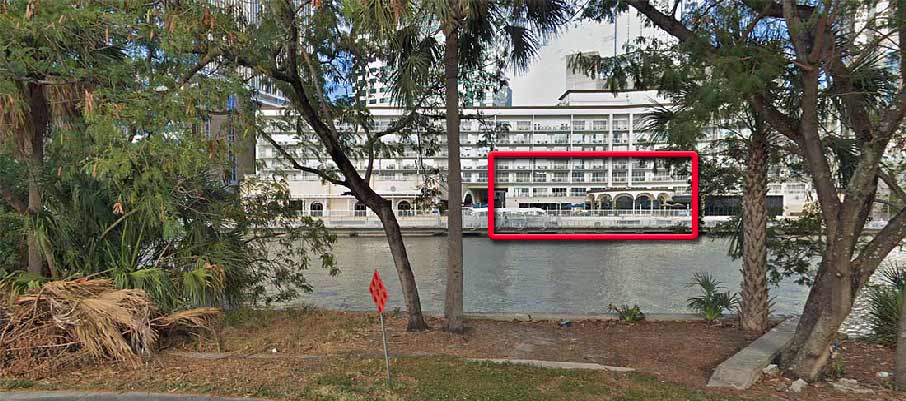 The entire view of the first photo would fit in the angle seen below.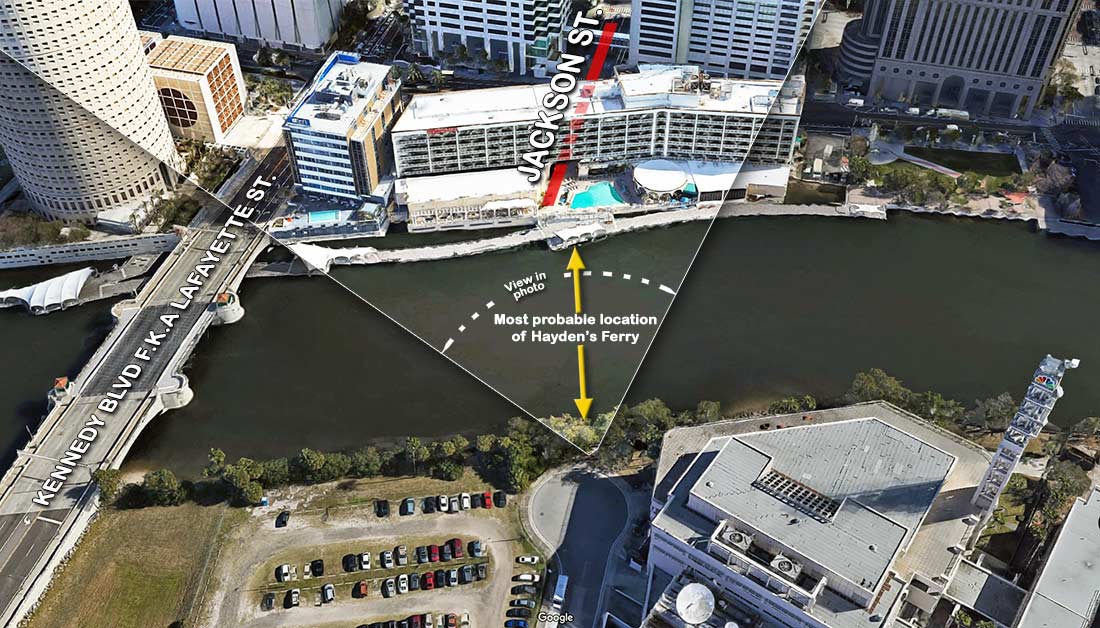 ---
FIRES OF 1894

Tampa suffered a series of disastrous fires during 1894 (according to Karl Grismer). In addition to seven homes and three small business places, the Tampa Lumber Company's plant was completely destroyed on July 27, 1894 causing a loss of $30,000.** (From Grismer, History of Tampa.)
Below: The fires mentioned by the Tribune for 1894. Dates are that of the article.
5 Jan
9 Feb
6 Apr
13 Apr
27 Apr
4 May
11 May
3 Aug
15 Jun
22 Jun
W. S. Knight of Knight's Station: large barn, contents and a horse.
Mrs. Dombrowsky - coal stove explosion
2-story wood structure in the scrub.
False alarm, 4th Ward; burning grass
Old phosphate building on the river (at right.)
Brush heap between the T.B. hotel & laundry, fire dept. not called.
Brush fire in Tampa Heights burns outhouses at Sawyer's place.
Disastrous fire at the Tampa Lumber Co. (See article below.)
Midnight fire at Ybor City FC & P depot - no valuables inside.
George Booth of Bay View loses barn with $1,200 of wine.


-
-



.

On May 18, 1894, the city council accepted the report of the Water and Fire Protection committee recommendation to add four new fire alarm boxes: 1) Corner of Tyler and Franklin, 2) Division and 9th St., 3) 11th Ave. and 17th St., 4) 14th Ave. and 20th St.






| | |
| --- | --- |
| At their June 29 meeting, the city council authorized the sanitation and fire departments a loan because they had no funds to pay their running expenses. | In July, Chief A. J. Harris traveled to Atlanta to convince the Association to lower their fire insurance rates for Tampa due to the recent improvements of fire protection. |
| | |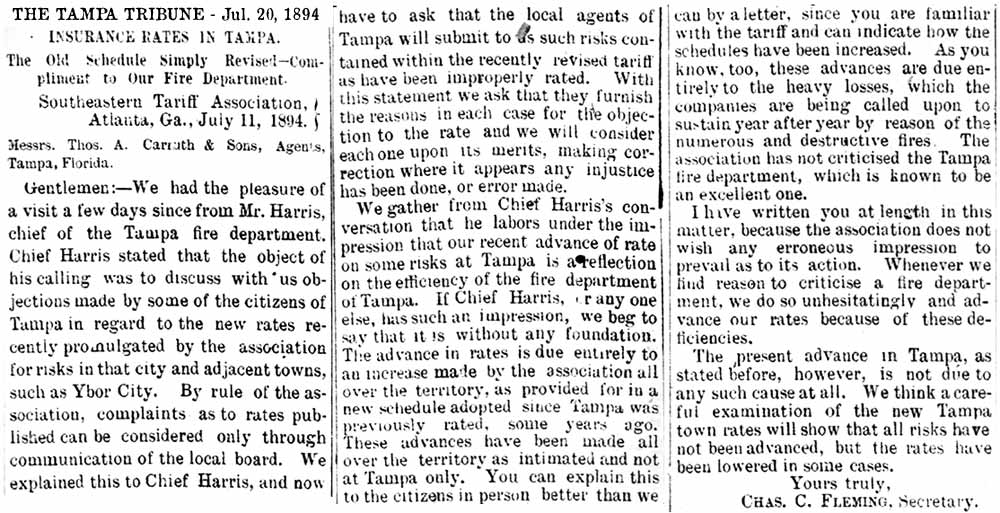 Catastrophic Fire at the Tampa Lumber Co., July 27, 1894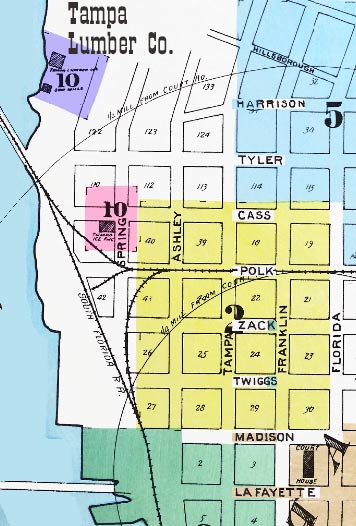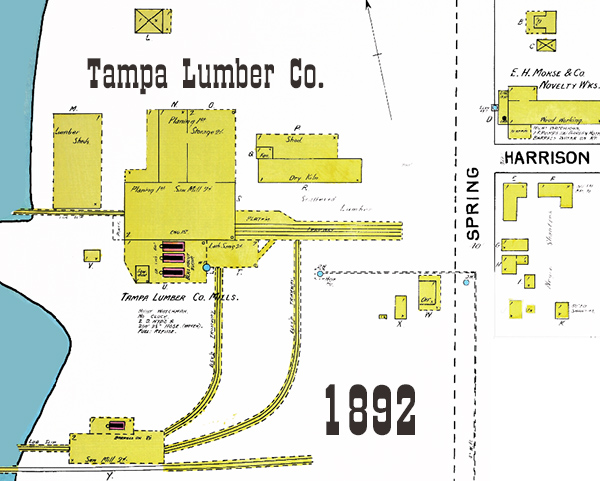 Today this is the site of the Straz Center for the performing arts.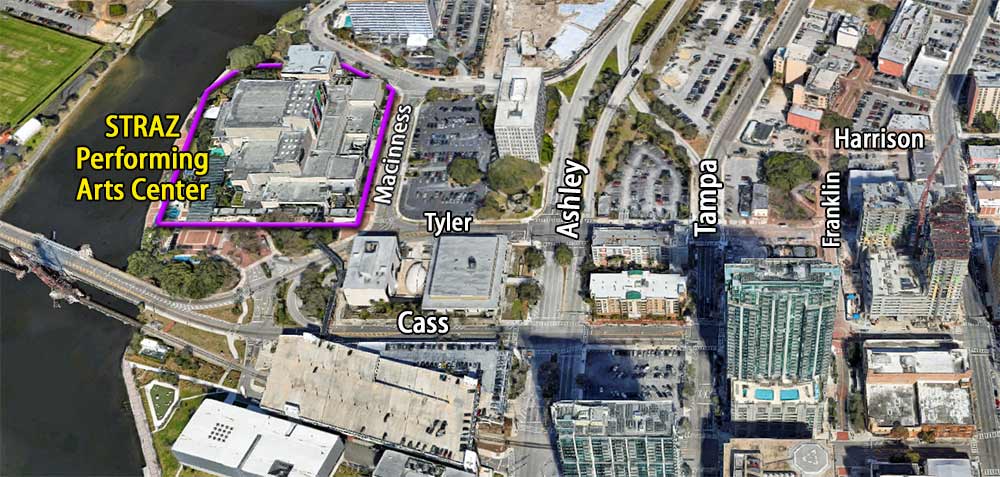 TWO LA FRANCE FIRE ENGINES ORDERED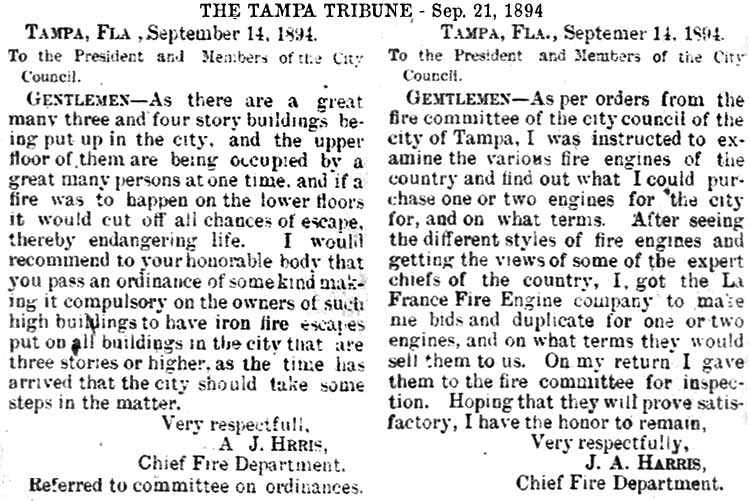 In mid-Feb. 1894 Chief Harris thanked the City Council for allowing him to travel to Montreal to consult with other fire chiefs from the largest departments from throughout the U.S. Two letters from Harris to City Council of Sep. 14 were published in the Sep. 21 Weekly Tribune.
In the first one, Harris wrote that there were many three & four story buildings being put up in the city, with the upper floors occupied by a great many persons at one time. If a fire started on the lower floor, they would have no chance to escape. He urged City Council to pass an ordinance requiring building owners to install iron fire escapes.
His second letter states that as he was instructed, he examined various fire engines around the country for the purpose of purchasing two and on what terms. He obtained the opinions of expert fire chiefs and chose the La France Fire Engine company to submit bids on the terms they would sell for. He submitted his findings to City Council and hoped they would find it satisfactory and approve.
The article continues on another page which is extremely faded, it reads:
"After considerable discussion pro and con, a motion was finally made authorizing the city attorney to draw up a contract for the purchase of two La France fire engines at $6,000 to be sent on trial without cost to the city, to be accepted only in case they prove satisfactory. Terms $2,000 cash and the balance in one, two and three years."

The fires emphasized the fact that Tampa's volunteer fire department and obsolete fire fighting equipment were entirely inadequate to provide proper protection. So a number of citizens pushed the city to take additional action, The council was pressed to act, and on December 31 ordered two modern La France fire engines and all other equipment needed to establish a first-class fire department. The engines arrived in March and were named "Manrara" and "Salomonson," in honor of the two men who contributed money to buy horses to pull them. On March 22, 1895, the city council authorized the creation of a professional fire department of paid employees.

FIRE CHIEF ANDREW JACKSON HARRIS

TAMPA'S FIRST PROFESSIONAL, PAID FIRE DEPARTMENT

On March 22, 1895, the city council passed ordinance #128 authorizing Tampa's first professional, paid fire department. A. J. Harris was named chief to preside over 22 firefighters in five stations at an annual budget of $18,000. The paid firefighters worked in the stations for ten to twelve days at a time. Most of the firefighters lived near their duty stations and were permitted to go home for meals, provided they could return within one hour. Their salary was equivalent to that of police patrol officers, about $600 a year. By 1900 there were 5 fire stations providing protection for the city.
ARTICLES TO INSERT
Nov. 25, 1897 Trib - Harris sets up new station in Ybor No.4
June 15, 1899 Trib big carnival Chief Harris plans fireman's competitions
Jun 14, 1903 Trib MAYOR NOW AFTER FIRE CHIEF'S SCALP, Hearing begun last night, A Fired Fireman Sykes accuses chief of the Heinous Crime of Hauling Brick in a Dept. Wagon, great ado about a little. (Accusations by a disgruntled dismissed fireman that Chief Harris committed neglect of duty, use of a dept. wagon for personal use, having a fireman do personal construction at his home. All allegations were exaggerated. It was no longer Harris' job to inspect fire station #4, it was job of asst. chief. Brick was hauled to exercise the horses, as directed by vet. Fireman did brick work at Harris's house while on lunch hour, paid for work, no complaints from the fireman who verified whole affair.
(See "Tampa's Bravest" website and history and City of Tampa Fire-Rescue History. See for more detail)
1900 Census, Tampa, 218 Jackson St.



This census reports A. J. and Mary had been married for 26 years, which would mean they married around 1874 when Mary was around 20 and A.J was 35. Mary's parents were born in Scotland. A J reported that he immigrated to the US in 1850 and was in the country for 50 years at this point. Depending on what month he arrived, he would have been at most, 11 or 12. He apparently had not yet become a naturalized US Citizen. It looks like the enumerator had written "Na" but then erased or rubbed it out. Interesting to note that A.J. says his mother was born at sea. Daughter Margaret "Maggie" Leslie Harris born Oct. 1887, son Andrew Martin Harris born Feb. 1888.

This 1901 photo of Tampa's first paid fire department is courtesy of Tampa's Bravest website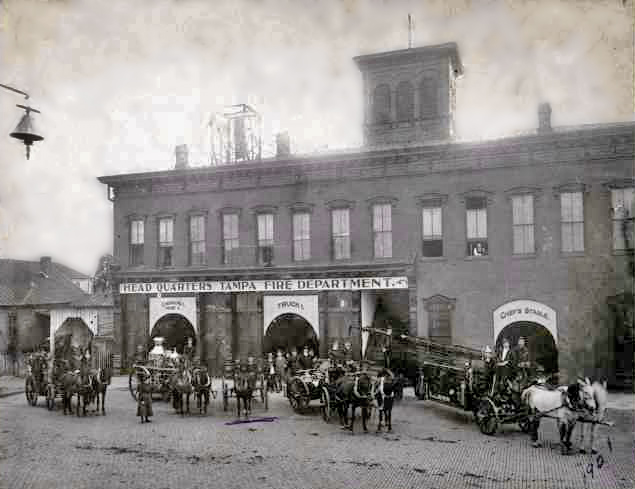 Notice the location of the fire alarm bell tower at the left rear corner of the building.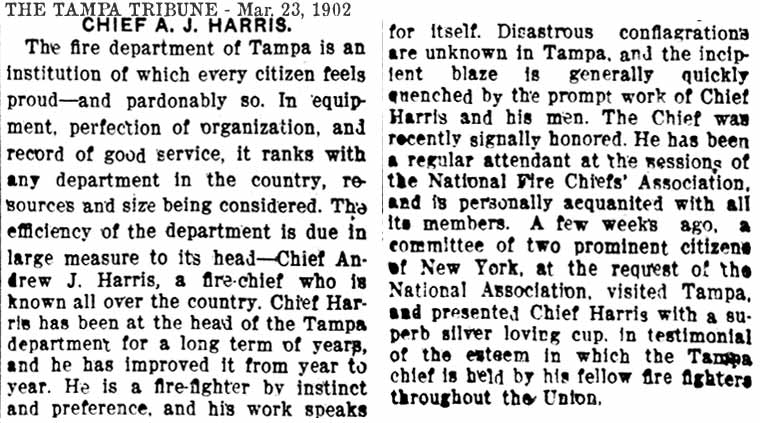 ORDINANCE 307 REORGANIZES THE FIRE DEPT AND SETS HIRING AND CONDUCT RULES
In late Feb. 1903, the City passed ordinance No. 307 to reorganize the fire dept. and place the employment of its personnel on a basis of merit, and to regulate conduct and governing of the dept. Sec. 1 begins with regulations on the appointment of a chief under the rules of the city charter and hiring of personnel to be based on fitness and merit which was to be determined by competitive examination.
See all 20 sections of Ordinance 307
SURPRISE BIRTHDAY PARTY FOR CHIEF HARRIS
Chief Harris was given a surprise birthday party on the evening of Aug. 28, 1903. Arranged with musical entertainment, the party was given by Mrs. Harris, daughter Marguerite, and A.J.'s half brother (and his wife) George M. Morris. The house was brilliantly lit by electric lights and hundreds of Japanese lanterns swinging from the fence posts, orange trees and yard plants.
A.J. is twice described as "silver-locked" (his hair color.) Also as "supple-limbed and young-hearted" chief.."who is 62 years old, 39 years a fireman, and 29 years a benedict (a newly married man, especially one who has long been a bachelor.) The Harrises indeed had been married for 29 years, marrying in Savanna, Ga. in 1874 when A.J. was 36 years old. A fireman of 39 years puts the start of his career in 1864, a time when he was in Savannah. But the big surprise is that Harris was actually 65, not 62. He was born in 1838.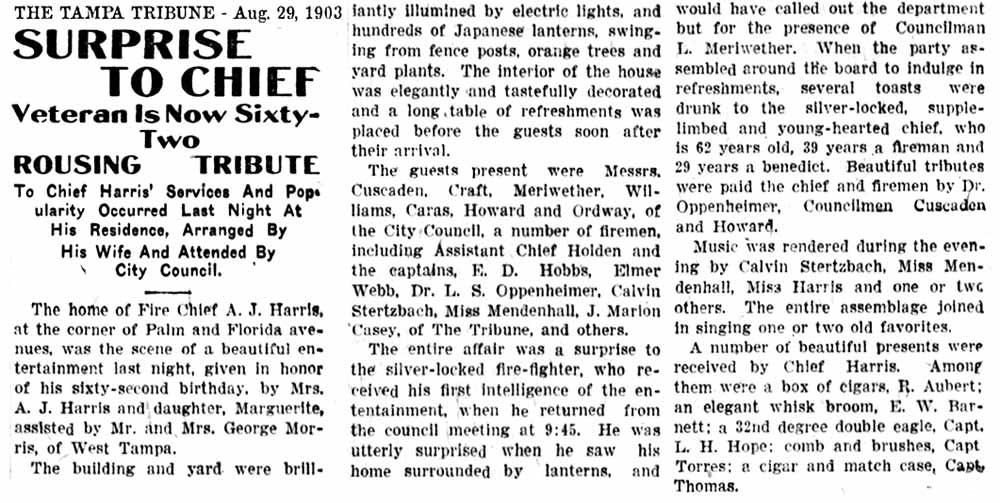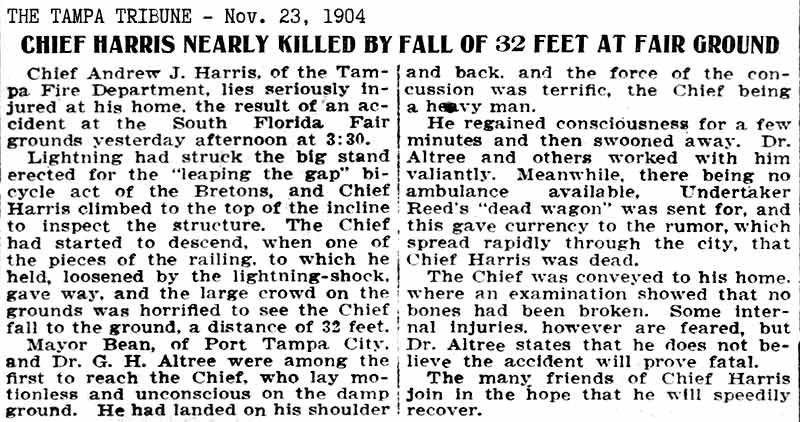 HARRIS SUFFERS A SERIOUS FALL
Harris fell 32 feet to the ground from a daredevil stunt ramp he was inspecting at the South Fla. Fair. The ramp had been previously struck by lightning and after he was done checking it out, a railing he was holding on to on his way down the ramp gave way.
He landed on his shoulder and back and was knocked unconscious for a few minutes, "...and the force of the concussion was terrific, the Chief being a heavy man."
No ambulance was available so he was taken home in Undertaker Reed's "dead wagon" causing a rumor to spread quickly around the city that Chief Harris had died.
It was believed that he had no broken bones but had some internal injuries which were thought to be non-fatal.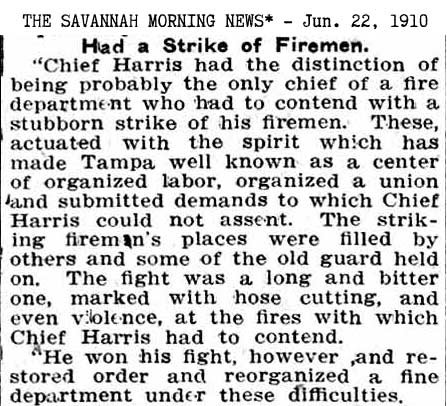 1905, May 23rd - Fire in Tampa destroys one of Robert Mugge's buildings
A fire on May 23rd, 1905 destroyed Mugge's 2-story brick building, 60 ft x 100 ft, on the northwest corner of Franklin and Carew streets. Mugge then brought suit in the Circuit Court of Hillsborough County against Tampa Waterworks for failing to provide adequate fire protection, due to low water pressure, through a system that was supposed to be "First Class...with a reservoir capable of holding 100,000 gallons of water, sufficient to give a pressure on the mains from a hydrant located at the intersection of Washington and Franklin streets, and through 100 feet of fire hose and a 1-inch nozzle, to throw a stream of water vertically to a height or distance of 50 feet, giving a first-class fire protection..."
The Circuit court dismissed the suit, in favor of the Tampa Waterworks. But Mugge took the case all the way to the Supreme Court of Florida, where the judgment was reversed, "Error to Circuit Court, Hillsborough County, Joseph B. Wall, Judge. Read about the details of the case, Mugge vs. Tampa Waterworks Co..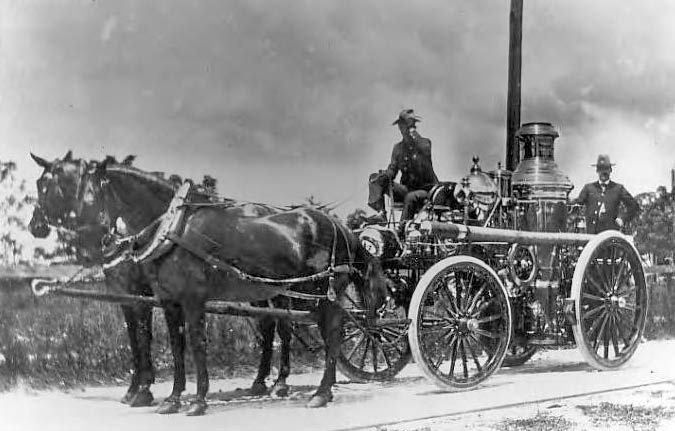 La France horse drawn steam piston pumper, named Elmer Webb, assigned to Station 4 of the Tampa Fire Department. Burgert Brothers photo from the Hillsborough County Public Library Cooperative Digital collection.
MAYOR

FRECKER REMOVES FIRE CHIEF A. J. HARRIS

On June 26, 1906 Tampa City Council approved newly-elected Mayor Fecker's appointments to Chief of Fire Dept, Chief of Sanitary Dept. and Asst., Plumbing Inspector, Electrician, and Veterinary Surgeon. Frecker's decision to remove Andrew J. Harris as Fire Chief wasn't too popular with many Tampans, as Harris had proven himself for "nineteen years." (Harris was with the department for almost 19 years, since 1888, but he was not the elected Chief for all those years. He was elected Chief for 13 years when the first paid, professional dept. was organized in 1893.)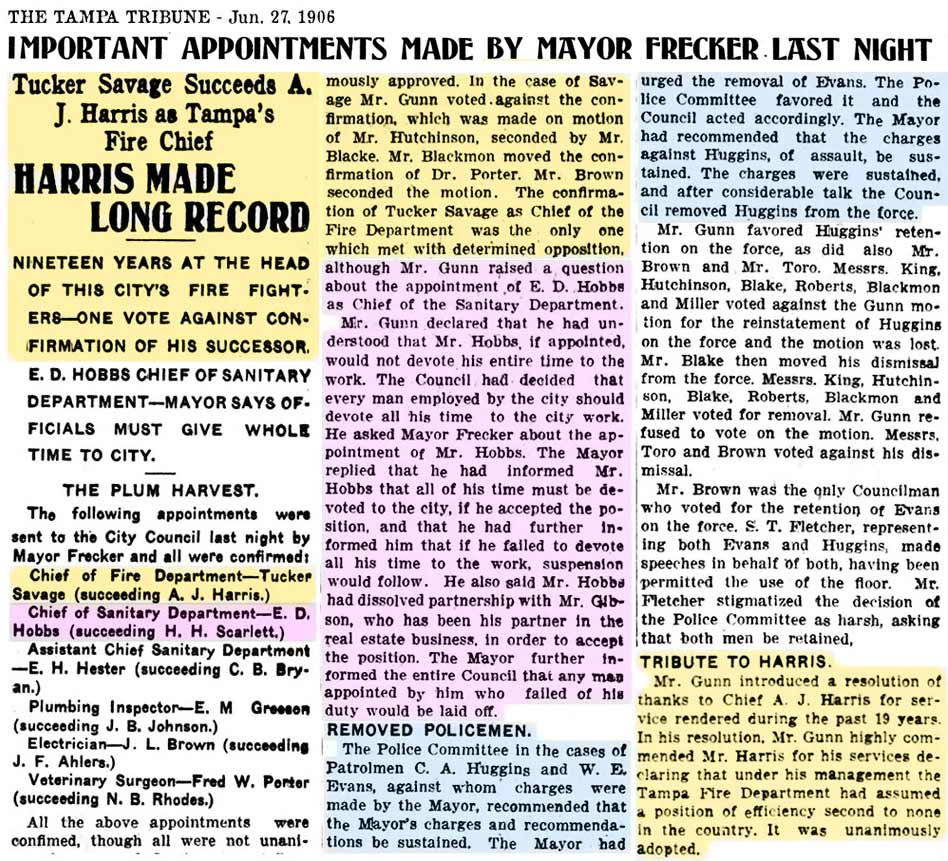 *Harris was not Fire Chief for nineteen years. Nineteen years earlier, in 1887, Tampa had a volunteer dept. and the Chief was Augustus Wuerpel.
When Frank Wing was elected mayor in 1908, he removed Savage and reinstated A. J. Harris as Fire Chief.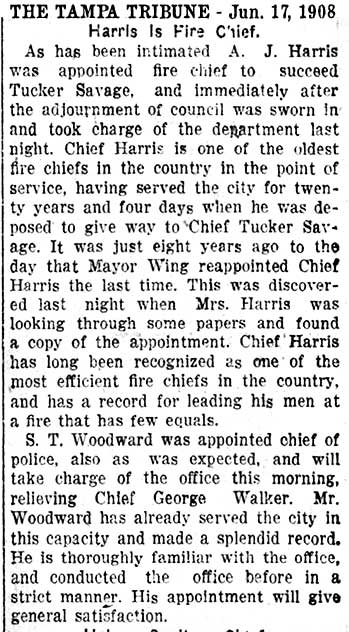 1910 Census, Tampa - 314 Florida Avenue between Lafayette & Jackson St.



The Harrises were living in the old Stringer house next to City Hall.
A. J.'s age was a bit underreported, he was 70 years old at this time. M1 means it was the first marriage for both AJ and Mary, but they indicate they had been married for 27 years, only one year longer than reported on their 1900 census. Maggie Harris was a secretary for the fire dept., Andrew M. was an advertising agent for the theatre. This was his professional name for what he did, he was a street barker/town crier.
A. J. Harris died on June 20, 1910 at age 70, two months after his 1910 census was taken. (He would have been 71 in late August.)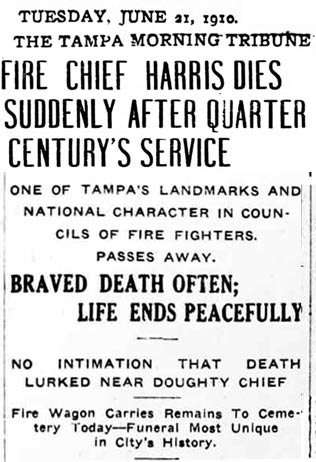 For the past quarter of a century actively identified with the Tampa Fire Department, its father, founder and chief, Andrew J. Harris died suddenly at 1:50 p.m. yesterday at his office. The cause of death is given out as acute indigestions. This covers a ramification of ailments including angina pectoris, apoplexy and internal hernia. It is believed that his death was caused from either apoplexy or heart disease, he having in past years suffered at periods with his heart.
This city was shocked at the news. Many people heard it and were incredulous. That the fire chief should die from natural causes came as a surprise to all since he has escaped from so many narrow calls of tragic death in the past, the his most intimate friends could not believe that he would meet his end in equally tragic manner.
He was born in Gibraltar, England, but came to the United States while in his teens. He accompanied his step father to America. He fought in the Confederate army during the War Between the States and while a young man, with the late Geo. T. Chamberlain of Tampa, served as volunteer in the Philadelphia fire department.
Other sources say he was born in Liverpool, Eng. Which one is correct is not known; it may be that he was born in Gibraltar and living in Liverpool, which was a popular port of emigration to the U.S.
This is a very long and interesting article about the life, character and dedication of A. J. Harris published the day after his death. It contains many accounts of his "close calls" and heroic efforts.
The article states: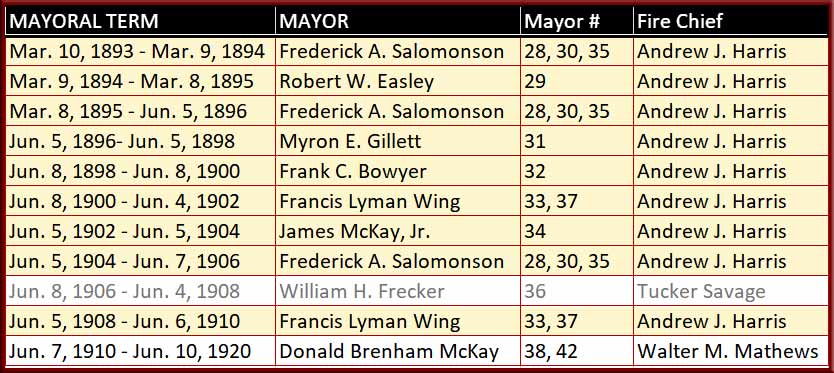 "He was born in Gibraltar, England, but came to the United States while in his teens." Harris' son's death certificate says A. J. was born in Liverpool. The information was given by A.J.'s daughter, Marguerite Leslie Harris.
"He fought in the Confederate Army while a young man, and with the late Geo. T. Chamberlain served as volunteer in the Philadelphia fire dept. Then he removed to Savannah.." These statements are not in chronological order. Harris was first in Philadelphia, then came to Savannah and enlisted in the Confederate Army.
"With Mrs. Harris, he came to Tampa in the fall of 1885..." Harris was still living in Savannah in the summer of 1886, as the article about the police street altercation wrote, Harris was walking home with his wife. If they came in the fall, it was the fall of 1886.
"Tampa had no fire dept...He suggested one." Tampa had a volunteer dept. with A. C. Wuerpel as the chief.
"In 1890, Mayor Easeley placed him in charge of the Tampa department..." Robert W. Easeley was mayor of Tampa from March 9, 1894 to March 8, 1895. Harris was ELECTED to the position of Fire Chief in May 1893, taking his position in early June, during the administration of Fred Salomonson's second (nonconsecutive) term as mayor.
"During a state fair some years ago, while inspecting an inclined plane...the fire chief fell from its highest point, something like sixty feet." The Nov. 23, 1904 article published the day after the accident says the fall was 32 feet.
The article below published in the Tampa Tribune claims that some details are "slightly off." However, it is the opinion here that the details of Harris's life in Savannah are more accurate than those depicted in the Tribune's eulogy.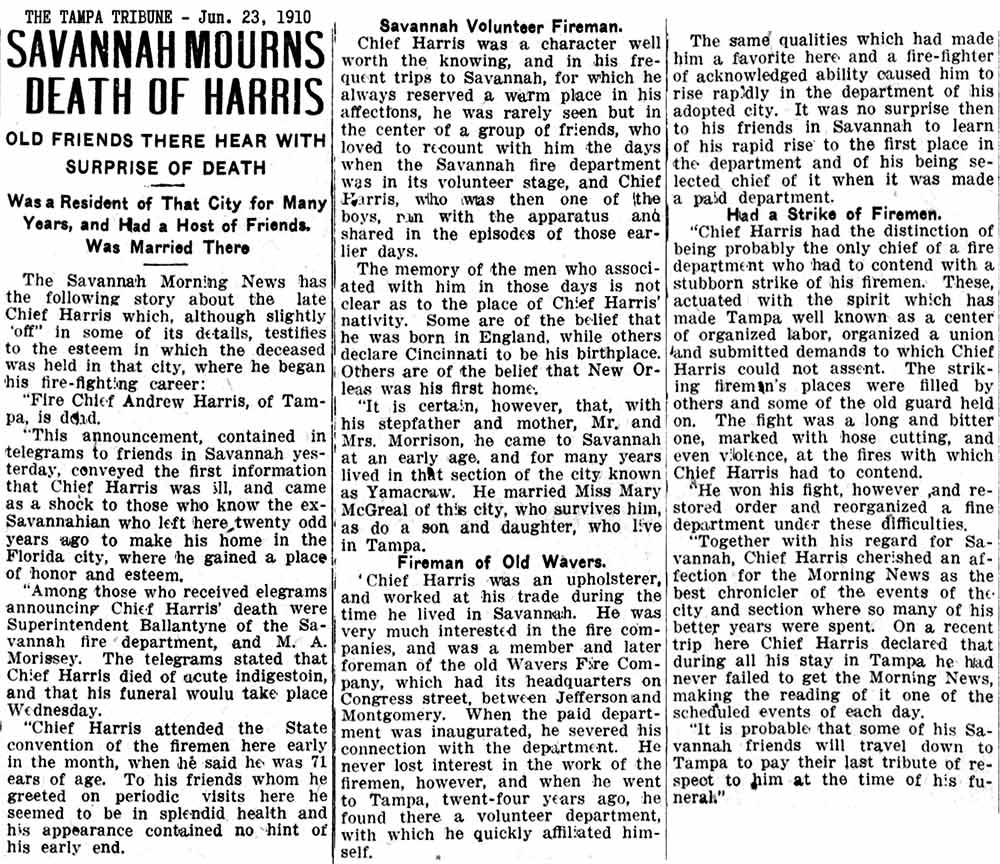 MARGUERITE HARRIS, DAUGHTER OF A. J. & MARY HARRIS

Maggie Harris was quite the socialite, appearing in newspaper articles for various reasons such as readings, musical talent, party hostess, and civic events.
Announcement is made on Dec. 14, 1900 that Miss Harris was to recite "How He Saved St. Michael's" at an entertainment on Dec. 18th. St. Michael's is the historic old church in Charleston built in 1761. The belfry in the spire was used for many years as a fire lookout.
A "steepleman" was posted in the open arcaded area, and if he saw evidence of a fire, would go down the narrow stairs to the "ringing room" and pull eight strokes on a rope attached to the largest bell above. This 1900-pound bell could be heard throughout the old city, and firemen on the old "engine companies" were trained to listen for the signal. From almost any vantage point, they could have seen St. Michael's steeple, and the steepleman's next job was to climb back up to the arcade, light a lantern, and hang it on a pole pointing in the direction of the fire. This method was used until the city put up separate fire bell towers in the 1880's as part of Charleston's first municipal fire department. S. Michael's steeple was also used during wars as a military look-out, manned by local soldiers during the Revolution and War Between the States to observe besieging forces around Charleston. By 1863, Union troops on Morris Island were bombarding the city regularly with rifled cannons that could easily hit the glaring target that St. Michael;s made, so the city painted church and steeple a slate gray so that it would blend in with the horizon from a distance. (From Charleston Footprints - St. Michael's Steeple.)
Maggie had previously delivered her recitation at the Charleston convention of fire engineers and was an "instantaneous hit."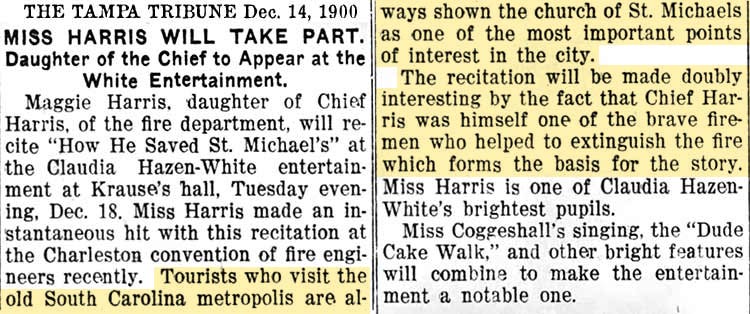 The great Charleston fire of December 1861 destroyed a third of the city, and apparently spared St. Michael's church. By Jan. 1, 1862, Harris was already stationed at Camp Iverson in Savannah, Georgia.
From the Charleston Mercury, Dec. 12, 1861, courtesy of Post & Courier article.

"This morning dawned drearily upon a night of terror and disaster," The Charleston Mercury reported. "About nine o'clock last evening the alarm rang out, calling the citizens to quell the beginnings of a fire which, in the subsequent extent and rapidity of its ruinous sweep, will compare with the most terrible conflagrations which have ever visited the American continent. The wild work of the flames, and the immense destruction of property which has thus far taken place, is chiefly attributable to the sudden and unfortunate change in the weather, which occurred almost simultaneously with the breaking out of the fire. The mild and spring-like calmness of the atmosphere during the last fortnight was broken by heavy gusts of wind, which swept the dust and smoke and sparks hither and thither in blinding clouds. Great flaming bits of wood were borne in dense showers for a distance of nearly a mile in a southwest direction, and the whole city was brightly lit up by the dreadful and widening glare.

"Toward midnight the fire had assumed proportions of appalling magnitude. ...From the precincts of Market, East Bay and State-streets, the conflagration had now reached Meeting and Queen-streets, the terror of the families (in many cases without their usual protectors, owing to the military exigencies of the times) was contagious, and much farther up into the city the work of packing up valuables and getting ready to desert their homesteads became general. ...

"Twelve o'clock — Meeting-street, from Market to Queen, is one mass of flame. The Circular Church and Institute Hall are burning. The Mills House is thought in imminent danger, while the fire seems stretching its red arms around the Charleston Hotel. ...

"Three o'clock – The steeple of the Circular Church has just toppled and fallen with a heavy crash. ...In the lower part of the city the fire has done its work in thorough style. Its path is now burned out, and nothing now remains to mark where it has passed, save smoldering piles of cinders and gaunt and smoking walls and chimneys. The Charleston Hotel is safe, and Hayne-street, too. The wind has swept the danger off, farther to the south. Although the fire rages on three sides of the Mills House, that fine structure has not caught [fire].

"Four o'clock — A change in the wind has bent the course of the fire toward Broad-street. ... The Cathedral seems now in exceeding danger. The buildings on the west side of Friend-street, near the corner of Queen, are burning fiercely. St. Andrew's Hall is on fire, and the noble spire of St. Fingar's glitters with a splendor of portentous import.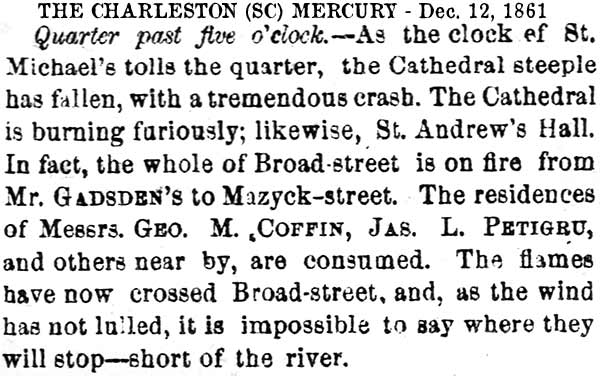 "Quarter-past five o'clock [the newspaper's deadline] — As the clock of St. Michael's tolls the quarter, the Cathedral steeple has fallen, with a tremendous crash. The Cathedral is burning furiously, likewise, St. Andrew's Hall**. ... The flames have now crossed Broad Street, and, as the wind has not lulled, it is impossible to say where they will stop, short of the river. ... "Great indeed, has been the calamity which has fallen upon our noble old city. But let us, with unfailing hope and courage, bestir ourselves at once to amend the losses we have sustained, and to relieve, each one according to his means, the great suffering which the fire must entail upon its poor victims." — The Charleston Mercury, Dec. 12, 1861.
**The "Cathedral steeple mentioned here is that of the Cathedral of St. John the Baptist at Broad St. between King St. and Legare St., two blocks from St. Michael's Church. The reference to St. Michael's is only the fact that its clock was tolling 5:15.

It would take many years, many heartbreaks and much sacrifice to restore the damage done by the Great Fire and the destruction destined to come. Union guns would use St. Michael's steeple as an aiming point during the bombardment that covered the peninsula from just north of Calhoun street to The Battery. From Post & Courier article.
The Charleston Daily Courier also published stories about the fire. Their Dec. 12, 1861 article gives a similar timeline as the Mercury did, but the Courier's coverage ends with the fire's progress as of 2:00. It does, however, mention efforts of firefighters, those excerpts are shown below.
Click the article to see the original in its entirety.

Their Dec. 13 article gives a street by street list of building damage. St. Michael's is not mentioned in the Broad St. assessment, but "the Cathedral" of St. John is mentioned, as well as efforts of firefighters. Below is the beginning of that article and a portion that mentions the Cathedral. No mention anywhere of damage to St. Michael's church. We can only assume that Maggie Harris' story is true and that the flames were somehow kept away from this church. See the whole article.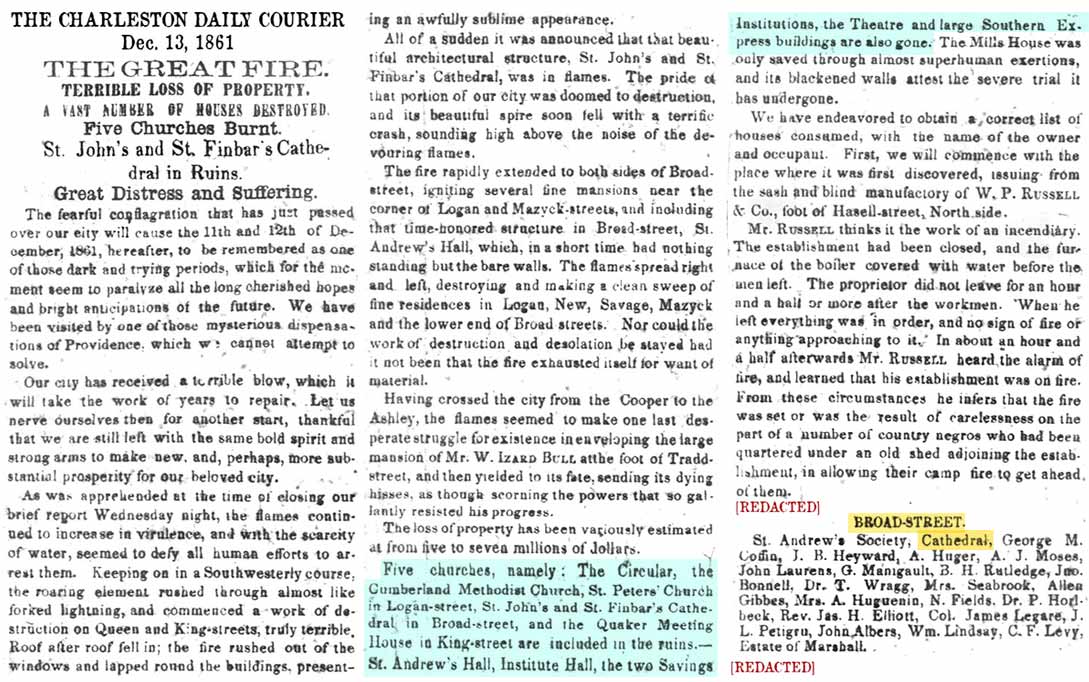 MAGGIE TURNS FOURTEEN
Maggie turned fourteen on Oct. 18, 1901, thereby establishing her birthday on Oct. 18, 1887. Among her guests were friends her age, including Irma and Hortense Oppenheimer, daughters of Dr. Louis Oppenheimer, and Jessie Maas, daughter of Abe Maas of the Maas brothers. Listed second to last was Maggie's brother, Andrew (Martin) Harris.

On May 12, 1902, Maggie hosted a trolley party in honor of the 10th anniversary of the establishment of a paid fire department. The party was three years too early, as it was on March 22, 1895, the city council passed ordinance #128 authorizing Tampa's first professional, paid fire department.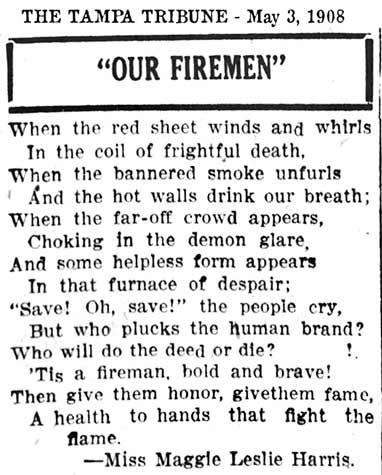 MAGGIE HARRIS ORGANIZES PORT TAMPA FIRE DEPT, MAKES HISTORIC STRIDE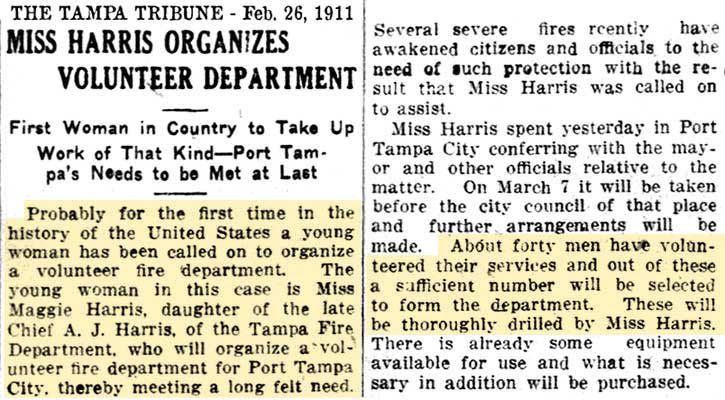 "Probably for the first time in the history of the United States a young woman has been called upon to organize a volunteer fire department."
Maggie Harris was no ordinary young woman, she was the daughter of the legendary A. J. Harris, Tampa's favorite and longest-serving Fire Chief who passed away in 1910.
Several recent fires in Port Tampa (which was a separate municipality from Tampa) prompted the citizens and officials to call upon Maggie Harris to assist.
Forty men volunteered for service. Those selected would be thoroughly drilled.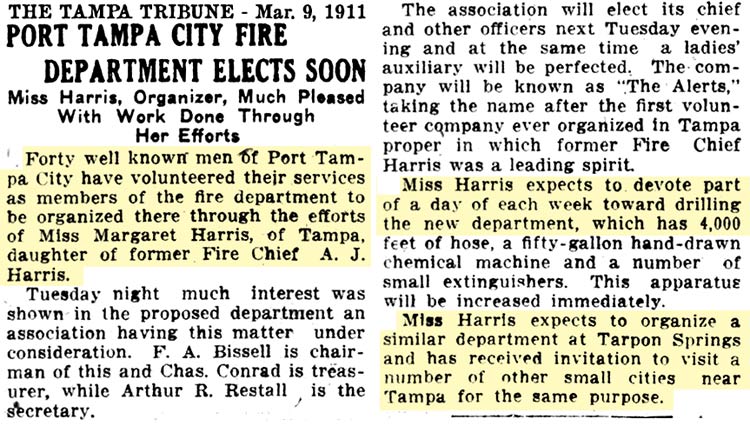 The association formed for the purpose was planning to elect officers the following week. The fire company would be named "The Alerts" taking the name of the first volunteer company ever organized in Tampa of which the former chief, A. J. Harris, was a "leading spirit."
Miss Harris was expecting to organize a similar department in Tarpon Springs and had received invitations to visit other small cities in the area to do the same.
| | |
| --- | --- |
| The Tribune made it known that a Philadelphia newspaper printed an erroneous story concerning Miss Harris, stating that the article claimed it was the City of Tampa's PAID fire dept that she was training. The paper also went on to trivialize and mischaracterize her position as being for the purpose to induce men to serve by choosing a "sweetsome young lady" to be the chief. | Margaret Harris continued her work with the City and on May 1, 1912, the Tribune announced that she and two other ladies had been sworn in as Deputy Clerks of the Circuit Court. |
| | |
Maggie Harris made national news in 1911 when Popular Mechanics magazine published a short article about her organizing and training the Port Tampa volunteer fire department. Several newspapers across the country picked it up and published it as well.
Popular Mechanics magazine images courtesy of Google Books.
Mouse over the third page to see the article larger.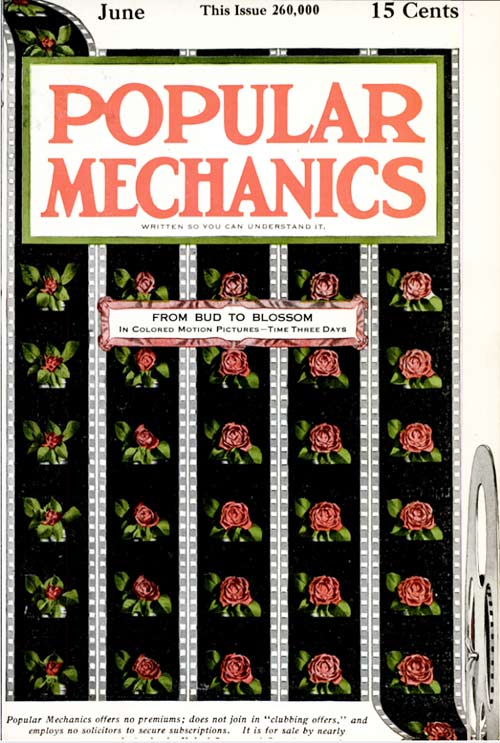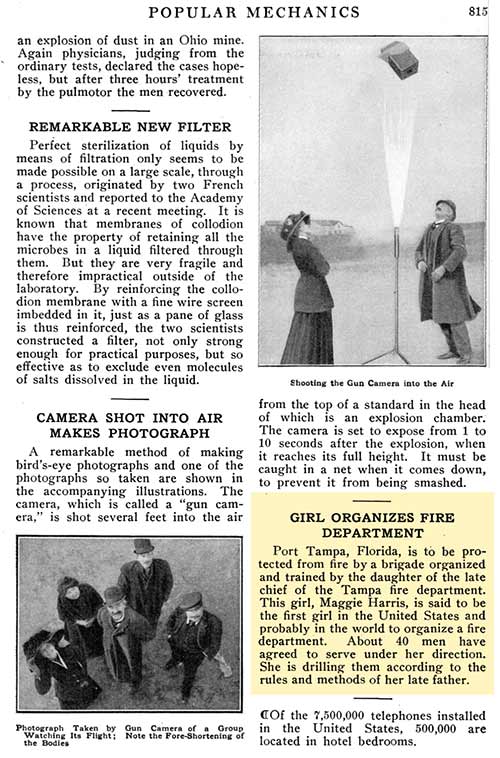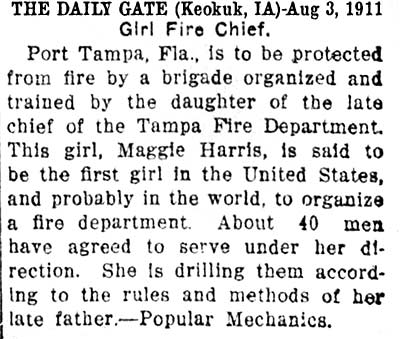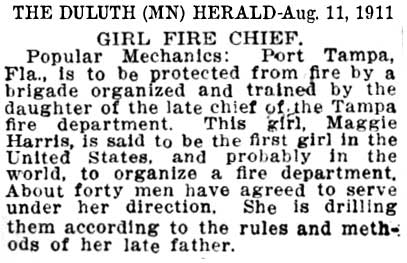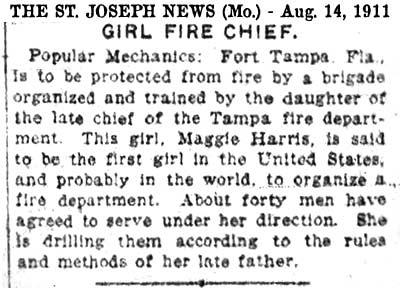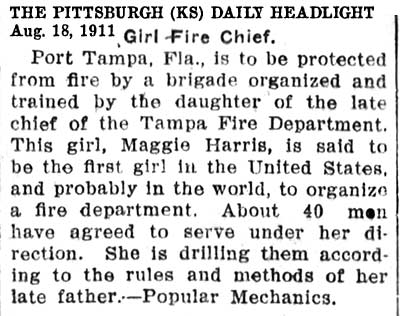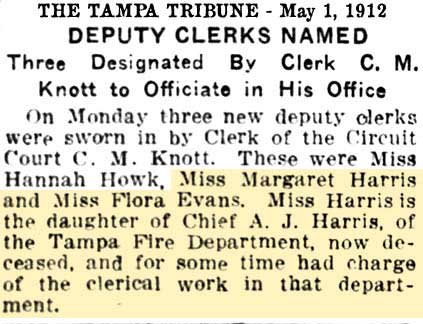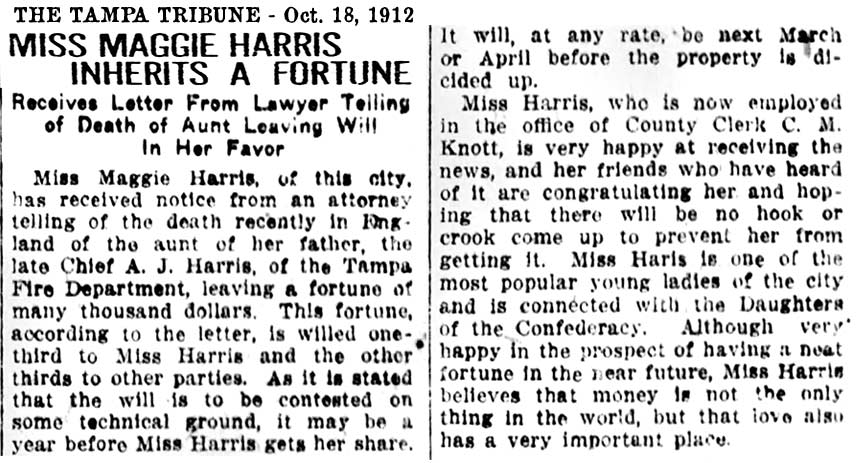 Nothing more is ever published about this.
THE HEROICS OF CHIEF HARRIS REMEMBERED BY AN ANONYMOUS FRIEND
Below: On the 1-year anniversary of his passing, the Tribune paid this tribute to him from a letter received by his widow from a friend (The letter incorrectly states his middle name was James, and says he was born in 1839, arriving in Philadelphia when he was sixteen years old. This would put his arrival at 1855 instead of 1850.)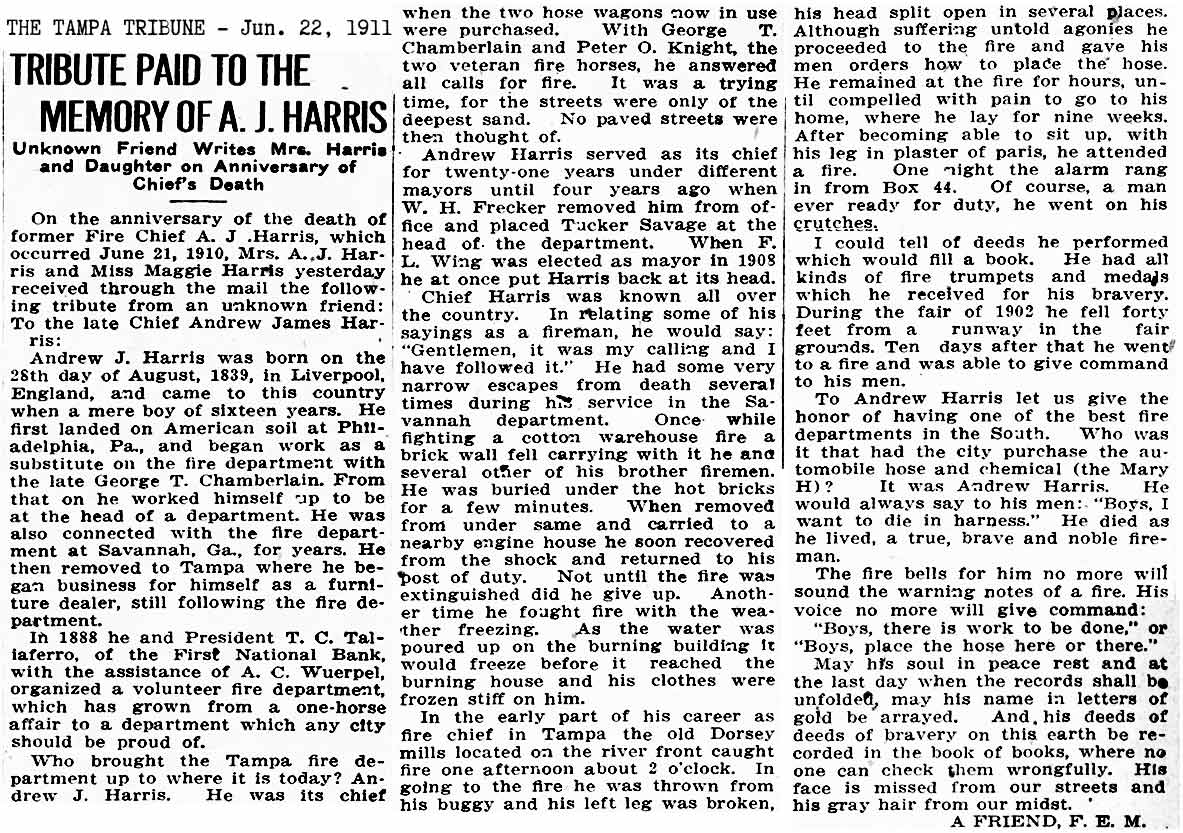 ---
DEATH OF MARY ELIZABETH MCGREAL HARRIS

According to her 1870 Census, she was 14 so she was born around 1855-56. Mrs. Harris was 73, not 63.

If she was in Tampa for 44 years, the Harrises came in 1885. But they were still living in Savannah in Jun. 1886 according to the police/street mob incident article in the Savannah Morning News.

George M. Morris was A.J.'s half-brother.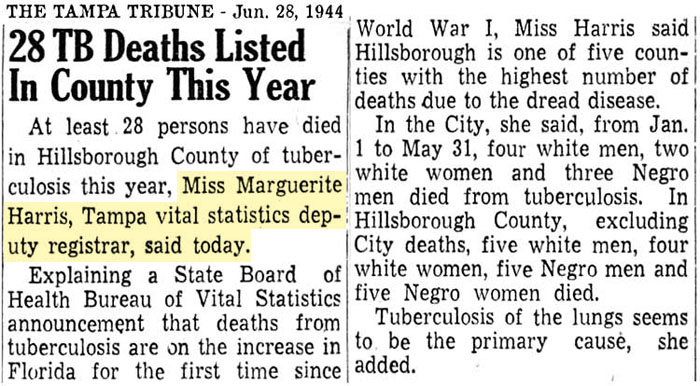 In the 1940s, Maggie Harris was deputy registrar of the Hillsborough County Vital Statistics bureau.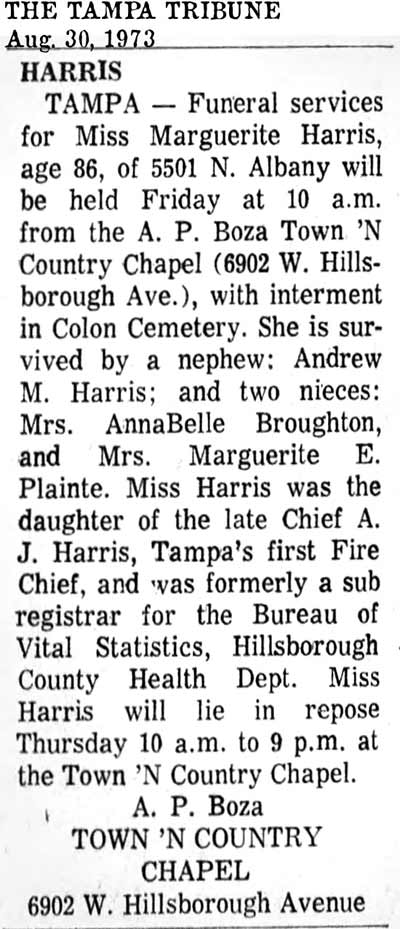 GEORGE MORRIS, HALF-BROTHER OF A. J. HARRIS

George Marshall Morris was a fireman with the Tampa Fire Dept. during the years Harris was fire chief. He was 30 years younger than Harris and was born in Savannah, Ga. on Nov. 1, 1869. He first comes up in Tampa newspapers on Oct.. 9, 1895 when at the scene of a fire at the City Hotel, he handed his gold pocket watch to fellow fireman Parrish for safekeeping, who put it in his pocket. But the gold chain was hanging out, and boy who saw this snatched it and ran. He was eventually caught and the watch recovered, but damaged.

On the 1900 Census in Tampa, George is single, age 30, and living in a boarding house. His birthday is Nov. 1869, b. Georgia. He indicates his father was born in Spain, and his mother was born in Ireland. She would have been A.J. Harris' mother as well. George was working as a switchman for the railroad.

Articles from 1901 for several years mention a George Morris with a "sweet singing voice," appearing often in local performances with others in Tampa. This can be assumed to be A. J. Harris' half-brother; evidence appears in a Tribune article of Jun 8, 1934 when George B. Morris, son of George M. Morris, marries Aida Sierra in Tampa at Sacred Heart Church, the bridegroom's father was to sing Millard's "Ave Maria."

On Aug. 11, 1902, George Morris married Miss Annie Lula Knight in Tampa, daughter of Dr. James A. Knight of Eatonton, Ga. The Tribune article names him as "George Michael Morris, Jr....one of the most popular young men in the city. He was for a long time in the employ of the Seaboard Air Line railroad, but later with the Tampa Fire Department and the Tampa Electric Co. He has friends by the score, who will wish him the best of good fortune." They were to live with Mr. and Mrs. Lopez on Fla. Ave., Mrs. Lopez was a sister of the bride. They received many gifts, among them was a "handsome silver set and suite of furniture from the Tampa Fire Dept., of which Mr. Morris was for a long time a valued member.

Apparently, Morris' fire fighting days were not over. A March 8, 1903 Tribune article covers an explosion and subsequent fire on the roof of the Citizens Bank bldg on the northeast corner of Franklin and Zack. The explosion took place in the Southern Bell Telephone Co. on the top floor, and though the fire was put out with extinguishers by the employees, the melting insulation of the hot wires leading to the roof started a fire in the attic which spread to the roof in sheets of flames. The article says, "there was difficulty reaching the roof...George Morris, who, although not a member of the department, always does good work when needed, climbed to the roof with the agility of a squirrel, carrying a line of hose. Among the hundreds of wires and on the slippery slate roof, it was a most dangerous hazard that Morris took, but he did not hesitate, and soon, followed by others, turned the water into the roaring blaze that was eating its way through the timbers at the top of the building...It was only a few minutes before the flames were under control that Morris, still carrying his hose, made a hazardous trip around the slipper edges of the roof, and drowned out the last remaining tongue of fire bursting through a skylight on the south side.

An article the next day describes the damage, phone service being restored, and George Morris being rewarded by Pres. John Trice of the Citizens Bank, owners of the building. Morris was given a $10 check in appreciation for his heroic services.

On Aug. 23, 1903, the Tribune published that George Morris Jr. has located to 132 Laurel St. in West Tampa. "He says West Tampa is a coming place."

By 1904 Morris was made the West Tampa Fire Dept. Chief. The Sept. 29, 1904 Tribune published that "The Little Chief", daughter of Mr. & Mrs. George Morris of West Tampa, was born yesterday, and the George is still able to attend to his duties as Fire Chief. (This is his only daughter, Marie.)

A Sept. 7, 1906 Tribune article announces George M. Morris, Jr, former Chief of the West Tampa Fire Dept, is the proud father of a 7 1/2 lb. boy, Leon Meriwether Morris, named in honor of his old friend, Leon Meriwether, the furniture man.

An article in the Dec. 20, 1908 Tampa Tribune announced the birth of Mr. & Mrs. George M. Morris Jr's ten-pound baby boy in West Hyde Park. This was George B. Morris. "This makes two boys and one girl at the home of Mr. & Mrs. Morris now."

The 1910 Census of Tampa lists George M. Morris and wife Lulu living at 1816 Fig St. Their daughter Marie is 5 and son Leon is 3. It's not known why their infant son George B. Morris isn't listed. The family was enumerated at the bottom of the page ending with Leon Morris. It could be he forgot to list George B. at the top of the next page. (George Bernard Morris later goes on to college in 1927 at Spring Hill College in Mobile, Ala. to study mechanical engineering and in Sept. 1928 leaves for University of Michigan to obtain his 3-yr degree in Architecture. Sept. 28, 1928 Tampa Times, the source of his middle name. He returns and marries Aida Sierra, daughter of Mr. & Mrs. Antonio Sierra in Tampa on Jun 8, 1934. )

Annie Lulu (Knight) Morris died on May 5, 1911 in Tampa. The only article in the newspaper about her death was titled "TRIBUTE OF LOVE" and was written by her aunt. "Mrs. George Morris was the third daughter of the late Dr. Jas. A. Knight, and is survived by four brothers and five sisters. She was well known in Putnam County, having lived here until she married Mr. Geo. Morris of Tampa eight years ago. Three children came to bless this happy union, Marie (6), and so like her gentle mother, Leon (4) and George (2)....Her life, like the Master's, was not long as we count years--only thirty-two on the 15th of Sept. 1910. ("By her loving aunt, Mrs. Johnson King.) Under the article is a "Card of Thanks" from George Morris to the kind people of Eatonton and Putnam County, Ga.

On the 1920 Census of Tampa, George Morris is 50, living on Chapin St. in Palmetto, (the area opposite the Ybor Channel from downtown), his wife is Armenia (45), born in New Jersey. George shows he was born in Ga., father born in Spain, mother born in IRELAND. George's children would be 15, 13, and 11, but aren't listed in their home. Maybe they were living in Georgia with their mother's family. (The 1920 Census of Harrison, Putnam Co, Ga. shows a 15 year old Marie Morris, born in Florida, related as a niece to the the head of house, A. L. Clements (53) wife May (43) and son Luther (23). Marie Morris says both her parents were born in Georgia, but that her father was "Spanish." No doubt this is George and Annie Morris' daughter.)

George was working as a switchman for the railroad. An article in the Oct. 20, 1924 Tribune titled "Doctors give up hope for Mrs. George Morris" states that a letter the Tampa Times received reads "George Morris, who was recently called to Jersey City on account of the serious illness of his wife, writes that the physicians who are attending her have given up all hope of her recovery. She was first taken to a specialist in NY for treatment for cancer and later to a hospital in Jersey City."

Unable to locate George M. Morris on the 1930 Census.

On the 1935 Census George Morris is found at the same place as in 1920, at 2017 Chapin St. in Palmetto. he is 66 and a disabled "team man." His wife is Mary, 45, born in Austria. They have a son Michael Morris who is 5 years old. It's not known if he was a son of George's previous wife, Armenia, or his present wife, Mary. According to his age, he would have been born a year after doctors had given up hope on Armenia Morris surviving cancer. If he is a son of George's current wife, and her age is correct, Mary was 40 when Michael was born.

Also on this same 1935 Census, George B. Morris and his wife Ida (Sierra), are listed on the next census page at 2013 Chapin St.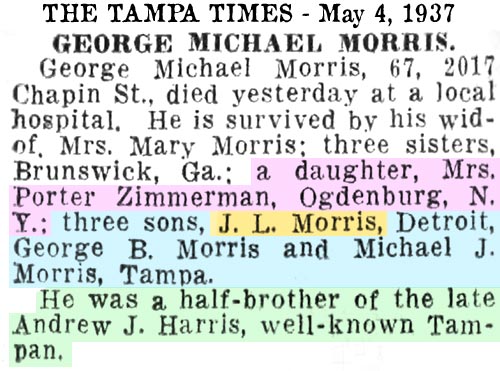 George M. Morris died May 3, 1937 at St. Joseph's hospital in Tampa. According to his death certificate, info for which was given by his son, George B. Morris of 2013 Chapin St, George's name was GEORGE MARSHALL MORRIS. His name in the newspapers varied as George Michael Morris and George Mitchell Morris, or George M. Morris Jr. He was none of those.
As can be expected, his obituary contains numerous errors. Information may have been obtained from his current (3RD) wife who probably didn't know much about his past or his family.
J. L. Morris was actually his first son, Leon Meriwether Morris. Michael J. Morris would have been his son from his 2nd or 3rd wife.
BUREAU OF VITAL STATISTICS
STATE FILE NO. 8988, Registered No. 446
GEORGE MARSHALL MORRIS
Length of time in Tampa: 43 yrs.
Residence: 2017 Chapin St., Palmetto Beach.
Occupation: Switchman, SAL Railroad
Husband of: Mary Hricinda*
Last worked at this occupation: July 11, 1936, worked 18 years.
DOB: Nov. 1, 1869, Savannah, Ga.
DOD: May 3, 1937
AGE: 67 yrs, 6 mos, 2 days.
Cause: Septicemia
FATHER: GEORGE MORRIS, b. Barcelona, Spain
Buried: Myrtle Hill Cem, May 5, 1937.
MOTHER: MARY JANE GILLIAN, b. Ireland
Informant: George B. Morris, 2013 Chapin St, Tampa

*Only 3 instances of the surname "Hricinda" occur in all millions of pages at newspapers.com, for all time. Two occur in the obituary of Paul Burcin, a coal miner who died in Hazelton, Pa. in 1985. Hricinda was his mother's maiden name. The other use is in Tampa, on a marriage license published in the Tampa Times in 1919, the license of Evaristo Lorences and Ena Hricinda.


Assuming the above is correct, George M. Morris and Andrew J. Harris' mother was Mary Jane Gillian, born in Ireland.


FATHER OF GEORGE MARSHALL MORRIS

1920 Census, Glynn, Brunswick, Ga.
George M. Morris, age 99, immigrated 1832, Naturalized 1840, born Barcelona, Spain, parents born Spain.

This would be A. J. Harris' stepfather, with whom he was supposedly immigrated to the U.S. with in 1850 to 1855. But it's not known if they immigrated along with A.J.'s mother, or if she died before they left England, and George M. Morris remarried in the U.S. before coming to Savannah.

The Savannah newspaper said that A. J. Harris came to Savannah at an early age, with his step-father and mother, but they may not have known if she wasn't his mother, but a step-mother--someone whom his father may have married in the U.S. after arriving.

DEATH OF GEORGE MARSHALL MORRIS' FATHER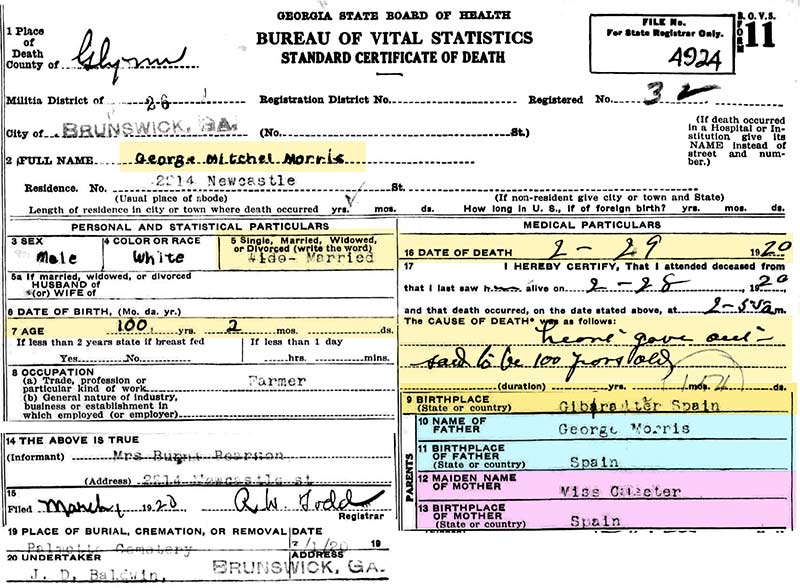 GEORGE MITCHEL MORRIS
George Mitchel Morris died Feb. 29, 1920 in Brunswick, Ga.
His cause of death shows "heart gave out, said to be 100 years old."
Here is the Gibraltar connection: He was born in Gibraltar, Spain. While geographically, Gibraltar is located at the southern tip of Spain, it was a British Colony since the early 1700s and primarily a military base.
Somehow, sometime, somewhere, George Mitchel Morris of Gibraltar met Mary Jane (Gillian) Harris of Ireland and they married some time after her son Andrew J. Harris was born (Aug 1838). Possibly in Gibraltar.
Did they all leave England from Liverpool in the 1850s and arrive in Philadelphia, eventually making their way to Savannah by 1860? Or did Mary Jane die before her son and George Mitchel Morris came to America, resulting in only Andrew and his step-father emigrating?
Following the Great Siege, the civilian population of Gibraltar – which had fallen to under a thousand – expanded rapidly as the territory became both a place of economic opportunity and a refuge from the Napoleonic Wars. Britain's loss of North American colonies in 1776 led to much of her trade being redirected to new markets in India and the East Indies. The favored route to the east was via Egypt, even before the Suez Canal had been built, and Gibraltar was the first British port reached by ships heading there. The new maritime traffic gave Gibraltar a greatly increased role as a trading port. At the same time, it was a haven in the western Mediterranean from the disruption of the Napoleonic Wars. Many of the new immigrants were Genoese people who had fled Napoleon's annexation of the old Republic of Genoa. By 1813 nearly a third of the population consisted of Genoese and Italians. Portuguese made up another 20 per cent, Spaniards 16.5 per cent, Jews 15.5 per cent, British 13 per cent and Menorcans 4 per cent. The young Benjamin Disraeli described the inhabitants of Gibraltar as a mixture of "Moors with costumes as radiant as a rainbow or Eastern melodrama, Jews with gaberdines and skull-caps, Genoese, Highlanders and Spanish." The inhabitants had a clear pecking order, with British officers at the top and Jews at the bottom. The American naval officer Alexander Slidell Mackenzie, writing in 1829, described the market traders and shoppers in what is now John Mackintosh Square:
The high handed hauteur of his majesty's officer, as he lounges at a corner in utter scorn of the busy crew of bargainers; the supple citizen who bows breast low to him in hope of a nod of condescension ... ; a rough skipper, accustomed to bang and bully and be a little king upon his own quarter-deck; the sullen demeanour of the turbaned Moor, who sits crosslegged at a shady corner ... the filthy, slipshod, abject Jew, who sells slippers or oranges, or serves officers, merchants, sailors, or Moors, as a beast of burden ...
(Above from Wikipedia, "Gibraltar as a Colony.")
THE BEGINNINGS OF TAMPA'S FIRST VOLUNTEER FIRE DEPT & CHIEF A. C. WUERPEL