THE RALPH STEPHENS STORY and THE FIRST GOODY GOODY
Ralph Stephens in Oklahoma City
It was in the early 1920s that Ralph Stephens had his first attempt at the restaurant business. In 1921, he opened "The Car Barn Cafe" at 416 N. Olie Avenue in Oklahoma City. Unsuccessful in this endeavor, he then opened the Puritan Cafe in 1923 with partner E. V. Bodkin at 102b N. Broadway in Oklahoma City. Competition and a lot of debt led 30-year-old Ralph Stephens to leave Oklahoma City in 1923 with his wife, Amanda, sons Vince and Bob, and daughter Dolores.
Ralph Stephens in Dallas
The family moved to Dallas where Stephens later said he saw "a pig stand with what looked like a thousand cars around it." Indeed, Dallas was where the very first pig stand (forerunners to drive-through restaurants), Kirby's, had opened in 1921.
Ralph Stephens in Hannibal, MO
Stephens was hired by one of the Dallas pig stand chains and learned the operation in Dallas before setting out to open a stand in Little Rock. But before doing this, Stephens took his family to his wife's family house in Hannibal, Missouri, and while visiting with his father-in-law, he decided it made more sense to open their own business rather than work for someone else.
Construction started on the new Stephens family business and the family slept in the stand while it was being built. In June of 1925, Goody-Goody Barbecue opened for business in Hannibal, Missouri. Business initially boomed, but the crowds disappeared once cold weather settled in. Once again, Stephens was a failed restaurateur.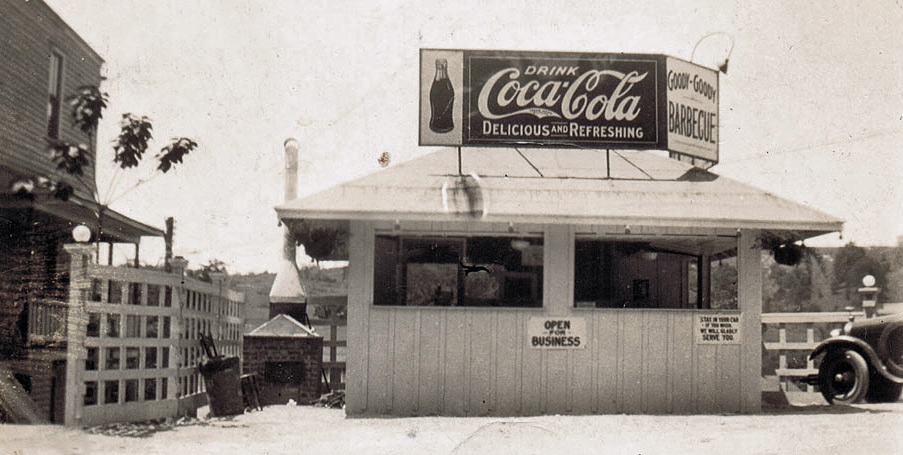 Goody Goody No. 1, Hannibal, Missouri
Photo from RetroMetro Oklahoma City
Stephens moves to Florida
"We closed, and being sort of soldiers in fortune, we took off for Florida," Stephens explained in a 1968 interview. "The land boom was on then and we went to Tampa and opened one restaurant, then another. They had told us there were no rooms in Tampa so we bought a tent and slept under that until we almost flooded out."