The history of Tampa's Goody Goody drive-in restaurant starts nearly a decade before Ralph Stephens established the first one in Tampa in 1925.
Little did Ralph and Amanda Stephens know that when they opened the first Goody Goody sandwich shop in Tampa in 1925, they were establishing an iconic Tampa restaurant that would last 80 years, hibernate for 11 years yet remain in the hearts and memories of Tampans near and far, then reawaken in Tampa's Hyde Park Village in grand style in 2016, thanks to Richard Gonzmart and the Columbia Restaurant Group!
THE RALPH STEPHENS STORY

Ralph Augustus Stephens was born on Oct. 17, 1892 in Eaton, Ohio, the youngest of three children born to Eaton grocer Henry King Stephens and Sarah J. Fraley.

Marriage of Ralph's parents, Henry and Sarah, married in May Township, Taylorville, Christian Co, IL on Dec. 10, 1884.
Henry was 20, Sarah was 18.

Henry was a farmer, living in May township, age 21 on his next birthday, born in Christian Co. His parents were Nicolas Stephens and Sarah Coulters.
Sarah J. Fraley age 19 at her next birthday, born in Christian Co, her parents were John S Fraley & Sarah J. Wiley.

1900 U.S. Census of Ohio, Preble County, Eaton town
Ralph Stephens at age seven


Henry & Sarah's children were Grover H., Nelle, and Ralph. In 1943 Henry provided certification of info for a replacement or delayed birth certificate for his daughter Nelle. This is the source for Henry's middle name--KING.

Nelle married William D. Muir on Jun. 8, 1914 in Chicago.

THE STEPHENSES IN EATON, OHIO, AFTER THE 1900 CENSUS

Henry Stephens took the family camping for a week on Aug. 1, 1903




At right: Henry was co-owner of the well known grocery store on Barron Street, "Blue Front " Grocery. In Jan. 1904, his partner sold his interest to Ed Lincoln, one of Preble County's infirmary directors. Henry remained co-owner.

At left:

In May 1904, Henry was chosen to be a director of a local cemetery, the time having expired for the current one. (Which is somewhat of an ambiguous way to put it.)

HENRY STEPHENS'S MYSTERIOUS DEPARTURE FROM EATON

In the 3rd week of Jan. 1907, Henry Stephens suddenly ran off, without explanation, abandoning his grocery store on N. Barron Street, as well as his home and family. But not before withdrawing all he had in the bank: $480. The Stephenses were a well-known couple in Eaton and had many friends; nobody could imagine why Henry would have done this.

[The cause for Henry's departure will be revealed in the next section when his son Ralph gets a job at the Western Hotel in Oklahoma City.]

Below: Eight months later, Sarah Stephens sold their home in Eaton. By this time she probably knew what happened to Henry. E. D. Lincoln, Henry's recent partner at Blue Front grocery, bought the Stephens house on E. High St. from Mrs. Stephens.

It's not known at this time where Sarah Stephens went. Ralph would have been about 14, his sister Nellie would have been around 16 or 17, and Grover would have been around 20 to 21.

So far, a record of her death has not been located. She may have moved back to her hometown of May in Christian Co., Illinois.

RALPH STEPHENS IN KANSAS CITY, MO.

By the time Ralph Stephens was 18, he had moved out on his own to Kansas City, MO where in 1910 he had a job as a presser in a fabric dye house.

At left: A crop of a circa 1920s Postcard of Troost Ave looking north towards 31st St., contributed by Mrs. Sam (Mildred) Ray to the Missouri Valley Special Collections, Kansas City Public Library, Kansas City, Missouri.

The west side of the street shows the new 6-story Joseph C. Wirthman building housing Wirthman's Drugstore on the corner and the offices of many physicians and dentists; the Isis Theater, (built in 1918); the Isis Cafeteria, in the basement at 3104; Louise W. Winter Millinery Shop; Mary Lane Dry Goods; Humfeld-Orear Floral Company; Dinty Moore's Restaurant; Baldwin Piano Store; and the Monkey Steam Dye Works.

KANSAS CITY (MO) TIMES - Feb. 12, 1909


This is just a small sampling of help wanted ads for pressers in the last half of 1909 in the KANSAS CITY (Mo.) TIMES. Some of them specifically wanted women pressers and "strong women." Ralph could have been working at any of these places, or the one above.


Ralph Stephens on the 1910 Census, Jackson Co., Kansas City, MO.


Ralph rented a room at 1208 Paseo in Kansas City.
This building is still in existence today, and is known as one of the historic "Colonnade" apartment buildings of early 20th Century Kansas City, Mo.
It is on the National Register of Historic Places.


RALPH STEPHENS MARRIES AMANDA OGLE

It was in Kansas City where Ralph met Hannibal, MO native Amanda Ellen Ogle. She was one of six children of Missouri native carpenter Jesse L. Ogle and his wife, Catherine.

Ralph and Amanda married in Kansas city on Oct. 19, 1912.


A short time later, they moved or took a visit to Park Ridge in Cook Co, IL where their first son, Robert Emery Stephens, was born on Dec. 4, 1915. Ralph probably had relatives there; his parents and sister were all born in Illinois. Park Ridge is now a suburb of Chicago.


Amanda and Ralph Stephens
Photo courtesy of RetroMetro Oklahoma City

AMANDA'S FAMILY IN 1910, HANNIBAL, MO.

1910 U.S. Census of Hannibal, MO
The Jesse and Catherine (O'Keefe) Ogle family at 611 N. 8th St.

Jesse was 53 and working as a carpenter at a saw mill. Nineteen year old Amanda Ogle worked as a bookkeeper at a daily newspaper. All members of the Ogle family were born in Missouri. Jesse's parents were from Kentucky, Catherine (O'Keefe) Ogle's parents were German Irish and German English. Jesse and Catherine married on May 27, 1889 in Spalding, Ralls Co. Missouri. In 1910 they had been married 21 years and all six of their children were living in their home.

RALPH STEPHENS IN THE HOTEL BUSINESS AT THE WESTERN HOTEL IN OKLAHOMA CITY

By 1917, Ralph, Amanda, and their baby son Robert moved from Park Ridge, near Chicago, to Oklahoma City where they lived at 1504 W. First street.

Ralph and Amanda's second son, Vincent Ralph Stephens, was born in Oklahoma City on Jan. 24, 1917.

Ralph's WW1 draft registration on June 5, 1917 shows he was in the hotel business at 810 W. Main St. He says he was self-employed and claimed exemption with a wife and children.



Ralph's father, Henry Stephens, moved to Oklahoma in 1907 after his hasty departure from Eaton, OH, remarried in 1908 and opened the Western Hotel in Oklahoma City at 810 Main St. in 1914.

Ralph took a job there by 1917. (This may have been the reason for their move to Ok. City.)





By 1920, Ralph was the Assistant Manager at the Western, and had moved to a new home at 23 W. 10th. Now they even had a phone.

THE STEPHENSES ON THE 1920 CENSUS, OKLAHOMA CITY

The Stephenses were enumerated at 23 W. 10th.--the same address given in their 1920 city directory listing.

Ralph was listed as being a hotel proprietor, which usually means the owner, and it's possible that he was at least part owner. The "R" to the left of Ralph's age means they rented their home. Their sons, Robert and Vincent were 4 and 2 months old, respectively. Everyone in the family was born in different a different state.


1920 U.S. Census, Oklahoma City
Ralph, Amanda, Robert and Vince (Ralph)


LOCATIONS OF RALPH STEPHENS'S HOMES WHILE HE WORKED AT THE WESTERN HOTEL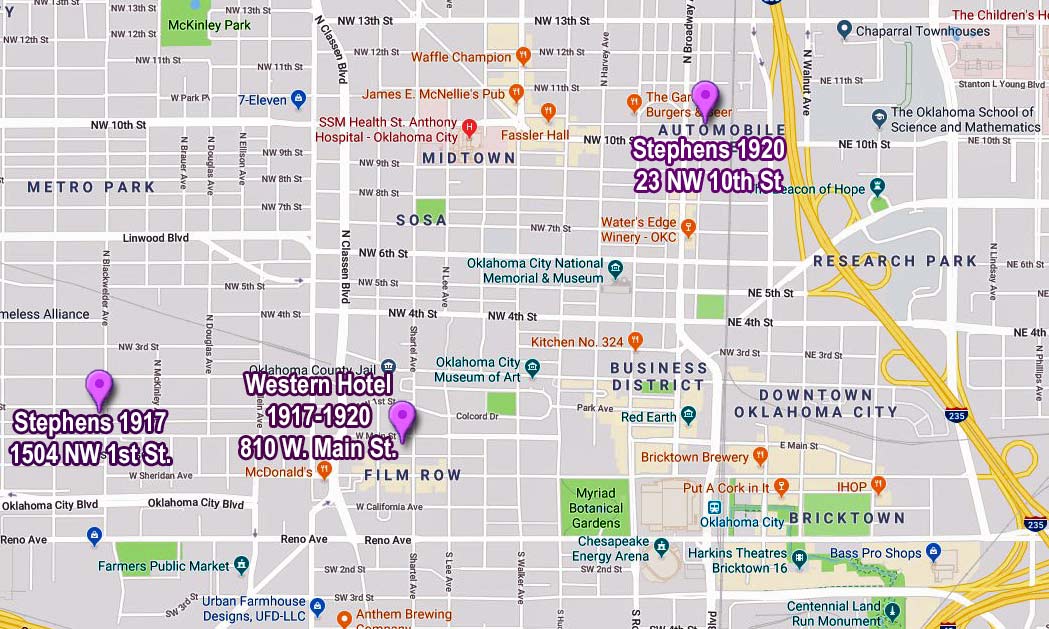 AERIAL VIEW OF DOWNTOWN OKLAHOMA CITY AND THE LOCATION OF THE WESTERN HOTEL TODAY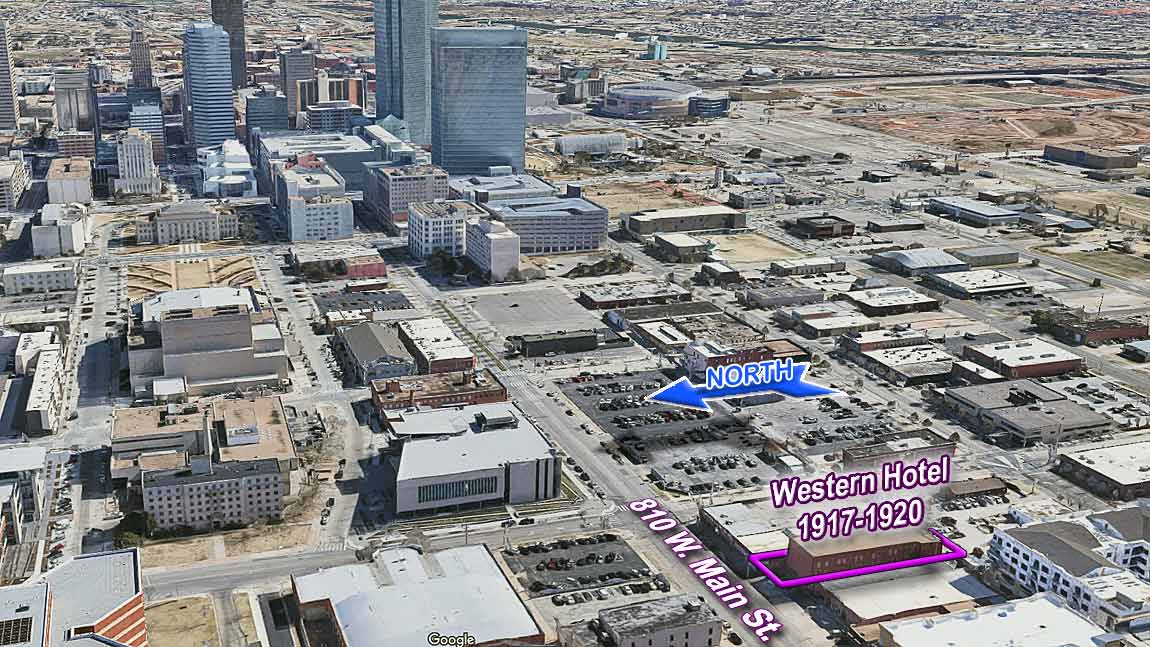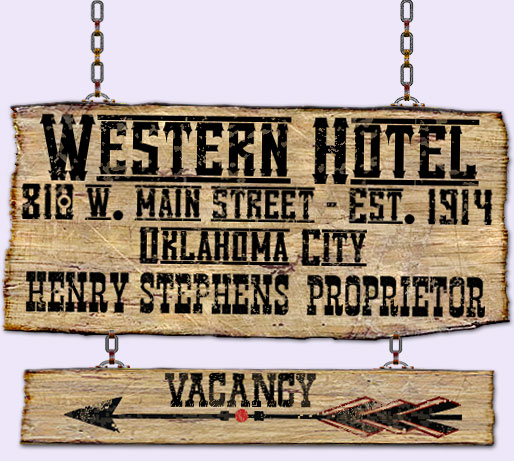 HENRY STEPHENS, FOUNDER OF THE WESTERN HOTEL ON MAIN STREET, OK. CITY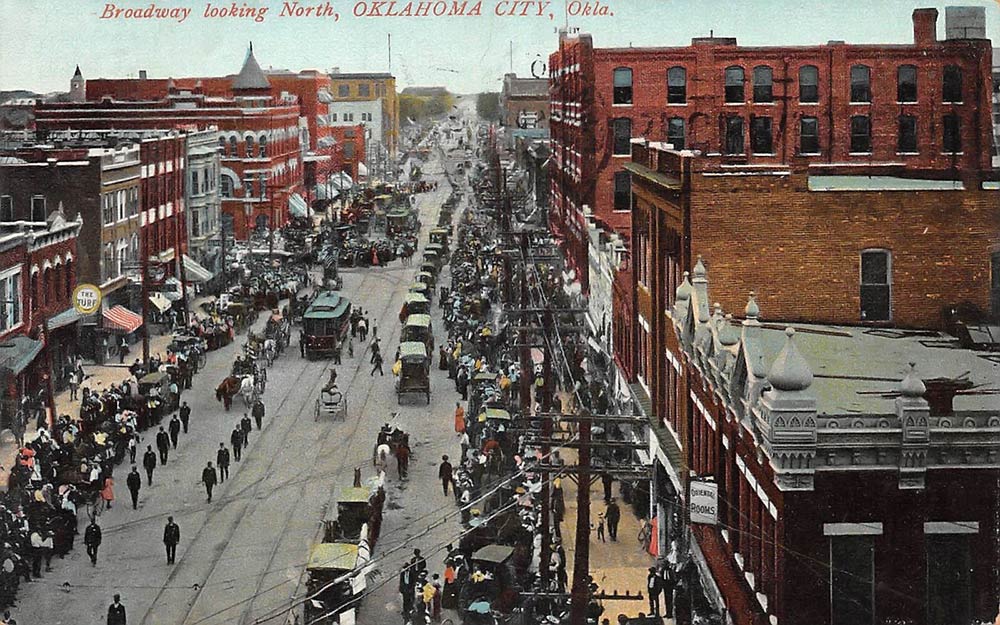 (Not an actual sign.)
At Left: A view of Broadway Ave looking north in 1907.
Postcard photo from eBay seller.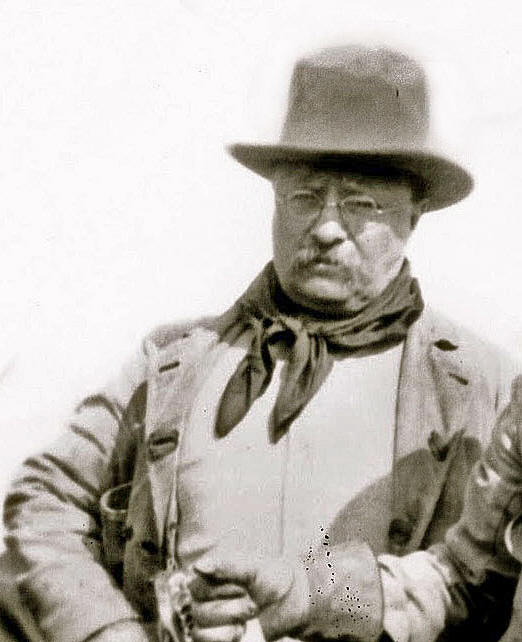 On April 5, 1905, President Theodore Roosevelt traveled through Indian Territory on his way to a Rough Riders reunion in San Antonio, Texas, making short speeches at several towns along the railroad between Vinita and Durant. After attending the reunion, Roosevelt returned to Oklahoma Territory, arriving in Frederick on aboard a private five-car train on Saturday, April 8, 1905.
While giving a speech to the thousands gathered to greet him, he noticed Comanche Chief Quanah Parker and called him to the speaker's stand to shake his hand. Immediately after the speech, the hunting party left for the Big Pasture, an area of 480,000 acres of open range in present Tillman, Comanche, and Cotton counties. When he departed on April 13, 1905, the President promised to make Oklahoma a state. That is a promise that he kept more than two years later on November 16, 1907, when Oklahoma Territory and Indian Territory were merged into the State of Oklahoma, becoming the 46th state of the Union. Oklahoma was the only state admitted to the Union during Roosevelt's presidency.
Info and photo courtesy of Tillman County Chronicles
HENRY STEPHENS'S SECOND MARRIAGE
Almost two years after his mysterious departure from Eaton, Henry turned up in Oklahoma.
Henry settled in Frederick, Tillman Co, Oklahoma and there, on Dec. 17, 1908, he married Rena Hinshaw of Tuttle, Grady Co, Oklahoma. Henry and Rena were both 43, according to their application for marriage, license and certificate.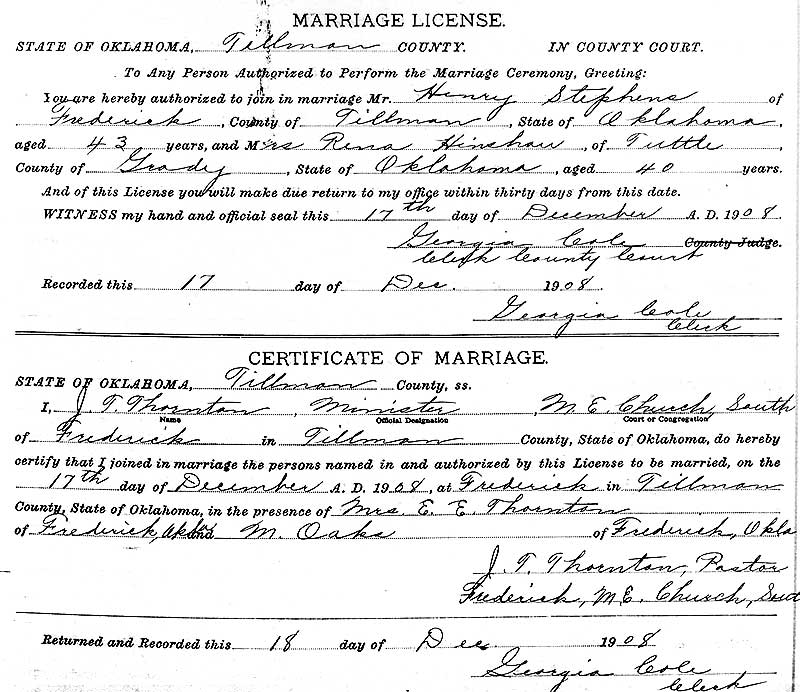 Bird's-eye view of street and commercial buildings at Oklahoma City, Oklahoma during the 1910 Glidden Tour. Sign for Oklahoma Gas and Electric Co. in foreground. Spooner & Wells, Inc., photographers, Detroit, Mich. Detroit public library digital collections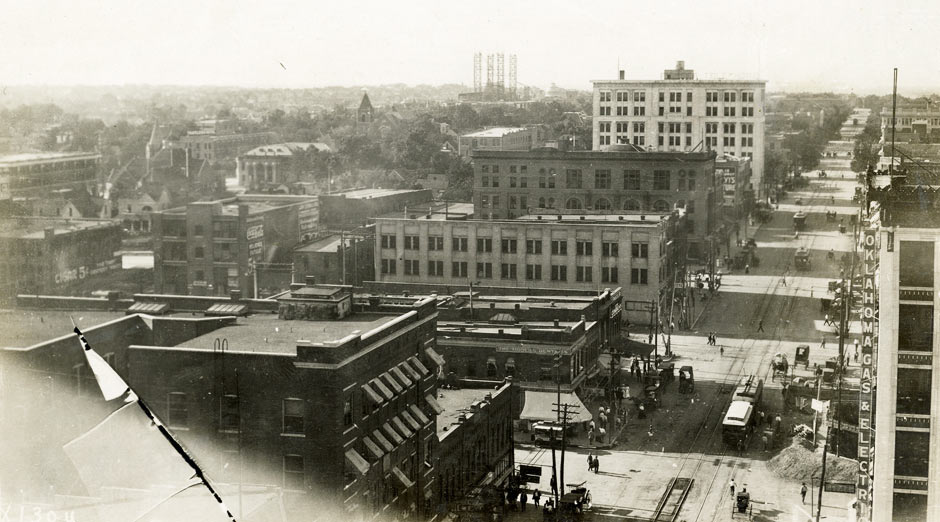 View of Main Street in Oklahoma City, Oklahoma during the 1910 Glidden Tour. Mellon's department store and the Kerr Dry Goods Co. in background
Detroit public library digital collections

View of street in Oklahoma City, Oklahoma during the 1910 Glidden Tour Detroit public library digital collections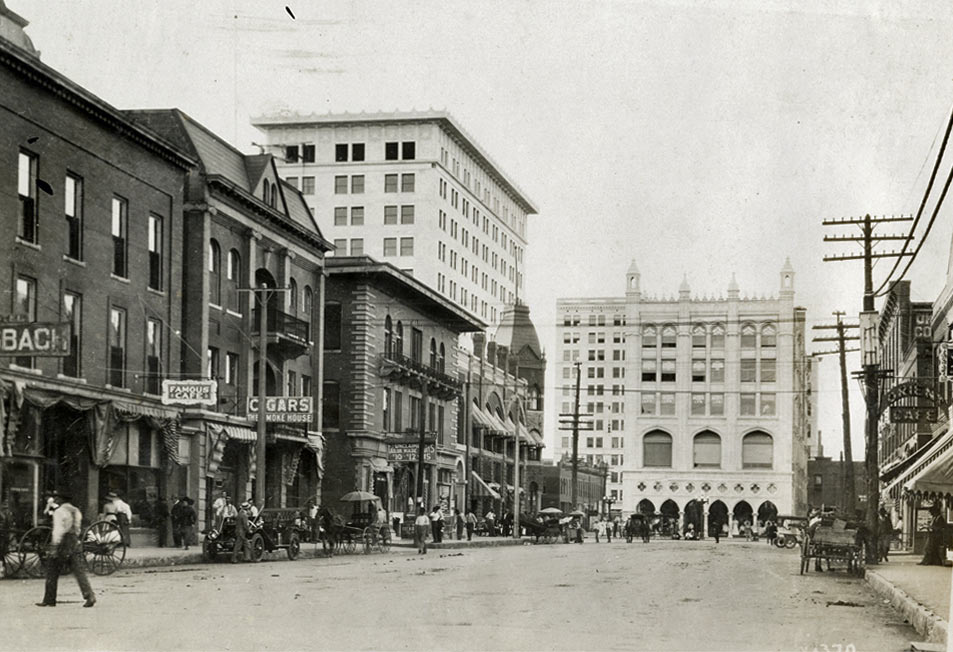 HENRY AND RENA HINSHAW STEPHENS ON THE 1910 CENSUS, OKLAHOMA CITY
The record shows that this was a second marriage for both of them, and they had been married for a year. Rena was the mother of two children, both living at the time. One was her son Virgil Hinshaw from her previous marriage; Virgil was 15, and her and Henry's daughter Agatha was 2 months old. Rena was born in Texas, her parents from Missouri, her son born in Missouri.
On the 1910 Census, Henry and Rena Stephens were living at their boarding house at 129 W. 2nd St. in Oklahoma City.


Henry's occupation was proprietor at a boarding house. There were 22 roomers listed in their dwelling, so they likely were living at their boarding house.




HENRY & RENA STEPHENS START THE WESTERN HOTEL, 1914

In April 1914, Henry and Rena Stephens, along with William E. Kirby, incorporated as the Western Hotel company in Oklahoma City with capital stock of $3,000. Their hotel was located at 810 Main St.




FORD MOTOR COMPANY CAUSES A STIR IN OKLAHOMA CITY

In July of 1915, the Ford Motor Co. planned to build an assembly plant in Oklahoma City and some confusion led to the mistaken belief that Ford had purchased the Western Hotel on Main St. in order to build their plant there. To clear up the matter, an article in the July 9, 1915 DAILY OKLAHOMAN, titled WESTERN HOTEL NOT IN FORD'S PURCHASE stated:

In published descriptions of the property acquired by the Ford Motor company for its proposed assembling plant in Oklahoma City, the Western Hotel on Main street was mentioned when, in reality, it was not one of the places included in the transfer. It is located one block east of the Ford site. There was some confusion concerning the identification by name of the Ford property and the Western hotel was erroneously linked with the deed. That hostelry will continue to operate as usual, its management having no intention of retiring from a satisfactory and profitable business. The Junction Hotel, one block west, however, has been taken over as part of the Ford purchase and, of course, when building operations commence will have to be dismantled.

Patrons of the Western hotel were somewhat alarmed over reports that their abiding place was going out of business when, as a matter of fact, such is not the case.

The Oklahoma City Ford Motor Company Assembly Plant is a four-story brick structure in downtown Oklahoma City, Oklahoma. Opened in 1916 by the Ford Motor Company as a Model T manufacturing facility, it was one of 24 such plants built by Ford between 1910 and 1915.


Photo courtesy of OKLAHOMAN gallery early day Oklahoma City collection.
The above photo was described as City streets east from 600 block on Main before 1920.
However, this couldn't be before 1924 because that's when the 2-story Ford assembly plant seen at right which was ADDED in 1924 on the west end of the 4-story plant. Also, this couldn't be Main Street because the west end of the building is seen on the right, so the photo was taken looking NORTH.

The only way to take a photo showing only the 2-story Ford plant on the right looking straight down the middle of a street would have been 1924 or later and shoot from the south looking north before the street became Classen Bl. when it must have been a straight street (Olie St..)

The Oklahoma City Ford Motor Company Assembly Plant (Oklahoma City Plant) is locally significant under Criterion C for the area of ARCHITECTURE. The period of significance is 1916 and 1924, the construction completion dates for the four-story building and the two-story addition, respectively. Info from the National Park Service - National Register of Historic Places

Completed in 1916, the building is an excellent example of a manufacturing facility designed specifically for the assembly of automobiles through a process pioneered by the Ford Motor Company (Ford). In an unprecedented expansion, Ford constructed twenty-four regional assembly plants, including the Oklahoma City Plant, between 1910 and 1915.

FORD'S FRED JONES ASSEMBLY PLANT, OKLAHOMA CITY


1916 view of north face looking southeast from Main St., FRED JONES ASSEMBLY PLANT, Ford Motors, Oklahoma City.

PHOTOS COURTESY OF OKLAHOMA HISTORICAL SOCIETY WEBSITE


1939 view of north face looking southeast on Main St.



WESTERN HOTEL ADVERTISING

Advertising for the Western Hotel appears to have begun in March of 1917 with the first ad located shown below. Since Ralph Stephens got a job there that year, it may have even been Ralph's idea to advertise.

Ads for the Western Hotel were basic and straightforward, often timed with various events that were taking place in Oklahoma City, such as conventions or the State Fair

Now and then they ran a promotion such as this one seen at right.

Cut the High Cost of Living
This ad appeared FIFTEEN times in the month of Dec. 1918.
It was the only ad run that month except for the one
on Dec. 24, 1918 shown below it.


This article shows that Henry Stephens was the hotel's owner. It is a listing of places citizens could register to vote. The list was grouped by district, each district listing the different locations by voting precinct number. The article has been edited to show the relevant Precinct, 12, where Henry Stephens's Western Hotel is listed.

THE HONEYMOON IS OVER FOR HENRY AND RENA STEPHENS

It appears that Henry's marriage to Rena ended by January 1919, and Rena had a long, illustrious career in marriages after Henry Stephens. Her maiden name was Glover, concluded from the surnames of her surviving brothers.

Rena Glover Hinshaw Stephens Smith Burdge Montgomery Cunningham*

*This marriage information is from Finda-A-Grave posted by Janet LaMotte, MHR. It hasn't been verified, although everything Ms. LaMotte has shared concerning Henry appears accurate (except possibly Henry's middle name--King.)

The Oklahoman, Saturday, Feb 24, 1945:
Services for Mrs Rena Cunningham, 77, of 704 NW 3, who died at the LaMont nursing home Thursday, will be 2 pm Monday at Garrison Funeral Home.

Born in Collin County, TX, Mrs Cunningham came to Oklahoma in 1905. She settled in Oklahoma City and lived here for 39 years. She was a member of the Nazarene Church, American Legion Auxiliary Post 35, Rebekah Lodge, and the WCTU.

She is survived by two sons, W. E. Hinshaw, 1010 NW 22; and V. J. Hinshaw, 628 NW 6; two brothers, J. H. Glover, Tuttle; and John Glover, Bentonville, AR; and four grandsons, all of whom are overseas. Burial will be in Rose Hill.

Husband #1: William Clark Hinshaw 1855-1900
Children:
Ethel M. Hinshaw 1887-
William Elmer Hinshaw 1889-1971 Tuttle, OK
Joel F. Hinshaw 1892-
Virgil J. Hinshaw 1895-1968 Tuttle, OK
Newton M. Hinshaw 1895-

Husband #2: Henry Stephens 1865-1956
Child: Agatha Stephens 1910-1929

Husband #3: James T. Smith 1855-

Husband #4: Thomas W. Burdge 1848-1931 marr. Jun. 13, 1927, Ok. City

Husband #5: William H. Montgomery 1866-1952
Child: Mary Josephine Montgomery 1904-1972

Husband #6: Samuel T. Cunningham 1863-1942

HENRY STEPHENS'S THIRD MARRIAGE - LENA MULLER


On Jan. 23, 1919, Henry married a third time, this time to Lena Muller of Oklahoma City. Henry was 52, Lena was 40.


Henry and Lena (Muller) Stephens were on the 1920 Census, Oklahoma City, 810 W. Main St, occupation: Hotel Proprietor:


His wife, Lena, was the hotel housekeeper in 1920. She was born in Missouri, her parents were from Germany.

In this Feb. 13, 1921 ad, Henry Stephens of the Western Hotel, among others, is listed as having bought orange groves in Florida. Clermont, Florida is the home of the Citrus Tower, which USED TO overlook orange groves as far as the eye can see. Condos and apartments have replaced the groves.

| | |
| --- | --- |
| This is the only hotel ad that names the owner of the Western Hotel. | The Daily Oklahoman lists 56 hotels, their addresses and phone numbers, in their Sep. 27, 1925 issue. |
| | |

TRAGEDY IN THE STEPHENS FAMILY, DEATH OF AGATHA STEPHENS

May 13, 1929 - Miss Agatha Stephens, 19, 1234 N. Western, died Saturday at Tulsa. Survivors, her parents, four brothers, W. E. and Virgil Henshaw, Oklahoma City,

Ralph Stephens, Tampa, Fla.

,

and Grover Stephens, Dayton, Ohio, and one sister, Mrs. Nellie Mayer, MUIR Kansas City, Mo. Services will be conducted from the Hahn funeral home Monday at 2 p.m. by Rev. J. Frank Montgomery. (THE OKLAHOMAN)

TampaPix note: Agatha Stephens was the daughter of Rena Glover Henshaw Stephens and Henry Stephens. She was a half-sister of William Elmer Hinshaw, James Virgil Hinshaw, She was a half-sister of Ralph Stephens, Grover Stephens and Nellie Stephens Mayer. [Contributed by Barbara Linnane Ryan Guest at Find-A-Grave]

HENRY AND LENA (MULLER) STEPHENS ON THE 1930 CENSUS

Henry and Lena (Muller) Stephens were living at their Western Hotel at 810 W. Main St., where Henry was the Hotel Proprietor.


His wife is Lena, b. in Missouri, her parents from Germany.

DEATH OF LENA STEPHENS

Henry's 3rd wife, Lena Stephens, died a few months after their 1930 Census was taken. The article states she owned and operated the hotel for the past 11 years, which dates it back to 1919, the year she married Henry. Notice her age is the same as given on her 1930 census.

The hotel continued on after the deaths of Henry's daughter and wife Lena, but there's no indication as to whether or not Henry still owned it until 1945.

This article below is evidence that Henry Stephens was no longer the owner in March of 1945, as the sellers here are Barney & Anna C. Mohr.

The hotel was apparently situated on the 2nd floor with a cafe on the first floor.


It appears that after the Stevensons bought the hotel from the Mohrs, they
continued the use of the building as the Western Hotel at least until Feb. 20, 1948.


Preliminary research finds no immediate family connection of Guy M. Murrah with
Judge Alfred P. Murrah for whom the Murrah Federal Building in OK City was named.


Ralph Stephens and son Robert were in L.A. because they had opened a Dolores Restaurant there.

THE DEATH OF HENRY STEPHENS - The Daily Oklahoman, Sunday, Nov 11, 1956:

Graveside services for Henry Stephens, Oklahoma City resident 30 years, will be Monday, 2:30 pm in Rose Hill Cemetery. Stephens, 91, died this week in Los Angeles. He had been living in a rest home there two years. He is survived by two sons, Ralph A. Stephens., Los Angeles, and Grover Stephens, Dayton, OH; a granddaughter, Mrs. [Dolores] J Phillip Boyle Jr, of 1113 Belford; three grandsons, Vincent R., 5 NW 16th and Robert Stephens, Los Angeles; and Jerry Muir, living in Louisiana. Hahn-Cook Funeral Home is in charge of arrangements.
(Buried next to Lena Stephens 1873-1931.)

Wife #1:
Sarah J. Fraley 1866- (Marr. 10 Dec 1884, Christian Co, IL) died aft 1900 Eaton, OH
Children:
Grover H. Stephens 1885-1968 Eaton, OH
Nellie Stephens Muir 1889-1954 bur. Rose Hill Burial Park Ok. City
Ralph Stephens 1892-1983 bur. Rose Hill Burial Park, Ok. City.
Wife #2:
Rena Glover Hinshaw 1867-1945, bur. Rose Hill Burial Park, Ok. City
Child:
Agatha Stephens 1910-1929 bur. Rose Hill Burial Park, Ok. City

Wife #3 Lena Muller c.1874 - 1930 bur. Rose Hill Burial Park, Ok. City. N/C

Today, the site of the Western Hotel at 810-812 Main St. is the home of Dagwell Dixie Company, an automotive repair shop and supply retailer.

It might even be the same building, it appears to be three stories tall.
THE FIRST WESTERN HOTEL IN OKLAHOMA CITY
There was another Western Hotel before Henry's, but at a different location. The first Western Hotel in Oklahoma City was one found at 216 California Avenue in the early 1900s. A short, one paragraph article in the DAILY OKLAHOMAN on Aug 27, 1902 stated:
[The Western Hotel] ...is quickly becoming one of the most popular $1.00 a day houses in the city. The new managers have gotten things in good runing [sic] order and are making it quite pleasant for their guests, which is attested by the house being full all the time. If you want a pleasant room and good board stop at the Western Hotel, 216 California.

The new managers it mentions were probably J. H. Emitt and Jud Cogswell
On Jan. 20, 1903, the DAILY OKLAHOMAN reported that..
Policeman J. H. Emitt last evening assaulted Jud Cogswell at the Planters Hotel, on the corner of Robinson St. and Reno Ave. The encounter resulted over the unpleasant business relations between the men as partners in conducting the Western Hotel on California Ave.
The next day, Jan. 21, 1903, this notice appeared in the DAILY OKLAHOMAN:
Notice: All bills due to the Western Hotel will be paid to J. Emitt only, as for Cogswell is no longer connected with the business. J. EMITT
The hotel apparently then closed at some point for around three weeks until a one-sentence notice was published in the Feb. 11, 1903 DAILY OKLAHOMAN stating:
The Western Hotel has been reopened to the public by J. M. Emett and is ready to accommodate the public.
On May 3, 1904, an ad in the DAILY OKLAHOMAN indicated a change of ownership had transpired:
WESTERN HOTEL, 216 W. California announced newly furnished rooms, excellent board, $1.25 per day. Mrs. Mauldin, Proprietor, G. A. Yantis, Manager.
This Oct. 19, 1904 article signaled the end for the WESTERN HOTEL, but in name only, as it continued to operate as the Pearson House.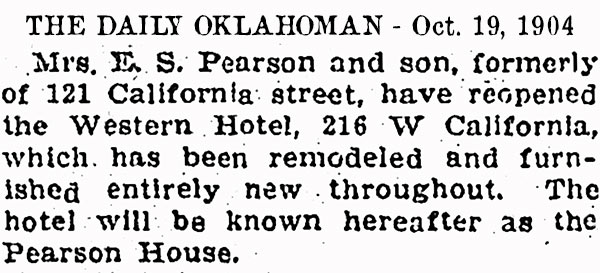 The photo below appeared in the April 2, 1934 OKLAHOMA NEWS in a full page feature consisting of several photos (which were old even in 1934) submitted to the paper by various members of pioneer families in the area.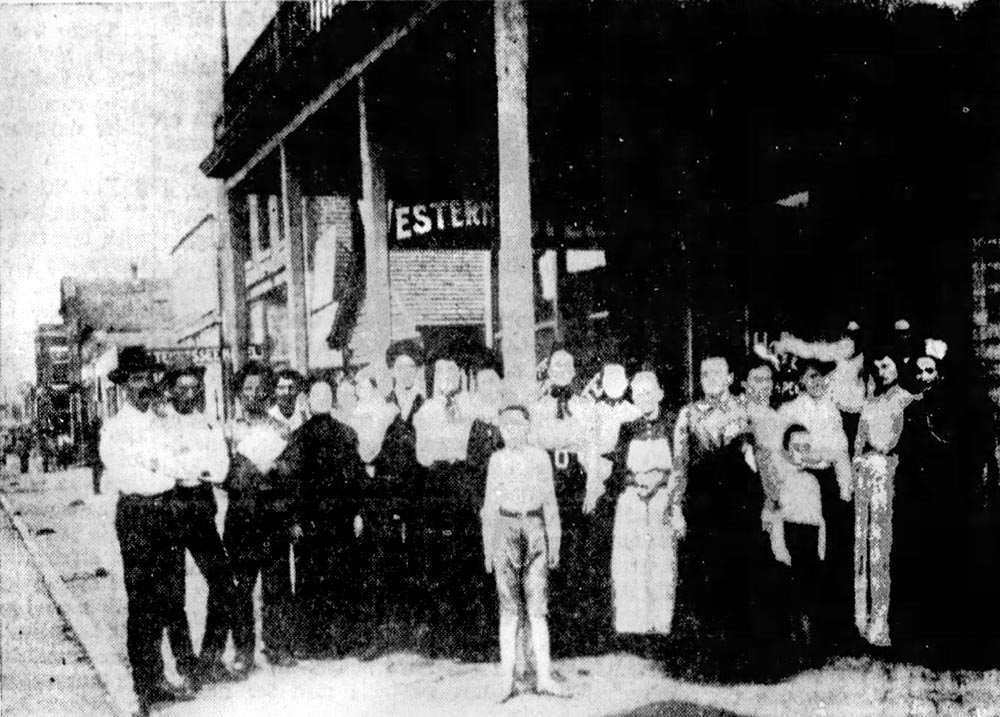 Above is the old Western Hotel on the corner of California Avenue and Broadway. This picture of employees and guests was taken about 1900. Mrs. Lottie Bassett, the owner, is shown in the front foreground. (Submitted by Mrs. Susie Dills, Edmond Okla.)

TAMPAPIX NOTE: ABOUT LOTTIE BASSETT
From Feb. 21, 1903 to Dec. 23, 1903, Lottie and J. E. Bassett are in involved in a divorce at which time in Feb., Mr. Bassett placed public notice that he was not responsible for debts incurred by Lottie Bassett. In late March Lottie filed suit against J. E. Bassett for maintenance and alimony. In early Dec. 1903 a Notice of Sale was published in re Lottie Bassett, Plaintiff, vs. J. E. Bassett, Defendant. The writ of execution provided for $30 per month alimony, for 6 months, as well as $25 in attorney fees, and $16.70 for costs and interest of $2.90, and $5 in probable costs. J. E. Bassett's undivided property was levied upon, and it consisted of the Bassett & Co. Livery and the Reno Wagon Yard Wood and Feed.

No mention was made of the Western Hotel so it was probably after the divorce that she acquired the hotel. In 1900, the block at Broadway and Main was known as "Bassett Block."
THE NEXT WESTERN HOTEL
In the period from around 1908 to 1913, a hotel named the "GREAT WESTERN HOTEL" on Nobel St. is mentioned now and then in articles relating to persons who have died or have various other misfortunes who lived at the hotel mention it but leave off "GREAT." There were a few basic ads as well, such as:
GREAT WESTERN HOTEL--Room and board, $5 per week; steam heat. 318 W. Nobel.
There is also a GREAT WESTERN HOTEL SUPPLY company in the area that advertised profusely in the early 1910s.

RALPH STEPHENS ENTERS THE RESTAURANT BUSINESS


In the Ralph Stephens "timeline of careers" the last evidences found so far of Ralph working at the Western Hotel were his 1920 city directory listing which showed he was the Asst. Manager there, and his 1920 Census, where, he claimed he was the proprietor of a hotel. The census date was Jan. 1.

WAS RALPH STEPHENS FIRST CONSIDERING BUYING THE PURITAN CAFE DOWNTOWN?

Ralph's wife Amanda had a brother named Jesse D. Ogle and her father was Jesse L. Ogle. On Oct. 10, 1920, this article appeared in the Oklahoma News.

Jesse Ogle was ordered to pay $20 for breaking a plate glass window at the Puritan Cafe by throwing a drinking glass through it. If this was Ralph's father-in--law, why was he in OK City? The Ogles lived in Hannibal where Jesse L. Ogle was a carpenter.

If Ralph was having a cup of coffee or lunch there with him, this could be an indication that in 1920 Ralph was first considering buying the Puritan. There could have been dozens of reasons for Amanda's father to be there. Perhaps Ralph asked Jesse to check out the place and give his opinion, maybe Jesse didn't think very highly of it, maybe Ralph asked to borrow money from him, maybe Ralph and Jesse were just having lunch there and Jesse had an issue with the food or the service. etc.

(I'm just saying...)

Muny is slang for Municipal.

THE CAR BARN CAFE/RESTAURANT

By early 1921 Ralph Stephens had two sons and a wife to support so decided to try to make it in the restaurant business. He opened a place he could call his own and called it the "Car Barn" because it was next to the car barn where streetcars were maintained and stored.

On Mar. 19, 1921, Ralph ran the first ad for the Car Barn Restaurant at 416 N. Olie Avenue in the Oklahoma News.

This same Car Barn Restaurant ad ran 20 times in 1921; from March 19 to Sep. 3, 1921, all in the Oklahoma News, Ok. City.

The 1921 city directory showed Ralph Stevens was the proprietor of the Car Barn Cafe. The Stephens residence "r" was at 1519 W. 2nd. St.


After Sep. 3, 1921, there were no more mentions of the Car Barn Restaurant (or Cafe) found in the newspapers Based on lack of later ads, it appears that Stephens closed it at that time. But maybe not.

By this time in 1921, Amanda was expecting their third child in just three months, and with increasing debt, it could be that Ralph stopped the Car Barn advertising and sold the place to someone who continued operating the place at least until March 1922. (See why this might be in section to follow.)

Ralph and Amanda's daughter, Dolores, was born in Oklahoma City on Dec. 14, 1921. Stephens would later name what is described as his "first successful restaurant" after her.


Locations of the Western Hotel and the Stephens residences 1917-1920 (purple) along with location of the Car Barn restaurant and the Stephens residence in 1921.

Present day aerial view of the Car Barn location.


KIDNAPPING AT THE CAR BARN

In late Sept. 1923 an article appeared in the OKC News consisting of an interview with Ellis R. Merryman who said he was eating at the Car Barn Restaurant on March 7, 1922 when he was kidnapped at gunpoint by three (or was it two, Ellis?) Klansmen impersonating police.

There can be no mistake that the Car Barn was still open. The question is, did Ralph Stephens still own it?


The incident was first reported as a "prank" by "jokers" in the Mar. 14, 1922 DAILY OKLAHOMAN. Ellis R. Merryman was a truck driver and a lunch hour waiter at the Car Barn restaurant. (The date of the article, Mar. 14, 1922 was a Tuesday. It states that it happened "Monday night" which would have been Mar. 13 or previous Monday Mar. 6, 1922. Merryman says it was THREE men.)

An article also appeared on Sep. 29, 1923 in the OKC paper "The Record" with a transcript from a military court testimony.* Here, Merryman says it happened on Mar. 7, which was a Tuesday. Not a Monday as the article stated. Also, his testimony was now two unmasked men.



*No explanation has been found as to why this was held in a Military Court.

In the Dec. 1923 anti-Klan weekly newspaper "Jack Walton's Paper," kidnapping victim E. R. Merryman's testimony at a circuit court trial was printed in an article titled "Klansmen free on fake alibi." Merryman, testified how he was cuffed at gunpoint and taken to a place where he was flogged. He refers to the restaurant as the Car Barn Cafe. Only another waiter who was witness testified and is identified by name, but nothing is printed as to who the owner or manager was at the time.


Dec. 23, 1923 issue of the anti-Klan paper "Jack Walton's Paper"

The headline does not pertain to this incident.

None of the ads or articles ever mention who owns the place.

So either...

| | |
| --- | --- |
| 1. | Stephens probably sold the Car Barn in early Sep. 1921 when the ads stopped, and the new owner continued it at least until Mar. 1922, or... |
| 2. | Stephens owned the Car Barn at least up until the time of the March 1922 kidnapping of one of its lunch hour waiters. |


But regardless, Ralph's attempt at his first restaurant was deemed a failure in an interview with him which appeared in the Daily Oklahoman on Jan. 21, 1968.

His debt was beginning to grow. Could the kidnapping incident have been "the last straw" for Ralph Stephens and the Car Barn?

Today, the site of the Car Barn is occupied by an electrical power substation.
RALPH STEPHENS AND THE PURITAN CAFE

Stephens again tried his skills in the restaurant business with the Puritan Cafe at 102 Broadway. As mentioned with the late Oct. 1920 "Jesse Ogle incident" at the Puritan Cafe, Ralph may have been considering buying it from the owners at the time. No proof, just a hunch.

The Puritan was located right in the middle of Oklahoma City, today it is downtown. Surely Ralph could be a success in the middle of town during the "Roarin' 20s," right?

Even while Ralph was still managing the Western Hotel, the Puritan was cited for health code violations. In Jan. 1919, it was owned by George H. Gurakis and Jim Christo.

A week after the shutdown, the Puritan was back in business. But what did it look like when Jesse Ogle was there breaking a plate glass window a year and 9 months later?

This wasn't the only Puritan Cafe around, there were many so-named eateries scattered all round Oklahoma City, in an approximate 50 to 75 mile radius. It's doubtful that it was a chain, as there appears to be no similarity among the various ads, except for the name. Hundreds of ads for a Puritan Cafes or restaurants from 1921 through 1923 appeared in newspapers at these other places: Bennington, Bristow, Coweta, Durant, Eufaula, Haskell, Holdenville, McAlester, Muskogee, Okmulgee, Pawhuska, Poteau, Slick, and Wilson, and just about each one was for a cafe in that town.

But no ads have been found for the Puritan in OK City until Sept. 9, 1921. And it's not due to lack of archived newspapers.

The First mention of the Puritan in OKC is this Sep. 9, 1921 ad below. Ralph COULD have been there if he left the Car Barn when their ads stopped on Sep. 3, 1921. Can we really tell who owns a place by their frequency and style of advertising? Just wait till he gets to Tampa to answer.

The 2nd ad by the Puritan in OKC gives their address.

THE "ALL-AMERICAN" MOVEMENT

There seems to have been an obsession with purity and American citizenship in the area in these years. So much so, that Bert Yale was concerned that readers would think he wasn't American due to the omission of his restaurant in the ad seen on the right, so he had an explanation printed with the list. He alludes to this "All American" trend by saying...

"We are the heart and soul of this great movement.."

In the month of Dec. 1921 The Puritan was listed in the series of four ads (Dec. 5, 16, 20, 24) listing eateries that were members of the recently formed National Restaurant Association where "EVERY MEMBER IS AN AMERICAN CITIZEN."

Two restaurants not relevant at this time have been omitted from the ad at right, in order to discuss them later in this feature., but the Car Barn wasn't listed in these ads.

This "All-American movement" may be attributed to the beginnings of the National Restaurant Association, which was formed over a two year period of events in Kansas City, Mo. in 1917. The "All American" movement was probably cheered on by the events in Europe related to WW1, and probably fueled by the Association limiting membership to American men in 1919.

THE FOUNDING HISTORY OF THE NATIONAL RESTAURANT ASSOC.
From their website at
https://www.restaurant.org/About/Who-We-Are/History.

1917

When egg brokers try to demand a price of 65 cents a dozen, the year-old Kansas City Restaurant Association, one of the restaurant industry's earliest professional associations, organizes an egg boycott. Egg prices plummet to 32 cents. The seeds of a national movement are sown.

1919

Kansas City restaurateurs launch a national organization, holding the first meeting of what is today's National Restaurant Association on March 13 in Kansas City. The fledgling organization represents an industry of 43,000 restaurants. [Membership was apparently restricted to male Americans.]

1920

Prohibition begins in 1920, kicking off a 13-year ban on alcohol sales. Restaurants used to serving free sandwiches with 5-cent beers develop new marketing tactics. Despite Prohibition, the industry thrives, riding a wave of national prosperity. Howard Johnson's opens its first franchises, White Castle's 5-cent burgers grow popular, and Willard Marriott opens his first Hot Shoppes.

1927

The growing National Restaurant Association moves its headquarters from Kansas City to Chicago.

1930s

Prohibition ends, but the Depression is in full swing. Congress's National Recovery Act requires each industry to prepare a "Code of Fair Competition" in 1933. The National Restaurant Association quickly complies. Membership doubles. In an appeal to customers in bleak times, the National Restaurant Association tries out two advertising slogan: "Enjoy Life — Eat Out More Often" and "Take Her Out to Dinner at Least Once a Week."

The Puritan ads take on a distinctive Ralph Stephens style:

The earliest found direct evidence connecting Stephens with the Puritan was his 1923 city directory listing and the article at right about a lawsuit filed against Stephens and the Puritan. Notice he had a business partner, E. V. Bodkin. You'll see his name come up again later in Hannibal, MO.




BY THIS TIME, RALPH WAS PROBABLY OWNED THE PURITAN

Regardless of which scenario took place with the Car Barn, it was probable that Stephens was at the Puritan at the time of this ad.


Bill Bailey could have been the owner up until this point, or only the manager.



Nothing further has been located as to the outcome of this, but if he lost the suit, it would be one reason he was getting into a lot of debt.

SO WHEN DID STEPHENS TAKE OWNERSHIP OF THE PURITAN?

In terms of advertising, there is only a 1-week gap from the date of the last Car Barn ad (Sep 3, 1921) to the date of the first Oklahoma City Puritan ad (Sep. 9, 1921.)

1.) If Stephens sold the Car Barn when the last ad appeared (Sep. 3, 1921) then he could have gone to the Puritan by Sep. 9, 1921, since the cafe existed in Jan. 1919 under ownership of George H. Gurakis and Jim Christo.

2,) If Stephens still owned the Car Barn through March 1922 when the kidnapping took place, then it is unlikely (but not impossible) that he bought the Puritan when its ads started in Sep. 1921, six months before closing the Car Barn.

The most likely situation would be that Stephens sold the Car Barn around the time the last ad appeared in early Sept, 1921 and it continued under a different owner at least until March 1922. Knowing he had a buyer for the Car Barn, he could have been negotiating with Gurakis and Christo to buy the Puritan immediately after closing the deal with the Car Barn, and then could have started the advertising for the Puritan on Sep. 9, 1921.


THE OPENING OF STEPHENS RESTAURANT

Regardless of which scenario took place from the Car Barn to the Puritan, the ad below shows that by August of 1923, Ralph and Amanda Stephens were ready to step up to a higher level of cleanliness, quality and service. Ralph completely remolded and refurnished the Puritan and changed the name to "Stephens."

Pleasing local citizens and the traveling public

Conveniently located between hotels and train stations

Foods you want, served how you like them

Specializing in coffee, waffles, steaks and pies

Mr. and Mrs. Stephens are there to welcome you.

Powerful air circulator changes air every minute

They will personally supervise the serving of all meals.

If you aren't treated as an honored guest, they want to know it.




Today, the Puritan/Stephens location would be in the heart of downtown Oklahoma City.
END OF UPDATED INFO, SOME IMAGES BELOW HAVE BEEN REPLACED WITH LARGER ONES.
Competition and a lot of debt led 30-year-old Ralph Stephens to leave Oklahoma City in 1923 with his wife, Amanda, sons Vince and Bob, and daughter Dolores.
Ralph Stephens in Dallas
The family moved to Dallas where Stephens later said he saw "a pig stand with what looked like a thousand cars around it." Indeed, Dallas was where the very first pig stand (forerunners to drive-through restaurants), Kirby's, had opened in 1921.
Ralph Stephens in Hannibal, MO
Stephens was hired by one of the Dallas BBQ chains and learned the operation in Dallas before setting out to open a branch stand in Little Rock. But before doing this, the Stephenses stopped by Amanda's family's home in Hannibal, Missouri, and while visiting with his father-in-law, he decided it made more sense to open their own business rather than work for someone else.
Construction started on the new Stephens family business and the family slept in the stand while it was being built. In June of 1925, Goody-Goody Barbecue opened for business in Hannibal, Missouri. Business initially boomed, but the crowds disappeared once cold weather settled in. Once again, Stephens was a failed restaurateur.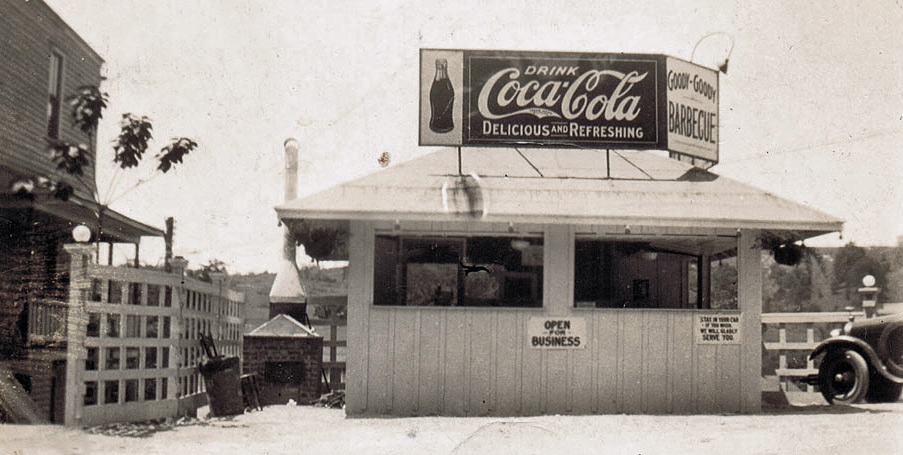 Goody Goody No. 1, Hannibal, Missouri
Photo from RetroMetro Oklahoma City
Stephens moves to Florida
"We closed, and being sort of soldiers in fortune, we took off for Florida," Stephens explained in a 1968 interview. "The land boom was on then and we went to Tampa and opened one restaurant, then another. They had told us there were no rooms in Tampa so we bought a tent and slept under that until we almost flooded out."