The original block structure that was built in 1929-1930 consisted of the middle portion of the sketch. The remains of the original front (West) wall of the building, later reworked as a partition, is marked here as "P". Being primarily a drive-in barbecue restaurant, seating inside consisted only of the area to the right of the west wall (partition "P") where the customers sat in the original dining area desk chairs. Ds1 is the location of the original entry door on the south side. At the north door Dn1, there was a ramp (R) leading up from the floor level to the threshold level because the property on the north side of the building was about 4 inches higher than the south side. Orders were originally passed to the car hops through a window on the south side at the car hop counter. This window was eventually covered over.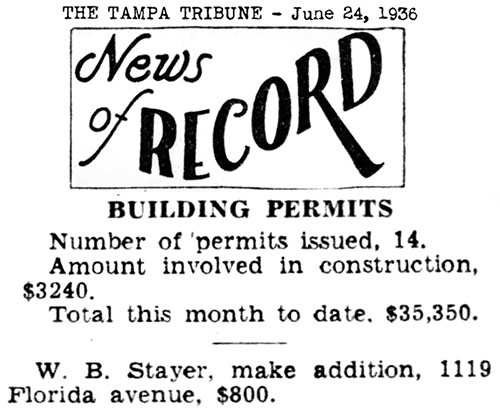 This 1941 photo shows the expanded dining room at Florida Avenue The original west wall ("P") became a partition with two walk-throughs and an arched center opening along with a new door Ds2 added on the south side led to the new expanded dining area. Also by 1941, two wood frame additions had been made on the northeast side, shown here as the bakery and storage.
The building permit at right shows the expansion occurred in late June or early July of 1936.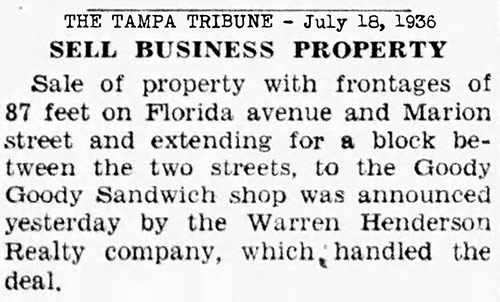 A short time later, Stayer bought the entire property from Florida Ave. to Marion St. in order to provide more parking space.
By the 1960s, wood frame additions were made to the southeast side, shown here as the office and another storage area, with a diagonal south wall (seen here during demolition) so as not to block access to the rear parking areas. In the dining area, the air conditioning system fed into the ducts located above the partition "P." During the 1990s, the windows on the north side, Wn1 through Wn4, became targets for burglars because the northbound one-way traffic on Florida Avenue did not afford traffic a view of that side, so the 4 windows were boarded up and stuccoed over. Inside, Wn1, Wn2 & Wn3 were finished with mirror tiles behind the blinds and full window dressings to produce a more spacious look. Wn4 to the right of the north door was covered over inside with aluminum sheeting along with the surrounding wall. Until its demolition, the original 1930 "Goody Goody" lettering painted on the original west wall could be seen in the crawl space above the partition.