Alfonso Ramon "Al" Lopez
(Aug. 20, 1908 – Oct. 30, 2005) Al Lopez was an American catcher and manager in Major League Baseball and the son of immigrants from Asturias, Spain who went to Cuba, then settled in Tampa's Spanish-speaking Ybor City section.
He established a major league record for career games as a catcher, and later became the only manager to interrupt the New York Yankees' string of American League pennants from 1949 to 1964. Over the course of 15 full seasons as manager, he never had a losing record.
Born in Ybor City in Tampa, Florida, the son of a cigar factory worker, Lopez' baseball career began with the local team, the Tampa Smokers, in 1924. He broke into the major leagues briefly in 1928 with the Brooklyn Dodgers, and became their starting catcher in 1930. Over a career which ran until 1947, he played for the Dodgers, Boston Bees, Pittsburgh Pirates and Cleveland Indians. His best season was in 1933, when he hit .301, stole 10 bases, and finished 10th in National League MVP voting. In 1945, he surpassed Gabby Hartnett's record for career games as a catcher. The record stood until 1987, when Bob Boone broke it; Lopez' National League record was broken by Gary Carter in 1990. <Cont. on next page>
National Baseball Hall of Fame
Museum photos of Al Lopez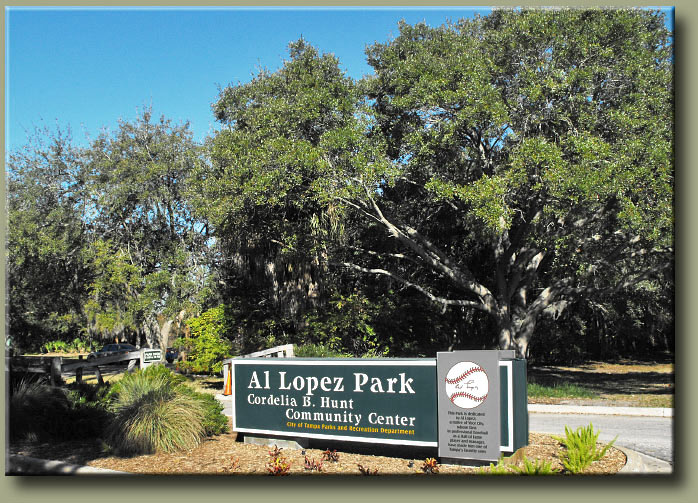 See the original sign Read the proclamation
Al Lopez Park is just a bunt and a punt from Legends Field and Raymond James Stadium. It's been around since before 1966, originally as Horizon Park.

In 1992, the City of Tampa, Hillsborough County and the State of Florida decreed Oct. 3, 1992 to be Al Lopez Day. Gov. Lawton Chiles' proclamation, the 130+ acre park was named in honor of Al Lopez. On that ceremonious day, a life-sized statue of the former catcher chasing a foul tip was unveiled in the park at Himes Avenue and Dr. Martin Luther King Jr. Boulevard.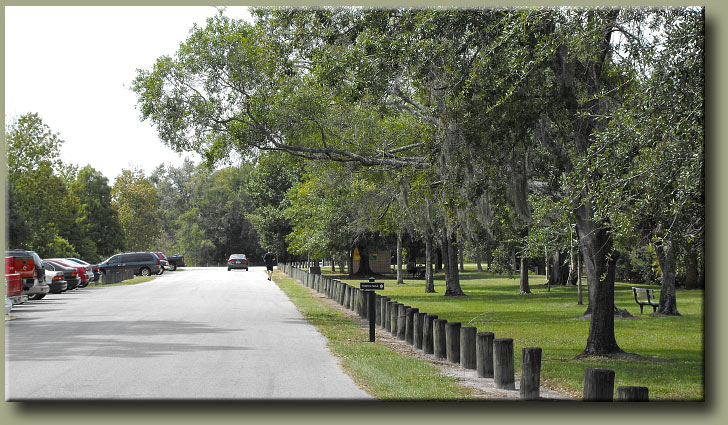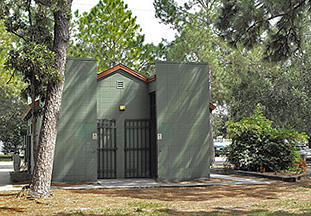 Park amenities along the trail include: parking, restrooms, picnic shelters, grills, fishing piers, two ponds, fitness stations, a community center and a dog park. Arcade, a steel & wood pedestrian bridge/art piece by Robert Calvo (1990), is part of the multi-purpose trail at Al Lopez Park.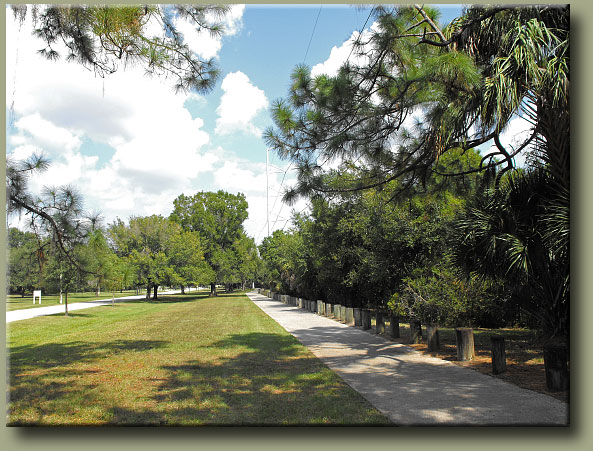 Al Lopez Park has two interior loop asphalt-paved multi-purpose trails. One is 1.2 miles around and 15 feet wide with overhead lighting, and the other is .8 miles around. On the northeastern edge of the loop, a nature trail continues through wooded areas. Care should be taken when exercising alone. See trail map