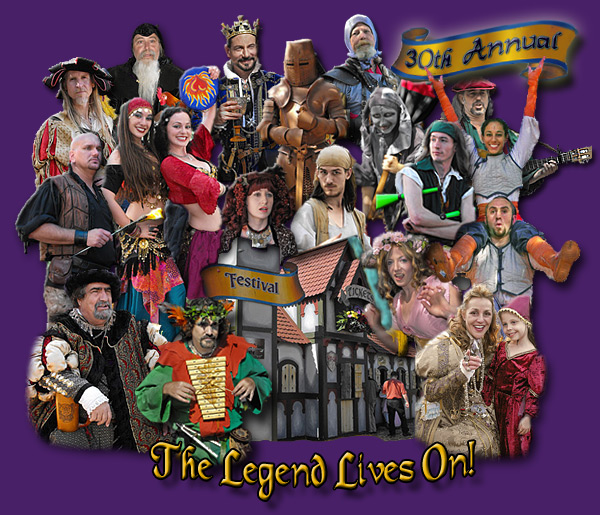 This site is not for profit and is not affiliated with the Bay Area Renaissance Festival.
© All photos are the property of the Tampapix.com photographer and may not be used for profit or gain without permission.


Canconier by Canconier at www.magnatune.co
m
A most excellent article in TBNweekly about this year's B.A.R.F.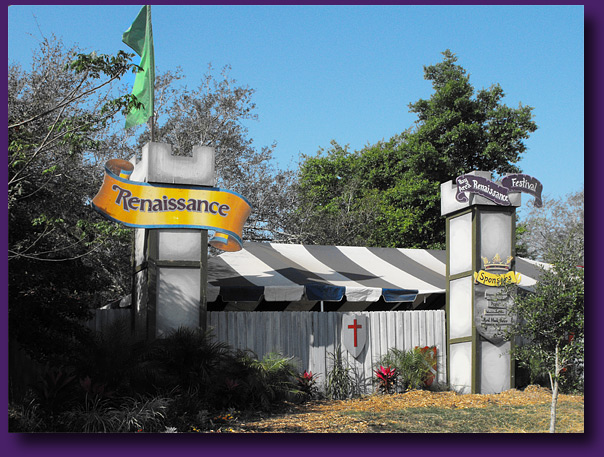 The Bay Area Renaissance Festival was first held in 1979 in the city of Largo, Florida. By 1980, the Faire had added food booths, a human chess match and a unique marketplace. Ownership and management changed to the Mid America Festivals group at that time. As attendance to the popular event grew, so did the number of artisans, demonstrations, entertainers and foods.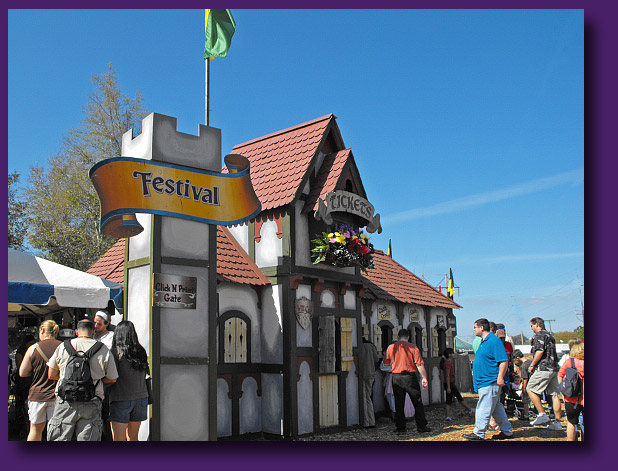 The Faire grew to a full five weekend event to accommodate growing demand. At that point the event had developed beyond the status of local event to a regional tourist attraction. The show continued to develop fans through the next decades, offering more each year in entertainment, education, food and art. Through the 1990's, Faire attendance had grown to nearly 80,000 annual guests.
| | |
| --- | --- |
| | |
| | Scene Just Inside the Entrance |
In 2004 Faire promoters chose to relocate the Festival to Tampa, Florida adjacent to the Museum of Science and Industry. After years of providing an aesthetic guests could immerse themselves in upon entering the show, careful consideration was needed to find a new location equal to the task. The Museum of Science and Industry with the leadership of Wit Ostrenko, President of MOSI, offered Mid America Festivals a location near the museum. Though much landscaping and attentiveness to environmental issues was required, the Festival site was erected, complimenting the educational and entertainment philosophy of its long standing neighbor. Hillsborough County and Tampa City officials have also been an integral part of the success of the show in its current location at 46th and Fowler, offering building guidance and codes compliance standards as the site develops. In total, this year marks the 30th season for this long time event. (From www.kcrenfest.com)
Daughter of King Ferdinand II of Spain and Queen Isabella I of Castile

(Older sister of Catherine of Aragon, first wife of Henry VIII)

a.k.a "Tia Maria"

Maria became Queen Consort of Portugal upon her marriage to Manuel I, King of Portugal, in 1500.

and

Lady Mayor Blythe Wilde

a.k.a. Kami Jacobs
| | |
| --- | --- |
| | |
| Disproportionately disproportionate characters | State-of-the-art climate control |

Second Monarch of the House of Tudor
Michael Samuel Marzella

Portrayed by Miami native Michael Marzella, a 30-year veteran of the Bay Area Renaissance Festival and 9-year veteran of the the Ft. Myers RenFest. Michael is a king size man at 6'4" and with king sized physique. His distinctive booming bass voice has created voiceover characters for Disney World in rides, announcements & attractions in all four parks, and for the Disney Cruise Line, Universal Studios and Sea World in central Florida. He's done voiceover jobs for Verizon, banks, and a range of stores, services and products. He recently recorded an instructional video for Rolls Royce aircraft engines. He has performed at the Bay Area Renaissance Festival (Tampa Bay) since 1979 and has performed as numerous characters in acting roles. He had a role on "Full House" with Bob Saget as a lamp seller and once won the Metropolitan Opera auditions for Florida. Michael was an award-winning writer for The St. Petersburg Times for nearly a decade before moving on to the Renaissance Festival circuit.

Queen Catherine Parr, King Henry's 6th and final wife,
& Lady-in-waiting Anne Parr Herbert
Read about Caroline Jett, a.k.a. Queen Catherine


Caroline Jett plays Queen Catherine Parr at the Bay Area Renaissance Festival and Queen Elizabeth I at the Michigan Renaissance Festival. She is a professional actor and member of the Screen Actors Guild, having graduated from the College of Charleston (South Carolina) with a B.A. in Theater. She has over 50 stage credits to her name, including Fiddler on the Roof, Good Woman of Setzuan and Godspell. Jett has appeared in several films including North and South and Phantom of the Ritz; television shows including Swamp Thing and Nickelodeon's Think Fast; and has numerous commercial credits to her name. Caroline has also taught extensively, including dance, acting, theatrical make-up, set design and construction. Her theatrical experience also includes directing and choreography, and she and her husband have written several screen and stage plays. (From Jobsite Theater Bio) When she's not acting, Jett publishes a monthly anti-crime newspaper based in Tampa, Florida called The Crusader. Since the paper's founding in 1992, it's helped authorities capture 3,289 fugitives from justice and find 438 missing children. To learn more about it, visit www.usacrusader.com.

Landsknechts were European, most often German, mercenary pikemen and supporting foot soldiers from the late 15th to the late 16th century, who achieved the reputation for being the universal mercenary of the European Renaissance.

A mercenary is a soldier who takes part in an armed conflict, who is not a national or a party to the conflict, and is motivated to take part in the hostilities essentially by the desire for private gain. He is promised, by or on behalf of a party to the conflict, material compensation substantially in excess of that promised or paid to combatants of similar ranks and functions in the armed forces of that Party

The term "landsknecht" is from German, Land "land, country" + Knecht "servant", recorded from circa 1480. It was originally intended to indicate soldiers of the lowlands of the Holy Roman Empire as opposed to the Swiss mercenaries.
Oberst Baron Gerrit von Greyssn
(a.k.a. Devon Sharkey)

Oberst is a military rank in several German-speaking and Scandinavian countries, equivalent to Colonel. It is currently used by both the ground and air forces of Austria, Germany, Switzerland, Denmark and Norway. The Swedish rank överste is a direct translation, as are the Finnish rank eversti and the Icelandic rank ofursti.

Wilhelm Eberhardt teaches Zweihänder combat technique
(a.k.a. Bill Clark)

Landsknechts were trained in the use of the famous long pikes and used the pike square formations developed by the Swiss. A pike is a pole weapon, a very long thrusting spear used two-handed and used extensively by infantry. Unlike many similar weapons, the pike is not intended to be thrown. Pikes were used by European troops from the early Middle Ages until around 1700, wielded by foot soldiers deployed in close order.

The majority of Landsknechts would use pikes, but others, meant to provide tactical assistance to the pikemen, used different weapons. An experienced Landsknecht could be designated a Doppelsöldner, and instead of wielding a pike as did more recent recruits, would employ a six to eight foot long halberd or partisan, or, more famously, a Zweihänder, a two-handed sword as long as 6 feet (although it was generally called at the time a Beidhänder rather than a Zweihänder). These great war swords could be used to hack off the heads of enemy pikes; or more likely to knock the pikes aside, creating disorder among the tightly arranged enemy pikemen in order to break through their lines.
The Landsknecht's Clothing


The landsknechts were conspicuous with their elaborate dress, which they adopted from the Swiss, but later took to even more dramatic excess. Doublets, deliberately slashed at the front, back and sleeves with shirts and other wear pulled through to form puffs of different-colored fabric, so-called puffed and slashed; parti-colored hose; jerkins; ever-broader flat beret-type hats with tall feathers; and broad flat shoes, made them bodies of men that could not be mistaken.


A Landsknecht with his Wife

An etching circa 1500 by Daniel Hopfer. Note the huge Zweihänder sword over his shoulder, and the smaller Katzbalger sword at his hip, both emblematic of the Landsknecht.
Hauptmann (Captain) Fritz Karrer

Theobold and Oberst (Colonel) Baron Gerrit von Greyssn with a guest

Members of the Landsknechts train constantly in Medieval and Renaissance combat, both armed and unarmed. From wrestling and dagger fighting to Longsword and rapier, the Landsknechts work constantly to actually be the historic soldiers they portray. The Landsknechts meet every Tuesday night at the Highland Recreation Center on Highland Avenue in Largo, Florida to train and practice.

Albrecht, a young pikeman

a.k.a. Ken Mortimer

Ken enjoys technology & history and thrives in diversity. Has done everything from flight lessons to school librarian. A graduate of St. Pete Jr. College, he is working on his degree in Computer Science at the University of Central Florida in Orlando, with a possible minor in German and has an intern position with Cole Engineering Services, Inc. Ken's MySpace
The Landsknechts are a Medieval and Renaissance performing arts troupe without equal. Whether you want your lanes filled with colorful characters, someone to host special events, teach you or your patrons historic medieval combat, choreograph stage combat, or nearly anything else you can imagine, the Landsknechts are for you. They are your soldiers for hire.
Albrecht and Kimberly, a playtron.

Three of ten Fraulein Basket Weavers
Grizelda, Mildred & Britta weave 15th Century German-style baskets.
| | |
| --- | --- |
| | |
| | Hauptmann Fritz, Wilhelm, Frauleins Grizelda Weinzaffel & Fygen Wunderlich |
| | |
| --- | --- |
| | |
| Oberst Garrit von Greyssn and Fraulein Grizelda with a fine variety of traditional German foods | |
Above, Wilhelm gives combat training to an armored knight.

At left and below, Wilhelm instructs a young lad in the use of the Zweihänder
Theobold instructs playtrons of all ages, regardless of gender, in the landsknecht's western martial arts style. Though the Renaissance Festival affords the landsknechts an opportunity for fun and enjoyment, it is the aspect of providing historical combat training and instruction that brings them the most satisfaction. Above and below, he demonstrates various ringen (wrestling) and close quarters fighting with the dolch (rondel dagger.)