HILLSBOROUGH COUNTY HIGH SCHOOL'S SECOND HOME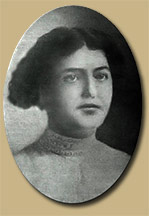 In 1885, the School Board sold the school property on the 500 block of Franklin St. to Sparkman and Sparkman (which in 1911 was known
At the beginning of the term in 1886, the High School and Tampa School No. 1 moved into this new home where it remained for six years. B. C. Graham taught the eighth grade and the high school together in the same room. A little later the high school department was moved to a room on the west end of the building, but was not yet separated from the grade school.

HILLSBOROUGH COUNTY HIGH SCHOOL'S THIRD HOME
In 1892, the high school department moved into a new building erected by the City of Tampa and had two regular teachers. This building is situated just south of the old building on Jefferson and Henderson Streets (6th Ave.) During its four years in this building the library had accumulated a nice collection and such chemical apparatus as needed for experiments in chemistry. In 1894, upon the recommendation of Superintendent Buchholz, the High School was made a separate and distinct institution and was permanently separated from the grade school. It was at this time that B.C. Graham became the high school principal with duties confined to the High School. This change was a great improvement over the previous arrangement. In 1896, the building, now called the Tampa Heights Primary School building, was enlarged and arranged for a primary school.
B. C. GRAHAM, HILLSBOROUGH COUNTY HIGH SCHOOL'S 3RD PRINCIPAL
Professor Graham was born April 3, 1847, in Lowndesboro, Alabama. He received his early education principally under his father, the Rev. J. W. Graham, who was an ardent admirer of Horace Mann and David Page, and for many years one of the most noted teachers of Alabama. In 1868, he was graduated from Hampden Sidney college, Va. Soon after

[1869?]

he was appointed principal of the male academy in Madisonville, Tenn. One year later

[1870?]

he was elected professor of mathematics in Hiwassee college, Tenn., and later on

[1871?]

became the president of that college.

For the last twenty-two years [since 1872?] he has been prominently engaged in teaching in Florida. About ten years ago [1884? No, see footnote] the people of Tampa, realizing his ability as a teacher, called him to the principalship of the Tampa high school.* This position he has held ever since to the great satisfaction of teachers, students, patrons, and school officers. Besides the solid work in the class-room, Prof. Graham has done much for the advancement of the new education by lecturing in public meetings and state and county teachers' associations. At the last meeting of the State Teachers' association he was elected president. He is one of the leaders in the South, and has been prominently connected with movements for the elevation of its schools.

*He became principal of HCHS in 1894. the year of this publication.
B. C. Graham was the 3rd of eleven children of Rev. J. Whitfield Graham and Sarah Catherine Smith. Benjamin's wife, Sally Gates, was a granddaughter of Josiah Gates, the first white settler in the Manatee Settlement (Bradenton), Florida. B.C. was a brother of noted Tampa judge William Shelby Graham.
B. C. Graham Elementary School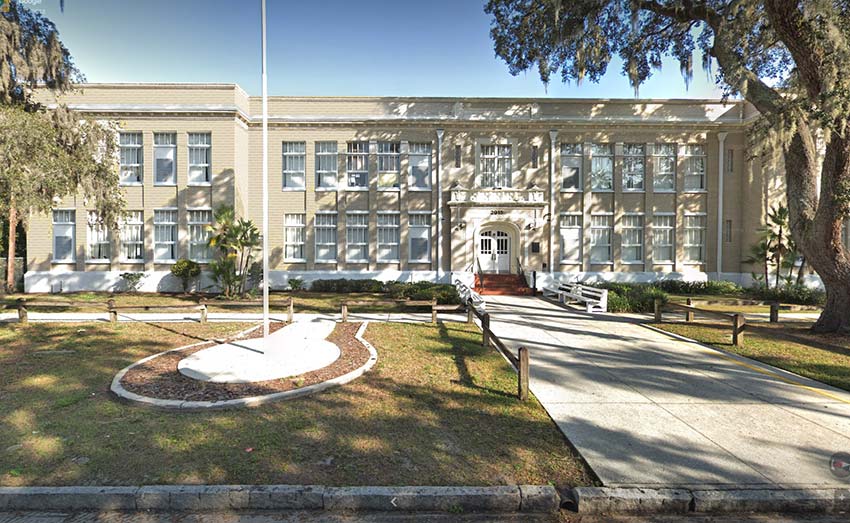 From the school website:
B.C. Graham Elementary was built in 1922 on 4 1/2 acres of land located at the southeast corner of Massachusetts Avenue and West Street. The school was named for Benjamin Chalmers Graham, a native of Alabama with a degree from Hampden-Sydney College.
The school's original two-story building was designed by M. Leo Elliot and constructed by the Logan Brothers Construction Company. It had a cafeteria added in 1948, and two additional classrooms in 1952. In 1987-1988, a 1.4 million dollar renovation-restoration included the replacement of windows, masonry repair, and the refurbishment of interior woodwork. This renovation earned an Award of Excellence for Historic Preservation-Restoration. Jan Abel Kenneth Garcia Partnership, the architectural firm, and Burton and Rolley, Inc., the Engineers, oversaw the renovation.
Upon opening for the first time in 1922, B. C. Graham Elementary saw 193 pupils come through its doors, to be taught by a total of eight teachers and the Principal, Miss Lillian Gwin. By the end of the first two months, the enrollment had grown to an average of 259 students!
Miss Gwin served as Principal of B. C. Graham Elementary from 1922-1948. Following her as Principal were Hortense Mintz, Laura Ellen Weeks, Jean Patrick, Dr. Whitney, Philip Bondi, James Pardo, Kathy Coto, Bonnye Taylor, Mrs. Valenti, Sherry Orr, and our current Principal, Sharron Doyle, who has served at B. C. Graham since 2009.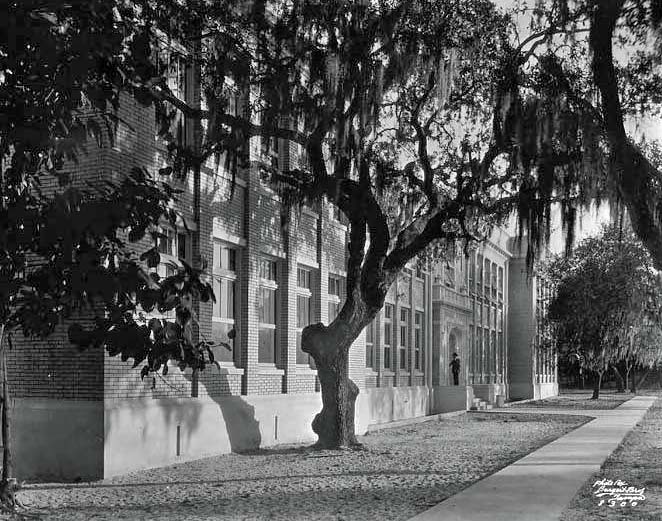 Tree-lined sidewalk at B. C. Graham School at 2915 Massachusetts Avenue and West Street, brick front facade, Dec. 16, 1922. Burgert Bros. photo commissioned by M. Leo Elliot, from the Tampa-Hillsborough Co. Public Library Coop.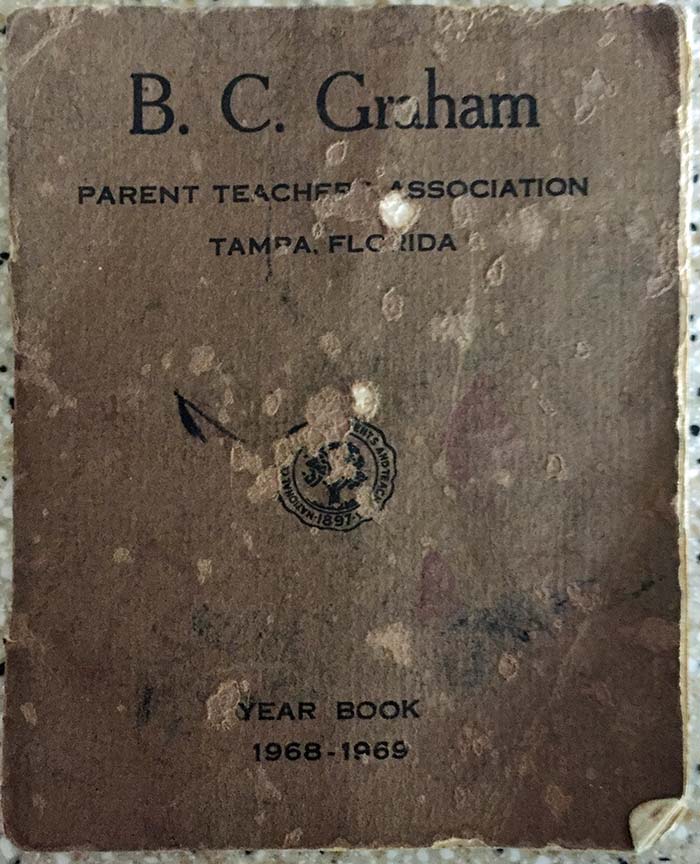 Image courtesy of P. Estrada
The Gates family reunion, circa 1900 photo below was provided by Louis Edwin Gates, Jr., son of Louis Edwin Gates and Mary Virginia Hefner, to Sally E. Tait Quinn, granddaughter of Louis Edwin Gates and Mary V. Hefner Gates, who then provided it for use here.
A world of thanks to all the Gates family members who made this image possible here.
Place your cursor on the photo to identify family members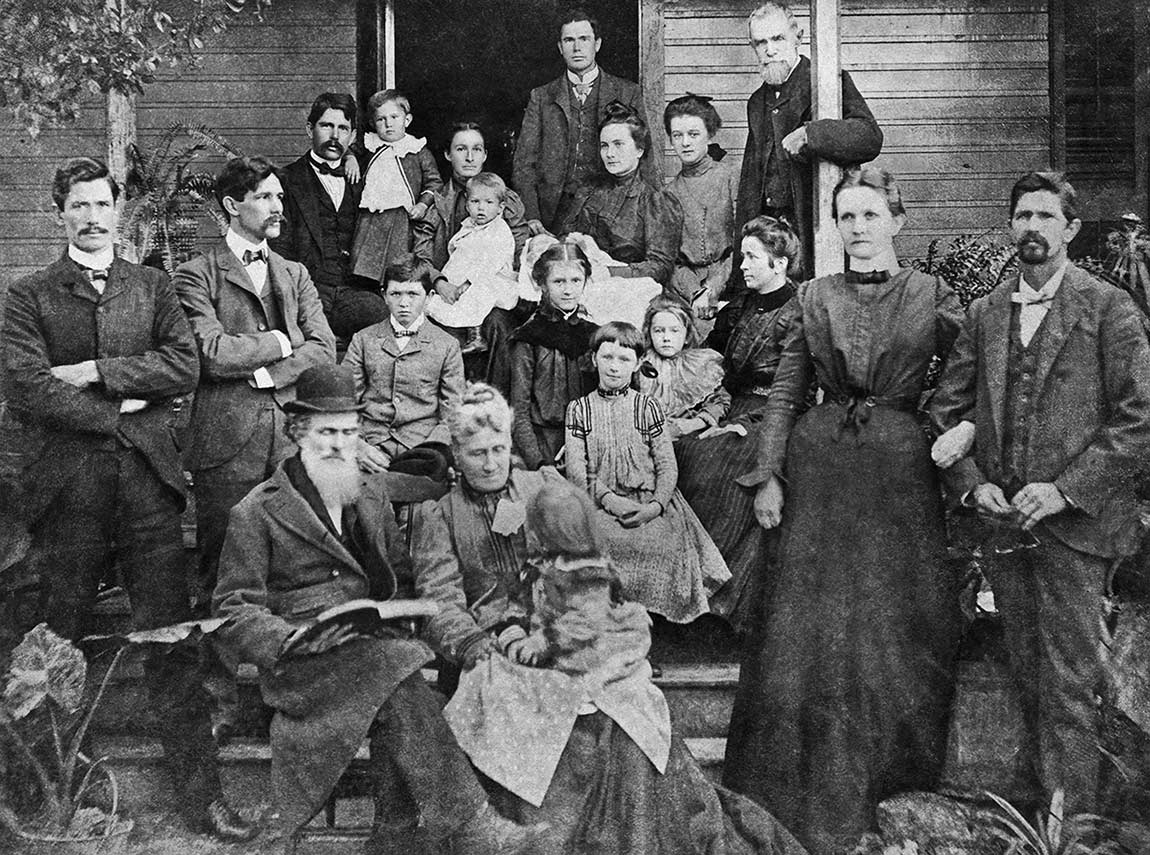 Picture taken in front of Rev. Edward Franklin Gates' home in Manatee, circa 1900, now East Bradenton, Florida.
Terms of relationship in quotes ("Grandma," "Uncle," etc.) are what Louis Edwin Gates called them; he provided the photo and names, and was grandson of #1 and 2.

Children of Rev. E. F. Gates & Euphemia Hubbard Gates are in red.

1. Rev. Edward Franklin Gates "Grandpa" (son of Josiah Gates, first settler in the Manatee/Bradenton settlement).
2. Euphemia (Feemie) Hubbard Gates "Grandma".
3. Samuel Chaires Gates "Uncle Sammy", son of 1 and 2.
4. Lula Curry Gates "Aunt Lula", first wife of 3.
5. Roy Gates, son of 3 and 4
6. Sally Gates Graham, "Aunt Sally", daughter of 1 and 2, wife of 7.
7. Benjamin C. Graham, "Uncle Ben".
8. Katy Graham (later Dickens), daughter of 6 and 7.
9. Bertha Graham (later Anderson), daughter of 6 and 7.
10. Robin Graham (later Sutton), daughter of 6 and 7.
11. Gladys Graham, never married, daughter of 6 and 7.
12. Annie Laurie Graham, (later Allgood), daughter of 6 and 7.
13. Rev. Edward Josiah Gates, "Uncle Eddie", son of 1 and 2.
14. Esther Rebecca Wartmann, first wife of 13.
15. Dr. Hubbard Gates, my papa, son of 1 and 2.
16. Lilla Corbett Gates, my mama, first wife of 15.
17. Olin Edward Gates, my oldest brother, son of 15 and 16.
18. Ralph V. Gates, my second oldest brother, son of 15 and 16.
19. Laurie Gates, "Uncle Laurie" (later marr. Pearl) son of 1 and 2.
20. Josiah Olin Gates (later married Bertha Alice Stetler), Son of 1 and 2.
21. Chester Gates (infant obscured, on lap of 14), baby of 13 and 14.

I (Louis Edwin Gates) was born in 1902 and my youngest brother, Kyle was born ~1905.

The information above is the result of slight modifications (on Oct. 16, 2009) by Louis E. Gates, Jr. from what his father originally provided. The photo was provided by Louis Edwin Gates, Jr., son of Louis Edwin Gates and Mary Virginia Hefner, to Sally E. Tait Quinn, granddaughter of Louis Edwin Gates and Mary V. Hefner Gates, who then provided it for use here.

A world of thanks to all the Gates family members who made this image possible here.
B. C. Graham family from Genealogical Record of the Descendants of Col. Alexander McAllister, of Cumberland County, N. C ... by David Smith McAllister

HILLSBOROUGH COUNTY HIGH SCHOOL'S FOURTH HOME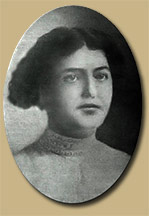 Owing to the disastrous freeze of 1895, the plan of Supt. Buchholz to erect a brick building for the High School had to be postponed. Accordingly, the school was taught for one year in the old Baptist Church on the corner of Twiggs and Tampa Streets.

HILLSBOROUGH COUNTY HIGH SCHOOL'S FIFTH HOME
THE WRIGHT BUILDING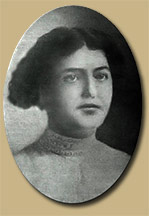 From 1897 to 1900, the High School was over the Post-Office, located in the Wright Block on the corner of Madison Street and Florida Avenue.


It was in this atmosphere that the school newspaper, then called The Donnybrook Fair, was established and published, possibly because of their sharing the Times' printing office.

HILLSBOROUGH COUNTY HIGH SCHOOL'S SIXTH HOME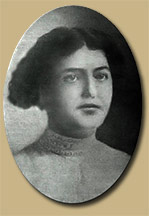 A new school building was needed but there was no legal way of raising money for building purposes, except to save it from the general school fund.

By careful management after the freeze of 1895, money was saved and through the special efforts of Supt. Buchholz, the frame building on the south end of the school property on the corner of Jefferson and Estelle Streets, our present home, was erected in 1900 at a contract price of $5,1003 dollars. This well-planned building has two stories and contains an assembly hall, six large rooms, science laboratories, several small rooms, a library, an auditorium and an office. It was large enough to accommodate as many as 250 high school students--ample room for the number of pupils enrolled at that time. 3The bid was $6,190
This building housed a real county high school, with a standard four-year course, which immediately became recognized as a leading high school of the state.
Mr. J. W. McClung was principal from 1900 to 1907. During the next two years, 1907 and 1908, Dr. E. M. Hyde was principal. Then in 1909, Mr. E. L. Robinson was appointed principal.

Oct. 21 - School will start tomorrow, students will be assigned to their classes. A large number of students were expected. Principal J. W. McClung will have charge, his first assistant was Miss Katharine Wicker and will teach English and History. Mrs. D.B. McKay to teach Spanish and Science. (Continued at lower left.)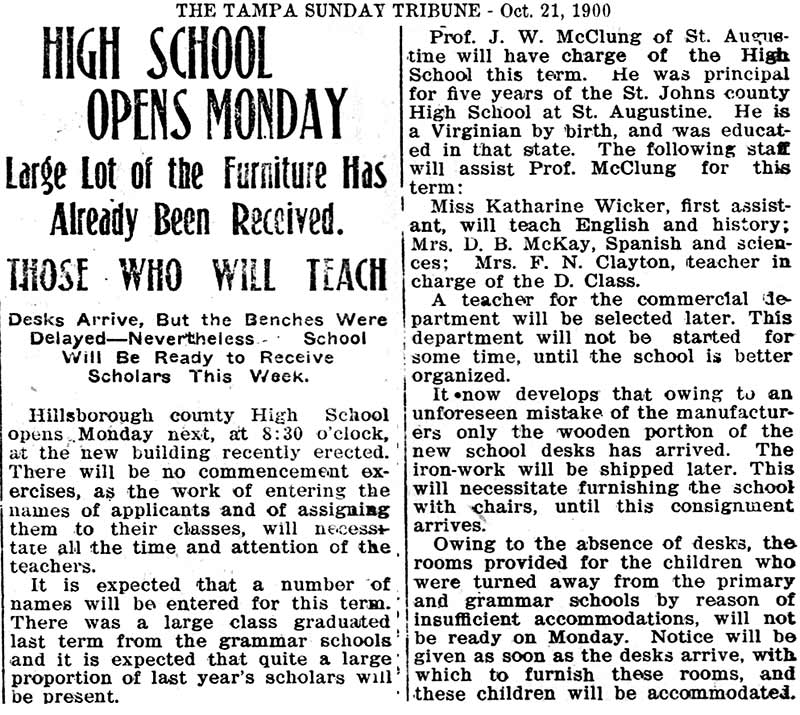 | | |
| --- | --- |
| In January 1901, Mr. Buchholz accepted a position in the Florida State College at Tallahassee. Mr. B.C. Graham, who up to that time had been principal, succeeded Mr. Buchholz as County Superintendent. | |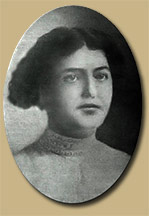 which office he held until 1904, when he was succeeded by Mr. W.B. Dickenson, who also occupied that position for a term. In 1908, Mr. Buchholz was again elected as County Superintendent, which place he holds at the present time.
THE RACE FOR HILLSBOROUGH COUNTY SCHOOL SUPERINTENDENT

In early Feb., the Tribune announced Tarpon Springs teacher W. B. Dickenson's candidacy in the primary election.* Back then, Pinellas County had not yet been created; Hillsborough encompassed all of what is now Pinellas.

The Tribune says don't let his youthful appearance deceive you, "he is a man of much experience and mature judgment, now 28 years old." He was a teacher for 5 years in Florida public schools, member of the church, loyal citizen, practical, positive, an able editor, and rated highly by the editor of the Ocala Banner, a previous employer.

Then in the next paragraph, after boosting his maturity, they refer to him as "a Marion county boy" and "Our young friend..."

*It may have been a local custom, or maybe one of this period in history, but elections in Tampa were referred to as a "Primary," whether it was one to determine which candidates could run in the final election, or the final election itself. So this "primary" was the "primary primary" and the "second primary" to determine that candidates who would hold the office was to be held on June 8, 1904.
Five days later there were 4 candidates running in the primary, including B. C. Graham.


The Tribune is less generous with space in announcing Graham's candidacy. Graham is honorable, experienced, and has lots of friends. If elected, he will continue doing the same thing, it says.

On April 1, John T. Lowe threw his hat into the ring.


On April 10th, the Tribune published a sample ballot of all positions in the primary election.


The primary election was held on May 10th, with the first few days of returns being updated with individual precincts vote counts, which continued to slowly climb.

On May 15, the final count was published as totals for each position from all the precincts.

Graham soundly defeated Dickenson by 887 votes, but was just shy of having the 51% majority over all candidates. Out of 3,806 votes, Graham's 1,864 represented 49% of all votes.
May 18, 1904
The Tribune reported that Dickenson will enter the second race [the final election, which it also refers to later as a "primary."] and will conduct a "strong, active, but high-toned campaign."
This turned out to be an understatement, as Dickenson launched an all out newspaper blitz on Graham, but did keep it "high-tone" with no mud-slinging.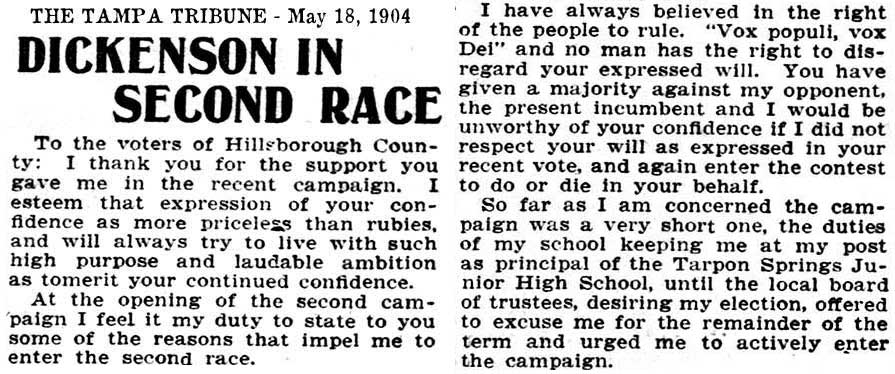 May 18, 1904
The Tribune carried this article in which Dickenson thanks the voters who supported him in the primary.
He gives his philosophy on the right of the people to rule through their vote, and that the majority of voters were against his opponent.
Apparently, Dickenson viewed Graham as his only opponent, and considered the percentage of votes NOT for Graham as a majority who wanted to oust Graham.
He also stated that his campaign for this primary was a short one, because as principal of the Tarpon Springs Jr. High school, he was unable to campaign until the school board of trustees offered to excuse him from his duties and devote full time to the campaign.
This is only the beginning of the article. In the rest of the article, he gives his reasons for running for school superintendent. He says that in this second campaign he will discuss the economic issues and the performance of the current administration for the past 3 years. When elected officials want your vote, you are entitled to know how they've conducted the office they've been entrusted to. Whether they did "all things necessary to advance your interests and only those things of which you would approve, or have they permitted ulterior or sinister motives to influence their action and failed to so discharge the duties of their office..." He assures there will be "no mud-slinging."
See the rest of the above article, as well as the media blitz and unrelenting attacks Dickenson launched against Graham in the Tampa Tribune for the next month. In the June 2nd Tribune, Dickenson bought a FULL PAGE of the Tribune, with "advertisement" in the smallest possible type under a giant headline "PROF. W. B. DICKENSON'S CANDIDACY." This ad consisted of 6 very long, separate articles, most of which had already appeared in previous issues individually at one time or another. Two of the articles in the ad were by J. W. Williamson, who had run for the school supt. office in the primary.

BACK TO THE 6TH LOCATION OF HILLSBOROUGH COUNTY HIGH SCHOOL "THE NEED FOR A NEW BUILDING"