In high school her name was Bessie Yvonne Whitehead; she graduated in the class of 1945 at Hillsborough High.

Hillsborough High School
Class of 1945


Hilsborean yearbook images courtesy of HHS Historian, L. Rex Gordon.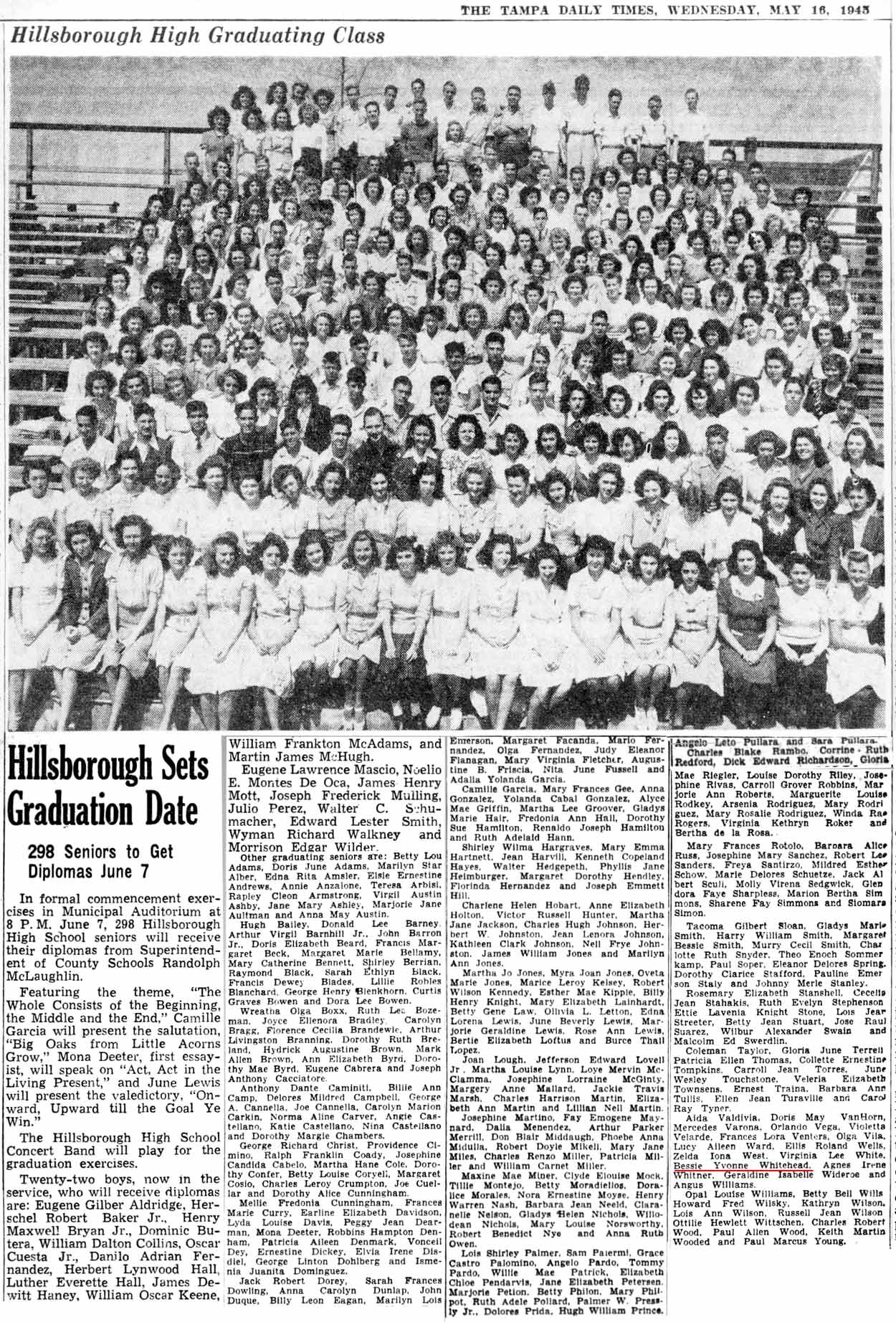 On Aug. 15, 1947 Yvonne married Arlie Freeman at the same courthouse where her parents were wed, in Dade City, Fla. According to a Tampa Tribune article about Goody Goody and Yvonne in 1992, her husband Arlie left school to join the service and obtained his GED when he returned.

She worked as a carhop back then at the Goody Goody, from 1947 to 1949. In the next 10 years, she and Arlie had five sons. After that 10-year period away from Goody Goody, she returned to work in the restaurant in 1959 as a waitress. She said she once served Col. Harland Sanders, the founder of Kentucky Fried Chicken.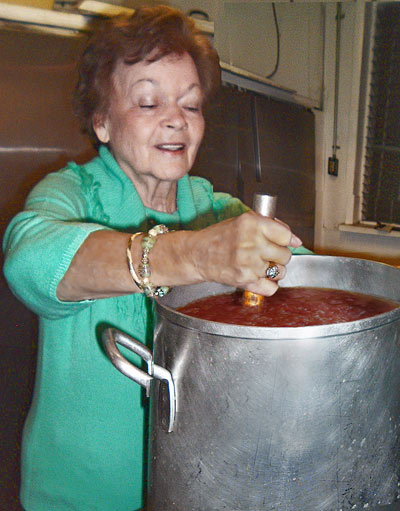 Yvonne took exclusive responsibility of making the secret sauce, a recipe handed down unchanged from the Stephens years, through the Stayer years, and all her years at Goody Goody. She also continued making the delicious homemade pies herself. Her pies (butterscotch, pineapple cream, traditional apple, French Apple, coconut cream, banana cream, pineapple cream, chocolate cream, pecan, lemon meringue, and seasonally, pumpkin) were just as famous, if not more famous, than the Goody Goody burger with special secret sauce.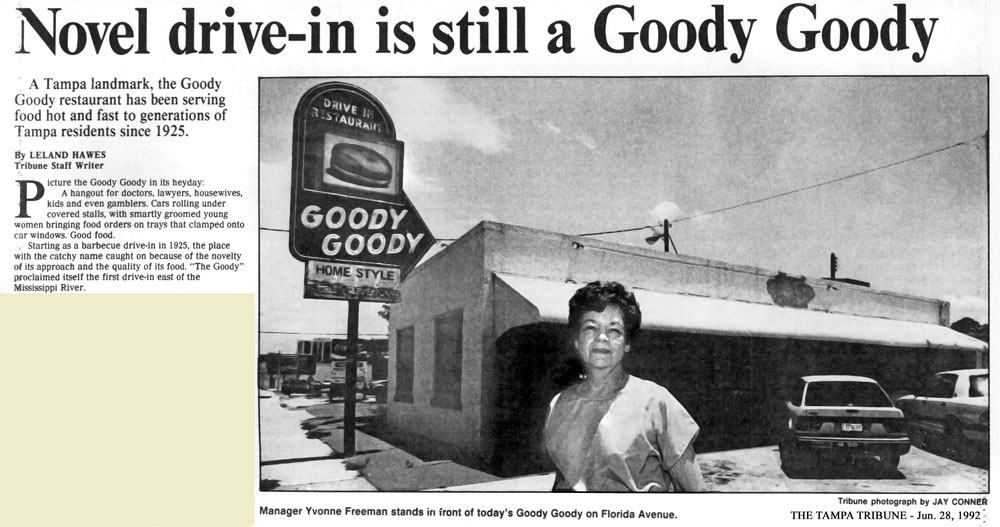 In 1980, the Stayer family, who had owned Goody Goody since 1929, sold it to local accountant Mike Wheeler. Mike fixed it up, brought it up to code, and in 1984 Yvonne decided it was her turn to run the show. She leased it from Mike and became the manager, baker and half-day server until its final closing day on Nov. 30, 2005.
See a tribute to Yvonne at the NEW Goody Goody's Facebook page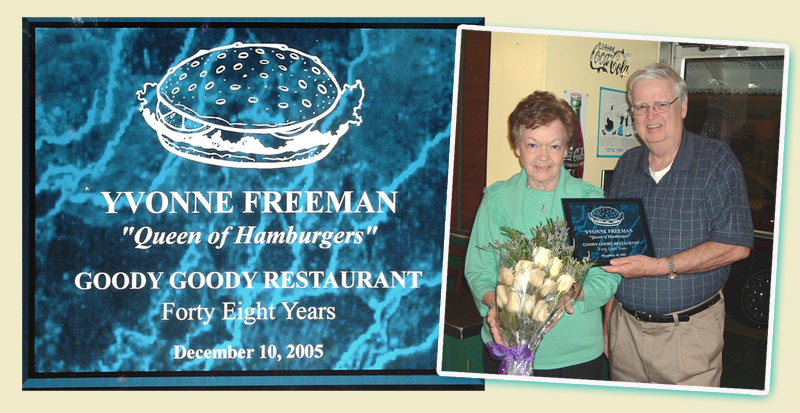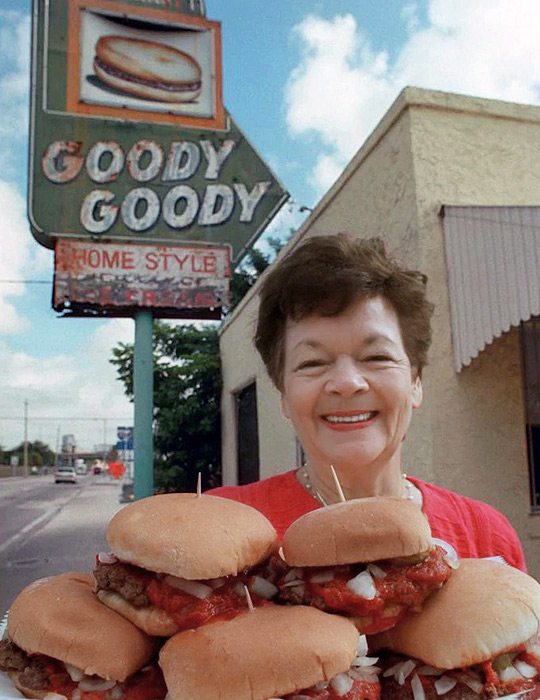 Goody Goody owner Yvonne Freeman figures she has served about 485,000 burgers in 39 years. JIM REED/Tribune photo from "It's All In The Sauce" - Sep. 3, 1998


Newspapers have a way of removing their articles after a while, and this one deserves to remain available due to its historic content and Yvonne's legacy. So it has been preserved here for posterity, along with other related articles inserted for this tribute to Yvonne.

Goody Goody 'Hamburger Queen' Yvonne Freeman dies at 91
By Divya Kumar
Published Sept. 12, 2019, Tampa Bay Times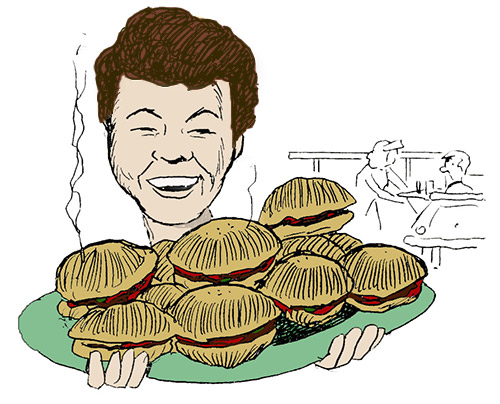 This caricature was not in the article. It's a colorized version of one that ----
Starting as a carhop in 1947, she later became a waitress, cook and then co-manager. When Goody Goody relaunched in Hyde Park, she shared long-guarded recipes and the restaurant's famous secret sauce.

It was hard to separate Goody Goody restaurant from Yvonne Freeman.
Mrs. Freeman, 91, who died Sept. 5, was known as the "Hamburger Queen of Tampa" and the longtime sole protector of the restaurant's original secret sauce recipe. She knew the names and orders of everyone who came in regularly, and everyone who came in regularly knew her smile.
She is remembered as the "backbone" of the restaurant.
Mrs. Freeman was born in Crystal Springs and started working at the restaurant —first as a carhop — in 1947, the year she married Arlie Freeman, who she'd met in high school before he left for World War II. She later became a waitress, cook and then co-manager. She had five boys and later 11 grandkids, some who would eventually work alongside her.
[The photo below is in the article but inserted from the TampaPix collection, not downloaded from the article. ]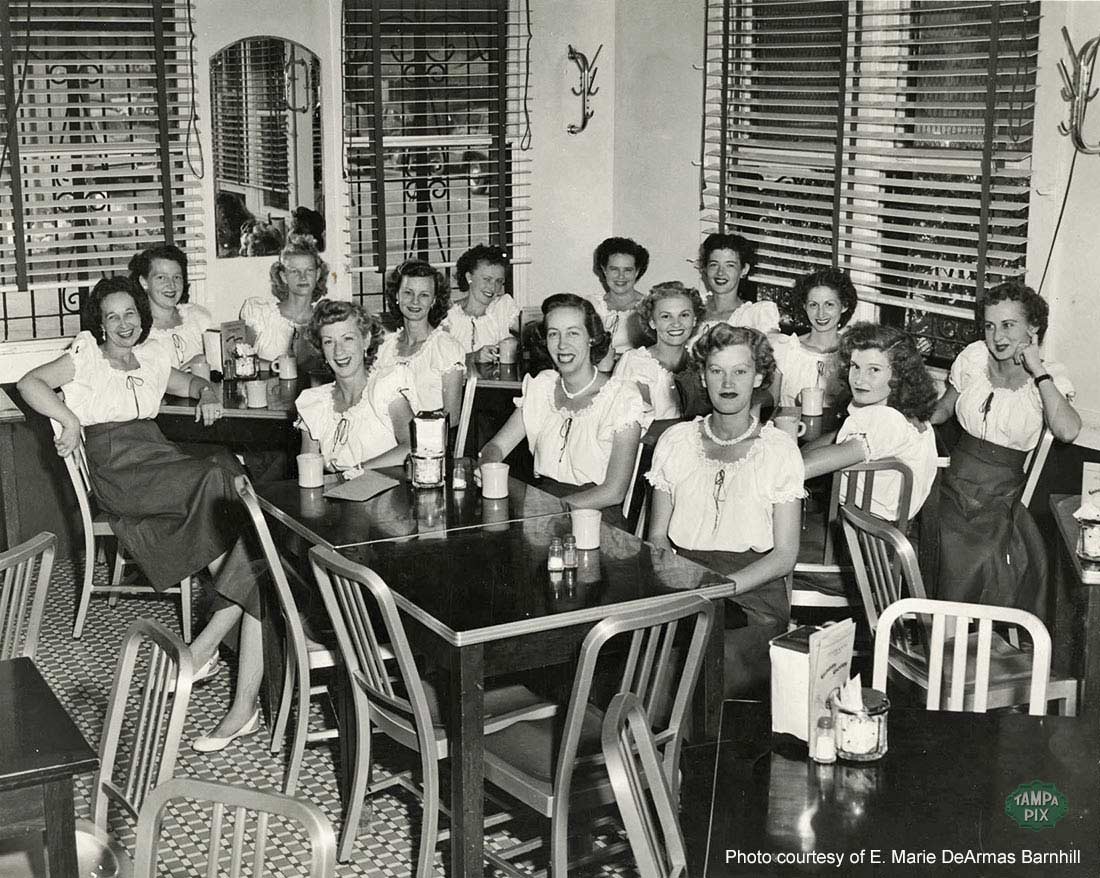 Place your cursor on the photo to see names.
[The article states that Yvonne is in the center of this photo but she is not. The following is from the TampaPix Goody Goody history feature: The "Goody Goody Girls" circa 1950-51. Photo courtesy of E. Marie DeArmas Barnhill. Marie's mother-in-law, Zena Sanford, is seated 2nd from far right, looking over her left shoulder. She married Tom Barnhill in July of 1951. Photo was taken by Hal's studio of photography, 8716 Edison, Tampa Florida. The dark-haired lady seated front center is Loraine Brown Gaskins. Identification courtesy of Dave Gaskins, her son. Dave asked his mom about the photo and she said, "The carhop/waitress 'uniform' was the white peasant blouse and red skirt, which was hand made and provided for the girls with the cost deducted from their pay, along with white shoes. Their jobs as carhops were highly coveted as the tips earned were quite substantial for the day." Thanks, Dave & Loraine!]
Yvonne worked through the age of Tampa's streetcars, before McDonald's opened its first location in the country, and continued through the age of fast food trends and then healthier eating. She worked through the abandonment and resuscitation of Tampa's downtown.
She'd once fed Col. Harland Sanders, the founder of KFC. She'd watched President John F. Kennedy's motorcade pass by. She'd fed the Hollywood cast and crew of The Punisher with John Travolta, when a scene was filmed at the restaurant.
"She'd seen all of life from that little restaurant," Doug Freeman, her youngest son, said.
In 1980, the restaurant was bought by Mike Wheeler, an accountant who knew Mrs. Freeman as a waitress from the time his dad took him as a kid to eat at Goody Goody. He leased it out and made renovations to the restaurant, then on Florida Avenue, but closed it in 1984.
A few months later, Wheeler said, Mrs. Freeman and another waitress, Lorene Green, walked into his office. Mrs. Freeman told him she would like to run it.

Yvonne Freeman, left, serves a lunch order while Lorene Green takes an order over the telephone. Both worked as waitresses at the Goody Goody in the 1940s. Tribune photo by LARRY ALSPAUGH from Feb. 14, 1989 article below.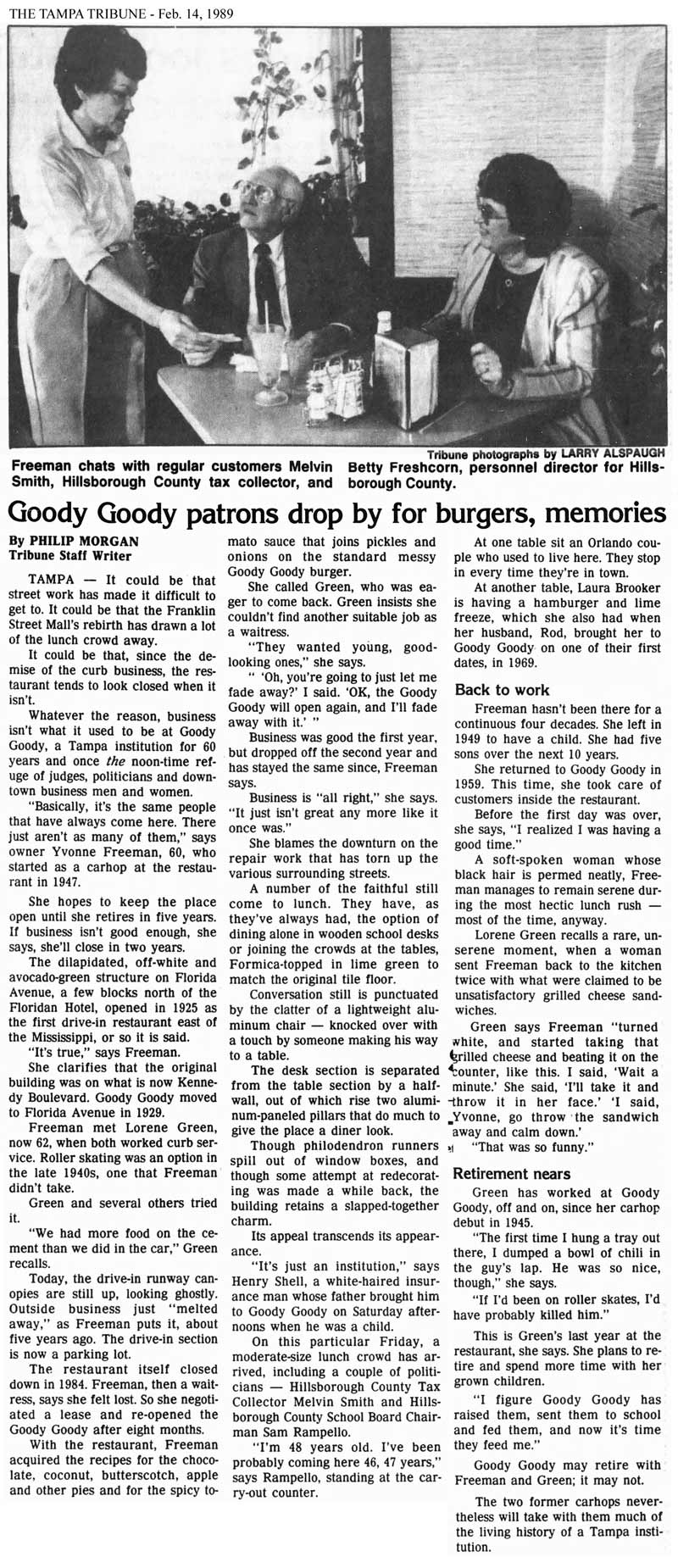 Her son said his mother needed Goody Goody as much as it needed her. "She found herself lost without it," Doug Freeman said. "She'd said there's no other place for me but the Goody Goody. ... It's what kept her going." Mrs. Freeman began leasing the space from Wheeler, while continuing as a waitress and making the special sauce and homemade pies by hand — including the famous butterscotch recipe. In the evenings, if there were extra pies, she'd bring them home for her sons. The lemon pie was always Doug's favorite, he said, and he later learned her secret sauce recipe and helped her in the kitchen for nine years. His kids also later worked at the restaurant for a time. "No matter what, you're not going to be as good as a waitress as my mom was," Doug Freeman said. "You're always going to play second fiddle to her. You walk into the restaurant and she's already smiling. ... She made you feel good. She made you happy. She made you comfortable." Filmmaker Lynn Dingfelder, who produced the documentary Goody Goody: Past, Present and Future, said there was hardly anyone who didn't know her, from prominent judges to the average diner who walked in once.
"It's a real loss for our community," she said. "So many people loved her. She built up this wonderful restaurant, and yet there was nothing pretentious about her. She worked long hours. … She was delightful. She was a real lady and a hard-working mom."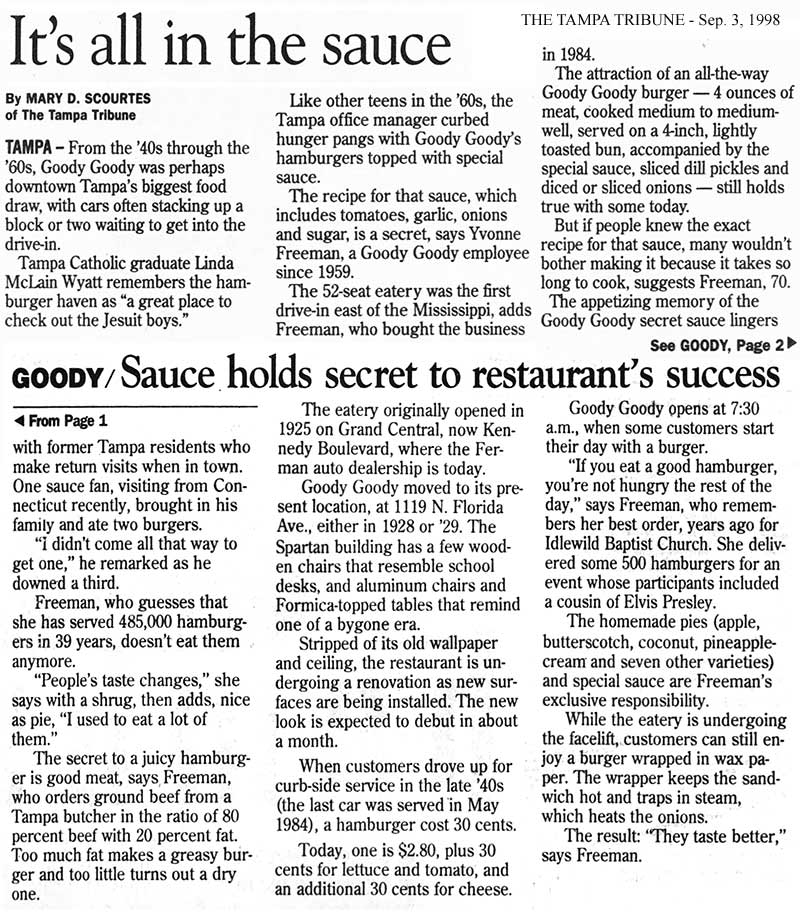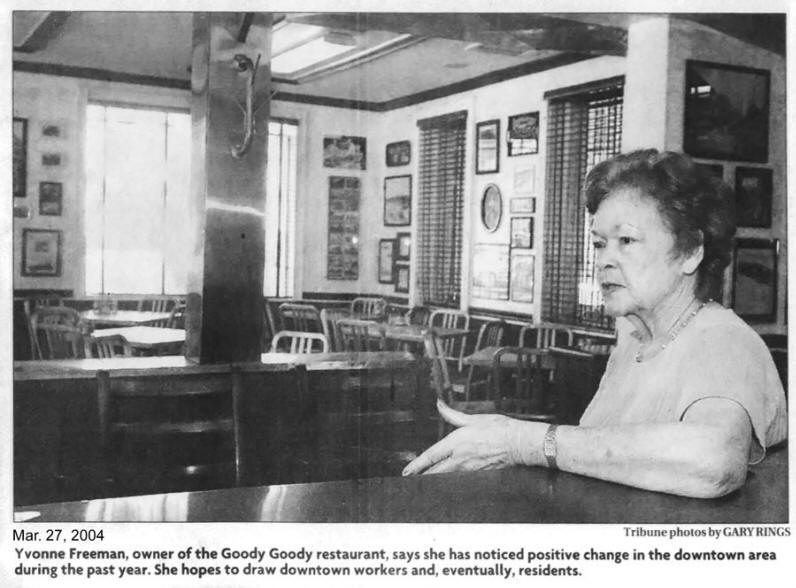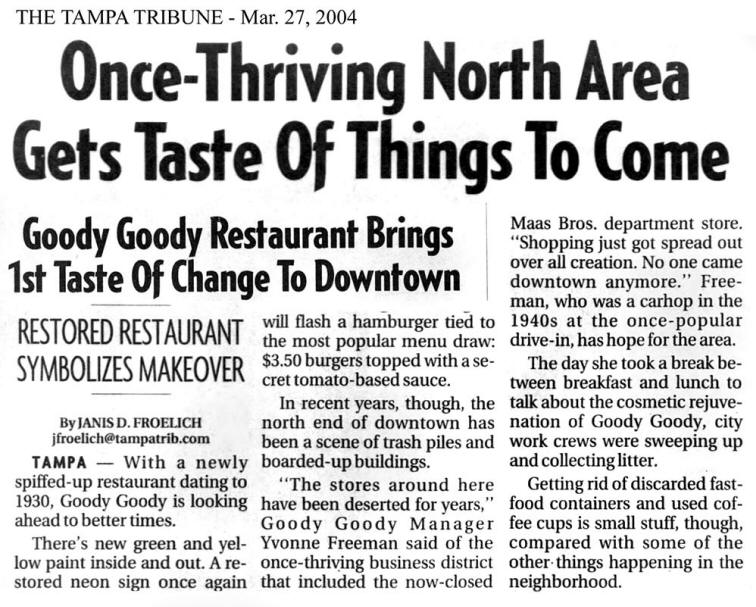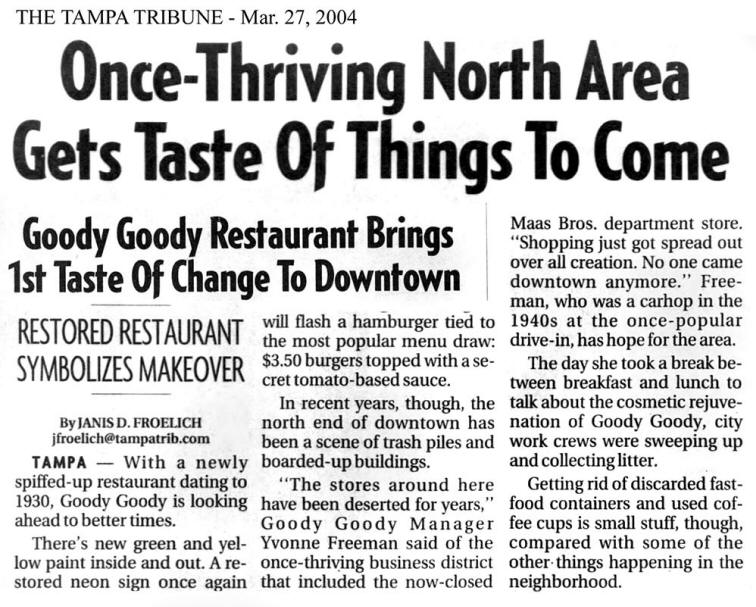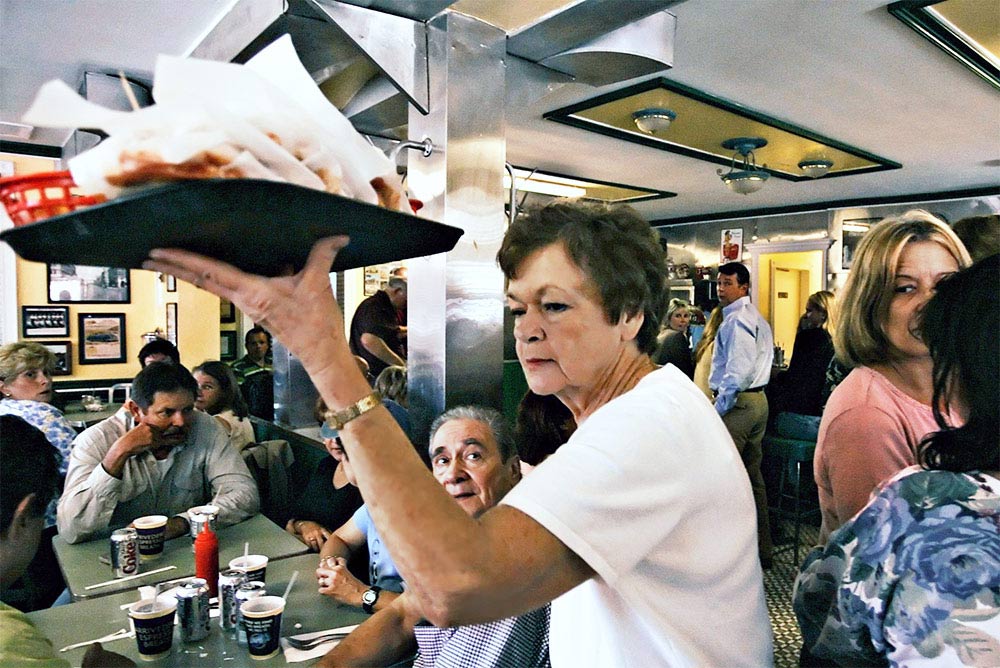 All eyes were on manager Yvonne Freeman as she brought an order to a table at the Goody Goody restaurant.
The restaurant on the north end of downtown Tampa closed the next day. [DIEZ, CHERIE | Tampa Bay Times (2005)]
Goody Goody closed in 2005 when a developer bought the property. In 2014, when Richard Gonzmart bought the restaurant, Mrs. Freeman was vital in the re-launch, preparing the special sauce with her son for the new owners and sharing the long-guarded recipes [only with them.]
"We wanted to make sure when we re-opened in Hyde Park that we got it right," Michael Kilgore, chief marketing officer of the Columbia Restaurant Group, said. "People remembered Goody Goody with such fondness and such love. ... Yvonne was a link to Tampa's colorful past. "
When it reopened in 2015, Mrs. Freeman was a celebrity, Kilgore said, with customers asking her for autographs and asking if she remembered them from a decade before. She did.
Wheeler said she was excited to be a part of resurrecting Goody Goody. "It was really about keeping the Goody Goody alive," he said. "It's part of Tampa's history. The Goody Goody was a melting pot. Every type of person who was raised in Tampa went there."
[Documentary film producer Lynn ] Dingfelder said she wanted to see the culture of the restaurant live on. "She was glad to see it come back alive," she said. "It was like another child of hers. She was the spirit of the place."
YVONNE B. FREEMAN
BORN: July 27, 1928.
DIED: Sept. 5, 2019.
SURVIVED BY: Four sons: Larry, Wayne, Bobby and Doug Freeman and 11 grandchildren. Preceded in death by Arlie Freeman (husband) and Gary Freeman (son).

We know Yvonne will be greatly missed by her family, and all of Tampa who ever came in contact with her weeps for their loss.
I am not aware of any memorial services for Yvonne, so if you wish to send cards of condolence to her family, all I can suggest is to send them to:
Cremations of Greater Tampa Bay, Inc. 110 N Mac Dill Ave., Tampa, FL 33609
You can also post condolences here online at Legacy.com:
https://www.legacy.com/obituaries/name/yvonne-freeman-obituary?pid=193839661
---
YVONNE'S HERITAGE
Please note that the family info below is the result of online records searches. Marriage records and especially census records sometimes contain errors, especially with ages. Every effort has been made to compare these with the little bit I knew and was provided with about Yvonne's family. Images of the census records may be added later. --Dan
Yvonne's paternal grandfather, William Braiton Whitehead, was born in 1869 Ohio, of parents from New Jersey (father) and Ohio (mother.) William married Cora Dallas on Aug. 2, 1891 in Akron,Ohio. Cora was born May 12, 1871 in Salem Township, Tuscawaras Co, Ohio. She was a daughter of James W. Dallas and Catharine G. Cragham; both were Ohio natives.
On April 30, 1896, while William & Cora were living at 205½ Poplar in Akron, they had a son, William E. Whitehead. The Whiteheads were living at the same address on Mar. 4, 1900, when their son (Yvonne's father) Ivan Braiton Whitehead was born.
By 1910, William B. Whitehead and his wife Cora had moved to Jacksonville, Fla. where William worked as an iron molder, probably at the shipyards. Also with them there was their son, Ivan B. Whitehead who was 10. Their other son, William E. would have been 14 at that time, it's not yet known why he wasn't listed on their 1910 census.
On Sept. 12, 1918, Yvonne's father, Ivan, registered for the WW1 draft in Akron. His registration shows he was tall and slender, with blue eyes and brown hair. At the time he lived with his parents at 230 N. Arlington St in Akron. Ivan was employed at the Biggs Boiler Works located at Williams & Banks Streets in Akron, where he was an assistant boiler welder.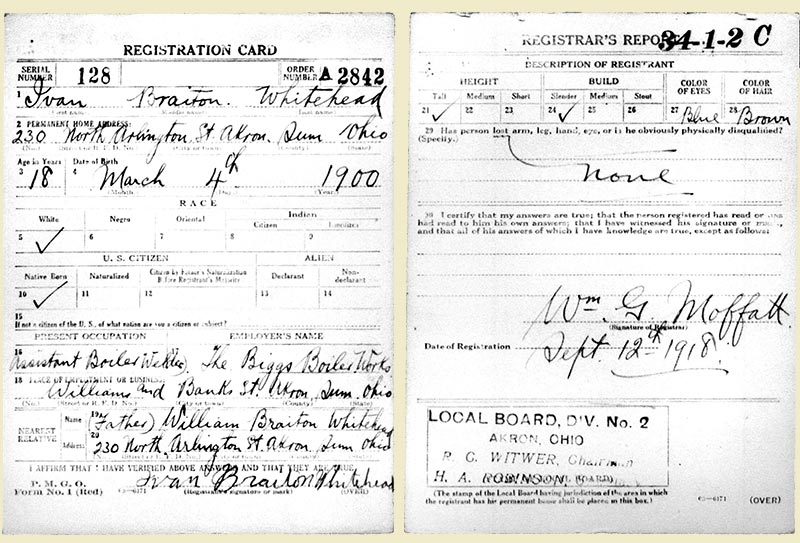 By 1920 Ivan B. Whitehead had gone out on his own and had moved to Baltimore where he was living in a boarding house. He was 19 and single, and working as a corker in a shipyard. Later it was called "caulking;" filling in gaps usually in the construction of wooden boats and ships, but being a welder it probably meant he welded seams on ships.
Ivan was in Florida by July 1927 because this is where he married Bessie Lee Patterson. They were married by County Judge J. W. Sanders on July 5 at the Pasco County courthouse in Dade City. Ivan was 27, Bessie was 19.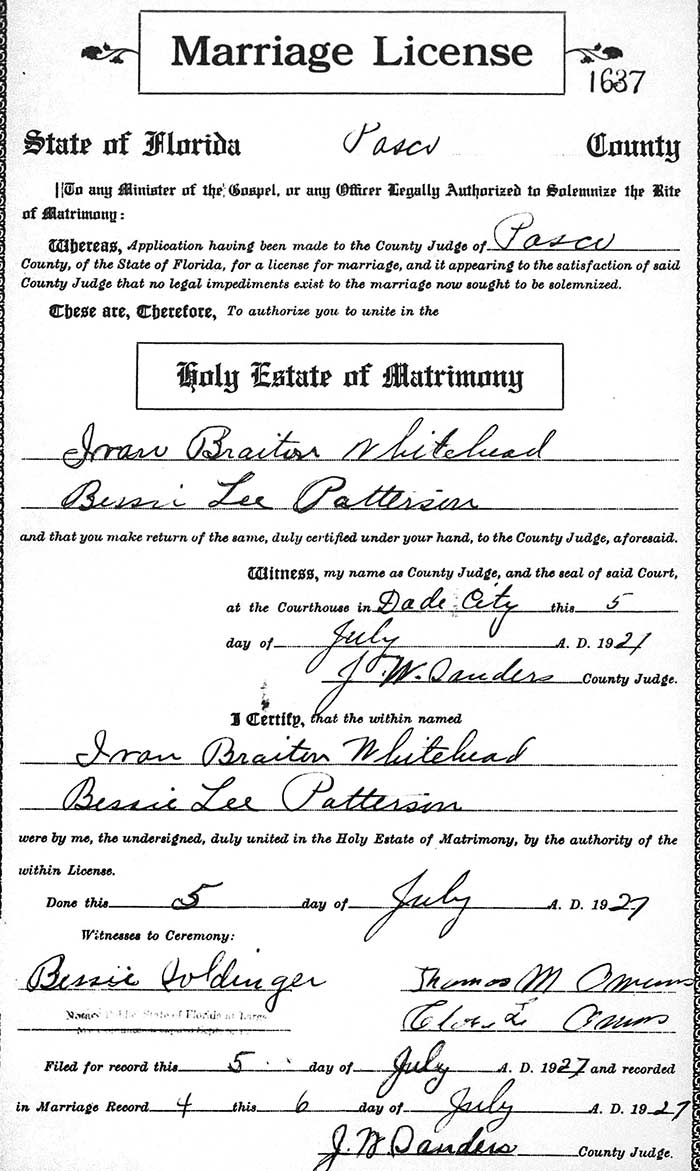 Bessie Yvonne Whitehead was born July 27, 1928, probably in Dade City or in the area of Crystal Springs, Florida. As a child, Yvonne grew up in Crystal Springs. She was probably named for her mother and father.
By 1930 Ivan and Bessie were back in Akron. Ivan worked as a tractor operator in the rubber industry, probably some type of machine at a tire factory, being in Akron. Most of the other men on that census page work in the same business. Ivan was 30, Bessie was 22 from Virginia, as were her parents. B. Yvonne was 1yr & 8 mos.
Florida held state censuses in 1885, 1935 and 1945. By the time of the census in 1935 the Whiteheads had moved back to Florida and were living outside the city limits of Crystal Springs. Ivan was 35, Bessie L. was 27, and Bessie Yvonne was 6. Ivan had a 10th grade education, Bessie, a 7th grade education, and Bessie Yvonne was attending first grade.
Ivan shows that he owned his home and was farming at this time, probably as a result of the Great Depression. There were plenty of "truck farms" in that area in those days. Farmers would grow their produce and take them into the city and sell it directly to wholesalers or retailers, probably Tampa, on a truck--hence the term "truck farmer."
Two dwellings away was Ivan's widowed father, Wm. B. Whitehead. He was 68 with an 8th grade education, renting his residence, and working as a foundry man.
1940 finds the Whiteheads in the same place, on the south side of Crystal Springs. Ivan was 40. With the U.S. practically out of the Great Depression, and another World War taking place in Europe, more industrial jobs were available and Ivan was back in the ship building field, working as a burner at a ship yard. Surely this was in Tampa so his commute was quite long. Bessie Lee was 32, Yvonne was 11 and in the 7th grade, an now the Whiteheads had a son, Ivan Jr. who was 3 years old (b. circa 1937.) Now neighbors, Ivan's father was listed as "Whitehead, W. Burt" was 74, and widowed with no occupation.
Florida's 1945 census shows the Whiteheads in Tampa at 4200 13th Street. Ivan, then 45, worked as a welder; probably in a ship yard in the Port of Tampa. Bessie was 37, Yvonne 16, and by this time a senior at Hillsborough High School. Her brother is listed as "Lannie" here, age 8. Perhaps he wasn't really a Jr. but the enumerator listed him as such in 1940, and Lannie may have been his middle name.
On Aug. 15, 1947 Yvonne married Arlie Freeman at the same courthouse where her parents were wed, in Dade City, Fla. Their mothers were witnesses to the marriage.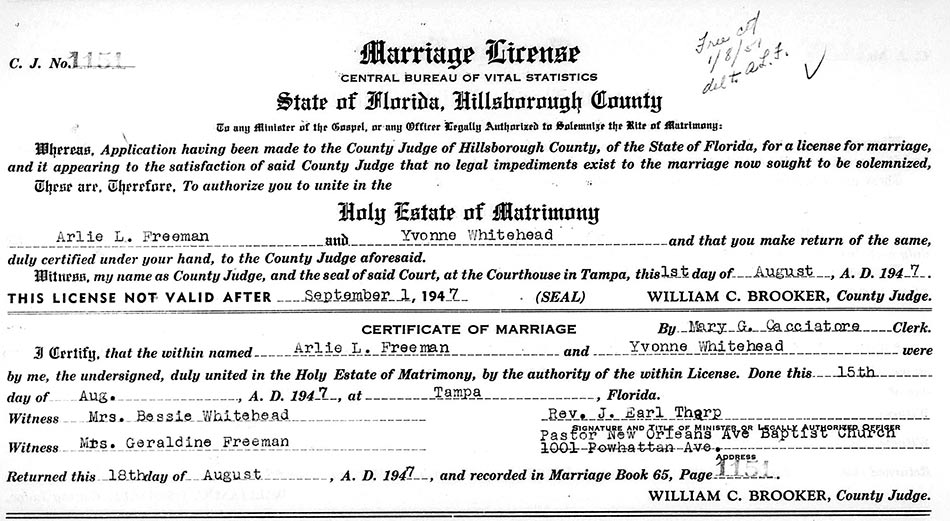 THE FREEMANS
Arlie Lee Freeman was born Sept. 4, 1927 in Hills. Co, Fla, he was a son of Calvin Levy Freeman (b. Oct 8, 1901, Pickens, SC) and Geraldine G. Smith (b. Sept. 19, 1910, Fla.) Calvin & Geraldine married on April 26, 1926 in Polk Co.
In 1930, Arlie's parents, Calvin L. Freeman and Geraldine, were living with her parents, John Henry Smith (51) and Christie Arnold Smith (50) at 612 Myrtle St. in Lakeland, Fla. (In 1920 John H. Smith & wife Christie Arnold Smith lived in Plant City.) Geraldine's father, John H. Smith, worked for the City of Lakeland sanitation dept. Arlie's father, Calvin Freeman, was 27 and working as a laborer at odd jobs. He and Geraldine (who was age 19 at the time), show they first married when they were age 23 & 15 respectively. Arlie was 2½ and Gerald was 3 mos.
Calvin Levy Freeman was the 3rd of 11 children of Benjamin Franklin Freeman (b. Mar. 5,1876, Anderson, SC) and Grace Elizabeth Black (b. Aug.1878, SC).
In 1940, Arlie's parents, Calvin & Geraldine Freeman lived at 1510 New Orleans Ave. in Tampa. Calvin was working as a truck driver for a flour and feed company. He was 38, Geraldine was 29. Their children were Arlie L. 12, Gerald L. 10, and Leila B. 1. Arlie was in the 6th grade.
In 1944, Calvin registered for the WW2 draft, he was 40 at the time. In #7 he named his mother (Grace) Elizabeth (Black) Freeman in Hartsfield, Geo. Calvin worked for Ballard & Ballard Co. on S. 11th St. in Tampa.
In 1945, Arlie Freeman's parents, Calvin & Geraldine, lived at 4213 14th St. in Tampa. Calvin was 44 and working as a mechanic. Geraldine was 34, Arlie was 17 and working as a truck driver, probably with Ballard & Ballard Co. His brother Gerald was 15, a student, and now he had a younger brother, Frank Freeman, who was 4. Geraldine's widowed mother, Christie (Arnold) Freeman was living with them.

Shortly after that census, Arlie registered for the WWII draft in Tampa on Sept. 4, 1945, his 18th birthday.
[Most all the Freeman family info above comes from original official records online--censuses, marriage records, etc, but Arlie's more distant ancestry has been entered online by a researcher. Below is that Freeman ancestry of Arlie Lee Freeman, with a few changes.]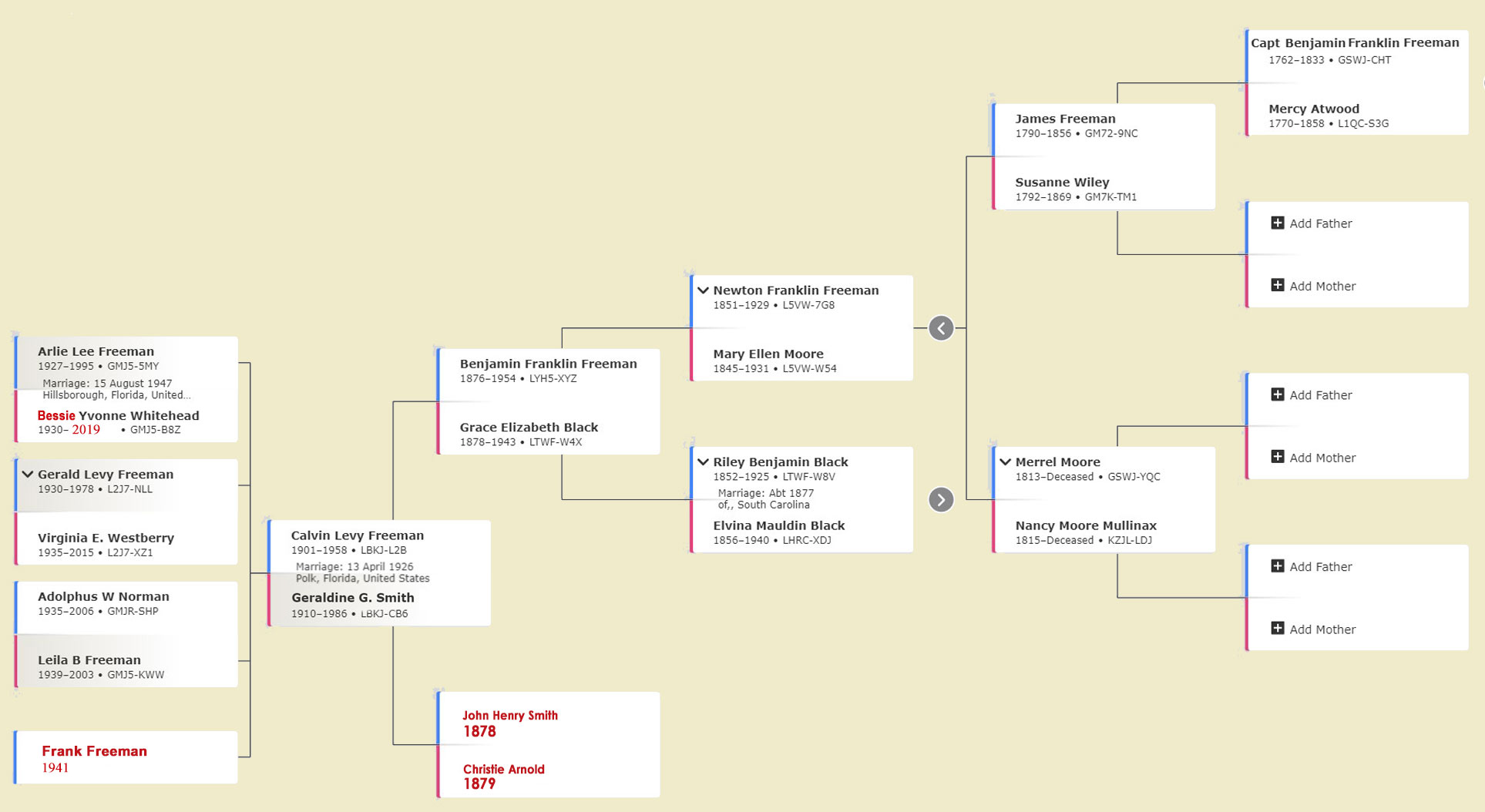 Yvonne's "Whitehead" ancestry could be from England. There are several records of Ivan Whiteheads in the UK from the 1800s. "Braiton" certainly sounds of British origin, could have been a family name passed down, and with Yvonne's grandfather showing his father was from New Jersey, it is seems quite possible this is so.