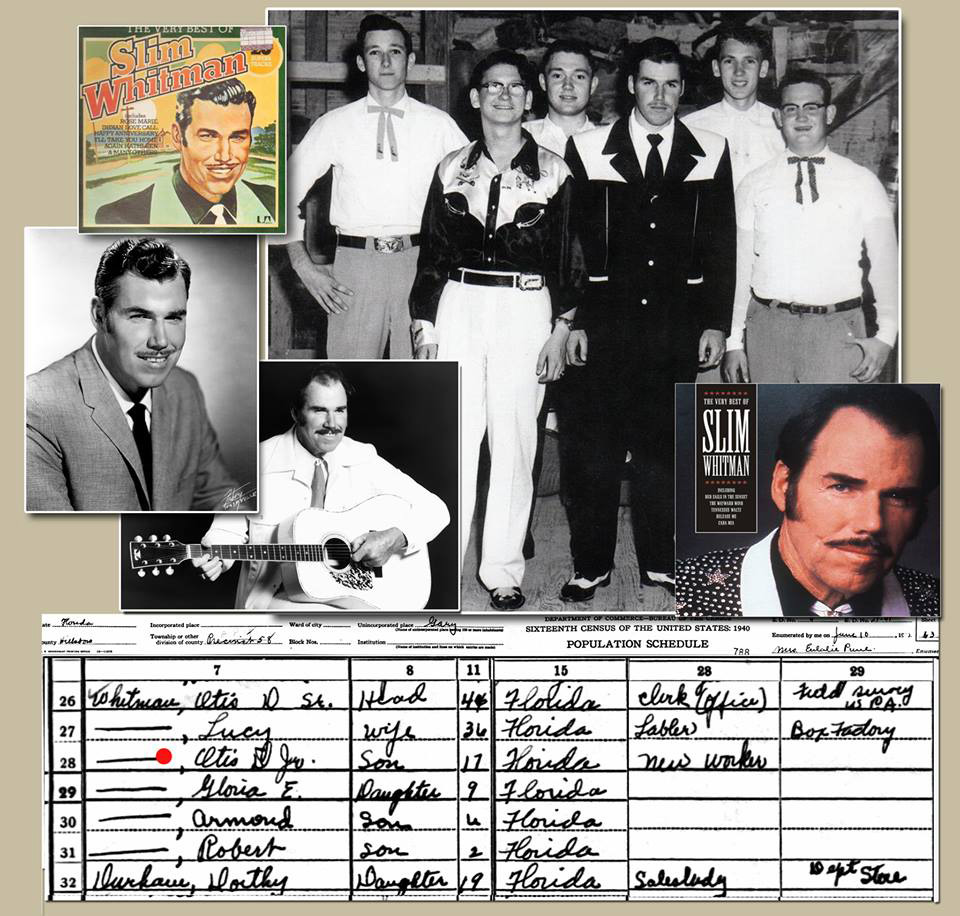 Photo: Slim Whitman with a very young Roy Orbison (front). Sonny Curtis (wrote "I Fought The Law") played in Whitman's band after he left the Crickets.
Whitman was born in Tampa as Ottis Dewey Whitman, Jr. on January 20, 1923. Growing up, he liked the country music of Jimmie Rodgers and songs of Gene Autry, but he did not embark on a musical career of his own until the end of World War II, after he had served in the South Pacific with the United States Navy. Whitman, a self-taught left-handed guitarist, was right-handed, but he had lost almost all of the second finger on his left hand in an accident.
On the 1930 census in Tampa, Otis was 7 years old and had a 9 year old sister, Dorothy B. Their father, Ottis D. Whitman, worked as a carpenter/contractor. Their mother, Lucy, was a box maker in a box factory.
Pictured here is Whitman's 1940 census in Tampa, in the area known as "Gary." This is now the industrial area north of Adamo Drive east of downtown. His father, Ottis D. Whitman was a government worker--a clerk at the Federal Survey office. His mother Lucy worked in a box factory. Slim's occupation was "new worker"--probably just got a job, He had an older sister named Dorothy B, a younger sister named Gloria E, and younger brothers named Armand and Robert. They lived at 54th St. near 20th Avenue. From the surrounding streets of this record, this is near where I-4 presently goes over 21st Avenue.
Florida's 1945 state census shows him living at 801 E. Plymouth with his wife, Geraline Whitman. Otis was 22 and in the Navy. Geraline was from Kansas, age 20 and working as a clerk. (Geraline was Whitman's wife of 67 years, Alma "Jerry" Crist Whitman, she was a songwriter and embroiderer as well as the daughter of a church minister. She died in 2009 as a result of kidney failure. They had a daughter Sharon, and a son Byron K. Whitman, who is also a performer and who toured and recorded with Whitman on numerous occasions)
Tampa native Slim Whitman, the country music icon known for his signature yodel, died at age 90. Whitman, who had been living in Middleburg, TN, died Wednesday morning at Orange Park Medical Center in Orange Park, FL. Whitman began his musical career after serving in the Navy during World War II. He went on to sell more than 120 million albums.
The Tampa Tribune described Slim Whitman as "the hillbilly singer who used to yodel on radio station WFLA and played baseball for the Plant City Berries." He was discovered in 1948 in Tampa by Col. Tom Parker, the manager for Elvis Presley. Whitman's "Indian Love Call" sold more than a million copies.

In 2010, Whitman released the album, "Twilight on the Trail," his first new studio release in 26 years.

Whitman's grandson Dewey Beagle says his handshake is something he'll always remember. "Told me to shake his hand at an early age. And he said, 'Shake it like you mean it. Don't let people think they're shaking a wet dish rag when they grab your hand.' And for some reason, that has stuck with me, probably more than anything else he taught me," remembers Beagle. He also remembers how simple he was. "He would be out at the farm out in Middleburg. He mowed his own grass, grew his own garden, hoe the weeds, bring the vegetables in. He was Paw-Paw to me," says Beagle.

Studio version of Paloma Blanca, better audio quality
Whitman worked at a Tampa shipyard while developing a musical career, eventually performing with a band known as the Variety Rhythm Boys. Whitman's first big break came when talent manager "Colonel" Thomas Parker heard him singing on the radio and offered to represent him. Signed with RCA Records, he was billed as "the cowboy singer Slim Whitman" and released his first single in 1948.
He toured and sang at a variety of venues, including on the radio show Louisiana Hayride. At first, he was not able to make a living from music and kept a part-time job. That changed in the early 1950s after he recorded a version of the Bob Nolan hit Love Song of the Waterfall, which made it into the country music top 10. His next single, "Indian Love Call," was even more successful, reaching number 2 in the country music charts and appearing in the pop music charts top ten in the US.
A yodeler, Whitman avoided the "down on yer luck buried in booze" songs, preferring instead to sing laid-back romantic melodies about simple life and love. Critics dubbed his style "countrypolitan," owing to its fusion of country music and a more sophisticated crooning vocal style. Although he recorded many western tunes, love and romance songs figured prominently in his repertoire.
Tampa Native Yodeling Country Singer Slim Whitman Dies At Age 90, Tampa Tribune Online
Country Singer Slim Whitman Dies At Age 90, FirstCoastNews.com