Stetson University College of Law - Tampa Campus
---

The school was built on the former site of the old Tampa Police Station, on Tampa Street just north of I-275.
The three-story, 73,500-square-foot building reflects the same Spanish-Mediterranean architecture of Stetson's Gulfport campus, including a tower that overlooks downtown Tampa. The first and second floors house classrooms, a state-of-the-art courtroom, a law library and other law school space. The third floor houses chambers and offices for the Florida 2nd District Court of Appeal.
(Information from the Stetson website)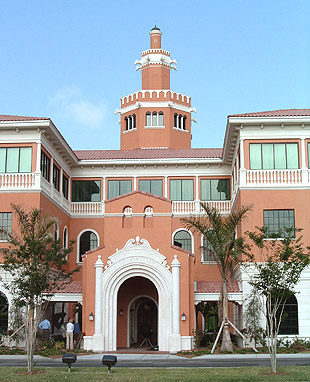 Read an article about the Tampa campus opening
and see a photo of the construction.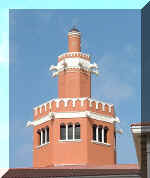 click button to enlarge
See the "Topping off of the Tower" ceremony.
See the dedication ceremony for the new
Wm. Reece Smith, Jr. Courtroom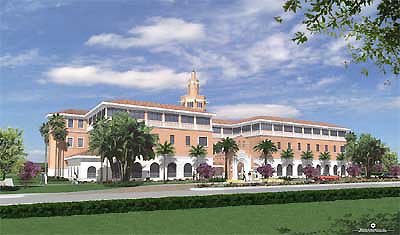 This is an artist's rendering from the Stetson website. Unfortunately, the beautiful greenery
in the foreground doesn't exist because across from the school are various parking lots to title company offices.
It's not possible to step back this far to get an undistorted picture of the whole building.
---