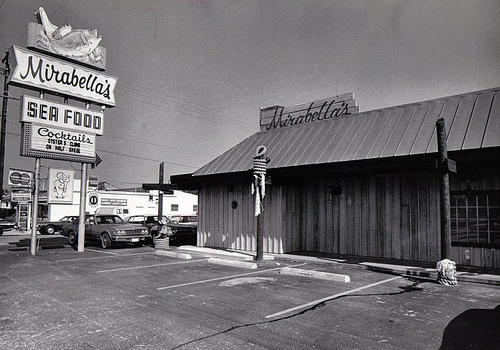 Mirabella's was just a market initially, but shortly after World War II, Buster Mirabella's brother Frank had the idea of serving prepared seafood meals. It was supposed to be a sideline, but in the 1940s, the family added a take-out service that offered seafood and chicken boxed dinners. It became so popular that the family opened Mirabella's Seafood Restaurant at 327 North Dale Mabry in 1952. Both were owned by the family, but Buster Mirabella ran the downtown location while Frank ran the restaurant. The seafood market continued to prosper, and at one time branched off to a 2nd location at Rome and Cass St.
Mirabella's on Dale Mabry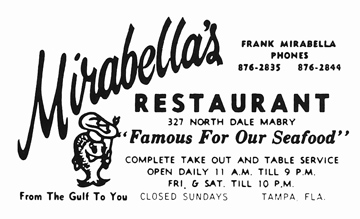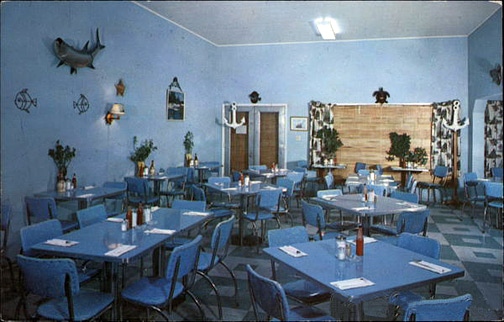 Dining room of Mirabella's Restaurant, 327 North Dale Mabry.
Mirabella's dining room. circa 1967, and menu

Famous for the finest in Florida seafood; 327 North Dale Mabry. Owned and operated by The Mirabella Fish Co., Inc. Seafood supplied to our kitchen directly from our own fishing fleet; our complete menu includes chicken and steak; take-out service available. Frank Mirabella, Manager
The following eight photos featuring Mirabella's Restaurant and Chef Rudy Romero with others were graciously provided by Mr. Romero's daughter, Sandra Romero Deck.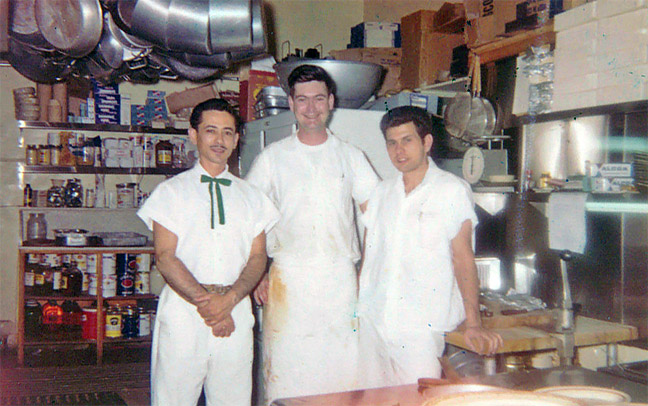 In the kitchen at Mirabella's Restaurant
Chef Rudy Romero on the left, with two of his kitchen assistants, circa early 1960s
| | |
| --- | --- |
| | |
| Mirabella's Restaurant Chef Rudy Romero (L) with restaurant owner/manager Frank Mirabella (R), circa late 1960s | This newspaper feature was titled "Tampa After Dark At Mirabella's seafood restaurant... Hostess Birdie Wimmer and head chef Rolando Romero." |
| | |
| --- | --- |
| | |
| | |
| Chef Rudy Romero sitting on the stool, and two employees who assisted him in the kitchen | Chef Romero receiving an award for his prized paella dish at Mirabella's Restaurant |
| | |
| --- | --- |
| | |
| Rudy Romero with two waitresses at Mirabella's, April 1970 | Rudy Romero and Frank Mirabella's wife, Martha, who sometimes worked at the restaurant, April 1970 |
State of the art automation at Mirabella's
April, 1971

Frank Mirabella and Rudy Romero behind the bar at Mirabella's, looking over a machine (the one with the tubes) they had just installed that would mix drinks automatically without the need for a bartender. According Mr. Romero's daughter, Sandra Romero Deck, they were very proud of this innovation.
SEBASTIAN "BUSTER" MIRABELLA
Buster was born in Tampa in 1913 and spent most of his life running Mirabella's Seafood Co., which his parents Mario and Santa started when he was a teenager. He lived his whole life in Tampa and worked in his parents' seafood business from the time he was 14 until he was 75. "It was all he ever knew, but I think he loved it," said his daughter, Santa Floyd. "I never once heard him say, 'Oh, darn. I have to go to work now.' Not once."
In 1938, Buster married Salvadora Teresa Messina. Salvadora was born in 1918 and was a daughter of Antonio Messina and Rosalia Damico Messina. Together, they turned the downtown market into such a Tampa institution that it seemed everyone in town knew Buster and Salvadora Mirabella. City leaders often tried to persuade Buster to run for the City Council. "He always thought his lack of education would keep him from being elected," his daughter said. Because he started working when he was 14, Buster Mirabella never finished high school.
| | |
| --- | --- |
| | |
| | The market on Water St., circa 1970s |
Mirabella's Seafood Co. closed in 1988, with Buster as president, Frank as vice president, Sam as secretary and treasurer, and their sister Josephine Samuels as director. Buster Mirabella was still enjoying the work, but the opening of the Tampa Convention Center changed traffic patterns and made it difficult for customers to reach Mirabella's. Chains like Red Lobster and Shells took customers and suppliers away from the mom-and-pop places. Besides, Mr. Mirabella was 75 and getting tired of unloading boats of seafood at midnight.
"I think he just thought it was time," his daughter said. He called it quits.
After retirement, Buster Mirabella remained active in the family's restaurant. But the market had been the main supplier of its seafood, so the restaurant lasted only another couple of years. He spent his later years relaxing with his wife, Teresa, who died in 2006, and indulging his longtime passion for the Tampa Bay Buccaneers. "He was one of the first season ticket holders," his son said. "He went to every game, rain or shine, even when they weren't winning any of them. He'd always say, 'They'll win the next one,' and he kept saying that until they did start winning."
Sebastian "Buster" Mirabella, co-owner of the now-closed Mirabella's Seafood Restaurant and fish market, died in March, 2008. He was 94. He died of heart failure March 15 after several years of declining health.
"He was just a hardworking man," said Norma Salter, Mirabella's fish market cashier of 31 years, until it closed. She said Buster Mirabella "was the best boss you could have and a very nice man. He liked everybody." Though he never ran for office, Buster Mirabella thrived in the local political scene, helping his brother Sam run for and win a seat on the city council. Buster was an avid supporter of the March of Dimes and participated in the Bayshore Boulevard walks every year.
He was one of the first season-ticket holders for the Buccaneers and attended all home games well into his 80s. "We kept praying he would see them win the Super Bowl one time, and they finally did," his daughter, Santa Floyd, 66, said. After retirement, he started a discussion group that met at El Pilon restaurant on MacDill Avenue. Old friends would discuss politics and Tampa as it used to be.
"In all my life I never heard him say a bad word about anybody," Morris Mirabella said. He was preceded in death by his loving wife of 67 years, Salvadora Teresa Mirabella. Also preceding him in death were his parents, Mario "Mike" (d. July 24, 1970) & Santa Mirabella (d. July 1, 1979), sisters Connie Scionti, Annie Mirabella, and Josephine Samuels, and brothers Sam & Salvadore Mirabella.
He left loving and devoted sons Morris (and wife MaryJo) Mirabella, Tony (and wife Lynne) Mirabella and daughter Santa (and husband Huey) Floyd, sister Millie Messina and brother Frank Mirabella; grandchildren Leslie Alessi, Patty Rodriguez, Kim Santiesteban, Dean Mirabella, Kevin Floyd, Jason, Nathan & Rachael Mirabella; great grandchildren, Giana, Natalia, & Nicholas Alessi, Alana & Juliana Rodriguez, Brooke & Bryce Santiesteban, Tyler & Gabriel Mirabella, Sadie Lynne & Sebastian Mirabella III, and Morgan James Mirabella, and many loving nieces & nephews.
Buster attended Christ Community Church and was a member of the Masons, Shriners, Elks, Civitans, Italian Club & Sons of Italy. He was a devoted husband, father & grandfather & was a good & decent kind gentle man.