Welcome to Lutz! Page 3 Hot Rod's BBQ & Grill
---
Nothing captures the essence of Lutz better than Hot Rods BBQ & Grill
on Livingston Avenue just south of Sunset Lane
Lutz seems to be "Cubanizing" lately, now even Hot Rods is in on the action.
Hot Rod's hot rod can usually be seen parked out front.
The only time to get an unobstructed picture of the place is when they are closed.
Visit Hot Rods web site where you can see the menu!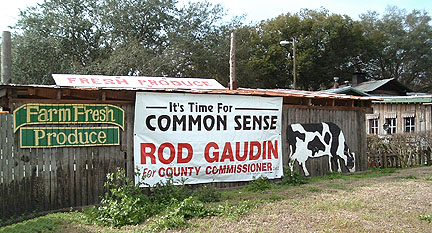 Hot Rods is owned and managed by Rod Gaudin, who had
tossed his hat into the Hillsborough County Commissioner race.
This sign adorns the produce stand situated in the parking lot of Hot Rods.
Lutz Page 1 Lutz Page 2 Lutz Page 3 History of Lutz