DID YOU KNOW?
Before the Florida State Fair was located at its present location at US-301 and I-4, but after it had moved from the old fairgrounds at North Blvd. and Cass St., it was held at an interim location until the present grounds were ready. That location was the parking area of Tampa Stadium, 1976. Area for the midway increased from 3 acres to over 10 acres, but space for the exhibits was severely curtailed and limited to the area under the east stands. The interim location also resulted in no sprint car races that year.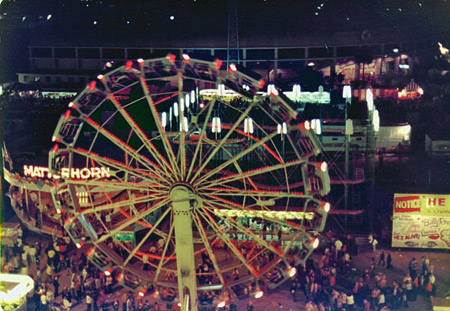 Above left: The full moon over the midway of the Florida State Fair, Feb. 1976, viewed from across Himes Ave. at Ivy Street.
Above right: Al Lopez Field stadium in the background.
See Jan. 30, 1976 Evening Independent newspaper article, "State Fair Move Has Its Benefits."