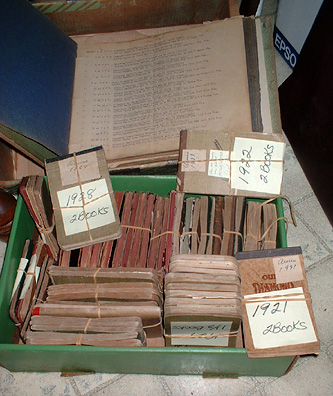 The midwife records of Maria Messina Greco are comprised of about 62 palm-sized notepads. Most of the early years take up one or two books, then later three to four books. The years from 1935 to 1939 are contained in one book.

The post-it notes were added by the LDS church when they microfilmed the records. The original labeling can be seen above the post-it note. All the entries are written in Italian by Maria Messina Greco, none of the entries record the year of birth of the child, only the day, month and time. The year must be determined from the cover or the first page of the book.

The large ring binder seen at the top, was not microfilmed. It is apparent that at some point in time, somebody sought to translate the records to English and typed them out, putting the pages in this binder. This binder contains easily read records from 1908 through 1912. The births listed in this binder for the first half of 1908 are not found in any of the palm sized notepads. The oldest notepad starts in mid-1908. It is my conclusion that there was a notepad containing births for the first half of 1908, but was lost and/or not sent to LDS for microfilming.

The pages in the binder are very fragile and thin, typed on both sides. Those for 1912 being at the back of the book, crumbling at the edges.