TAMPA'S FIRST TOWN CLOCK
This courthouse was built by John H. Breaker in 1854 at Court House Square to replace the 20 ft. x 45 ft. courthouse built by James McKay in 1847.
It would be 28 years later that a tower clock was installed in the old Breaker courthouse.
Photo is circa mid to late 1880s, courtesy of Florida Memory, State Library & Archives of Florida.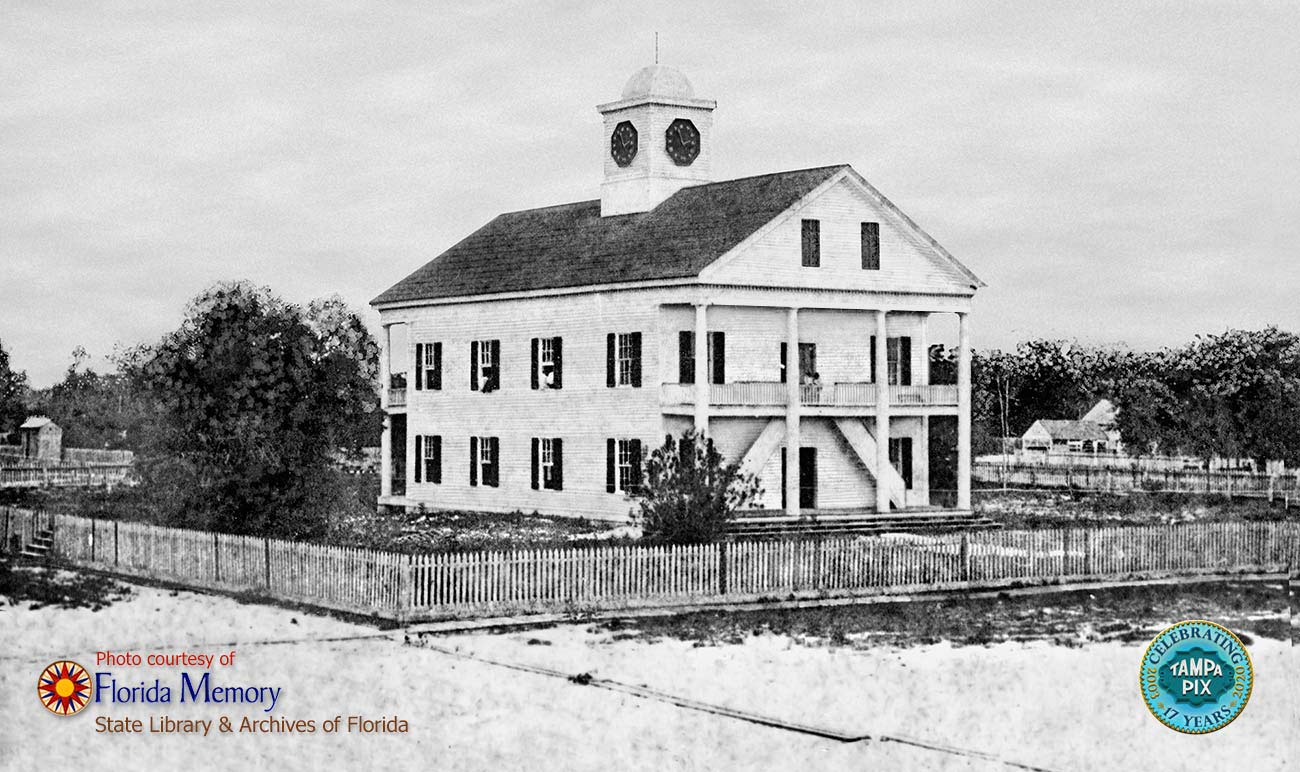 As seen in the 1880s photo above, the Breaker courthouse had a four-faced clock, but it wasn't built with the clock. An early detailed description of the building in 1854 mentions the tower, but not a clock:
THE TAMPA HERALD - WEDNESDAY, JUNE 7, 1854.

Through the kindness of Mr. [John H.] Breaker, contractor and builder of this magnificent Court House, we are enabled to furnish our readers with a full description of its order, size, various offices, etc. etc. The building is 76 ft. long, by 45 wide, and two stories high. ...A projecting Portico, an each end, the whole width of the building supported by heavy Grecian Columns. A double flight of stairs ascends from each end of the building, landing on the 2nd floor of the porticos. The roof is mounted with a dome and tower, 18 ft in diameter, and 24 ft high, covered with tin, or zinc. The extreme height of the building, from the pinnacle of the tower to the ground is 68 feet; and the whole is being beautifully finished in a combination of the Grecian, Ionic, and Corinthian orders..."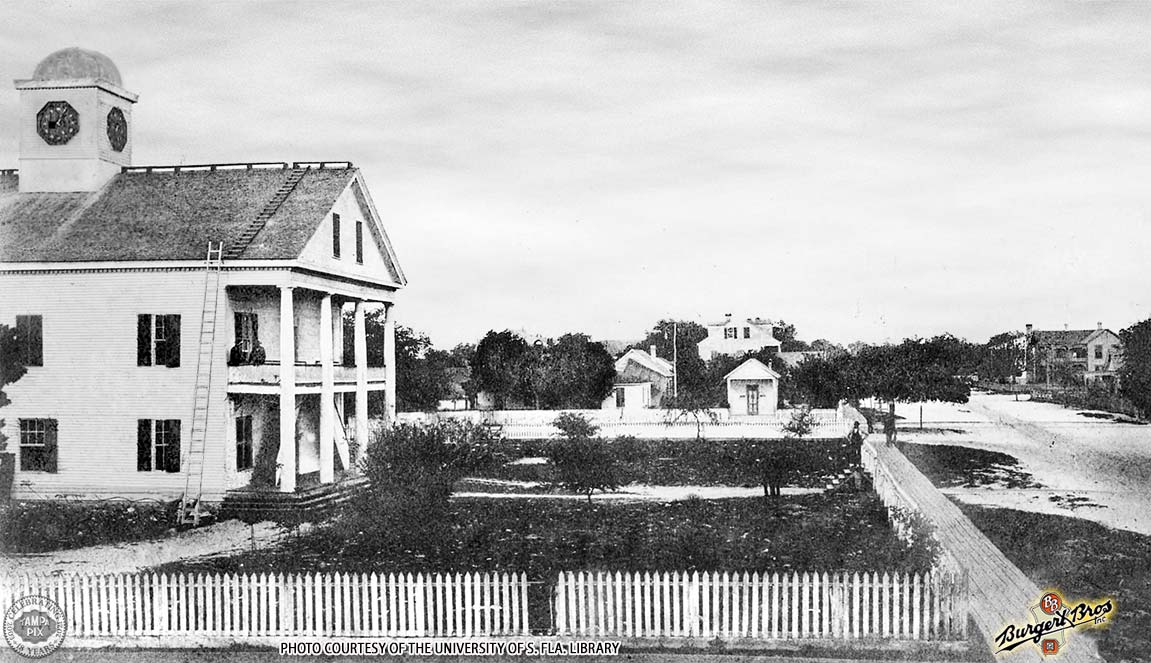 TOWN CLOCK ADDED IN 1882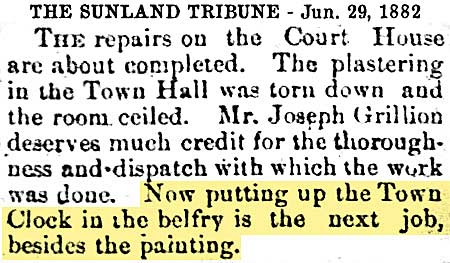 The clock was added during a repair and renovation of the building in June/July 1882.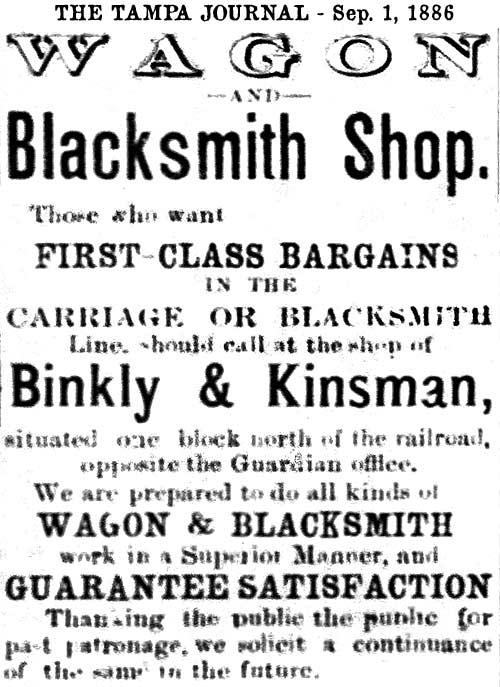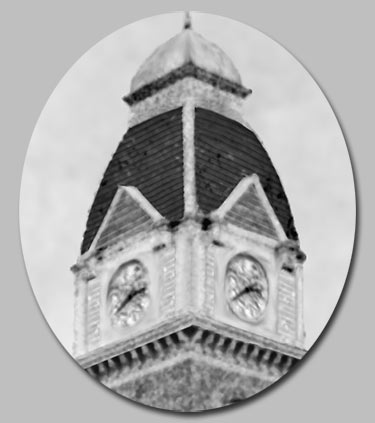 In 1891 this courthouse was sold and moved to make way for a new brick county courthouse.
The "Town Clock," as the courthouse clock was referred to, had an interesting life after this courthouse was sold to wagon maker J. J. Kinsman for $345. Today that would be like $9,938. He had the building moved north on Florida Avenue across from the Palmetto Hotel in 1891. But the clock didn't remain in this building.
Find out who ordered the clock, where it came from, and where it was used later (seen at right,) here at
"The Great Ybor City Fire of 1908" at TampaPix.
J. J. Kinsman remodeled the old courthouse and turned it into an apartment house.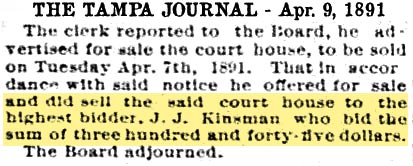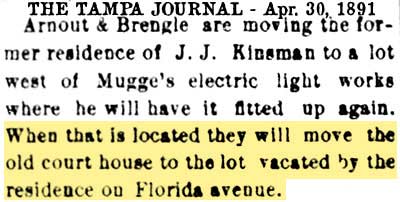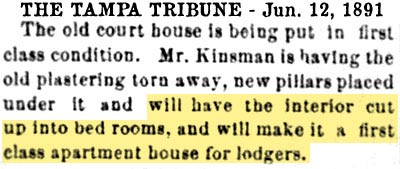 The old courthouse started a new life as the Magnolia House.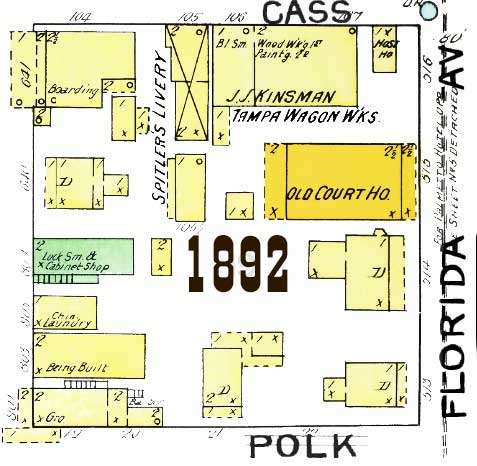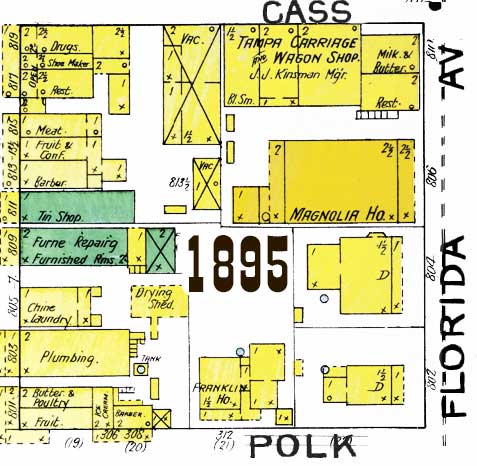 Sanford fire insurance maps courtesy of the Univ. of Fla. George Smathers Library digital maps collection.
By

1899 the former courthouse became the Avenue Hotel owned by M.J. Morales and caught on fire on Dec. 4. The fire started at the cottage next to it and spread to the roof of the hotel. Chief A. J. Harris and five firemen worked six hoses and doused the fire in a heroic effort, saving Kinsman's nearby carriage house and wagon works. All twenty hotel guests escaped unharmed but the top floor was gutted and the first floor drenched. The article describes the building as three stories but they are counting the space under the roof--the attic. The Sanborn maps show "2 ½" stories which is how attic space was indicated. Evidently the building was repaired because in 1903 it appears on the Sanborn maps as the Tampa Sanitarium (a hospital.)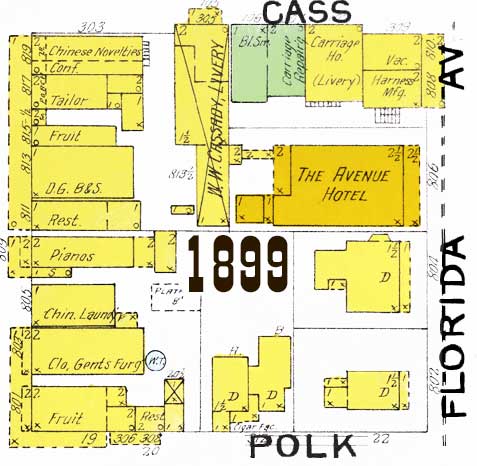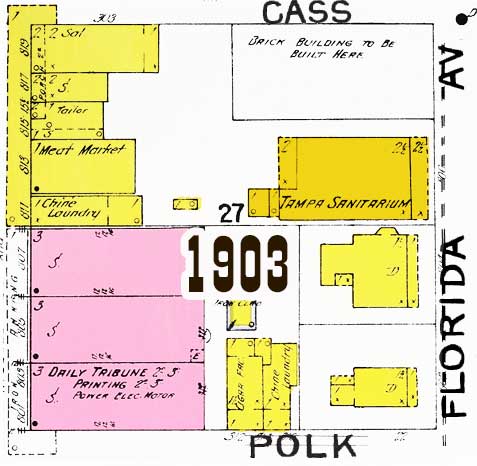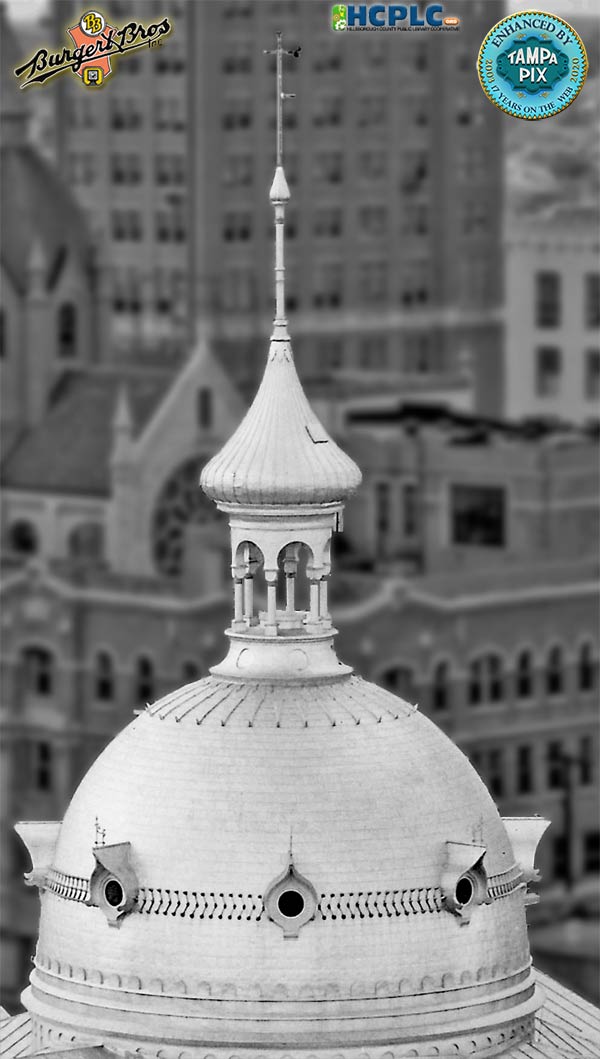 THE NEW CLOCKLESS COURTHOUSE -1891

When the first brick Hillsborough County Courthouse was built at Court House Square in 1891, it marked the end of Tampa's only town clock.

The new courthouse, designed by J.A. Wood (architect of the Tampa Bay hotel), had a beautiful onion-dome topped tower atop a large, ornate dome, 35 feet in diameter, in the style he used for the Tampa Bay Hotel. This new building replaced the old wood frame 1854 structure built by John H. Breaker.
Not only did this 1891 courthouse not have a clock, the design of the dome and the minaret topper made it extremely difficult to fly a flag from its topper and maintain it properly. Raising and lowering it was a dangerous task, even when the halyard was working properly. By Jan. of 1918, the flag was a dirty, tattered and torn old rag, and the Board of County Commissioners got an earful from plenty of Tampans. about it.

It was described as "...the dilapidated piece of bunting floating over the courthouse dome, which has been of late nothing but an unrecognizable rag. The winds and storms and Florida sun have beat upon it and whipped and faded it, until it has become too disreputable for further use."

In mid-January, 1918, a new 7-ft-long flag was purchased and a 62-ft. tall flagpole consisting of galvanized iron pipe was set solidly in cement eight feet deep on the courthouse lawn. The flag was to be raised at sunrise and lowered at sunset by "old Jacobson" the courthouse janitor.

The earliest photos of this courthouse show the weather vane, but no photo has been located showing a flag flying from the spire. Learn more about this courthouse and see more photos of it.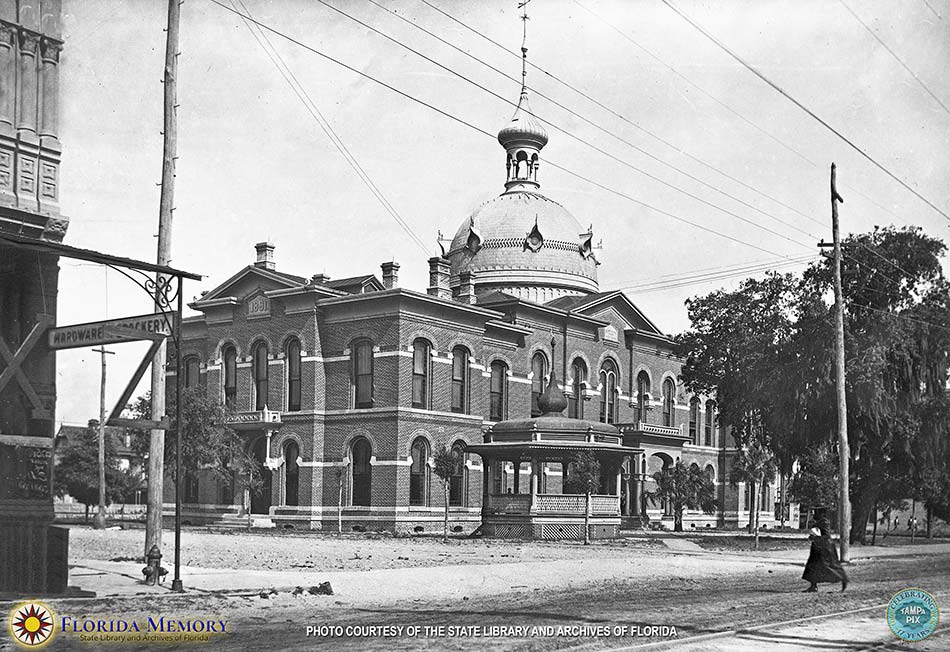 ---
THE REAL HISTORY OF TAMPA'S CITY HALL CLOCK

"HORTENSE the BEAUTIFUL"

The civic improvements planned for Tampa in the first fifteen years of the 20th Century had a great deal to do with how Tampa got its City Hall Clock and why it was named Hortense. Looking only at those plans it can be seen that most of the Hortense tale we have today couldn't have happened or just didn't happen.

TAMPA NEEDS A TOWN CLOCK

This Tribune reader in 1909 thinks Tampa needs a town clock and suggests one for the YMCA building at Twiggs & Fla. Avenue. The reader suggested if donations were needed it would be easy to raise the amount. He/she ends with, "Please start the ball rolling."

Could this be from Hortense Oppenheimer? She would have been around 20 years old at the time.
Circa late 1911 Burgert Bros. photo courtesy of the Tampa-Hillsborough Co. Public Library System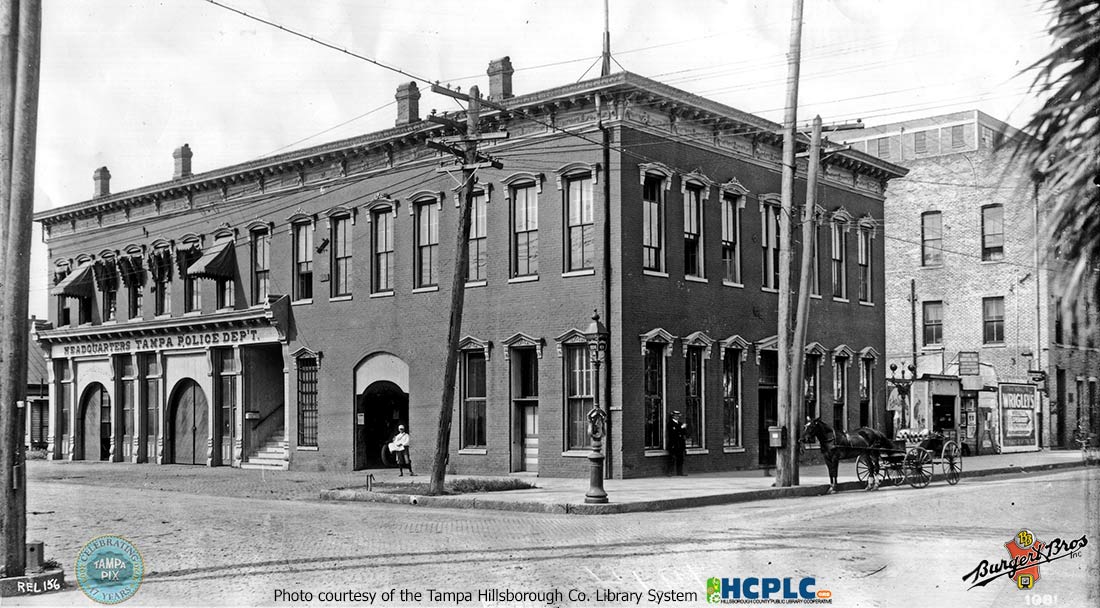 The signage on the building is an indication that the photo was taken after Oct. 1911. When the Fire Department moved out and into its new building on Zack Street in late 1911, the City Hall building was then repaired and renovated in Oct. of that year. The remodeling was done to accommodate almost entirely the Police Headquarters. (These events are detailed in this feature.) Originally when built, the signage showed "Head Quarters Tampa Fire Department." The Burgerts were commercial photographers and a newly completed repair/ renovation would have been a good reason to hire them to photograph the building at this time.
---
PRELUDE TO A NEW CITY HALL: THE STATE OF AFFAIRS IN TAMPA

The rest of this page covers the events of the various mayoral terms as they related to the efforts of building a new City Hall.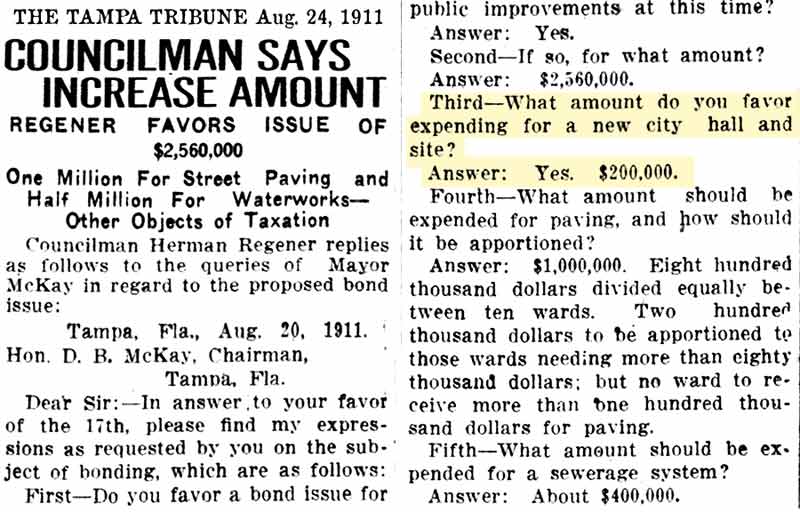 City Councilman Herman Regener favored a bond issue of $2.56M with $200k to go towards a new City Hall.
CHARLES BROWN SUGGESTS A PLAN TO COST PEANUTS BY COMPARISON, SAYS FIX OLD CITY HALL FOR NOW

There was talk of building a nice brand new bridge at Cass Street first, so that vehicles and foot traffic didn't have to go all the way up to Fortune Street to cross the river when it came time to remove the current Lafayette St. bridge. At this time, there was only a railroad bridge at Cass St.
Charles Brown, President of the Tampa & Gulf Coast Railroad, well known Tampan and "director in a score of businesses" suggested the City build a pontoon (floating) pedestrian bridge near to Lafayette St., as temporary one while a new Lafayette St. bridge was being built, rather than building a permanent one at Cass St. to redirect traffic. He said vehicles can put up with using the Fortune St. Bridge for a while. He suggested that City Hall be repaired for $500--brick masons, a little plaster, some touch-up paint and that should hold it for a few years.
"You will understand that I am not a necessarily stingy man, but I don't care to have an awful big plate and nothing to eat out of it."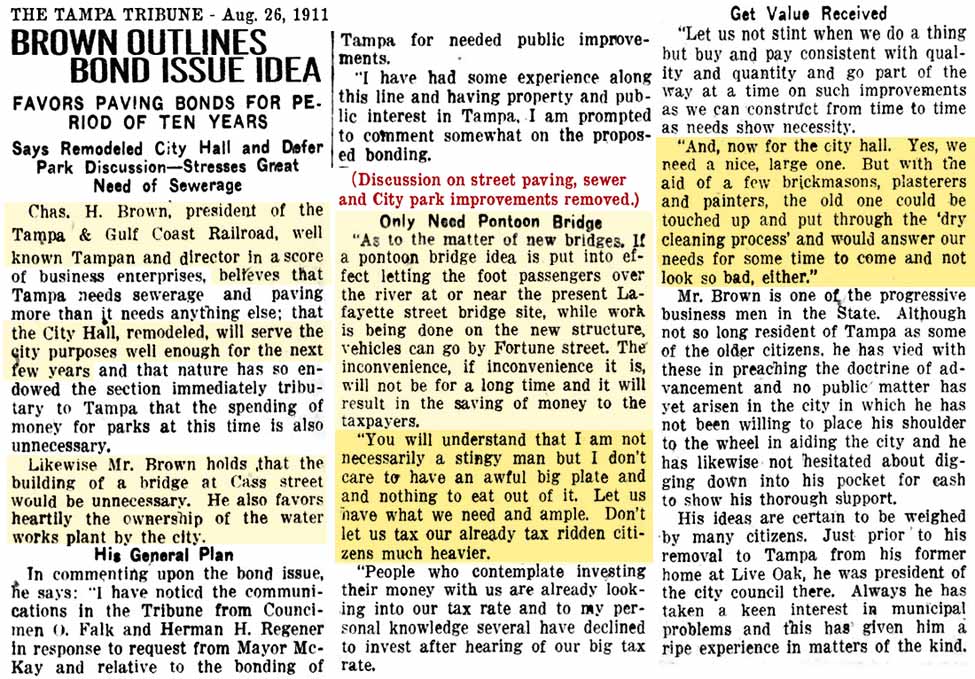 Brown would become Mayor-Commissioner of Tampa ten years later on Jan. 4, 1921.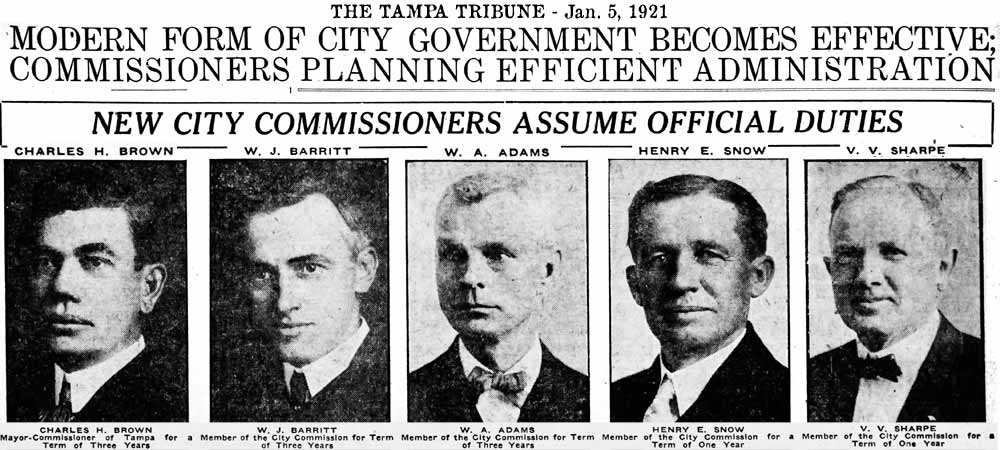 BOARD OF PUBLIC WORKS LIKES BROWN'S IDEA, ALLOTS $500 BUDGET TO REPAIR CITY HALL

The Board of Public Works came up with a budget for the current fiscal year and decided not to build any new buildings. Instead, they decided to repair old City Hall with $500 which was part of the "maintenance of public buildings" budget of $7,000. The previous day, it was ordered to begin advertising the taking of bids for City Hall alterations based on Bonfoey & Elliott's plan. Plans were also accepted and estimates submitted for new Lafayette St. bridge.

On Sep. 9 it was published that some items on the Board's budget had been reduced. For maintenance on public buildings, from $7k to $5k but still only $500 for alterations to City Hall. Repair and maintenance on the Fortune St. bridge was reduced from $12k to $10k. The idea was to spend less and build a new stone (cement) bridge for $50k later.

(This wasn't accomplished until 1927. See the Fortune Street bridge history here at TampaPix.)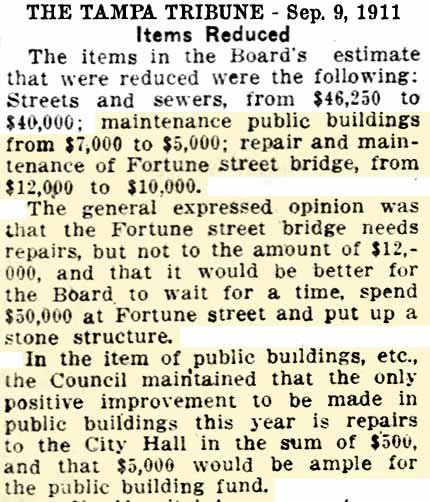 TRIBUNE PRAISES THE CITY ADMINISTRATION FOR EFFICIENCY AND FUTURE SEPARATE BOND ISSUES
The Tribune was pleased that every department of the City would be well taken care of and was still thrifty without impairing public service. The most important part of the plan was the building of a new Lafayette St. bridge for which a separate bond issue of $190k had already been passed, approved, bids received and opened. The lack of any funds going toward a bridge at Cass St. didn't seem to bother the Tribune, as it considered the successful completion of a new bridge at Lafayette St. to be enough success for this administration to be known as the most efficient Tampa has ever known.


BIDDING BEGINS FOR OLD CITY HALL REPAIRS CONTRACTOR
Bonfoey & Elliott was chosen to design the improvements for City Hall. Bidding for the job of making the repairs began on Sep. 12, 1911. On Sep. 20th, it was announced that only two contractors bid and both were over budget. Another round of bidding was opened, and this time the bids had to be accompanied by a $100 certified check.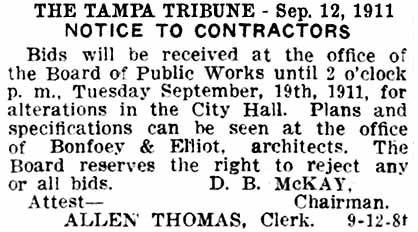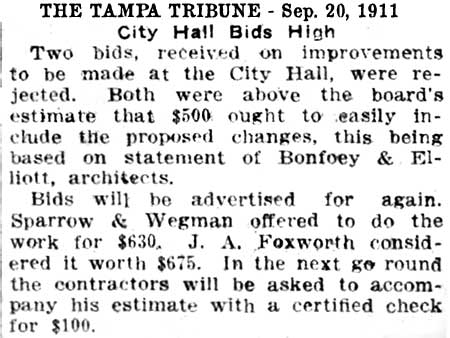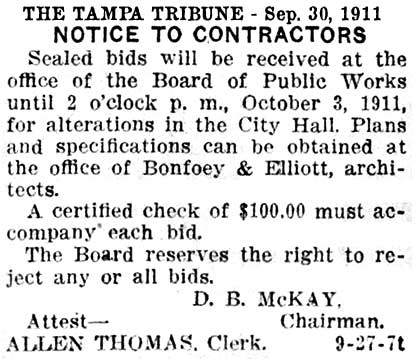 1913 Burgert Bros. photo below courtesy of the University of South Fla. Digital Collections
An elevated view of Franklin Street looking north.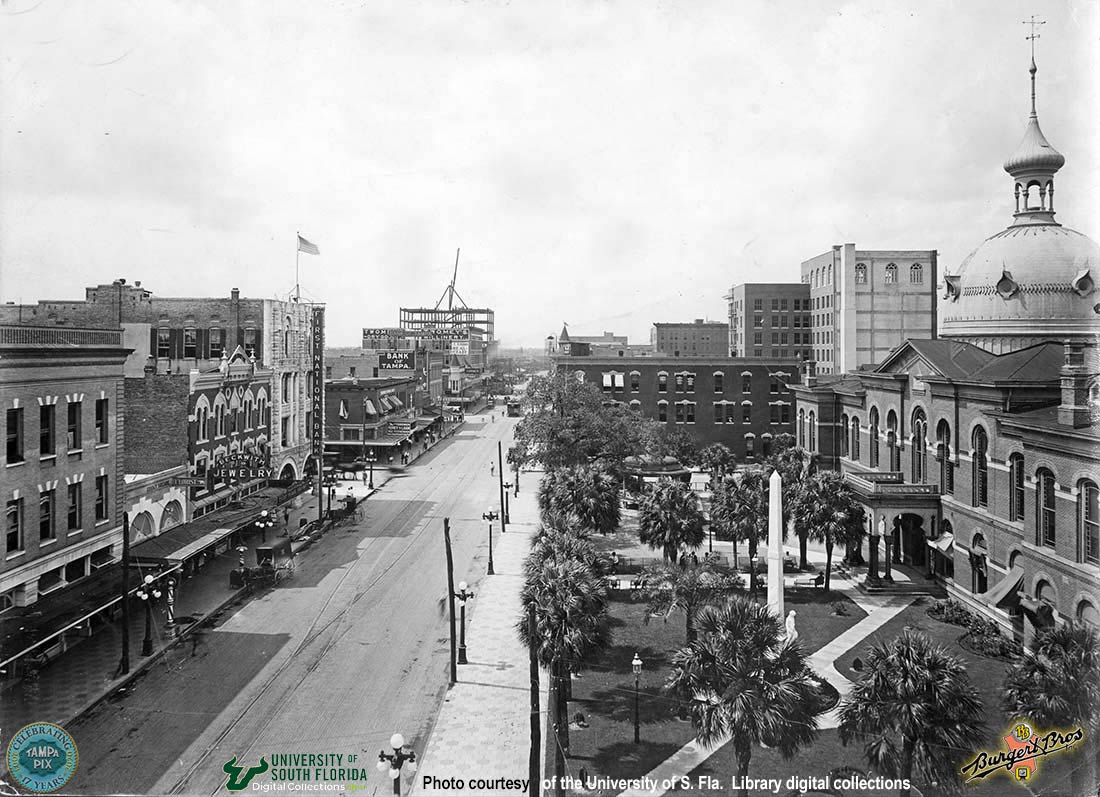 In 1911, where would you want to put a town clock, disgraceful City Hall, or here?

NEXT PAGE:
Chapter II: 1911 to 1912, Hortense Oppenheimer & Ye Towne Cryers
Breakout pages - "Subfeatures"

(These pages are in various stages of completion)

"MEET THE FRECKERS and THE EMBEZZLEMENT TRIAL OF CHARLIE FRECKER"

WHO WAS E. M. GREESON AND WHAT HAPPENED TO HIS THEATER?
THE OPPENHEIMERS OF TAMPA
WHO REALLY WAS WALLACE F. JAKA?
1913 SOUTHWARD VIEW FROM ROOF OF BAY VIEW HOTEL