Ernesto Lecuona, composer of "Siboney" (Click photo to listen, song has a 15 second musical intro)

Siboney is a town in Cuba east of the city of Santiago de Cuba. In 1898 Siboney and the nearby village of Daiquirí were locations where American forces came ashore in the Spanish-American War. It was also the location of a farm where Fidel Castro and his men gathered shortly before the attack on the Moncada Barracks, which is widely regarded as the start of the Cuban Revolution.
The song is said to be the pleading of a lovesick man for his lover, Siboney. He sings that he dies for her love, and that she is a treasure. At the end, he pleads that the thick of the jungle doesn't drown out the crystal clear echo of his song, as he waits for her in his hut.
Arguably the most important Latin musical figure of the early 20th century, Ernesto Lecuona (b.1895 - d. 1963) wrote hundreds of works during the era, including popular standards (Malagueña, Andalucia aka The Breeze and I, Siempre en Mi Corazon, Comparsa, Noche Azul and Siboney) as well as operettas, ballets, and an opera.

Born in the Guanabacoa section of Havana in 1896, Lecuona earned fame first as a concert pianist. His two brothers and two sisters all became musicians. One brother was a violinist, the rest played piano. Ernesto received his first piano lessons from his elder sister and became a prodigy. He gave his first public performance at the age of five and had his first composition published at 11. He graduated from Havana's National Conservatory of Music at the age of 15 and taught piano and voice. At 17, he played in concert at the Aeolian Hall, New York City, USA. In the early 20s, Lecuona continued his musical studies in France, where he studied under Maurice Ravel.

Ernesto soon became a concert sensation (his piano recordings run into five volumes).


Lecuona had been composing songs even while studying piano however, and he copyrighted two of the most famed songs in the Latin repertoire -- "Malagueña" and "Andalucia" -- during the late '20s. His group, the Palau Brothers Cuban Orchestra (later renamed the Lecuona Cuban Boys), toured America during the 1930s and became a huge success.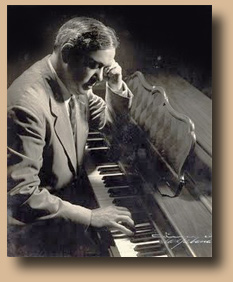 Lecuona had his own band, originally called his Orquesta Cubana, that performed popular Cuban music. Curiously, he was not the pianist with the band. This position was filled by the classically-trained Armando "Fichin" Oréfiche (b. 1911, Havana, Cuba), who was also a composer and arranger. Their concerts comprised of Ernesto performing his own pieces for solo piano and the band playing material from their repertoire of popular Cuban numbers, many of which were written by Lecuona and Oréfiche.
In 1934, Lecuona was medically advised to return to Cuba after suffering from severe pneumonia while touring in Spain with the band. The band was renamed the Lecuona Cuban Boys, and under the musical leadership of Oréfiche and Ernesto "Jaruco" Vázquez, they continued to tour Europe extensively with considerable success until the outbreak of World War II. Collections of recordings they made in Europe during this period have been issued. During the war the band toured Latin America. In 1946, Armando Oréfiche and his tenor saxophone and bongo playing brother, Adalberto "Chiquito" Oréfiche, left after a leadership dispute and formed the Havana Cuban Boys.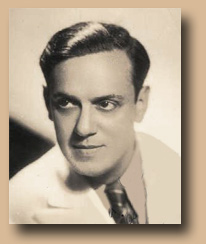 Lecuona chose not to work at the piano while composing, preferring a card table. Typically, he would work in creative bursts that would produce astonishing results. He reportedly once wrote four songs that would become hits: Blue Night, Siboney, Say Si Si, and Dame tus dos rosas/Two Hearts That Pass in the Night, in a single night: January 6, 1929. The following year Andalucia and Malagueña were on the charts. Ernesto's niece, Margarita Lecuona, was a mezzo soprano and accomplished composer. She wrote "Babalu" in 1941, the song made famous to Americans by Desi Arnaz in 1946.
Lecuona composed the scores for four MGM films during the early '30s, and earned an Academy Award nomination for the title song to 1942's Always in My Heart. Lecuona, named the cultural attaché to the Cuban embassy in Washington, D.C., in 1943, rarely performed after World War II, preferring instead to cultivate his Cuban farm. He left his native country for Tampa in 1960, denouncing Castro's revolution and vowing never to play again until Cuba was free of communism. Apparently, he never did perform professionally again. He lived his final years in the US. He died 3 years later while on vacation at Santa Cruz de Tenerife, Canary Islands, at age 68, and is interred at Gate of Heaven Cemetery in Hawthorne, New York. Read a detailed biography about Ernesto Lecuona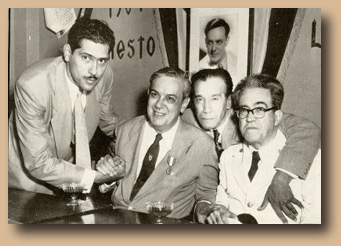 At Left: Miguel Vicente Bonifacio Roig (then editor of Club and Radiales magazines), Ernesto Lecuona, Cuban troubadour Miguel Matamoro of 'El Trio Matamoros'and Gonzalo Roig.
Ernesto Lecuona's music has been used in numerous movies: 1. Charlie Wilson's War (2007) Song ("Siboney") 2. The Lost City, (2006) Song ("La Comparsa"), Song ("Danza Lucumi"), Song ("A La Antigua") 3. Once Upon a Time In Mexico (2003) Song ("Malaguena") 4. Before Night Falls (2001) as Composer 5. Buena Vista Social Club (1999) Documentary, Song ("Canto Siboney") 6. Forces of Nature (1999) Song ("Siboney") 7. The Impostors (1998) Song ("Siboney") 8. Brighton Beach Memoirs (1986) Song ("Jungle Drums (Canto Karabali)") 9. American Pop (1981) Song ("Say Si Si") 10. Ricochet Romance (1954) as Composer 11. As Young As You Feel (1951) as Composer 12. The Daughter of Rosie O'Grady (1950) as Composer 13. When My Baby Smiles at Me (1948) as Composer 14. Carnival in Costa Rica (1947) as Composer 15. Cuban Pete (1946) as Composer 16. Song of Mexico (1945) as Composer, Music Score 17. Song of Mexico (1945) as Composer, Music Score 18. Babes on Swing Street (1944) as Composer 19. Get Going (1943) as Composer 20. It Comes Up Love (1943) as Composer 21. Get Hep to Love (1942) as Composer 22. Always in My Heart (1942) as Composer 23. Swing It Soldier (1941) as Composer 24. When You're in Love (1937) as Composer (credited as Ernest Lecuona) 25. Las fronteras del amor (1934) as Composer 26. La cruz y la espada (1934) as Composer.