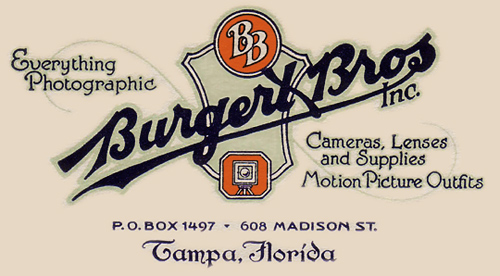 Burgert Bros., Inc. original color letterhead. courtesy of Diane Dowling. Obtained from a personal letter written by Al P. Burgert to his daughter in 1955.
THE BURGERT BROTHERS OF TAMPA - Act 4 of 5
---
Act 5

Some photos and information for this feature were obtained from

an article in the Sunland Tribune 16/1 (November 1990), Tampa Historical Society by Dr. Jack B. Moore and Dr. Robert E. Snyder and "Pioneer Commercial Photography" by the same authors.

Many of the images presented here were made possible by the tremendous efforts of the Tampa-Hillsborough County Public Library, by preserving, scanning and sharing on the web, over 15,000 of the Burgert Bros. images. Other sources equally deserving of recognition for doing the same for thousands more images, are the University of South Florida Digital Collections, the Florida State Archives "Florida Memory" Project, and the University of Florida Digital Collections, all of which were photo sources as documented in this feature.

Also, credit is due to David Parsons, curator of the Burgert Bros. photo collection at the THCPL, for his assistance and cooperation with providing high resolution images, and William LaMartin, for maintaining a very useful way to search the THCPL Burgert Collection in a way that produces thumbnail images of search results, an indispensible feature at LaMartin.com.



~~~~~~~~~~~~~~~~~~~~~~~~~~~~~~~~~~~~~~~~~~

Special thanks to Burgert brothers descendants Diane Heflin Dowling (great granddaughter of Al Burgert) and Harold "Hal" Chesney Burgert III (great grandson of James Harold "Harry" Burgert) for sharing their family history and the stories handed down to them about the Burgert family which appear in this feature, and for allowing the use of their photos from their personal collection.

~~~~~~~~~~~~~~~~~~~~~~~~~~~~~~~~~~~~~~~~~~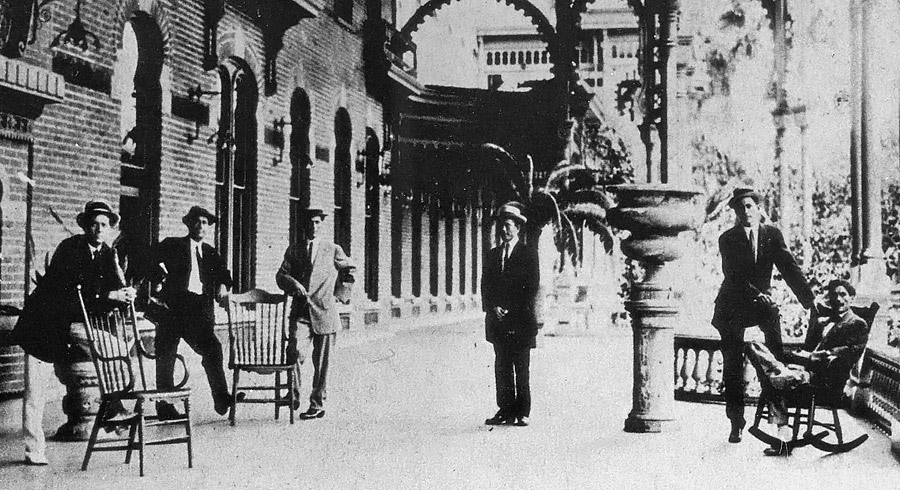 Burgert brothers on the veranda of the Tampa Bay Hotel, July 1911.
Left to right are Willard, Walter, Alfred, Jean, Albert and Harry. From the Rose Burgert Baker Family Album
Pioneer Commercial Photography by Robert E. Snyder and Jack B. Moore

Jean Everett Burgert
---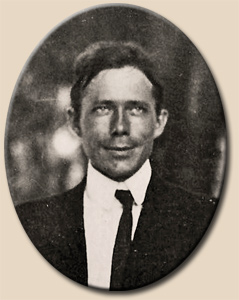 Jean and Al founded the Burgert Brothers commercial photographic studio in 1917, with Al as president, and Jean as VP and treas. They would go on to produce the collection that so magnificently reflects the Tampa region's development through four decades of the twentieth century.
Much of what is known about Jean Everett Burgert's earliest years is contained in a nostalgic letter he wrote to the Tampa Tribune, July 17, 1964 in response in response to an article "the last of the old time Tampa Tribune newsboys".
Usually described by others as a loner-- a position he occupies in the best known picture (above) of the Burgerts assembled at what was then the old Tampa Bay Hotel (now the University of Tampa), where he stands distinctly separate from his brothers-- in the letter he reveals himself to have been a fun-loving boy who engaged in childhood pranks around the neighborhood with his chums.
Jean Everett Burgert was born Dec. 31, 1880 in Cincinnati, Ohio. When his father Samuel came to Tampa from Jacksonville with his sons in the mid 1890s, Jean was one of the boys who delivered the Tampa Morning Tribune. Jean wrote, "I was employed to carry a Tribune route by a nice old man of about 40 who rode a pony about town, looking after the paperboys." Jean was in the 6th grade when he came to Tampa, and said he later quit school to go into photography.
Samuel and his son Willard started S.P. Burgert & Son by 1899. Jean and the other brothers helped out in the business in various capacities, including working as photographers. After his brother Will started Tampa Photo Supply, Jean took over Will's Ybor City studio and learned to speak Spanish. "I quit this to go into commercial photography with a brother, Al Burgert, and made hundreds; thousands of photos for the Tribune and advertisers."
To set the family firm apart from the competition, Jean Burgert began his career as a traveling commercial photographer in 1910 and motion picture photographer by 1916. Later, he represented Paramount News Pictorial at the Gasparilla Fair. Instead of just portraits, the Burgerts now photographed any subject anywhere in the Tampa Bay area. This new flexibility, coupled with the acquisition of their only real competition, William A. Fishbaugh's firm in 1917, made the Burgerts the premier commercial photography firm in Tampa. Fishbaugh was a Tampa photographer who moved down the Florida peninsula to what he assumed were greener photographic pastures in Miami. Jean also travelled to Cuba and South America, demonstrating photography for Eastman Kodak Company.
It was Al with whom Jean's name would be joined commercially for most of his lifetime. But however inextricably the brothers are linked in Tampa and photographic history, Jean seems to have been in most ways AI's opposite, and their working relationship might best be considered as complementary or symbiotic. "Uncle Jean was a quiet, retiring person" Rose Burgert Baker said, "a lovely person who liked to read and tinker with things". Burgert Bros. photographer Roscoe Frey, said he was ingenious, for constructing various gadgets for the studio, but when he was not tinkering with equipment, he might be found reading in the hallway in the back of the shop. Thel Burgert said Jean knew more about photography than any of the other Burgerts, and that it was Jean who taught the basic elements of the craft to AI, but Jean seems not to have possessed the constancy and devotion to photographic work that Al maintained through most of his career.
Al worked out front, Roscoe Frey said, "he was the bookkeeper, the businessman of the outfit, Jean the darkroom worker. Al did practically all the outside work. He was the contact man, and Jean did the finishing inside, so he seldom saw anybody. He was back in the dark room all of the time, sort of like a silent partner.
Jean Burgert (right) in front of his Palma Ceia home at
3010 San Jose, Dec. 19, 1935
Pioneer Commercial Photography by Robert E. Snyder and Jack B. Moore
Tampa Hillsborough County Library System #4079
Thel Burgert characterized him as a wanderer who liked to travel around. While he was an Eastman Kodak distributor in South America, where he introduced Eastman Kodak products, he sent back picture postcards from exotic locales he traveled to: one showed a sloth hanging upside down from a tree, and he joked about how this was the way he had to sleep in South America.
Jean was never as completely committed to photography as AI. In the 1920s he engaged in real estate speculation with AI, and in the early 1930s he began introducing visual education into the Tampa schools, demonstrating slide and motion picture projectors, but not for very long.
Around 1926, Jean married Michigan native Mary Lantz. Though Mary had a son from a previous marriage, she and Jean had no children together. Jean and Mary divorced in 1931. According to Rose Baker, the marriage did not last because she was much younger than he, and members of the family suggested, was only looking for someone to support her. It has been claimed that Jean's soured first marriage intensified his restlessness.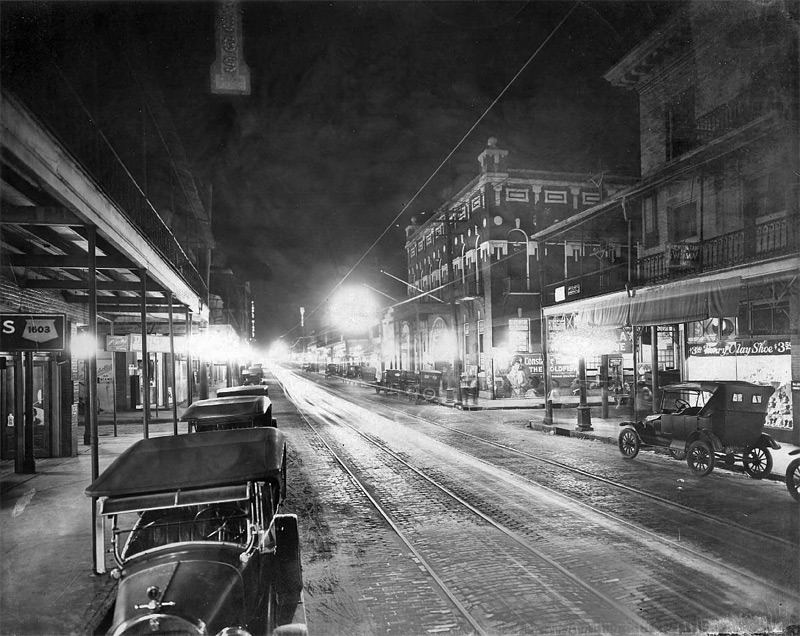 Night Scene on 7th Ave., Ybor City, ca. 1927
From the University of South Florida Digital Collections


At the far left, you can see a sign with an address, "1603". You're standing on the east end of the 1600 block of 7th Avenue, looking east across 16th Street toward the 1500 block. The fancy building on the right was the Centro EspaŮol cafe on the first floor and hall on the 2nd floor. To the right, off camera and obscured by the Henry Clay Shoe Store on the corner, selling a $3.50 pair of shoes, was the Centro Espanol theater. Way up at the top, the lower portion of a sign for "...Drugs". The camera shutter was open for a relatively long time in order to capture this nighttime image, and so the lights from passing cars and trolleys appear as streaks in the middle of the avenue, and two restless pedestrians on the corner appear ghost-like. On the left side of the street, in the distance and just above the glare of the classic Ybor City / Tampa street lamps, you see a vertical "blade" neon sign. To the left of that sign you can see a couple of balconies. Between those balconies and that sign was located the Burgert Brothers Photography Studio, at 1517 7th Avenue.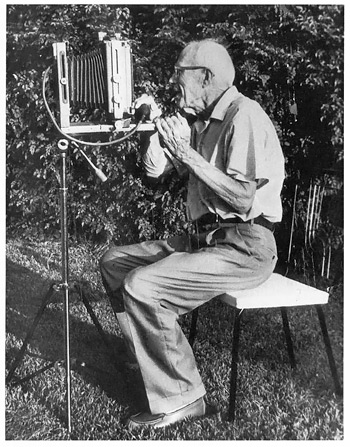 PIONEER COMMERCIAL PHOTOGRAPHER: JEAN BURGERT seated behind early twentieth century view camera, taken by Milton Plumb, Tampa Tribune, July 17, 1964.
By the time Simon Rose worked as an apprentice for the Burgerts in the early 1940s, Jean was engaged in some variety of commercial film making. He would travel as far as California to perform whatever functions were necessary for his job in the movie-making process and might be away from the studio two to three months at a time. When he returned he would just dump his equipment off at the studio.
One fellow photographer claimed that Al and Jean did not always get along as well as the public might have assumed, that there were times when the brothers were at odds and Al would simply leave the store. The brothers probably had a personality conflict--which would not have been unlikely considering the basic differences between the two. Perhaps this conflict together with Jean's restlessness and decreased interest in the studio, led Al to buy Jean out around 1943, when because of wartime pressures, the business was thriving.
In 1940 Jean married Lillie Bischoff in Pinellas County. She was clearly a better match for Jean, and they were quite devoted to each other. They had no children, and in the later years of their lives lived at the Gulf Vue Trailer Park west of Largo, Florida. Jean died there May 6, 1968, and was subsequently cremated. There was nothing in the local papers about his death because Jean's wife could not bear to see all his friends and hear their reminiscences.
---
Alfred P. Burgert
Photo courtesy of great granddaughter Diane Heflin Dowling
Alfred P. Burgert, twin brother to Albert "Bert" Burgert, was born April 1, 1887 in Jacksonville Beach, Florida.

It was said that "had these brothers been fictional characters, their author could be accused of too overtly endowing Bert with most of the misfortunes that would ordinarily have fallen evenly to each."

Al had a business school training and worked as a bookkeeper for his brother Willard at Tampa Photo Supply years before founding Burgert Brothers with Jean in 1917. At Tampa Photo he was also an assistant manager, treasurer, and photographer, a skill his father and his brother Jean taught Al much about. Along with Jean and Will, Al was also involved in the motion picture business in Tampa prior to World War I. He represented Universal Animated Weekly at the South Florida Fair and Gasparilla Carnival held early February, 1916, and may have shot what became number 25 in the Gaumont Company's "See America First," (March 1916) a newsreel about Ybor City and other scenic Tampa locales.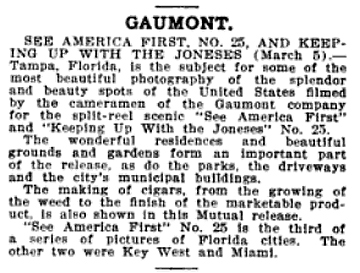 Al had a reputation for being extremely friendly and ingratiating, and was an amazingly well-liked man. Except for one colleague who claimed Al had a short temper, appraisals of Al's character and personality read like political campaign endorsements, but even this individual had a friendly and cooperative relationship with AI. His friend Ed Warner spoke for many when he stated that Al Burgert was "one of the grandest guys who ever lived. He was just an all-around fine fellow." Another friend, George Brown, called him "one of the nicest persons I've ever met, too generous. He did more things for people than they ever did for him, though I don't think anyone ever took advantage of him. He had no one that would speak ill of him. I liked Al and I don't mind telling you he liked me. I never heard a disgruntled remark from that man about anything."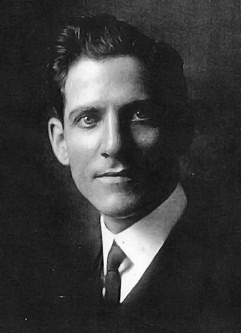 Al Burgert photo courtesy of Diane Heflin Dowling

The Burgert family knew Al to be an exceptional man. He was very outgoing, a natural salesman, and he was the public relations man for the firm.

Al Burgert's friendliness and his dedication to his craft made him, in the eyes of his workers, the perfect employer. The main concern to Al as an employer was "whether you could do the work and were honest. He didn't care where a person came from or what their educational level was. If you showed that you were willing to learn and be honest, he would show you the rest." He would also take portraits of friends and not charge them, and frequently performed miscellaneous, free picture-taking for the various organizations to which he belonged.

Simon Rose, later a highly successful portrait photographer in Tampa, was in large part trained by Al when Simon was a young man. He said that he and Al would pack equipment into AI's Cadillac and go out for an afternoon or whole day of shooting. Al would give Simon instructions on photographic technique while setting up equipment and while taking the final pictures. Al was a patient teacher, though according to Thel Burgert, Al was a perfectionist, always himself interested in any technical aspect of photography that could improve a picture. While on location, Al would talk to Simon about the proper angle the picture needed, how to deal with the sun, and explain other photographic matters a fledgling photographer such as Simon needed to learn.


AI's friendliness at work was just another manifestation of his general gregariousness. He was a very active, popular member of numerous local and national fraternal and service organizations. He also happily participated in several informal clubs whose aim was simply to enjoy life, a desire Al clearly shared with his brother Willard, but which unlike Willard, he never let interfere with his business success. In fact, while his social service and business activities seem to have been each pursued for its own values, each seems to have contributed to, been complementary to each other. As early as 1914, he was Master of the John Darling Lodge, No. 154, of Tampa, where his portrait hangs today almost immediately next to that of his father, who had been a Master before him in 1911. Other organizations in which he participated: the Florida Photographers Association (past president); Tampa Advertising Club; Tampa Consistory No.1, Scottish Rite; Tampa Gyro Club; Egypt Temple Shrine (a member of the Honor Patrol); the 100 Club; and the royal Order of Jesters (Shriners dedicated to having fun: they featured clowns, motorcycle riders, chanters, drill teams, and other entertainment groups). Some additional information about several of these clubs, together with the knowledge of the Shriners' well-known charitable activities, suggests the well-roundedness of Al Burgert's interests outside photography, and should be instructive of the exemplary life of this in many ways model urban citizen.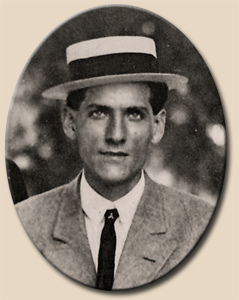 From the various activities Al Burgert participated in--familial, occupational, communal, recreational and social--a picture of a dedicated if not intense, fairly flexible individual emerges, a man committed to his work, to his personal and civic responsibilities, and to having a good time without ever letting pleasure become a major goal in his life. Moreover he seems to have been able to balance happily his various public and private interests to achieve a harmonious existence while clearly, though almost off-handedly, devoting himself to his life's work, which enabled him to capture on film the evolution of a region.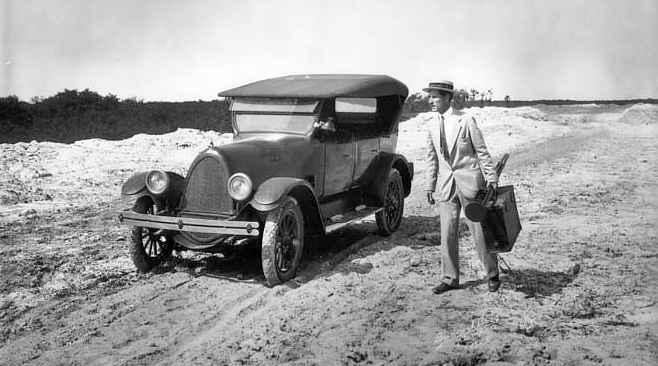 Al Burgert and his car, the first one on Davis Islands, April 22, 1925
From Tampa-Hillsborough County Public Library System
Burgert Bros. Collection
His job brought him a good life; during the 1920s boom in Florida, AI's income approached perhaps $100,000 a year. He purchased a beautiful home on the Palma Ceia golf course in Tampa, where errant golf balls broke his dining room window so many times he had to have a screen placed over it. He bought good cars and big cars, at one time or another owning two Franklin air-cooled autos, a Hupmobile Eight, and a Packard during flush years. Even during the depression his business did well, and throughout the 1940s until he sold out to his employee Al Severson, it continued to prosper, so that he and his family were always able to lead the good life. All along, he seems to have treated all with whom he came into contact with friendliness, and in the case of his family, with love. He worked hard, participated in service organizations aiding the community, had fun, and with his staff and sometimes with his brother Jean, photographed a growing city on commercial black and white film.
Around 1910, Al married Key West native Hazel Winifred Baker (b. Dec 20, 1887), a daughter of John William Baker, Jr. and Alfaretta Johnson. Their marriage was a happy one, and produced two children, both girls--Adeline Paula Burgert in 1910 and Jean Evelyn Burgert in 1912. Sadly, Hazel Baker Burgert died at age 35 in 1923 leaving Al with two young teenage girls.

Al P. Burgert
Photo courtesy of great granddaughter Diane Heflin Dowling

Hazel Baker Burgert
Photo courtesy of great granddaughter Diane Heflin Dowling
The Baker Family

Hazel Baker and her sister, Olive Baker (b.1885) were children of John "Jack" W. Baker, Jr. and Alfaretta Johnson, natives of Key West, Florida. (Alfaretta's father, W.T. Johnson, was an older brother of John Verta Johnson, father of Jeanette "Nettie" Johnson who married Harry Burgert.)

Jack and Alfaretta married in 1884 in Key West and lived there until around 1886. They moved to Tampa around 1887 where Alfaretta died suddenly the following year.

In 1896, Jack Baker married Lavinia "Belle" Edwards in New Orleans, LA. Belle was a native of Mississippi and the girls loved Belle very much--she was a driving force in their lives.

Jack and Belle resided in Tampa where around 1909, they had a son--John "Jack" W. Baker, III.

Jack Baker, Jr. worked as a cigar maker in Tampa, and Belle Edwards Baker became somewhat of a Tampa celebrity when in 1922, she was the first woman to run for any public office. She sought the job of Supervisor of Registration, but lost to the incumbent. She worked for 20yrs as the clerk of the Circuit Court.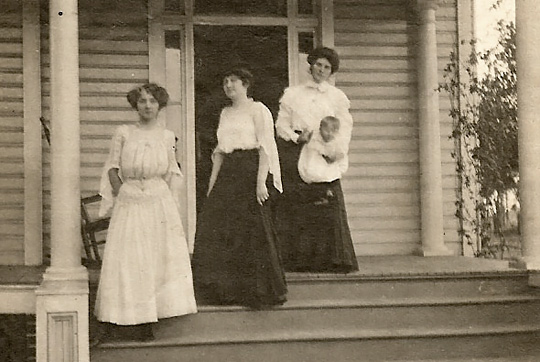 Hazel Baker (L), sister Olive (R) and their step-mother Belle Edwards Baker
Photo courtesy of Hazel's great granddaughter Diane Heflin Dowling
John "Jack" William Baker, Jr. and 2nd wife, Belle Edwards, circa 1920s
Father & stepmother of Hazel Baker Burgert
Photo courtesy of Diane Heflin Dowling

Hazel and Al P. Burgert with their daughter Adeline, 1910
Photo courtesy of great granddaughter Diane Heflin Dowling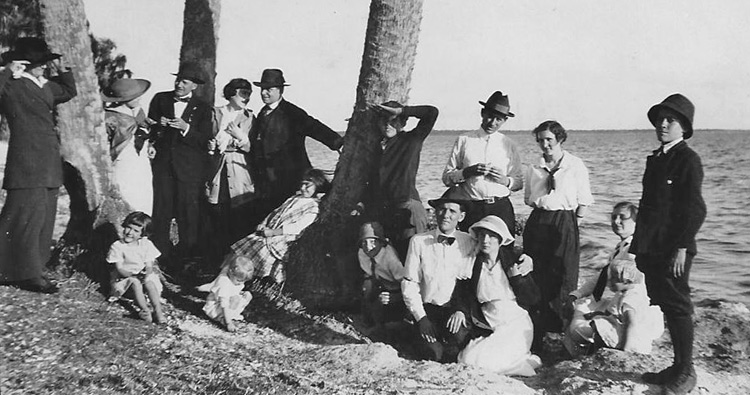 Al and Hazel Burgert at the beach, 1914


Al (wearing bowtie) is sitting on the ground with Hazel, just right of center.
Their daughter Addie is seated in front of the left tree with hands on her lap, and her sister Evelyn is sitting to the right of her.
Standing behind Hazel is her sister Olive and her husband.
Photo courtesy of Diane Heflin Dowling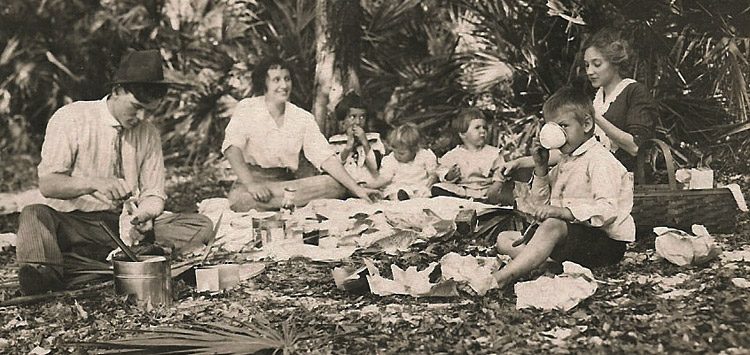 Picnic, circa 1914
Olive Baker King and sister Hazel Baker Burgert with their children.
Far left is Olive's husband, Russell King. Boy with cup is Olive's son from first marriage, Fred West, Jr.
Photo courtesy of Diane Heflin Dowling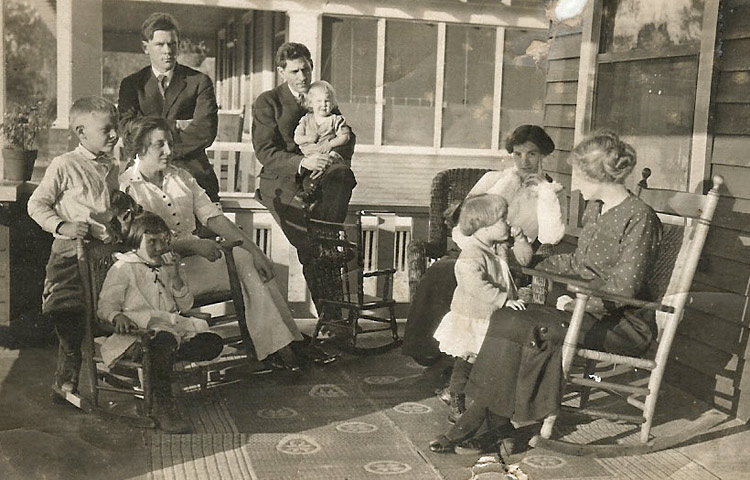 Burgert and King family on the porch, circa 1914


Mouse over the photo to see names
Far right seated in rocker is Hazel Baker Burgert with daughter Adeline in front of her.
Behind Adeline, seated in rocker is Jeanette "Nettie" Johnson Burgert, wife of Harry Burgert.
Al Burgert on the railing holding daughter Jean Evelyn.
Seated on the left is Olive Baker King, sister of Hazel, with her husband Russell King behind her.
Olive's children are next to her, Beverly and Fred "Junie" West, Jr. are from her first marriage, to Fred West.
Junie died of appendicitis when he was not yet a teenager, and not less than a year later,
Russell King was an innocent bystander when he shot and killed during a police shoot out.
Russell King and Olive had one daughter together, Hazel King, mother of Joan Bednarek Rodriquez who provided the
photo of the Burgert brothers at the dog sculpture in Plant Park.


Adeline "Addie" Paula Burgert
1910-1961
Married Wm H. DeLoache in 1932

Jean Evelyn Burgert
1912-1936
Married Daniel Fisher in 1931
Married Jason Munden in 1936

Adeline & Jean as teenagers

The 3 photos above are courtesy of Diane Dowling,
granddaughter of Adeline Burgert and Wm. DeLoache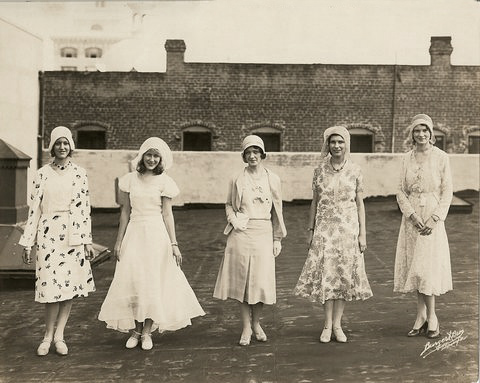 Hillsborough and Plant High School girls model class day and graduation dresses for Rutland's.
2nd from left is Hazel King, daughter of Russell King and Olive Baker.
Burgert Bros. photo, courtesy of Diane Dowling from Joan Bednarek Rodriquez, daughter of Hazel King
By 1930, Al married Louisiana native Ethel A. Reynolds, who already had a daughter by her previous marriage, Lillian Elaine Reynolds (of whom it was said that Ethel favored over Al's and Hazel's girls.) Ethel was described by some who knew her as a polite, formal, distinguished person who did not come to the studio very often, did not talk very much, and was just as outgoing as Al. During their earlier years together, Ethel worked for Al in the office, but apparently as she grew older and the business prospered, she did not continue in this practice.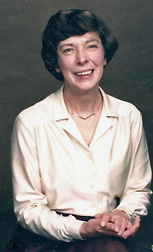 Hazel B. DeLoache
1933 - 2011
Al and Hazel's daughter, Jean Evelyn Burgert married Daniel S. Fisher in 1931 and Jason B. Munden shortly before her death in March, 1936 at age 24. She had no children.
Al and Hazel's descendants continue to this day through their daughter, Adeline Paula Burgert who married William H. DeLoache. Their daughter, Hazel B. DeLoache Heflin is Diane Heflin Downing's mother. Hazel recently passed away and is greatly missed by her family and friends. It is because of Hazel DeLoache's love of her family and desire to learn more about her Burgert heritage that led to her daughter Diane's curiosity to learn more, eventually leading to her making contact with Hal Burgert and Joan Bednarek Rodriquez.
Photographing íGARGANTUAí
- LIFE Magazine, March 14, 1938
---
The skill with which the Burgerts practiced the craft, or art, of commercial photography became so widely recognized in the 1930s that Life magazine asked them in 1935 to become one of the publicationís Southern correspondents. The best known work Burgert Brothers did for Life was a series of photographs Al took in Sarasota, Florida, of the Ringling Brothersí recently acquired gorilla, Gargantua. The huge, ferocious-looking animal was very temperamental from all the attention he was receiving, and would throw whatever was at hand in his cage at bothersome reporters and photographers. He would, for example, crush his metal food plate and hurl it at aspiring picture takers. In order to get the picture he wanted, Al resourcefully equipped himself with a football helmet, face mask and nose and chest protector.


Al Burgert with camera and protective gear

Read the magazine article to learn about the risky procedure he used and see more of his photos.
The statements made by LIFE Magazine in their features are their opinions and do not necessarily reflect the viewpoint of the owner of this site.

Al Burgert's photo of Gargantua
Aug 9, 1937 - Front cover photo by Al Burgert
"Fitfy Million Watermelons go to Market"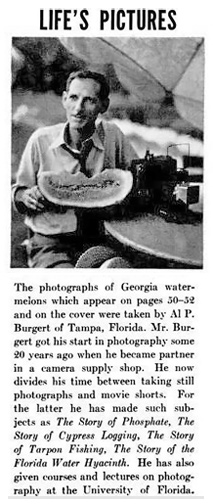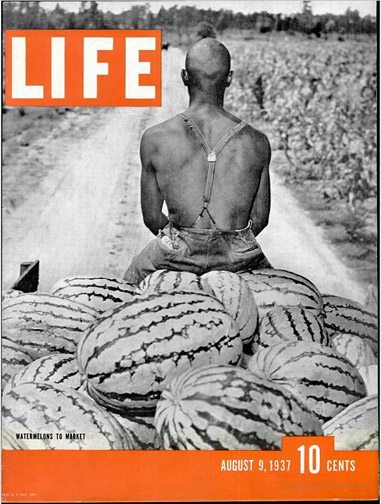 Click the cover to see more of Al Burgert's photos in this feature.


The statements made by LIFE Magazine in their features are their opinions and do not necessarily reflect the viewpoint of the owner of this site.

Other LIFE Magazine issues with Al Burgert photos
Click the cover to see the photos.

See all these issues in their entirety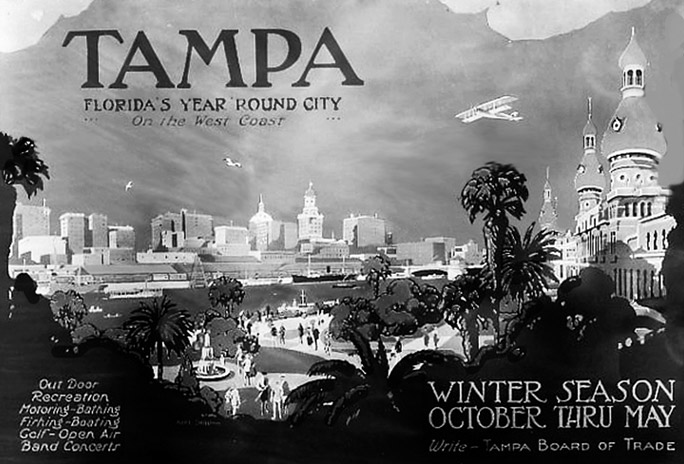 Tampa Board of Trade poster from 1921 photographed by Burgert Bros.

Move your cursor on the photo to see it colorized

Black & white image from the Burgert Bros. collection at the Tampa-Hillsborough County Public Library

Moonrise over Davis Islands as seen from Bayshore Blvd, Feb. 1, 1927
This was a promotional photo Al Burgert did for Davis Islands development. It shows a young couple in silhouette on Bayshore
Blvd. and a romantically lighted border scene framed by palms, along with an artist's rendering of Davis Islands in the background.
From "Pioneer Commercial Photography."
Photo courtesy of Diane Dowling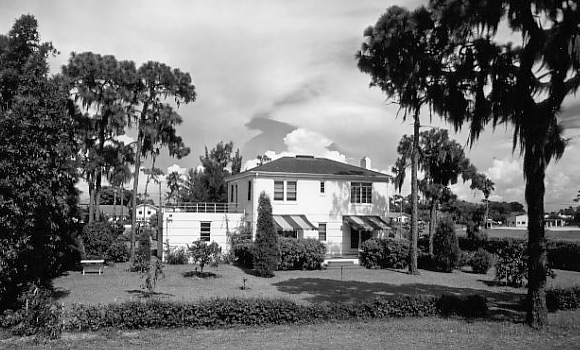 Al Burgert's home at 3105 San Rafael, Tampa, July 1946
From the Burgert Bros. collection at the Tampa-Hillsborough County Public Library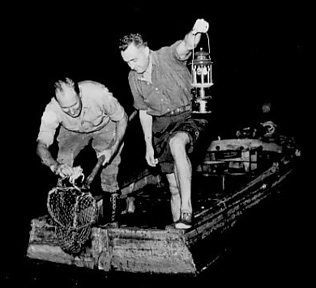 Al Severson and Fred Severson crabbing at night, Nov. 1939. From the Burgert Bros. collection at the Tampa-Hillsborough County Public Library
In 1942, Jean sold his interest in the business to his brother Al, to pursue his interest in moving pictures.

Around the end of the World War II, when he was almost sixty years old, Al Burgert finally retired from photography. He thought he had enough money and was tired of working. The job became physically too much for him to maintain. During these later years, particularly during the war, he had to hire other photographers to help meet assignments. He would always go on location with them, but they increasingly took over the actual picture taking. He found that he could not keep up the pace and was getting worn down, so around 1945, Al Burgert sold the business for $12,000 to his nephew, Thel Burgert and Burgert Bros. Inc. employee Al Seversen. Then sometime in the 1950s Thel Burgert sold his interest to Severson, who continued to operate as Burgert Brothers until 1963 when he retired.

After retirement, Al still dabbled in real estate, and talked to friends about purchasing a chicken farm. He would visit sometimes with his old employee Simon Rose, and discuss with him the possibility of returning to photography, but he never did. With his second wife, Ethel, he purchased a trailer, probably around 1954, and decided to travel around the country. But in Houston, Texas, Al decided the trailer was just too cumbersome to pull, and so the trip was terminated.
Letterhead image and pencil sketch courtesy of Diane Dowling

Pencil sketch at left, drawn by "Taylor" in 1943, reads:

Al P. Burgert, Burgert Bros Commercial Photographers
Made over 50 picture stories for N.Y. LIFE, including Honeymoon Island and Gargantua's Courtship.

In the cartoon at the bottom, Al shouts, "Count 'em, 5 Aces!" to his stunned poker friends. At bottom right, "He's known to his intimates as "Last card Al."
Al Burgert died January 5, 1956, in his home at 4107 Tacon Street, Tampa, of carcinoma of the lungs.

He was survived by his brother Jean; his daughter-- Mrs. Adeline Burgert (DeLoache) Weiser, Mrs. Elaine Haglund (step-daughter), his second wife Ethel, his granddaughter Hazel DeLoache Heflin, and great granddaughters Diane and Kimberly Heflin.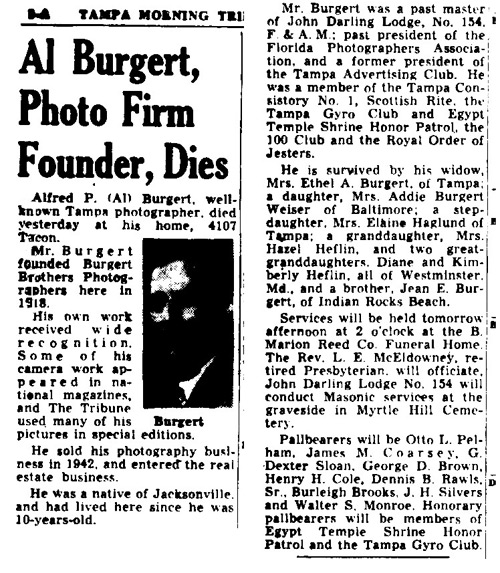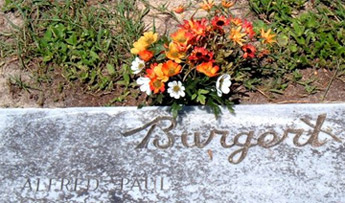 Al's grave marker in Myrtle Hill Memorial Park bears the signature logo of the Burgert Brothers.
Photo courtesy of Diane Dowling
Jan 6, 1956 Tampa Tribune
Burgert Brothers, Inc.
---
In 1917, when Al and Jean Burgert formed their partnership to purchase W. A. Fishbaugh's commercial photography business, the fact that the brothers bought into an already established commercial concern might have influenced them to remain in commercial photography. There were a number of portrait studios in Tampa and few commercial studios. Al "didn't care at all" for portrait photography and at first would do only portraits for friends. Although his portrait work was every bit as good as his commercial photography, he enjoyed more the experience of going out on different assignments. Thel Burgert, an excellent and widely experienced photographer himself, distinguished between three major kinds of photography saying that "portrait work flatters people, commercial work has to be accurate, and in newspaper work you must get what you can as quickly as you can." Ultimately, Al Burgert would become adept at all three, but from the very beginning, he and his brother Jean were pre-eminently commercial photographers.
The field proved to be quite lucrative for them, but they were not engaged in the vocation for the money alone. They always charged reasonable rates and took pride In their product. Their photographs were highly thought of because they were "so sharp you could see every detail," and because there was a crisp, brilliant clarity to them.

From the start the Burgerts were successful. Not long after their opening, they began hiring some of the best photographers in the area. Roscoe Frey started working for the brothers in 1919 as a photographer and darkroom technician at $15.00 a week. Al Severson joined the firm as a photographer in 1924. Frey and Severson described a typical day at work as picking up a handful of photo orders in the morning, and shooting pictures all day for real estate agents, contractors, department stores and others businesses.
Al Severson bass fishing, 1924
From the Burgert Bros. collection at the Tampa-Hillsborough County Public Library

Roscoe Frey in the Tampa Tribune photo room, Jun. 11, 1935
From the Burgert Bros. collection at the Tampa-Hillsborough County Public Library
The Burgerts also took excellent news photographs. Frey remembered braving hard winds with Jean Burgert to photograph the wreckage around Tampa Bay following the hurricane of October 25, 1921. "As Frey anchored and steadied the wooden tripod, Jean hurriedly snapped pictures of Bayshoreís caved-in seawall, splintered railroad tracks and roofless homes." The two men worked all night by candle and gaslight to develop the pictures. Then, just as the exclusive photographs were about to be mailed to World Wide Photo, Al Burgert decided that the sensationalized publicity would be bad for Tampa, and so only a few of the photographs were released in the local newspaper for publication.
The excellence of their earliest photographs was probably due more to Jeanís skill than Alís. Jean at first had to teach Al (who had been working as a bookkeeper and office manager for his brother Willard) a lot about photography, but fortunately Al was a quick learner and it did not take him long to learn the technical details. Almost from the beginning their business was extensive. They developed many long-standing large commercial contracts such as Stone and Webster, the forerunner of the Tampa Electric Company; the King Edward Cigar Company; Bordenís Dairy; the International Truck Company; Florida Motor Lines; all sorts of building contractors; Mallory Shipbuilders; Atlantic Coast Line Railroad; and Cuesta Rey Cigarmakers, who made cigars for the King of Spain.
See more of the Burgert's 1921 hurricane photos by searching for "hurricane" here.
See more photos and read more about the 1921 hurricane here at TampaPix.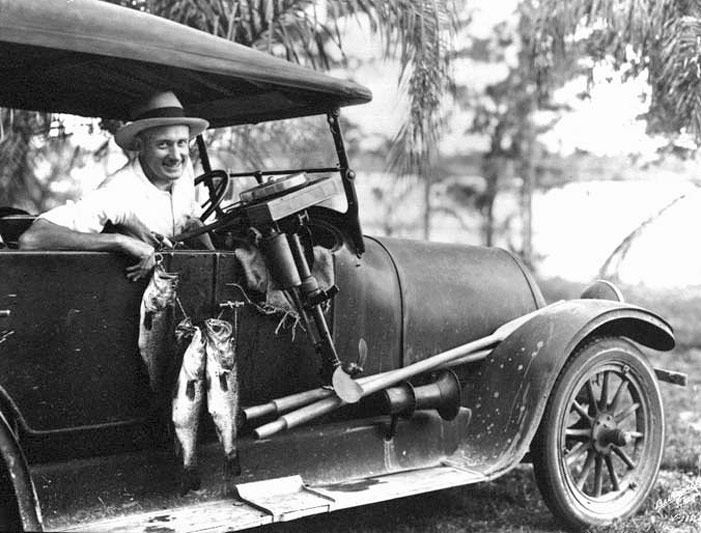 Al Severson in his car, with his catch of of the day, April, 1926
From the Burgert Bros. collection at the Tampa-Hillsborough County Public Library


Headquarters of the Burgert Brothers operations

This was the Burgert Bros. Studio at 407 E. Lafayette St. (now Kennedy Blvd.) where the photographers turned out their perfect images. A sign advertising the practice of commercial photography prominently hung over the doorway. Display cases along the storefront featured a sampling of recent photography work. Photo was taken July 20, 1922.

From the University of South Florida Library Digital Collections



The Burgerts

ranged far in their work, both in subjects and geographically, carrying out fashion ads and window displays in Tampa for Maas Brothers, O. Falkís and Wolf Brothers; aerial photography for local land developers; and similar assignments for concerns in Tallahassee, Jacksonville, the Florida Keys and elsewhere in the South as far away as Alabama and Louisiana. They built their business through their own skill, Alís salesmanship and the referrals they received, because of their good work, from the local Chamber of Commerce and the Photographers Association of America. They were known widely as skilled, reputable photographers. Their greatest competitors were Robertson and Fresh, who were in the same type of business as the Burgerts and who also did quality work. Robert Mallory, who was also a Tampa photographer in the 1920s and ultimately owned Southern Photography and News Supply, Inc., said of the Burgert Brothers, "We were competitors, but I donít think they ever thought of me as a competitor. They always thought they were the tops."9
The Robertson and Fresh commercial photographic firm was active in Tampa from 1932 to 1960. William Vernon "Red" Robertson worked in the field taking photographs while Harry Fresh processed and printed the images. Robertson and Fresh produced thousands of pictures that provide an invaluable visual record of the Tampa area from the Depression to the prosperous post-World War II era.

Browse 2,900 photos of the Robertson & Fresh Collection

One of the most famous photos of Elvis Presley was taken in Tampa by Red Robertson. The photo known as "the Elvis tonsil shot" was taken July 31, 1955 at Ft. Homer Hesterly Armory. A cropped version of the photo was used for one of Elvis' albums.

Read the story behind this photo and the quest to determine its photographer.

Elvis at Ft. Homer Hesterly Armory, July 21, 1955
From Elvismomentsintime.freeforums.org
See full size photo

William V. "Red" Robertson of Robertson & Fresh, on his truck at Davis Islands' Peter O. Knight Airport, circa 1940s
Photo at right is a crop of the photo at left, from the University of South Florida Library Digital Collections
During the firm's existence, the brothers took over 80,000 photographs. Many of the photographs were published in magazines such as Life and National Geographic, as well as in local newspapers, advertisements, and brochures. Their photographs are identified by the handwritten "Burgert Brothers" logo in the bottom right corner of the prints.
All negatives, whether produced by one of the brothers or an employee, were inscribed in a corner with the words "Burgert Brothers," a name written so proudly and openly that it seemed more a decorative logo than identifying signature. The negatives were also stamped with numbers which were then recorded in a ledger usually with a precise but sometimes frustrating general descriptive phrase or word indicating subject or locale. Typically, each ledger listing also contained the date the picture was taken.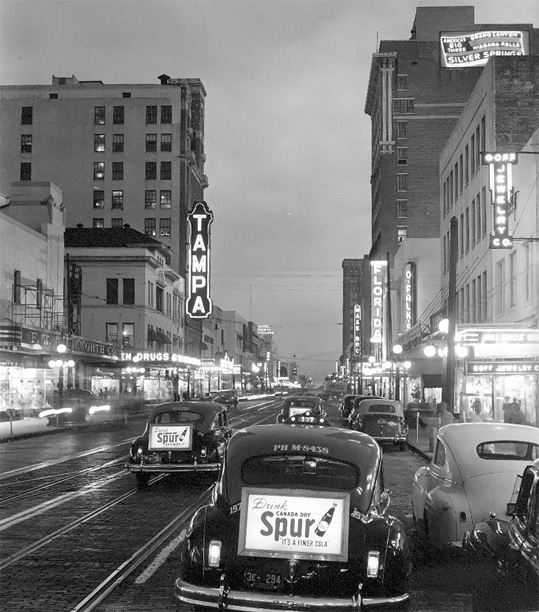 The 800 block of Franklin Street, looking south, Nov. 4, 1947
From the Burgert Bros. collection at the Tampa-Hillsborough County Public Library