At the time, many thought that the powerful Bell monopoly would quickly absorb the newly formed, independent Peninsular Telephone Co. In the beginning, there was a hard fight, but Brorein won the fight with a surprising outcome. Brorein's Peninsular Telephone soon bought out the giant Bell Company and took over the entire Tampa service, not only developing the local system but also the long distance system with operations in Tampa, Bartow, Sarasota, Mulberry, Plant City, Bradenton, Winter Haven, Largo, Lakeland, Palmetto, Port Tampa, Clearwater, Tarpon Springs, Haines City, Lake Wales and Frostproof.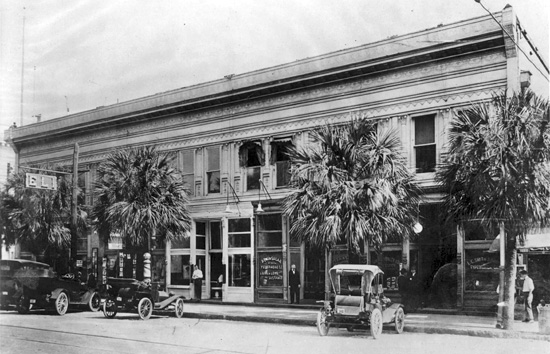 The first home of Peninsular Telephone Company was a two-room office in the Roberts Building, at the corner of Zack Street and Florida Avenue, in downtown Tampa. Peninsular moved into this building in 1901, soon after its organization by W.G. Brorein. Shown standing in the telephone company doorway is Mr. Brorein, 1914. This site is now the Franklin Exchange tower in front of the old Federal Courthouse.
Place your cursor on the photo to zoom in on Mr. Brorein.